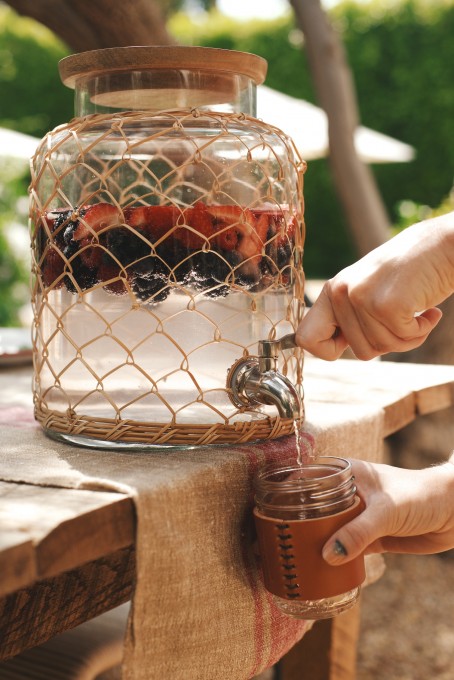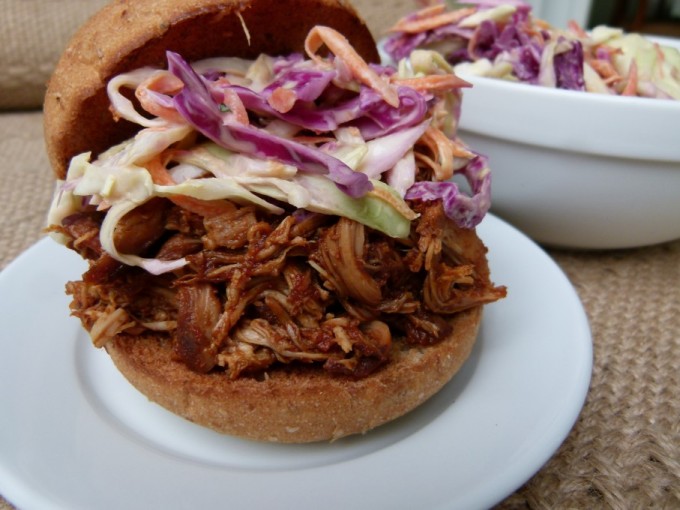 I had a different post planned for this weekend, but I after I received A LOT of emails from my students asking for 4th of July menu suggestions, I knew I had to address this!  There's really no simple answer to that question because everyone has different tastes and expectations.  Some people like a straight-forward outdoor barbecue with hamburgers, cole slaw, corn and a green salad.  While there's nothing wrong with it, that menu might be a little boring to others.  Your menu will also depend on how many people you are having since some recipes are easier and better to make for fewer people.  If you are hosting a large crowd, I highly recommend taking anyone up on his or her offer to bring something.  Why be stressed out?  It's so silly.  Just be specific or at least know who is bringing what so you don't end up with 5 plates of brownies!
The menus below are meant to provide inspiration and an easy way for me to answer my students' emails ("check out my latest post!")  I always try to create a menu where the flavors are all pretty compatible, the recipes are seasonal, and ingredients don't repeat too much.  Unless it's tomatoes in the summer.  Then all bets are off.  I also like to serve fresh fruit with dessert.  A platter of watermelon slices and/or a big bowl of peaches and plums on ice is always welcomed.
If I have a recipe for one mentioned, there is already a built-in link.  If there's no link, I don't have a recipe, but there is likely one out there.  I love menu-planning, so feel free to leave your suggestions or questions below.  My husband already offered his suggestion, which was to add hamburgers and a topping bar + chocolate chip cookies to all the menus below!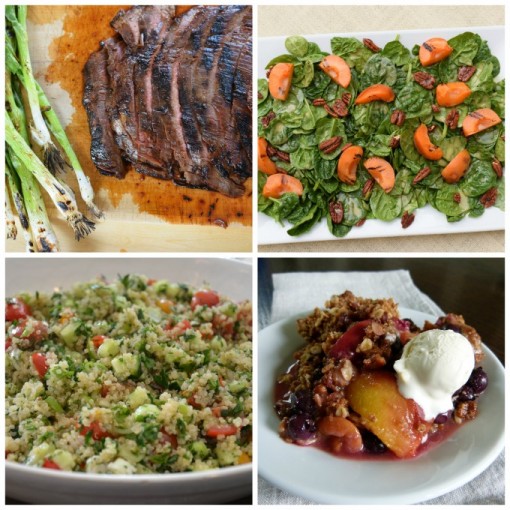 Grilled Scallions and Red Onions
Spinach Salad with Grilled Apricots
Quinoa Tabbouleh (this salad is great and goes with everything) or Charred corn salad
Frozen Chocolate Covered Bananas and Red, White and Blue Popsicles (recipe coming soon!)
Grilled Fish Tacos (good topping bar is key!)
Grilled Mexican Corn off the Cob
Ice Cream Sundae Bar with Chocolate Sauce, Brownie Bites, Fresh Berries and Banana Slices, Pepita Brittle
Grilled chicken paillard over arugula and tomato wedges
Grilled asparagus
Nectarine and goat cheese salad
Grilled chicken kabobs with chimichurri
White bean, celery, and mint salad
Heirloom tomato salad (just drizzle with olive oil, aged balsamic, salt and a few small basil leaves)
Apricot, cherry and almond crisp
Beef hamburgers and Tasty Turkey Burgers with a great topping bar (lettuce, tomato, cooked onions, avocado, pickles, chipotle Vegenaise, etc.)
Kale salad with creamy lemon dressing (you could also add some cooked farro to this)
Farro with golden beets, cucumbers, feta and mint (one of my favorite salads ever!)
S'mores (traditional or with grilled bananas)
Simple Veggie Burgers (this menu works nicely with the one above)
Arugula Salad with Farro and Peaches
Grilled Veggie Platter with a Lemon-Basil Dressing
Arugula salad with lemon-tahini dressing
Chocolate zucchini cake (this would also be great baked into mini muffin tins for bite-size pieces)
Grilled Shrimp Skewers
Lentil and grilled eggplant salad or Chopped grilled vegetable salad (another salad which goes with everything and everyone loves)
Watermelon, tomato and feta salad
Ice Cream Sandwiches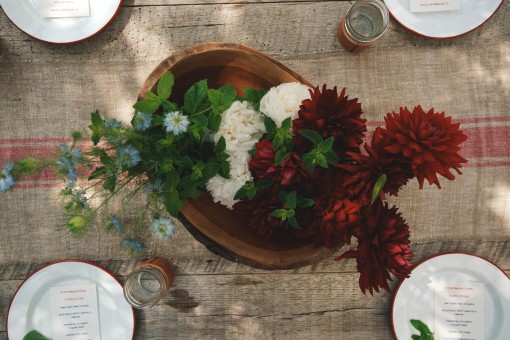 Grilled Chicken Souvlaki with tzatziki (beef works, too)
Warm Pita
Peach pie
Grilled Chicken with Mint Drizzle
Green Salad with Everyday Salad Dressing #2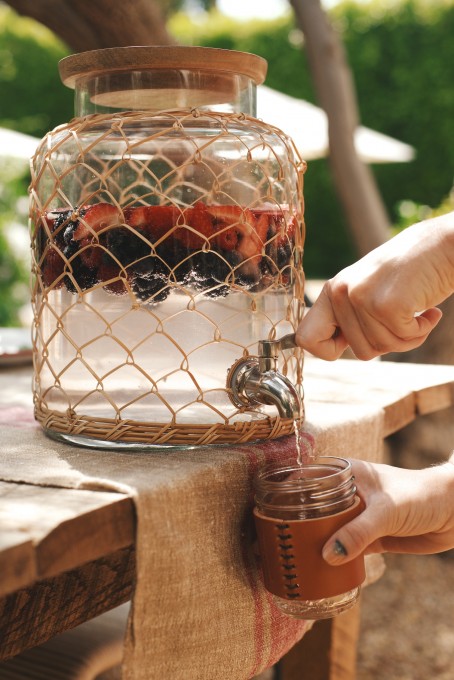 Slow cooker pulled barbecued chicken or grilled chicken with barbecue sauce
Cole slaw
Corn on the cob (boiled or grilled)
Avocado and tomato salad with Ranch dressing
Brownies (I have a healthy, GF version here)
Grilled Chicken or Steak Fajitas (don't forget the topping bar!)
Avocado, jicama and mango salad
Coconut Cupcakes
I also think if you have access to really good seafood, an old-fashioned clam bake would be so much fun.  You can check out Martha Stewart Living for inspiration!