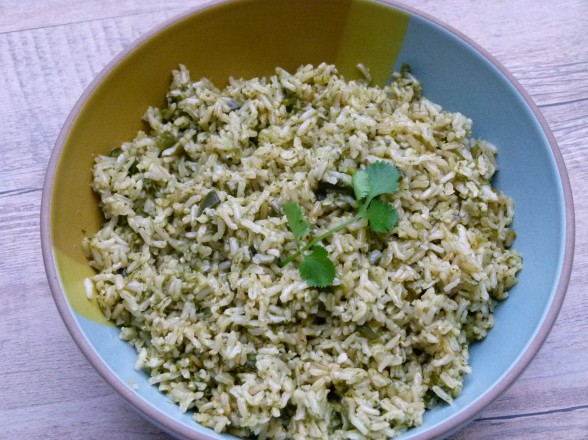 I traditionally teach a Mexican-inspired menu during the month of April so that my students have some fun recipes to cook for their family and friends on Cinco de Mayo.  I am obsessed with Mexican food, so I really look forward to this time of year.   Of course, April has come to an end and sadly, so will my daily fish tacos.  I wish it were Cinco de Mayo every month!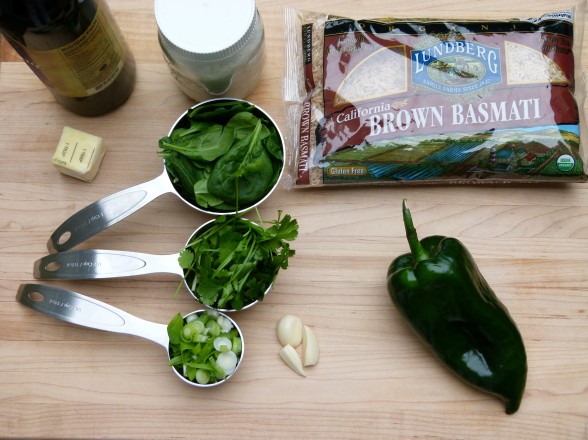 I usually have no problem coming up with an entree for a Mexican-inspired meal, but sometimes the sides stump me.  Here's a winner for Cinco de Mayo or any night.  This green rice was originally inspired by a recipe in one of my favorite cookbooks, Sunday Suppers at Lucques.  I've simplified the recipe a bit, but it is still unbelievably tasty and reminiscent of the green rice you may have had at a Mexican restaurant.  The color is pretty subtle, unlike the the spinach risotto recipe I posted last month, but green enough that no one will know if you made it with brown rice or white.  Pretty tricky!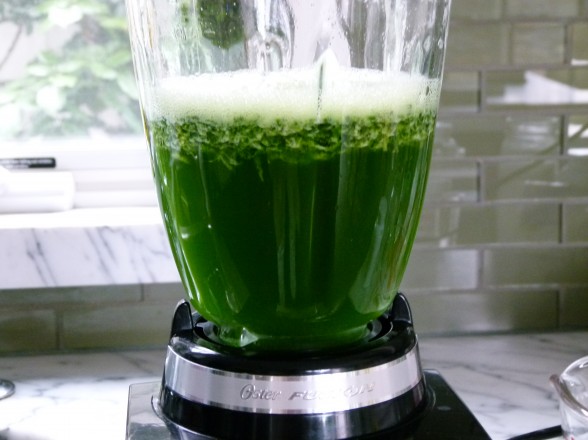 There are so many things to love about this green rice.  For one, it's delicious!  I adore basmati rice, which I think naturally tastes better than almost all other rices.  But in my opinion it's hard to beat rice with garlic, butter and salt.  The flavor from the onions, pepper and cilantro are just a nice bonus.  Green rice is also very versatile.  Besides being the perfect side dish to fajitas, tacos or Mexican beans, this rice can easily be made into a vegetarian entree with the addition of some cooked pinto beans or sliced almonds.  Combined with some protein, green rice makes a perfect school lunch.  On the weekends, I'll use leftovers in a burrito with beans.  Yum!  This recipe is also easy.  Don't let the blender discourage you.  Think of it as a friend who will chop your cilantro and spinach into the bittiest pieces so you don't have to.  Last but not least, whole grain brown rice with spinach, herbs and garlic — are good for you!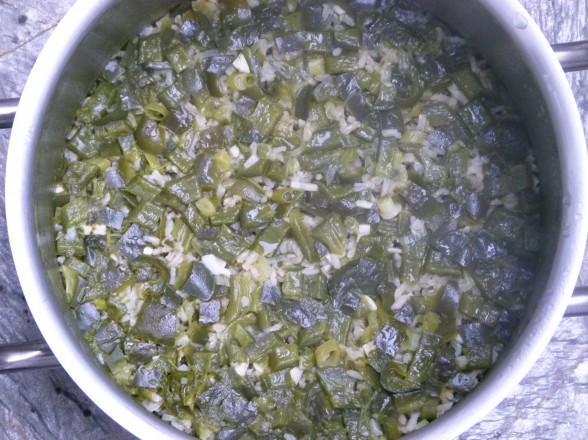 If you have eaters in the house who are green-averse, see if they'll be more inclined to eat the rice with corn tortilla chips crumbled on top.  If not, add it to chicken and avocado soup, vegetable chili or freeze it for a rainy day.  Of course, you can do what I do and eat it for breakfast with some eggs and guacamole!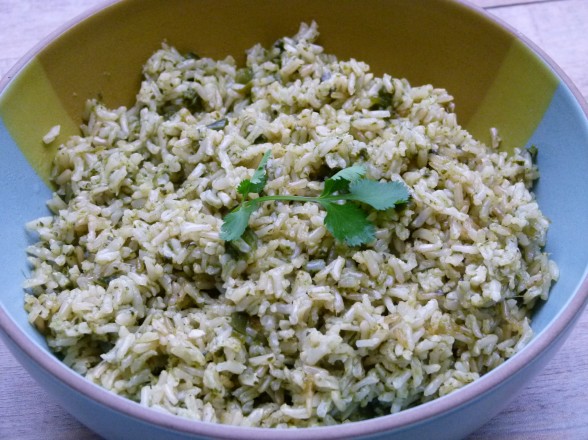 Green Rice Recipe (Arroz Verde)
Author:
Pamela, inspired by Sunday Supper at Lucques
Ingredients
½ heaping cup cilantro (leaves and tender stems)
1 cup tightly packed baby spinach leaves (stemmed if larger)
2 ¾ cups water, chicken stock or vegetable stock
1 ½ teaspoons sea salt
1 Tablespoon unrefined extra-virgin olive oil
2 Tablespoons unsalted butter
1 ½ cups long-grain brown basmati rice*
¼ cup green onion, finely chopped
3 garlic cloves, finely chopped
1 Poblano chili, stem and seeds discarded, diced (or if you have time, roasted, skin peeled, diced) or 1 green bell pepper, diced
Instructions
Put the cilantro, spinach, and 1 ¼ cups of water in a blender and blend until pureed. Add the remaining 1 ½ cups of water and salt and blend until well combined.
In a medium (3 qt) heavy-bottomed saucepan with a tight-fitting lid, heat oil and butter over medium heat. When butter is melted, add the rice and sauté, stirring about every 30 seconds, until it just begins to brown, 3-4 minutes. Add the onion, garlic and chili and cook 1-2 minutes, stirring constantly.
Add the contents of the blender, stir well, turn heat to high and bring to a boil. Cover the pan, turn the heat to low, and simmer for 50 minutes. Fluff with a fork, cover, and cook another 5 minutes.
Take the pan off the heat and let the rice steam in the covered pot for 10 minutes or until you are ready to serve.
Notes
If you use white rice, reduce cook time to 20 minutes.