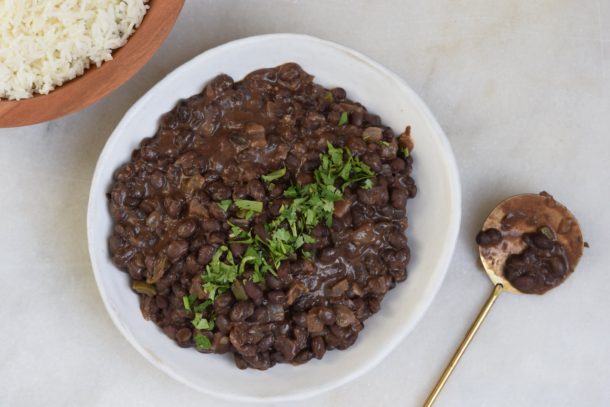 When I am coming up with a menu for entertaining mixed company, e.g. kids and adults or carnivores and vegans, I steer most often towards Mexican food.  It is always a crowd pleaser, easy to prepare and I can very often employ a topping bar of sorts.  It is no surprise to me that my Mexican-themed cooking classes are my most popular of the year.  I always teach them in April so that my students have some fun, healthful recipes to use for Cinco de Mayo (May 5th.)   You know I am a sucker for themed family dinners on "holidays."  That and I just don't enjoy taking the kids to crowded, greasy Mexican restaurants on one of the busiest and most inebriated nights of the year for something I can easily make at home.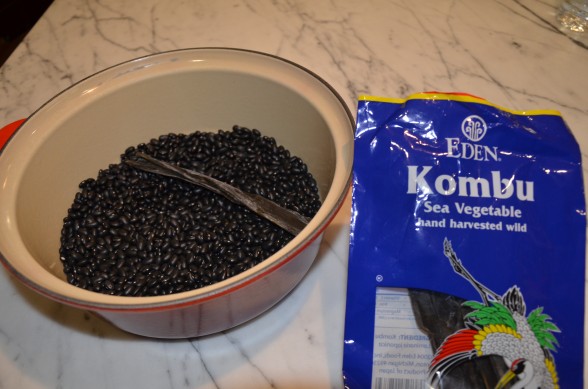 These versatile black beans are a staple in our house all year long.  They're close to Frijoles Refritos, meaning "well-cooked beans" (as opposed to "twice-cooked beans," which is what I thought it meant for years.)  But I'm not frying anything in lard or vegetable oil, instead cooking the beans with some onion, garlic, jalapeno and cilantro for great flavor.   We eat them simply over rice, wrapped in a burrito, as a side with fajitas or tacos, or with huevos rancheros.  Daughter #1 and her friends like to toast corn tortillas over the gas flame on the stove (they're 14 years-old) and eat the beans like a dip.  They are a must with any Mexican meal.  The good news is that I can tell you how to easily make them from scratch (soaking dried beans) or from a can.  Even though I avoid canned food like the plague, you have a great option with Eden Foods which does not use BPA in its can liners.
Beans are an incredible source of low-fat protein and fiber, especially soluble fiber which has been shown to help lower cholesterol and stabilize blood sugar levels.  Black, red and pinto beans are crazy high in anti-oxidants, too.   Another bonus is that they are rather inexpensive, especially if you buy them dried and cook them yourself.  1 pound of dried beans might cost you about $1.00.  One pound dried equates to approximately 3 15-ounce cans of black beans at about $2.19 per can for Eden Organic in my natural foods store (other brands are much less, but you're also getting that pesky BPA.)  You can also buy the cans by the case from Amazon and save some money (12 cans for $16.60 at the time of this post.)  Making beans from scratch is as easy as boiling water, but you need to plan at least 6 hours in advance to soak them and an hour and a half to cook them.  Or just make a ton over the weekend and freeze them.  Love that!
Over the next week and a half, I'll be posting some of my favorite Mexican-inspired dishes to wow your family and friends without letting your healthful eating take a siesta!

Mexican Black Beans
Ingredients
1 pound dried black beans (aka turtle beans), picked over for stones or foreign objects, and rinsed*
1 (2- to 3-inch) piece kombu**(optional)
2-3 Tablespoons unrefined, cold-pressed extra-virgin olive oil
1 onion, finely chopped
3 cloves garlic, finely chopped
1 jalapeno chile, minced (take the seeds out if you want to cut the heat)
1 Tablespoon sea salt or kosher salt
1 Tablespoon chopped cilantro
Fresh lime juice (optional)
Instructions
Place the beans and the kombu in a large glass bowl or pot. Add enough cold water to cover the beans by at least 3 inches. Let stand overnight or at least 6 hours. (If the weather is warm, put the beans in the refrigerator to soak.)
Drain and rinse the beans, reserving the kombu. Place the beans and kombu in a large, heavy pot with enough water to cover by 3 inches. Bring to a boil over high heat, skimming the foam that rises to the top. Lower the heat to low and simmer gently, covered, for 1 hour.
Heat the oil in a large, heavy-bottomed skillet over medium heat. Add the onion and garlic and sauté gently until tender, about 10 minutes. You can cover the skillet with a lid to soften the onions and garlic without allowing them to brown. Add the jalapeno and cook 1 minute, until tender.
Remove the kombu from the beans and discard. Add the sautéed onion mixture, sea salt and cilantro to the beans and simmer uncovered for 30 minutes, or until very tender.
Drain the beans and reserve 2 cups of cooking liquid. Pour 1 cup of liquid back into the beans and mash the beans with the back of a spoon until you have the desired consistency. Add more liquid, if necessary. Taste for seasoning and squeeze some fresh lime juice on top, if desired.
Notes
*Or you can use 3 15-ounce cans of cooked black beans, undrained. Follow along here:

Saute onion and garlic in olive oil in a medium saucepan until softened.
Add jalapeno and cook for 1 minute.
Add beans and liquid from the can (usually about ⅓ cup liquid per can) plus 2-3 teaspoons sea salt, 1 tablespoon chopped cilantro and simmer uncovered for 30 minutes.
You can serve the beans as is or I like to mash them up a bit so they're nice and creamy. Squeeze a little lime on top if you like.
**Kombu is a sea vegetable which helps tenderize the beans and improves their digestibility. It is also rich in many vitamins and minerals.