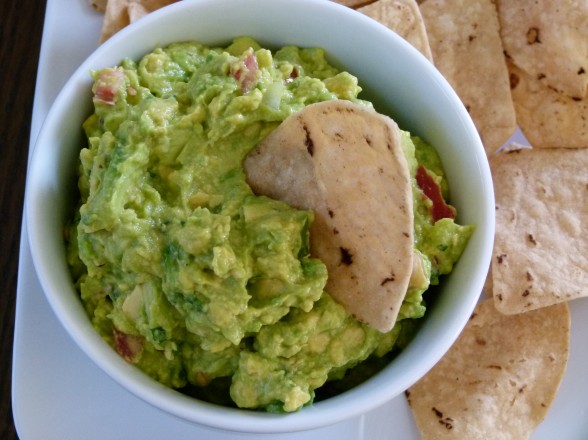 Do not be under the misconception that because I teach people how to cook healthful food that I myself eat only whole foods all day every day.  Didn't you read about my 90/10 plan?  90% of the time I try my best to eat super high-quality food — as whole and unprocessed as possible.  The other 10% of the time (which basically leaves Friday and Saturday nights), I eat whatever I want and I don't feel bad about it.  Want to know what my guilty pleasure is?  Nope, not chocolate or candy, not booze or burgers.  It's guacamole and chips.  I could eat bowls full of the stuff at any time.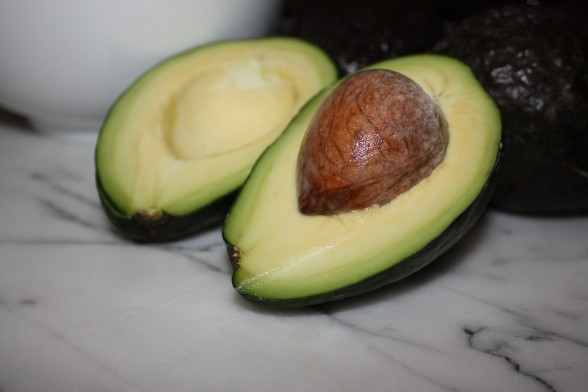 When I moved to California from New York almost 20 (gasp!) years ago, I was introduced to the avocado and guacamole.  I couldn't believe such a wonderful thing existed and I had just had my first taste (like when my husband took my son at 3 years old for his first Slurpee and the boy asked "why I not have this before?").  Creamy, rich guacamole on a crispy, salty chip was my idea of delicious and addictive, especially if the chip was folded over.  I was also finding lots of other ways to enjoy avocados — chopped into salads, as a garnish on chili, and my favorite, thin wedges on whole grain toast with or without a slice of lox.  Divine, I tell you.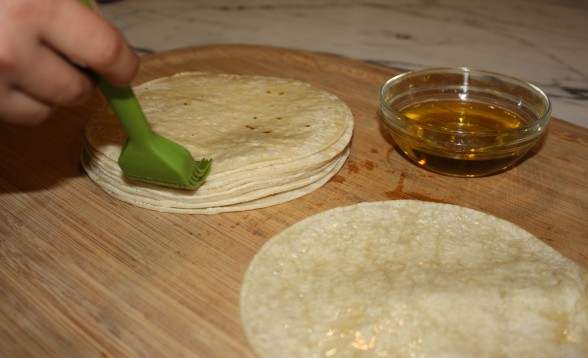 You can imagine the cause for celebration when I discovered that avocados are actually good for you!  Really good for you!  Who knew that something so creamy and buttery could have loads of fiber, Beta-carotene and minerals, such as potassium, magnesium and iron?  While it is absolutely true that avocados are very high in fat, it's the kind of high quality fat that you want to eat.  It is the freshest kind of fat, one that hasn't been exposed to air or processing and its profile is mostly monounsaturated fat, like the kind found in olive oil.  Hooray!  Avocados are also loaded with Vitamin E, a very powerful anti-oxidant.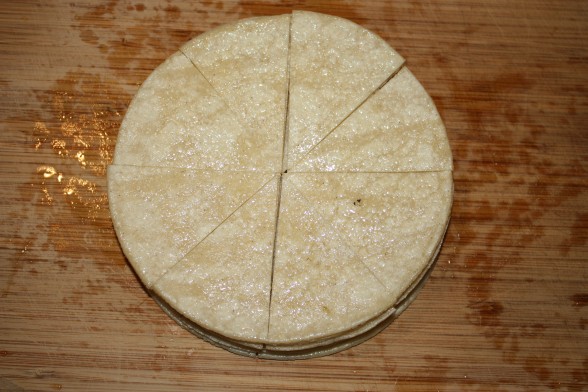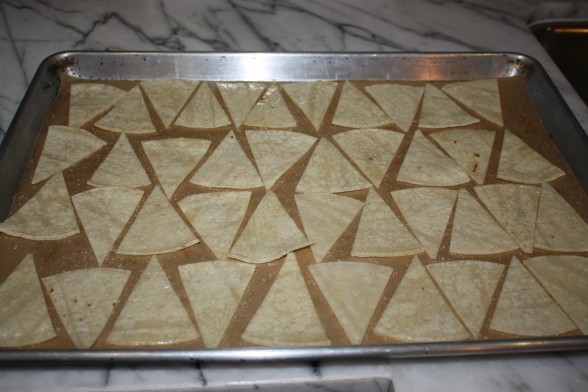 So let's chow down on the guacamole, right?  Well, you've heard it before — it's not the guacamole that's the problem, it's what you eat with it that's a whole lot of trouble.  I am referring to chips, especially the kind that are made from genetically-modified corn and fried in some low-quality corn or soybean oil.  Do not fret.  There is hope!  You can buy organic soft corn tortillas and make your own baked chips without a big commotion.  I am whipping up a few batches right now in preparation for tomorrow's holiday.  What, you don't celebrate the Super Bowl??  While you're at it, check out a great vegetable chili recipe and you'll be all set for the big day.  Go Steelers!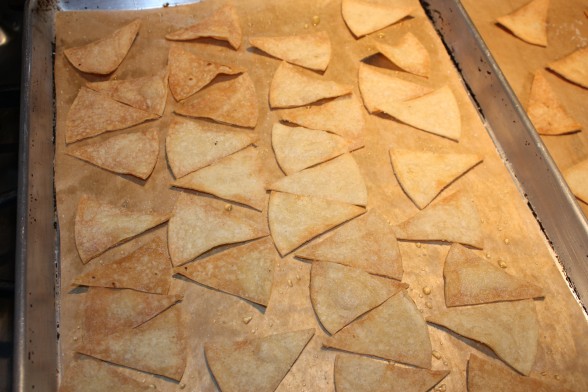 Guacamole and Baked Tortilla Chips
Serves:
makes enough for me and only me
Ingredients
guacamole:
4 ripe avocados, peeled, pitted and placed in a medium bowl
juice from ½ a lime or lemon (I prefer lime, but many swear by lemon)
2 Tablespoons minced red or white onion or shallot
½ tomato, diced (leave it out if it's not in season)
¼ cup chopped cilantro
½ jalapeno pepper, seeded and minced or hot sauce to taste
Sea salt to taste (don't skimp, guacamole needs quite a bit)
OR you can do the cheater version (no guilt, of course) and add a few spoonfuls of fresh salsa and salt to the mashed avocados
chips:
2 Tablespoons unrefined, cold-pressed olive oil
6 (6-inch) organic, soft corn tortillas
Sea salt
Instructions
Sprinkle the avocado with the lime juice and mash together in the bowl.
In a separate bowl, mix the onion, tomato, cilantro and hot sauce. Stir into the avocado mixture and season to taste with salt.
Transfer to a serving bowl and serve or refrigerate, tightly covered for a few hours.
Preheat oven to 350 degrees. Place the tortillas on a cutting board. Brush the oil over both sides of the tortillas. Stack the tortillas and cut them in half, then cut the halves in half and one more time to make eighths. Spread the tortillas in one layer on a parchment-lined baking sheet and sprinkle with sea salt. Bake for 15-20 minutes or until crisp. Transfer to a paper towel-lined plate and cool.