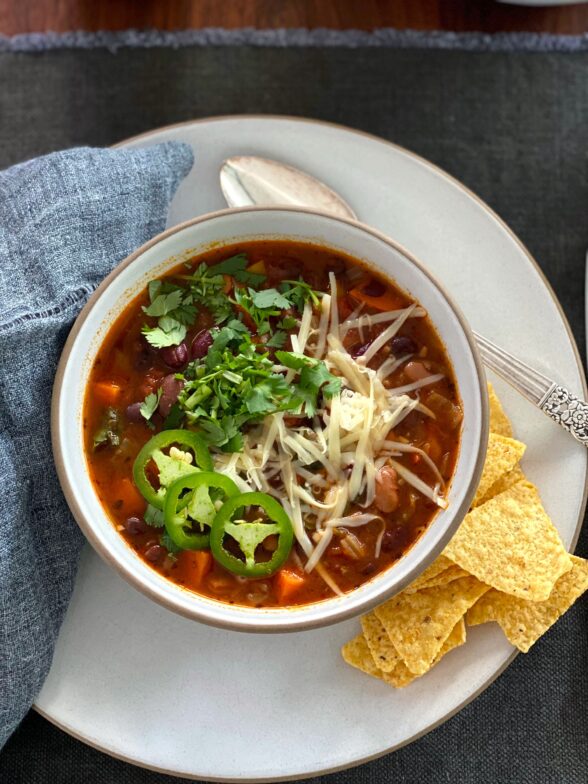 This recipe was originally published over 10 years ago, but I still make it all the time and have given the photos a makeover!
We are a football-watching family.  On any given Sunday during the season, we are hunkered down for a good part of the day at home with the likely chance of random family and friends dropping by.  I like to prepare hearty, comfort food that can be left on the stove for everyone to help themselves whenever hunger strikes.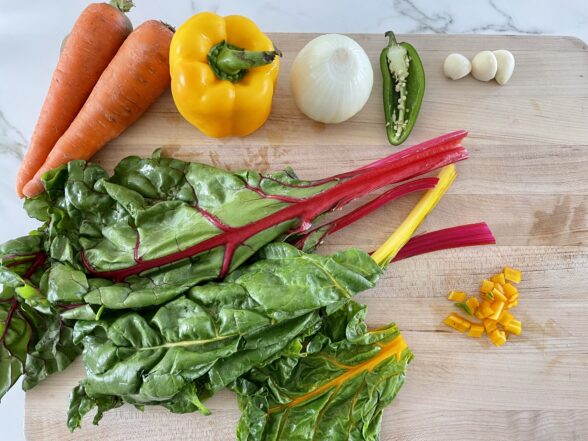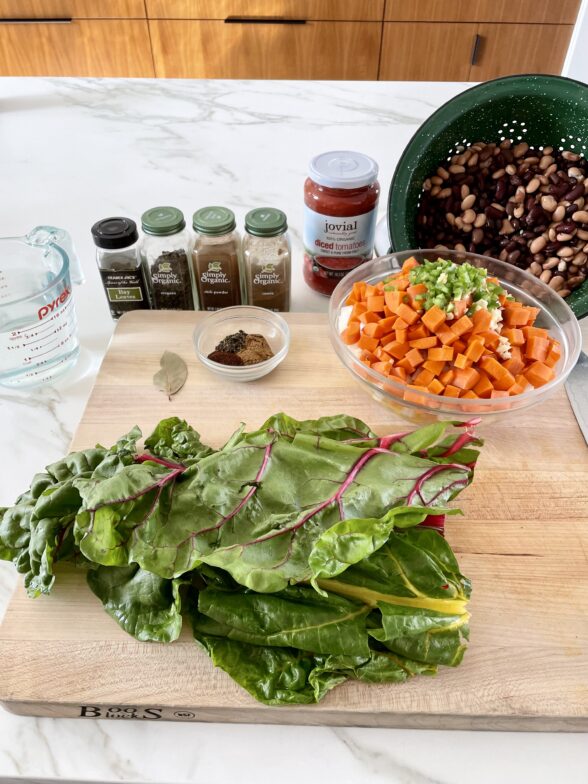 I know many people think that it "never rains in Southern California," but I assure you that is a myth.  I'm not complaining, because we need the rain, but this has been a particularly rainy season.  Today is a chilly and damp Sunday and the rain started early.  Perfect weather for vegetable chili!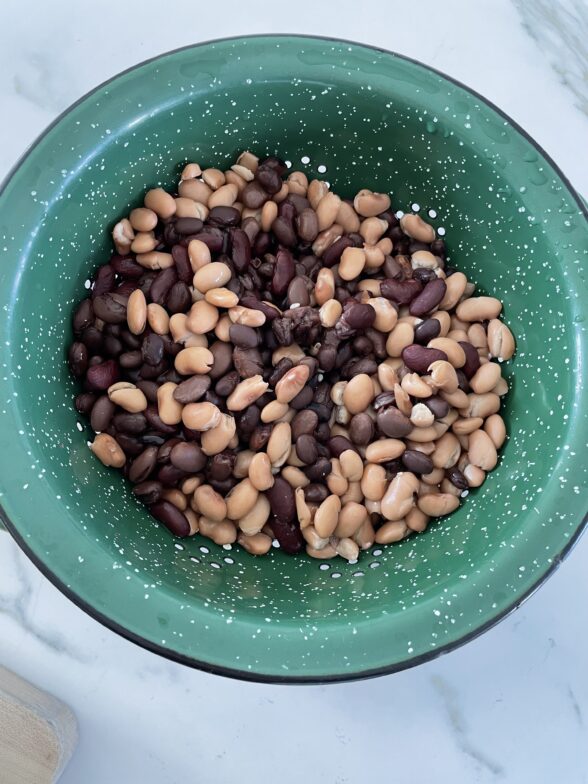 This recipe is completely vegan and no one has ever asked me, "where's the beef?"  This is a flavorful stew with lots of warming spices (but not spicy) to fuel your internal fire and keep you feeling toasty.  I like to cook big batches of beans from scratch and freeze them for later use, but you can certainly use canned here.  My favorite brand is Eden, one of the only companies NOT to use BPA in its cans.  Hooray!  They also cook their beans like I do, with kombu, a sea vegetable which adds extra minerals and alkalinity to the beans.  You can use all the same kind of bean or mix and match.  My favorites to use here are kidney, pinto and black beans all of which are top of the class in antioxidants.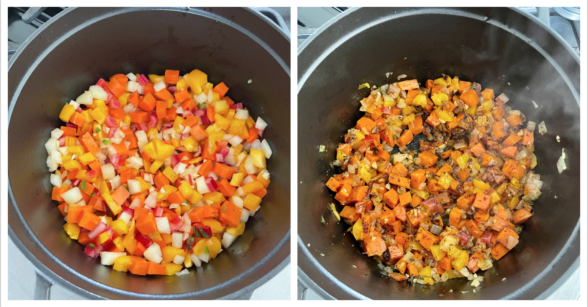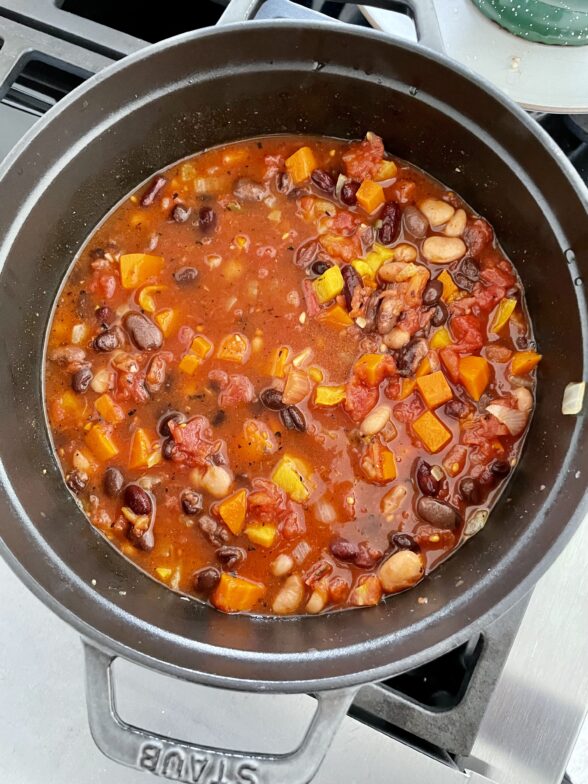 To make a complete protein, serve this over cooked brown rice, millet or quinoa.  Lastly, I set out bowls of chopped avocado, lime wedges, and a terrific raw cheddar cheese I found at the farmer's market and brought home and shredded.  If the kids will eat more of this with a few tortilla chips dunked in, I say let them go for it.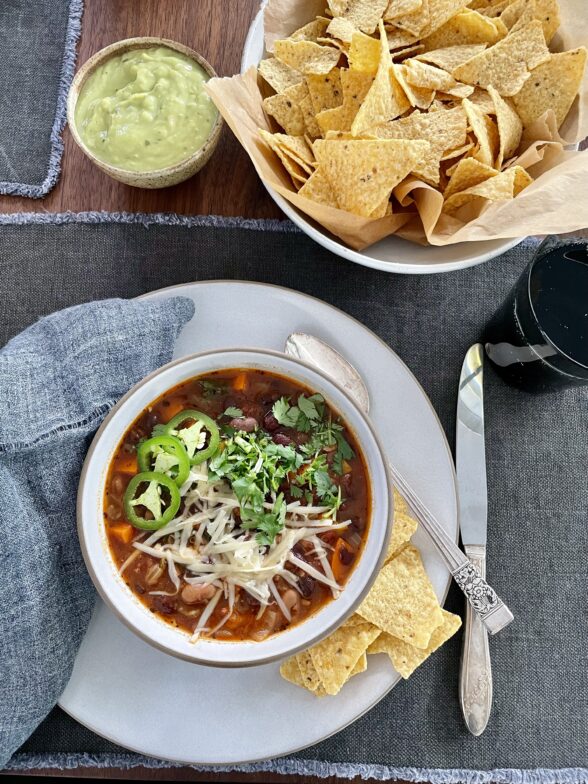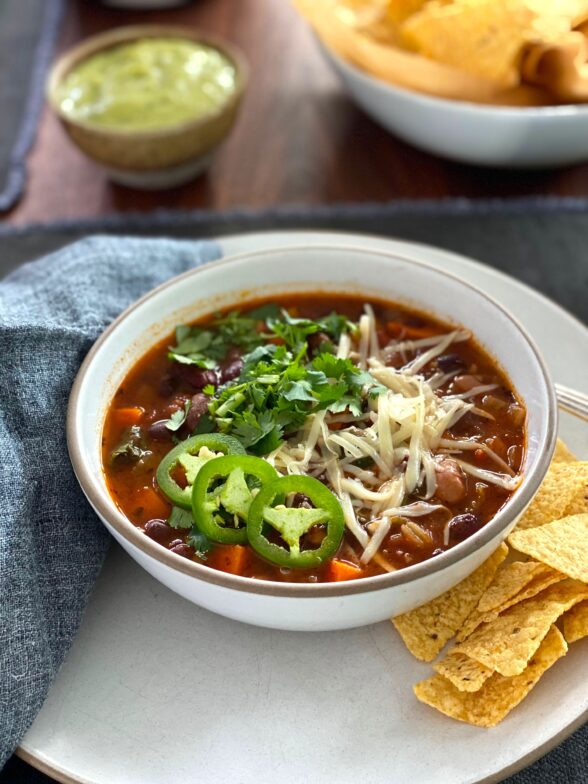 If you make this recipe or any of my recipes, please tag me on Instagram so I can see your beautiful creations @pamelasalzman #pamelasalzman!
You can shop the tools I used for this recipe by clicking on the images below:

Vegetable Chili
Author:
Pamela Salzman, Inspired by Martha Stewart Living
Ingredients
2 Tablespoons unrefined, cold-pressed extra-virgin olive oil
2 medium carrots, chopped
1 large onion, chopped
1 sweet bell pepper (red, orange or yellow), seeded and chopped
½ bunch Swiss chard, stems diced and leaves cut into 1-inch pieces, about 5 cups
½ jalapeno, chili, seeded (leave the seeds in to make it hotter) and minced
3 large garlic cloves, minced
1½ teaspoons dried oregano
1½ teaspoons ground cumin
1½ teaspoons chili powder
29 ounces of whole plum tomatoes, crushed and keep the juice or 2 pounds fresh tomatoes, peeled, seeded and chopped
1 bay leaf
5 cups or 3 (15-ounce) cans cooked beans (such as red kidney, pinto or black), drained and rinsed
2½ cups water or vegetable stock
2-3 teaspoons sea salt (I use 3 teaspoons)
¼ teaspoon freshly ground pepper
1½ Tablespoons chopped fresh cilantro, plus extra for garnish (optional)
Garnishes: cubed avocado, lime wedges
Instructions
Heat oil in a large pot over medium heat. Add carrots, onion, bell pepper, chard stems, jalapeno and garlic, and cook until softened, about 10 minutes. Add oregano, cumin and chili powder and cook, stirring constantly, for 2 minutes.
Add tomatoes with the juice, bay leaf, beans, water, salt and pepper. Bring to a simmer. Cover and reduce heat to low. Simmer for 1 hour. (even 45 minutes is fine)
Discard the bay leaf. Add the Swiss chard leaves and cook, uncovered, until mixture has thickened slightly, about 20 minutes. Stir in chopped cilantro. Serve with cooked brown rice, millet or quinoa.