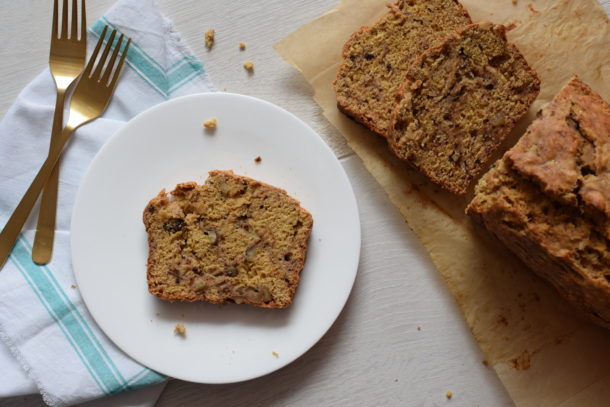 One of my pet peeves is when people label a dessert as "healthy," and not because that is grammatically incorrect, but rather because desserts have sugar of some form and that will never be "good" for you no matter how much whole wheat flour you throw in there.  Of course, you could say one dessert is more healthful than another or that it will lead to the demise of your health less quickly than its traditional counterpart.  But to call a dessert healthful because we use yogurt instead of butter, but then add in 3 cups of sugar, is just plain delusional.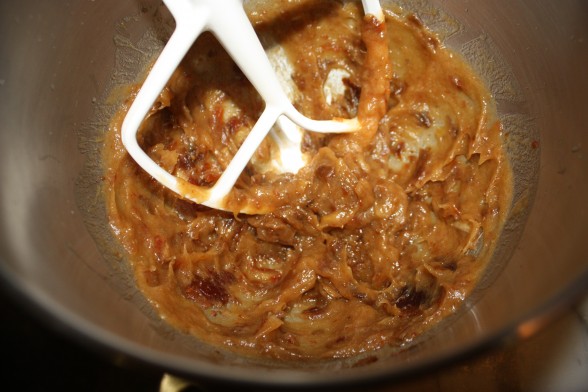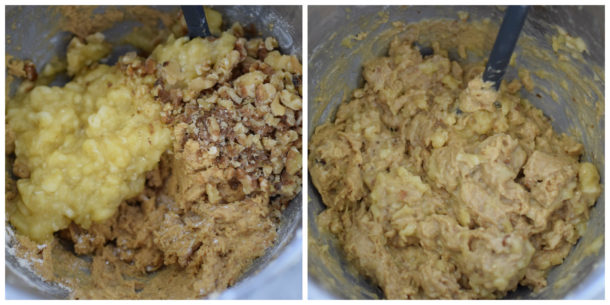 Would you call me a hypocrite if I told you I have a recipe for a healthful dessert?  I don't blame you, but stay with me here.  I know of a sweet something that calls for no sugar of any kind — not even my favorite, maple syrup.  Don't be silly, I am not going artificial on you!  It is a delicious banana bread sweetened only with ripe bananas and pureed dates.  Dates grow locally in Southern California, so we have access to some fantastic varieties here, my favorite being the Medjool.  If you are ever craving something sweet, but don't want to give in to processed junk, take a pitted date or two and stick a pecan in the middle.  Amazing.  I digress.  The dates do double duty as sweetener and add moistness so we cut back on some of the butter, too.  The key, though, with any banana bread is using super ripe bananas, well-speckled with lots of black dots (the kind many people toss in the garbage — arrgh!).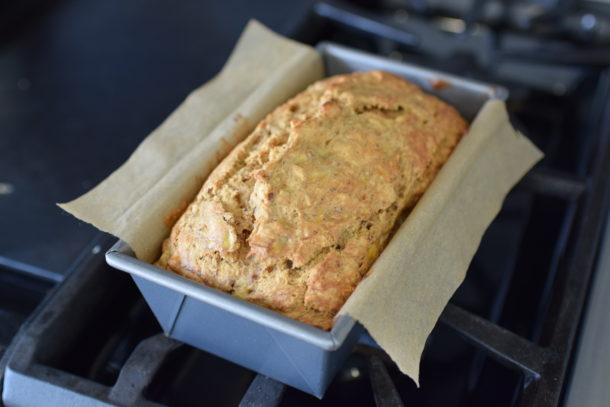 Banana bread freezes beautifully and makes a terrific muffin, as well.  I adapt this recipe according to the season, adding blueberries in the summer, fresh cranberries in the fall and walnuts or pecans in the winter.  This banana bread is not as sweet as the ones you may be used to, so yes, you can add chocolate chips or a drop of maple syrup if you must.  Just don't call it healthy!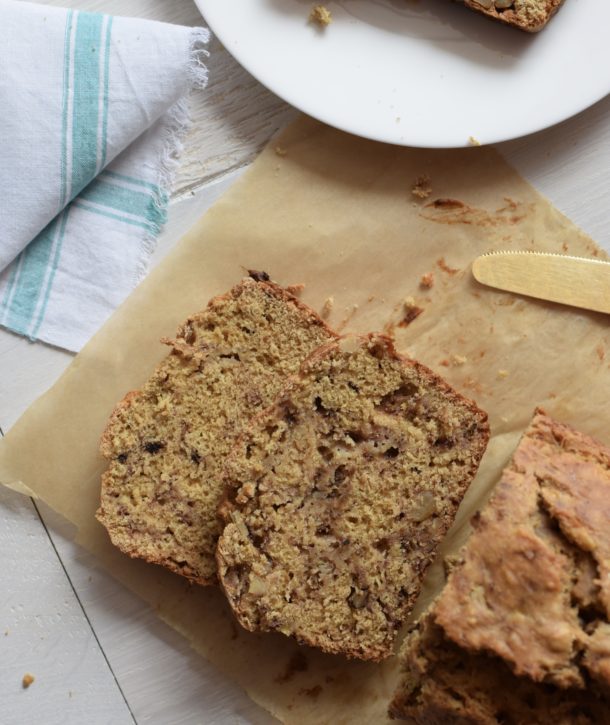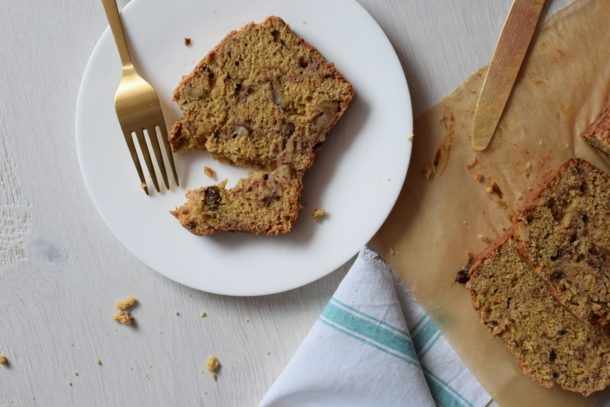 date-sweetened banana bread recipe
Ingredients
1 cup dried dates (about 7 ounces), pitted
½ cup hot water
4 Tablespoons (1/2 stick) unsalted butter or unrefined coconut oil, at room temperature
2 large eggs, at room temperature
1 Tablespoon pure vanilla extract
2 cups white whole wheat flour, spelt flour or sprouted spelt flour
½ teaspoon fine grain sea salt
1 teaspoon baking soda
½ teaspoon aluminum-free baking powder
3 large, ripe bananas, mashed
½ cup raw walnuts or pecans, coarsely chopped (or fresh blueberries or cranberries)
Instructions
Preheat oven to 350 degrees. Grease a 9 x 5 x 3 loaf pan. (Can be lined with parchment if it is aluminum.)
Place the dates in the bowl of an electric mixer fitted with the paddle attachment. Add the hot water and allow the dates to soften for at least 10 minutes. (I usually get the rest of my ingredients ready while the dates are softening.)
Turn the mixer on low speed and blend until the water has incorporated with the dates. Turn the mixer to medium low speed and beat the dates until a smooth puree forms.
Add the butter or coconut oil and beat until well blended. Add the eggs, one at a time, beating well after each addition. Add the vanilla extract and mix.
In a medium bowl, combine the flour, baking soda, baking powder and salt. Add to the butter-date mixture and mix until just combined.
Fold in the mashed bananas and walnuts.
Pour the mixture into the prepared pan and bake for 50-60 minutes (I made it in many different ovens with this range of time), or until a toothpick inserted in the center comes out barely clean. Cool in the pan for 10 minutes. Remove from the pan and cool on a rack.