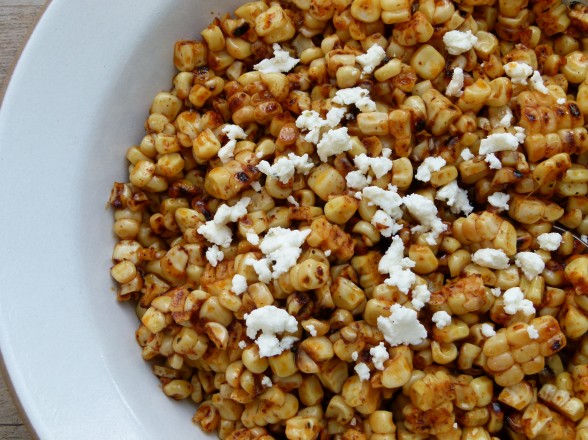 A close second to my obsession with summer tomatoes is my love for fresh locally-grown summer corn.  I think I buy it twice a week from the end of June to October.  I love corn's juicy, grassy sweetness.  I love how easy it is to make it taste good (if it's fresh) and how it goes so beautifully with all the other summer produce.  A major bonus is that everyone in my family loves corn.  Actually, not true.  My father grew up on a farm in Italy where they fed the pigs corn and he still associates it with animal feed.  Pity.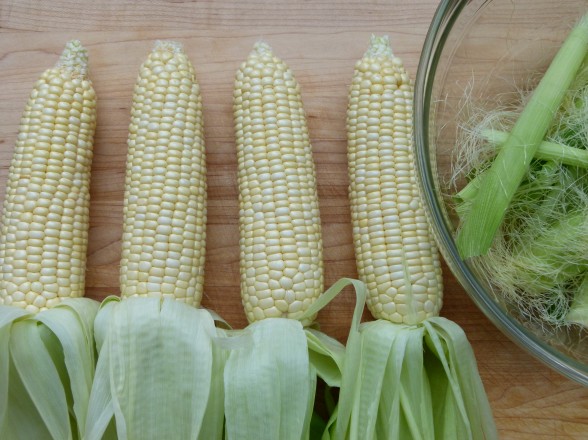 Given all the above, I have prepared A LOT of corn for summer dinner guests and I have made an unscientific observation.  Adults are not fond of eating corn-on-the-cob in front of people they are not related to.  Guilty!  I have served both boiled and grilled corn on the cob to guests, as well as sauteed corn kernels or corn off the cob in a salad, and corn cut off the cob is always more popular.  I think that sometimes eating an ear of corn is awkward or messy.  Perhaps it gets stuck in your teeth or stays on your check and no one tells you until dessert is served.  So I have a policy of making corn on the cob for my kids and my husband and me, but always cut off the cob for guests.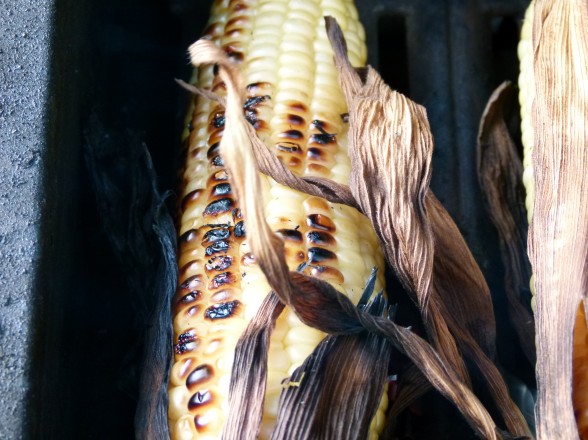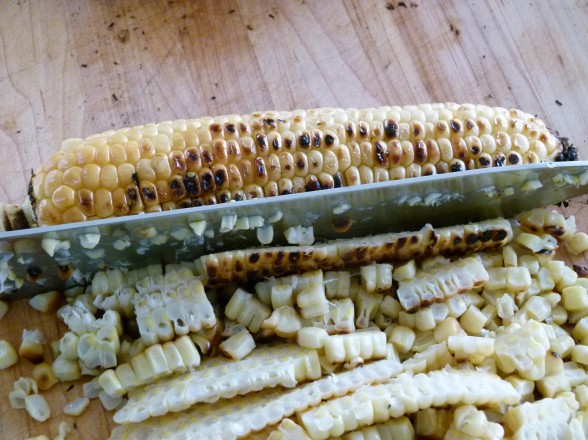 One very popular way to eat corn in Southern California is Grilled Mexican Corn on the Cob.  Typically the ear of corn is grilled in the husk and then the kernels (still on the cob) are slathered with mayonnaise, chili powder and/or cayenne pepper, a squeeze of fresh lime and sprinkled with salty, crumbly Cotija cheese.  Utterly delicious, albeit messy and something I would never eat in front of you, especially if I hope to make a good impression and keep my shirt from the dry cleaners.  But I figured the same flavors would translate to to cut corn kernels.  It worked!  The only thing I leave out is the mayonnaise which I think can take over and detract from the corn.  But I'm sure many of you would challenge me on that one.  I am crazy about grilling corn in the husks, though.  Have you ever smelled burning corn husks?  It's fantastic.  I really think it adds a delicious smokiness to the final dish.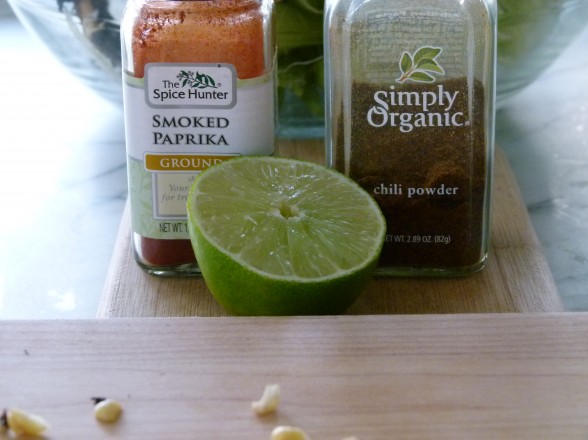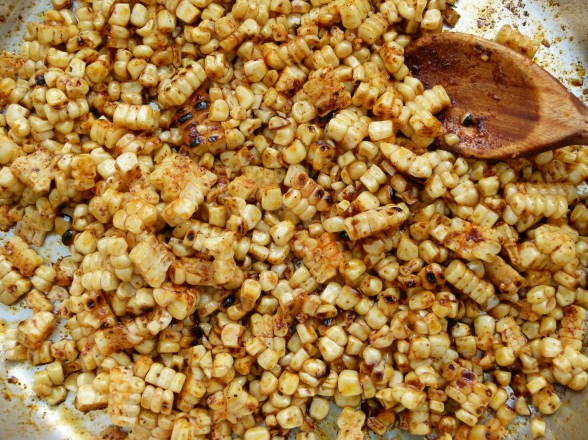 Definitely try this recipe if you're looking for something a little different or if you love the taste of grilled street corn, as some people call it, but you'd still like to look like a lady/gentleman while you eat.  I served this the other night with grilled fish tacos and I ate it both as a side dish as well as a condiment on my taco.  Delicious!  If you can't get enough of corn right now, try my recipe for my favorite salad, Chopped Grilled Vegetable Salad, as well as Southwestern Quinoa Salad, or Grilled Corn and Black Bean Salsa.  Of course there are thousands of recipes you can search on Foodily, where I was just asked to be a Tastemaker.  Fun!  I get to highlight awesome recipes that I find all over the web.  Check it out!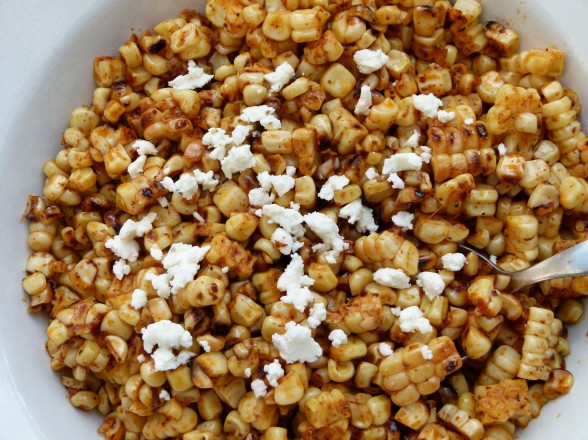 Grilled Mexican Corn Off the Cob
Ingredients
4 ears of corn
2 ½ Tablespoons unsalted butter
¾ teaspoon chili powder
¾ teaspoon smoked paprika
juice of ½ lime
fine grain sea salt to taste
Crumbled feta, Parmesan or Cotija cheese, if desired (it's just as good without)
Instructions
Preheat a grill over medium heat. Carefully pull down husks and remove silks. Replace most of the husk and grill for 5-6 minutes per side or until kernels are charred. Don't worry if the husk burns. Remove husk and cut kernels off of the cob.
Melt butter in large sauté pan. Add chili powder, paprika and lime juice and stir to combine. Stir in corn and season with salt. Taste it for seasoning. Try not to eat the whole thing. Finish with lime juice and a sprinkling of cheese, if you like.