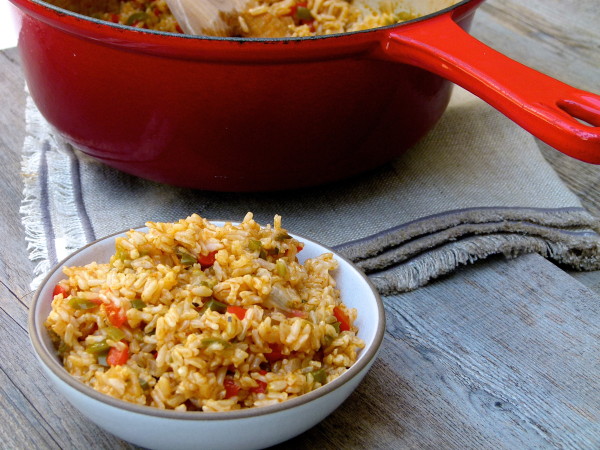 You cannot have a proper fiesta without rice.  Whether it's green, red or speckled with cilantro, rice is the perfect side to soak up juicy beans or shredded chicken, or what I like to do, to mix into a crunchy salad.  Plus leftovers are amazing the next day in a burrito or for a twist on my brown rice bake with kale and mushrooms, a Mexican brown rice bake!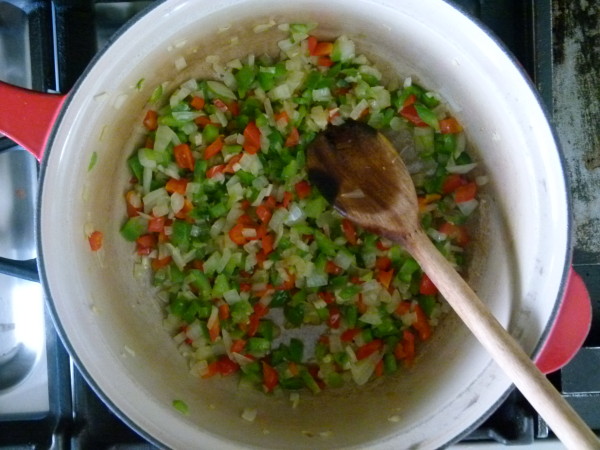 I'm calling this recipe "Restaurant-style Mexican Rice" because I have no idea if this is the kind of rice you could find in Mexico, but I know you can get it in Mexican restaurants here.  Except my version uses brown rice.  Is brown rice better for you than white?  Maybe a little, especially if you take the time to soak it.  It doesn't raise your blood sugar as much as white rice due to the higher fiber and protein content.  But if you don't soak your brown rice, white has less arsenic and is more digestible.  To tell you the truth, I eat and enjoy both and you can use white rice here if you want.  Just remember that it takes much less time, about 18 minutes.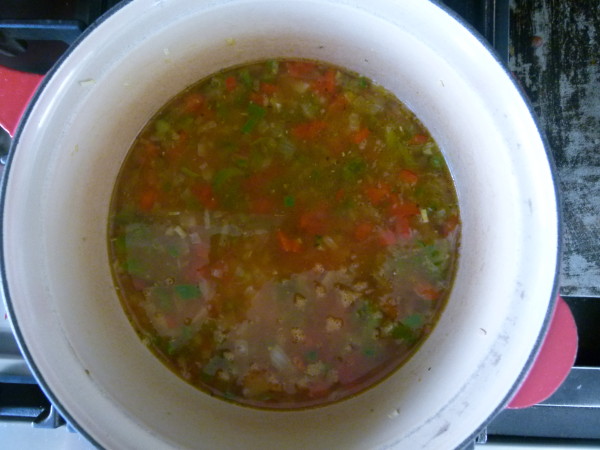 If you wanted to try to make brown rice for your family for the first time, this is the the perfect recipe.  Why?  Because all the tomato paste will tint whatever rice you are using and white will look the same as brown in the end!   If your kids cannot handle bell peppers in their rice, feel free to leave it out.  But it does add flavor, so I just let my son pick out whatever he doesn't want.  And don't wait for Cinco de Mayo to serve this.  I actually make this rice for Meatless Monday rice bowls for dinner, too.  With some beans and a roasted or sautéed vegetable, plus avocado if you have it, you have a highly nutritious and very tasty meal that everyone will love.  If you caught my Instagram last night, I served it with simple pinto beans, Mexican-style sautéed kale and a chipotle cashew cream sauce I made up.  Everyone loved it!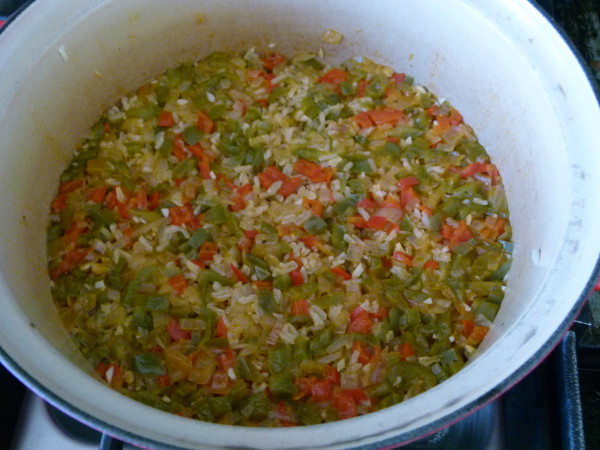 I also made a Paleo/Grain-free/Low-Carb version because I have quite a few paleo students now.  It was totally delicious!  In a large skillet, saute the vegetables and garlic until tender.  Add the tomato paste and 2 Tablespoons of water plus about 1/2 teaspoon salt, 1/2 teaspoon oregano and black pepper to taste. Add riced cauliflower from 1 head of cauliflower. (see this recipe for how to do that).  Saute until cauliflower is tender.  Taste for seasoning and enjoy!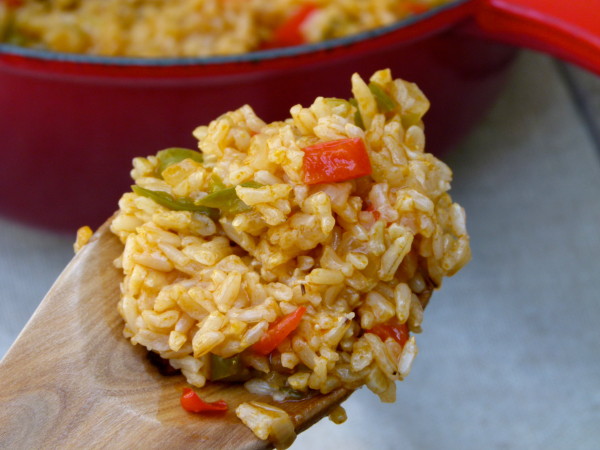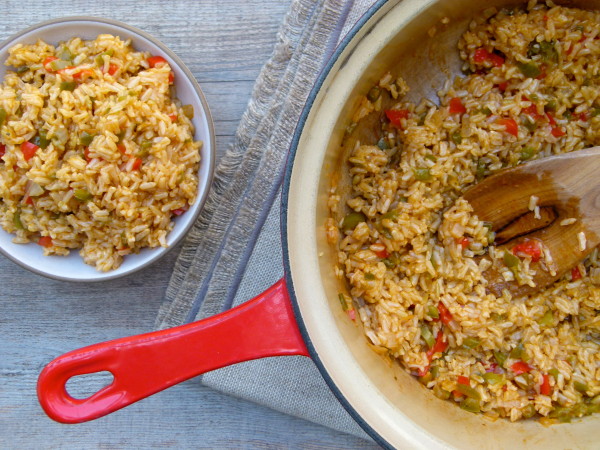 Restaurant-Style Mexican Rice
Ingredients
2 Tablespoons unrefined, cold-pressed extra virgin olive oil
1 onion, finely chopped
4 garlic cloves, finely chopped
1 jalapeno, ribs and seeds removed and finely chopped
1 green bell pepper, diced
1 red bell pepper, diced
2 cups long-grain brown rice, rinsed and drained
2 Tablespoons tomato paste
3 teaspoons sea salt
½ teaspoon dried oregano
3 ¾ cups water, vegetable stock or chicken stock
Instructions
Heat the olive oil in a medium-large heavy pot over medium heat. Add the onions, garlic, chile and bell peppers. Saute for 5-6 minutes, or until the vegetables are tender.
Stir in the rice, tomato paste, sea salt, oregano and water. Bring to a boil over high heat. Decrease the heat to medium-low, cover and simmer without stirring for 50 minutes, or until the rice is tender and the liquid is absorbed.
Remove from heat. Let stand, covered, for 10 minutes before serving.
Notes
You can add more tomato paste if you want a darker color or more tomato flavor.
* Keep ribs and seeds for a little extra heat
Once the rice is removed from the heat, you can add some fresh corn kernels or cooked black or pinto beans for a vegetarian main dish.