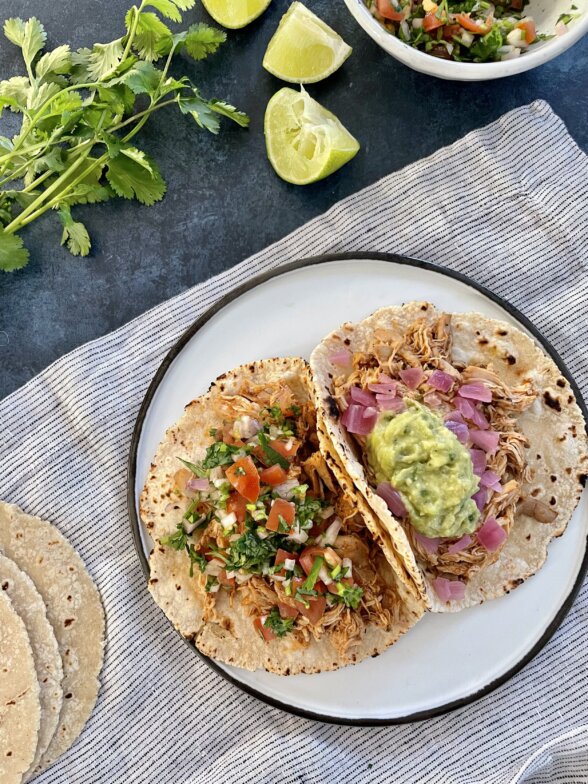 You have all waited patiently while my life changed with the arrival of my new slow cooker. Apparently, I am very late to this party.  I had no idea there was this whole huge world of slow cooker devotees.  There are even websites devoted to only slow cooker recipes.  I could wallow in self pity right now, knowing that all these years I could have been starting my dinner first thing in the morning and then return at 6:00 pm to a fully cooked meal.  I could think about all the fall apart tender meats I missed out on or the flavorful soups and stews that could have been.  But who can be down when you're in love?  Not me, friends.  Because I am in LOVE with my new slow cooker.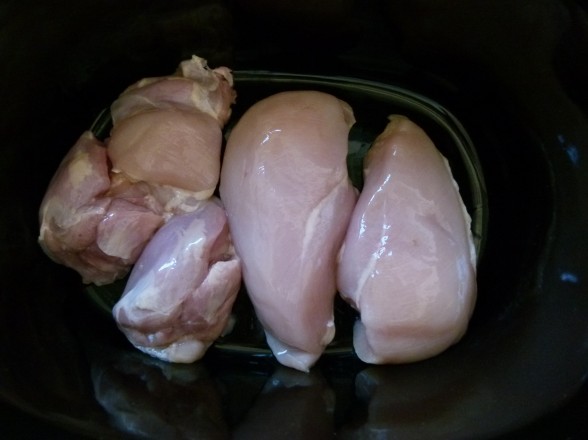 I use the words "slow cooker" instead of Crock Pot because Crock Pot is a brand which I don't have.  But for all intents and purposes, they are used in the same way.  If you don't have a slow cooker, I am not trying to sell you one here and I will provide directions in this recipe for how to make these tacos without one.  But seriously people, this machine rocks.  I don't know what took me so long to get one.  I think part of my resistance was that I don't have any room in my kitchen to store it.  I still don't, but I did give away a box of Disney DVD's in the garage to make space for it.  (Shhhhhh!)  I also never had a job where I left early in the morning and didn't return until 6:00 pm to a house of hungry human beings.  Until now.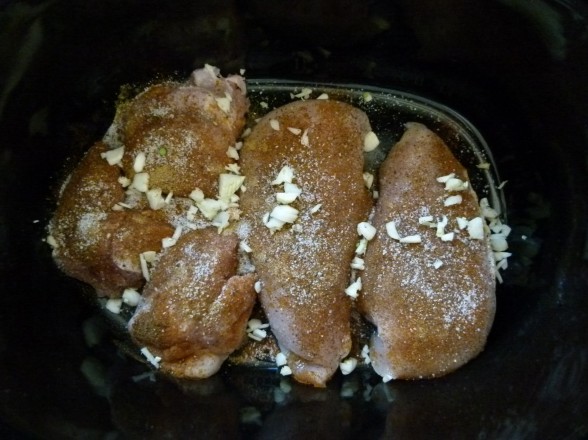 The irony is that I bought my sister a slow cooker a few years ago when she had her second baby because she does have a job like that.  She has been raving about it ever since!  A few months ago, I gave my other sister the same slow cooker when she moved into a new house and I think she just started playing around with it.  But I've used mine a few times a week since mid-December and I'm hooked.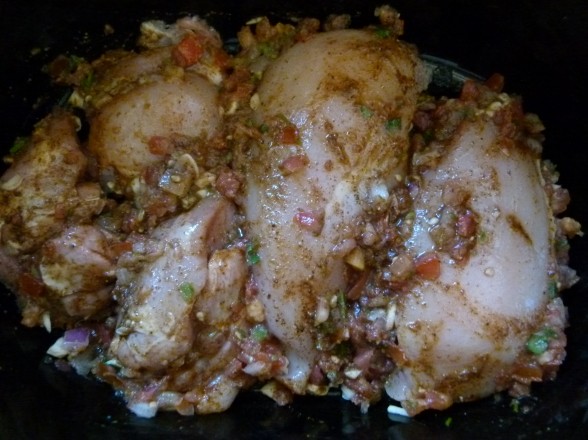 Listen, no one needs a slow cooker, but here is why I love mine:
–if you spend a little time before you leave for the day, your slow cooker will make dinner and keep it warm for you until dinnertime;
–slow cookers cook at low heat for longer time.  Lower heat prevents nutrient loss.  Also, cooking above 350 degrees (which a slow cooker does NOT) can create AGE's (advanced glycation end products) which are very inflammatory to the body and considered carcinogenic (ugh.)  Yup, you heard that right.  Preparing food in a slow cooker is better for your health!
–slow cooking can be very beneficial to tougher, leaner cuts of meat by breaking down the muscle and creating a very soft, tender meat;
–you can leave it unattended for up to 12 hours without overcooking your food or worrying about burning your kitchen down.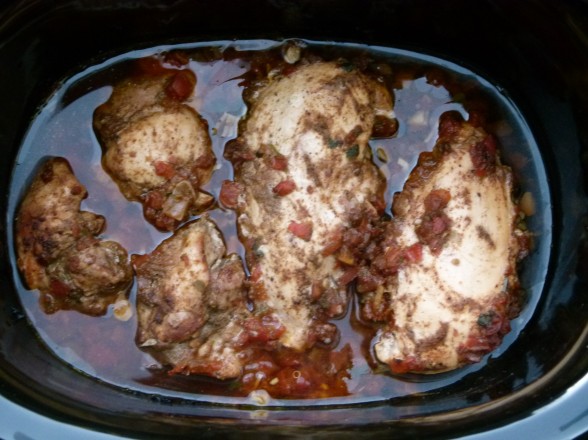 Again, I am new to slow cookers, and although I have learned a lot just by trail and error, I am no expert.  But so far, I've noticed that I prefer the recipes that ask you to brown meat or saute vegetables before adding them to the slow cooker.  You get much better flavor that way.  Yes, I realize you're getting another pan dirty, but it's worth it and you're getting it over with in advance.  Also, I've made many non-slow cooker recipes in the slow cooker and just reduced the liquid a bit since there's almost no evaporation happening and a lot of condensation.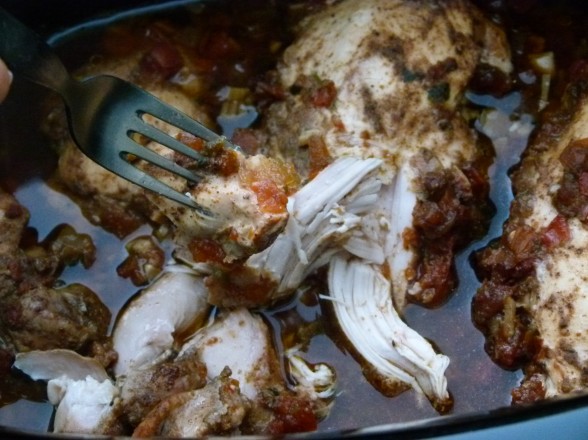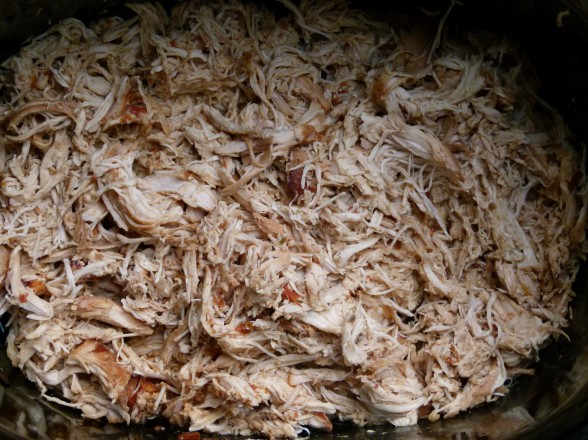 The recipe I'm posting today is a super easy one which I made on Sunday.  This is truly a measure, dump and press start recipe.  I used two different kind of chicken parts to see how they would both turn out and I'll tell you the truth — although my family much prefers white meat, no one could tell what was what.  Both the thigh and breast meat were super fork-tender.  I personally think thighs have more flavor, but that's just me.  Everyone L-O-V-E-D these!  I set up a taco bar with lots of toppings so they could just help themselves so I could sit on the couch with a cozy blanket and the new issue of Bon Appetit while watching the football game.  Bliss.  Slow cooker + Me = Together Forever!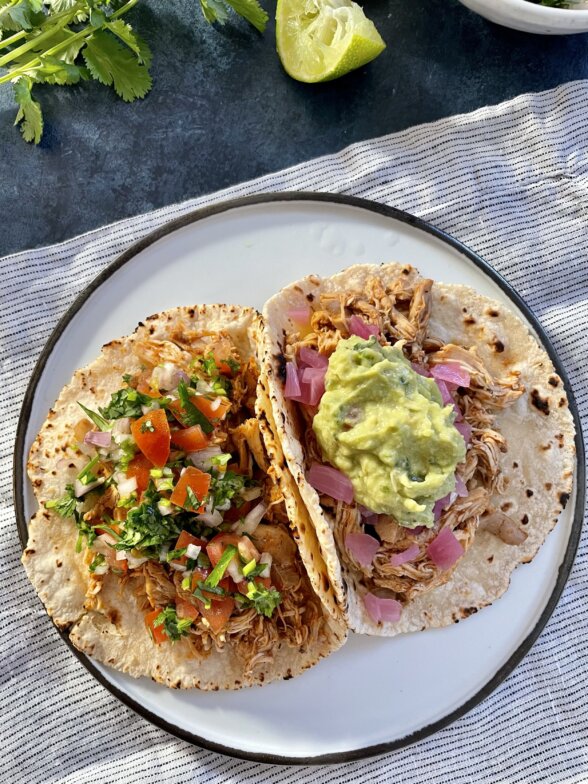 Any slow cooker love stories out there?  I want to know it all — how and when you met, how you keep the passion alive, recipes for success, etc!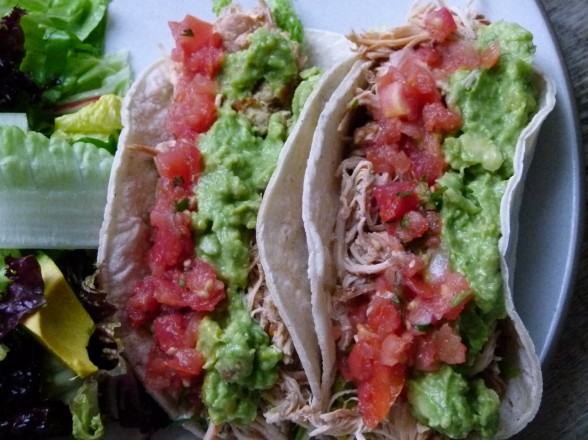 Slow Cooker Chicken Tacos
Author:
Pamela, adapted from Martha Stewart Living
Ingredients
2 pounds boneless, skinless chicken breasts and/or thighs (I used 2 breasts and 3 thighs.)
1 teaspoon chili powder
1 teaspoon ground cumin
½ teaspoon ground chipotle powder
1 teaspoon sea salt
black pepper to taste
4 cloves garlic, finely chopped
½ cup prepared tomato salsa (I used pico de gallo.) + more for serving
suggested accompaniments: corn tortillas, guacamole, salsa, shredded lettuce, cilantro-lime slaw
Instructions
Place the chicken in slow cooker and sprinkle with chili powder, cumin, chipotle powder, salt and pepper. Add garlic and salsa and rub around to combine. Cover; cook on high for 4 hours or low for 6-8 hours.
Either shred the chicken with 2 forks right in the slow cooker or transfer to a plate to shred. Moisten chicken with cooking juices and serve with desired tortillas/taco shells and toppings. You could even serve the chicken over rice with salsa and diced avocados.
Notes
Leftovers are great in a quesadilla!

Oven method: preheat oven to 350 degrees. In step 1, place all ingredients (except accompaniments) in a 5-quart Dutch oven or ovenproof pot with a tight-fitting lid. Add 2 cups water or chicken stock. Cover and bake until chicken is fork-tender, about 2 hours. Proceed with step 2.