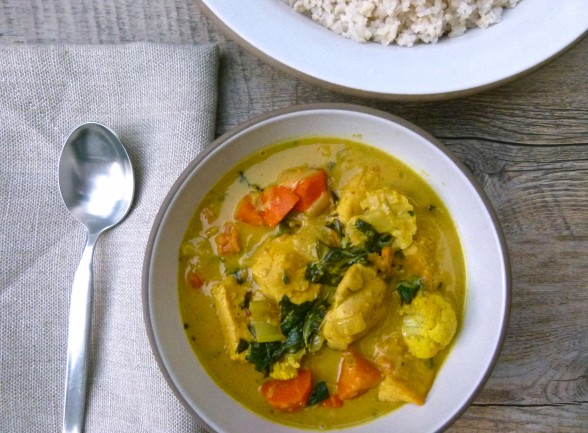 Growing up in a traditional Italian home, I learned very little about food that wasn't Italian.  I could tell you the names of about 80 different shapes of pasta (you could, too if you ate it four times per week) and I knew my Parmigiano from my Pecorino.  In the garden, I could differentiate between the many varieties of eggplant or basil plants.  This was my culinary comfort zone.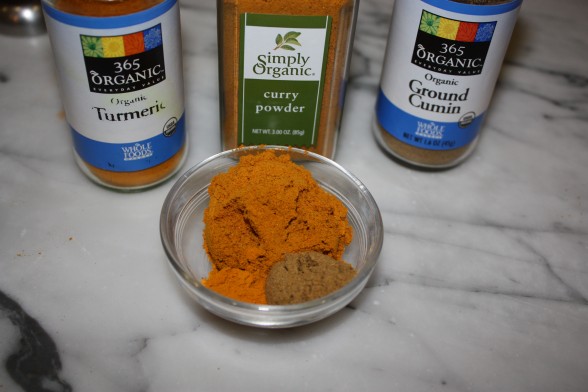 It wasn't until I was in college that I was exposed to "ethnic" foods and I fell hard for curries.  Raise your hand if you thought like I did that curry was a spice — one spice.  I imagined fields somewhere in Asia with people picking curry berries.  (Actually, there is such a thing as a curry plant, but it is somewhat like a lettuce and has nothing to do with Indian or Thai curries.)  I learned not too long ago that curry powder is a blend of several different spices and no two curry powders are the same.  Most contain turmeric, cumin, coriander, fenugreek, and red pepper in their blends. Depending on the brand, additional ingredients such as ginger, cinnamon, mace, nutmeg, and black pepper can be added.  Some chefs prefer to toast their own spices and grind them to make their own curry blends, which sounds like such a nice thing to do if it wouldn't completely put me over the edge.  I give you permission to use a premade curry powder which will not compromise anything in this recipe.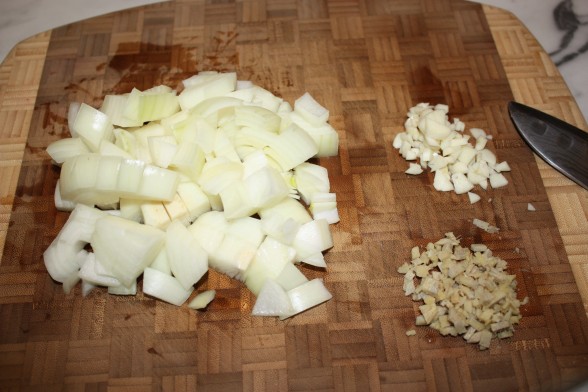 Chicken and vegetable curry is a staple in our house.  It is an incredibly flavorful dish enriched with coconut milk and cashew butter.  I vary the vegetables according to the season:  butternut squash or yams in the fall/winter with cauliflower; asparagus and peas in the spring; green beans and eggplant in the late summer/early fall; and I always throw in a few handfuls of spinach at the end because I will add leafy greens wherever I can.   We love this over brown jasmine or basmati rice, but recently I served this over some leftover soba and it was so tasty with the sauce coating all the noodles — everyone devoured it, especially Mr. Picky!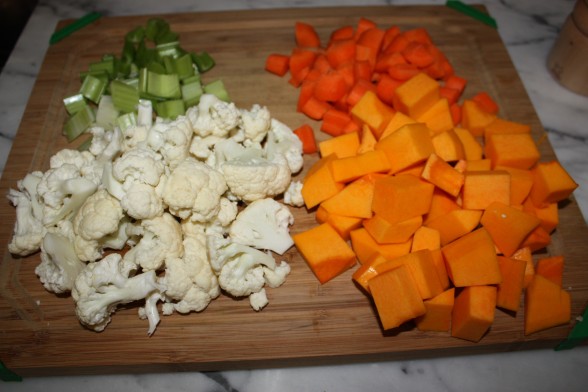 This curry is gluten-free.  Vegetarians can substitute chickpeas instead of chicken and vegetable stock for chicken stock.  This freezes really well as long as it's tightly covered with as little air as possible coming into contact with the top of the food.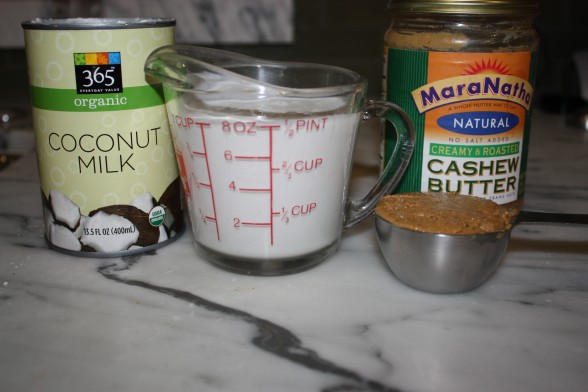 I love sharing all the nutritional highlights about the recipes I post.   You can read about all the benefits of curry powder's anti-inflammatory spices, especially turmeric, in the Harira post, and I would likely sound like a broken record if I told you why we need to eat more vegetables and less animal protein.  But don't make this dish just because it's good for you.  Make it because it's delicious.  When I served this to my Italian father for the first time he said, "I have no idea what this is, but it's fantastic."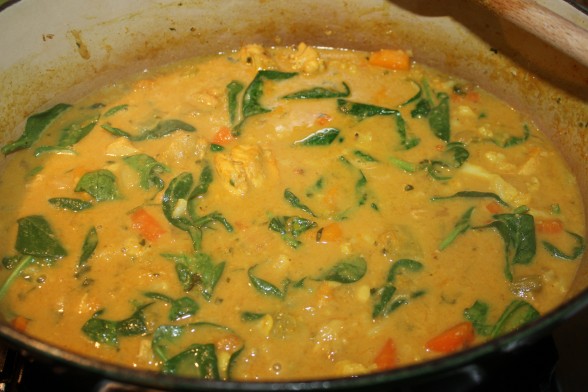 Chicken and Vegetable Curry
Ingredients
3 Tablespoons unrefined coconut oil or ghee
2 pounds boneless, skinless chicken meat (breast or thigh or combination), cubed
1 large onion, chopped
2 cloves garlic, finely chopped
1 Tablespoon finely chopped peeled fresh ginger
2 carrots, peeled and cut into chunks
2 stalks celery, cut into chunks
4 cups vegetables, cut into same size as carrots and celery (e.g. cauliflower, root veggies, green beans, eggplant, potatoes…)
2-3 Tablespoons curry powder*
1 teaspoon ground cumin
¼ teaspoon ground turmeric
2 teaspoons sea salt
1 ½ cups chicken stock, vegetable stock or 1 14.5-ounce can diced tomatoes
¼ cup chopped fresh cilantro (optional)
½ cup cashews, finely ground or ¼ cup cashew butter
1 cup coconut milk
A few handfuls of baby spinach leaves
Instructions
Season chicken pieces with sea salt and freshly ground black pepper. Heat oil or ghee in a large, heavy pot over medium heat. Without crowding, add the chicken in batches and lightly brown. Remove with a slotted spoon to a plate and continue cooking all the chicken in the same manner.
Add the onion, garlic and ginger to the pot and cook, stirring until softened, about 5 minutes. Add the carrots, celery and remaining vegetables. Cook another few minutes.
Add the chicken and any accumulated juices on the plate back in the pot. Add the curry powder, spices and salt and cook, stirring, 1 minute. Add the stock (or diced tomatoes) and chopped cilantro and bring to a simmer. Cover the pot and simmer gently, stirring occasionally until the chicken is cooked through, about 20 minutes.
Add the ground cashews or cashew butter to the curry along with the coconut milk, and simmer gently uncovered, stirring until sauce is thickened, about 5-10 minutes. Stir in spinach leaves and stir until wilted. Delicious over cooked basmati or jasmine rice or noodles.
Notes
*Different brands of curry powder taste differently. "Simply Organic" is a little stronger with more depth of flavor than "Spicely Organic." You can probably use 2 Tablespoons "Simply Organic" and 3 Tablespoons "Spicely Organic."