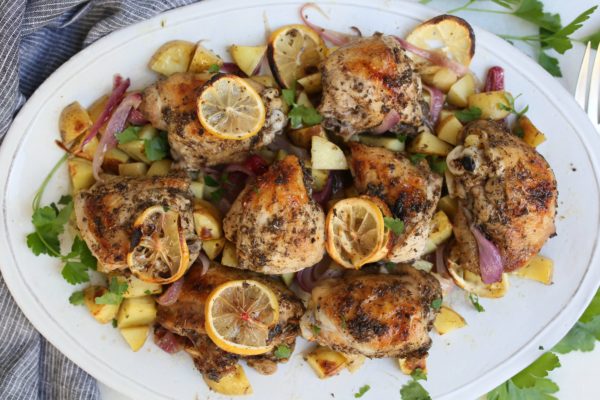 I'm that girl who makes an effort to encourage all the food on her plate to touch.  In fact, I'm so weird that I'll set the table for my family with a plate at everyone's place and a shallow bowl for me.  It looks odd, but I love eating out of a bowl as you know.  All my food gets nice and cozy together, which is basically Mr. Picky's NIGHTMARE.  So what could be better in my eyes than a one pot or a one pan meal?  Not only is everything all co-mingled, but it's so easy!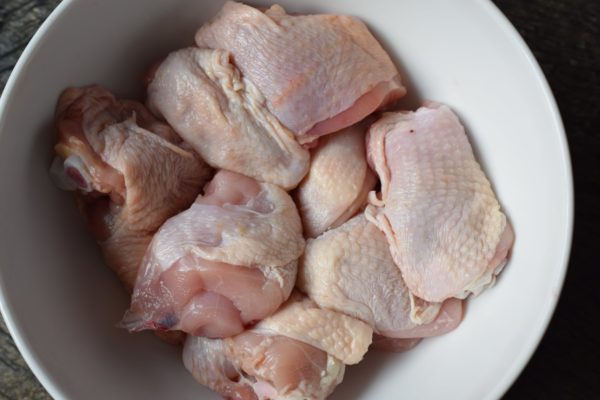 I taught this one-pan Greek chicken last fall and I am still hearing from my students that it has become a staple in their dinner repertoires.  It is a really flavorful and clean recipe, and even very picky kids seem to enjoy it.  I personally love Mediterranean flavors the best, especially with chicken.  Lemon, oregano, and garlic are not only delicious, but very anti-inflammatory as well.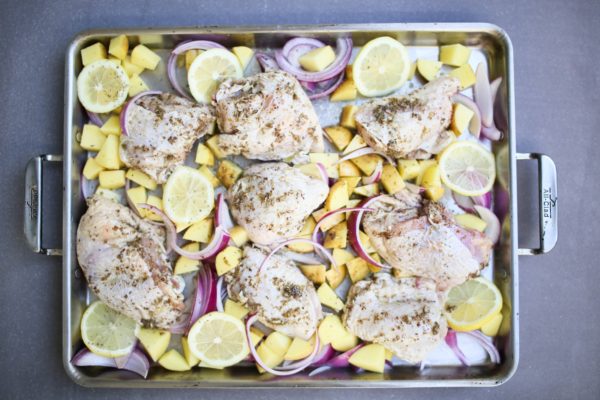 I used a combo of halved breasts and thighs.  I had the butcher cut the breasts in half so they would take the same time as the thighs.  Use whatever parts you like the best.  Because this recipe calls for roasting the chicken, bones and skin help keep the meat moist and flavorful.  If you have a strong preference for boneless/skinless, you'd be better off grilling the meat.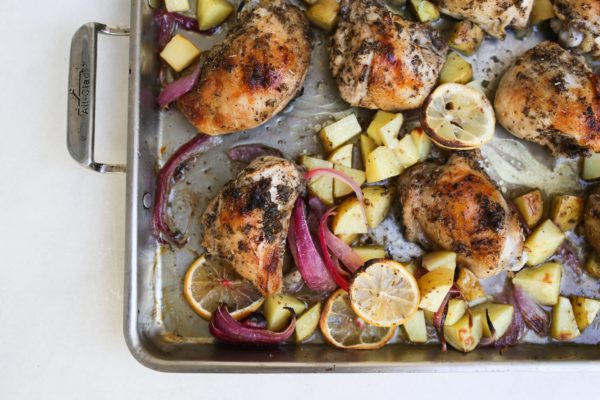 The potatoes pick up such a nice flavor from the chicken and the lemon, but if potatoes aren't your thing, you can add whole cherry tomatoes and/or big chunks of zucchini.  I like to serve this with a non-starchy vegetable like garlicky broccoli or turmeric-roasted cauliflower.  Cauliflower rice is really nice with this dish, too.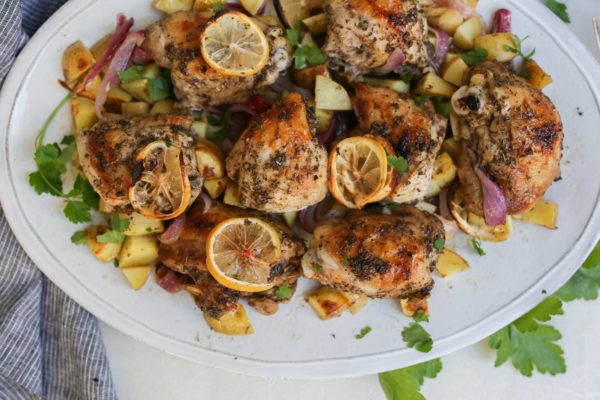 I'll admit, I'm no food stylist, but one thing I have learned is that a little green to garnish always makes everything look prettier.  If you decide to make this for guests, make sure you have a sprig of parsley to chop for a pop of color.  Mr. Picky loves picking off green flecks, of course.  Have a lovely weekend!

Greek Sheet Pan Chicken with Lemon and Potatoes Recipe
Ingredients
¼ cup unrefined, extra-virgin olive oil plus extra for drizzling
¼ cup fresh squeezed lemon juice (about 2 large lemons) + 1 lemon, sliced
1 Tablespoon red wine vinegar
1 Tablespoon minced garlic (about 2 large cloves)
2 Tablespoons dried oregano, plus extra for sprinkling
2 teaspoons sea salt, plus extra for sprinkling
Freshly ground black pepper, to taste
4 bone-in, skin-on chicken breasts (halved if desired) or equivalent amount of other pieces, such as 8 thighs
1 red onion, sliced into ¼-inch wedges
1 pound Yukon Gold potatoes, diced into 1-inch pieces
Instructions
In a large bowl, whisk together the olive oil, lemon juice, vinegar, garlic, oregano, salt and pepper.
Place the chicken in the bowl and toss to coat. Allow to marinate in the refrigerator for 6-8 hours or overnight.
Preheat oven to 425 degrees and line a rimmed sheet pan with parchment paper, unless you are using a stainless steel pan (you should grease the stainless pan).
Arrange the chicken on the sheet pan and add the onion, potatoes, and lemon slices and spread evenly around the chicken. Drizzle onions, potatoes and lemon slices with a little olive oil. Sprinkle everything with a few pinches of dried oregano and salt.
Bake for about 35-45 minutes until chicken is cooked through and the internal temperature reaches 165 degrees. Whole bone-in chicken breasts will take 45-50 minutes. If the chicken isn't browned on top, but the meat is properly cooked, stick the pan under the broiler, about 6 inches from the heat source, for about 30-60 seconds, or until browned.