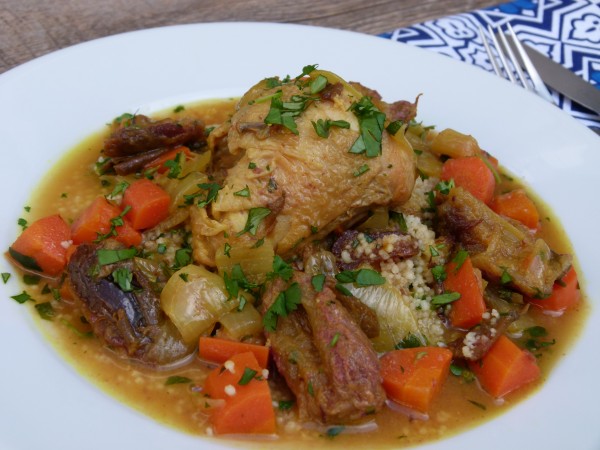 You all know I live in Southern California and perhaps you know we are having a very mild, but super dry winter.  We actually have a serious drought happening here.  And you might also know that 99% of my entire family lives in the New York/New Jersey area.  And they're having a veerrryy different kind of winter.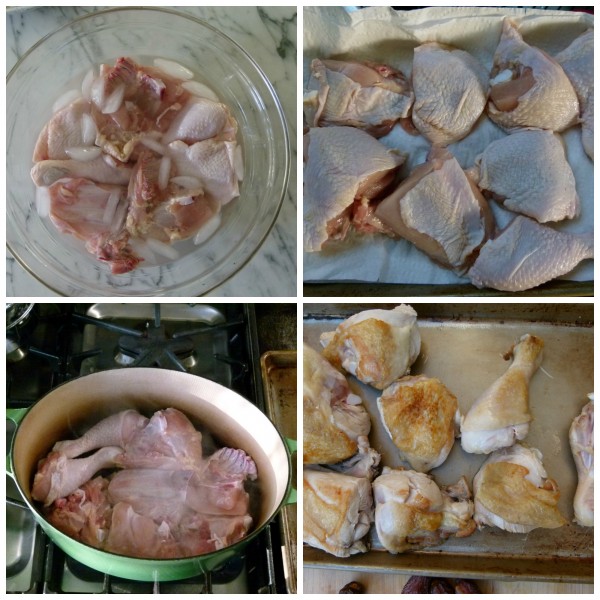 So most of our phone calls the last few weeks have been kind of like this:
Me: "Hi!  It's me.  What's new?"
Sister/Mother/Father: "It's snowing.  AGAIN.  The kids are off from school.  AGAIN.  It's absolutely freezing out there.  Seriously, this is the worst winter EVER!"
Me:  "Bummer.  But I asked, 'what's neeeewwww?'"
Same old, same old.  I miss the talks we used to have about currents events, movies, what we're making for dinner, what we ate for lunch.  Interesting, riveting stuff.  Instead, it's all blizzard all the time!  Thankfully, winter doesn't last forever and they'll all be able to get back to business before we know it.  Easy for me to say, I'm sure.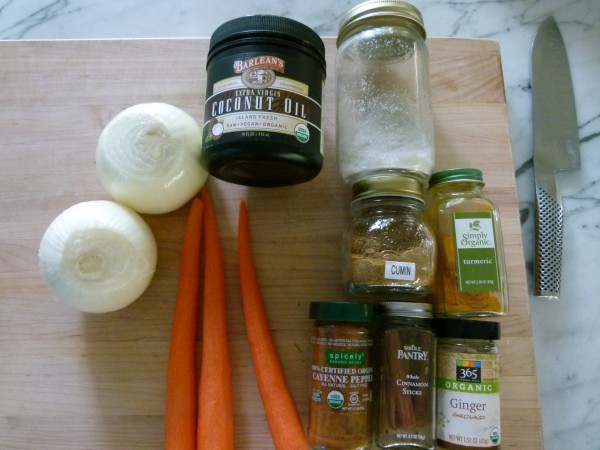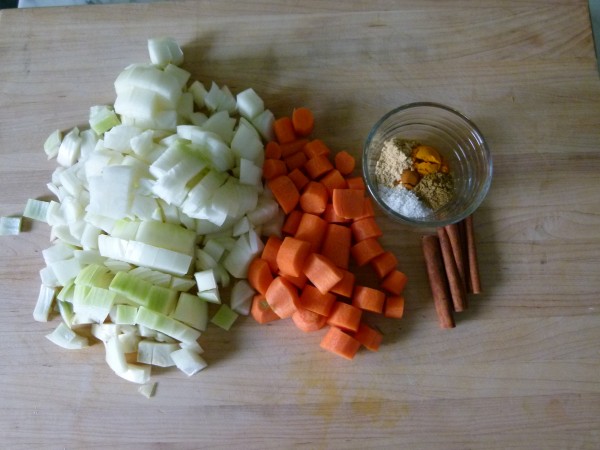 But if I were in the middle of a polar vortex, I would quickly buy a one-way ticket to L.A. I would make super-warming foods for breakfast, lunch and dinner.  We may not be able to control the weather, but we can control the thermal nature of what we eat.  And I say, heat me up!  High on my list would be this Moroccan chicken with dates which I taught in my classes last February.  I know it seems like there are a lot of ingredients in this recipe, but half of them are spices, all of which are warming to the body, and anti-inflammatory, too.  These spices, including ginger, cinnamon, turmeric, cumin and a pinch of cayenne are also quite flavorful and make this otherwise simple chicken dish, something very special.  There's also a little bit of sweetness from the cinnamon and from halved dates which rank as one of my favorite foods on the planet.  A little earthy, a little sweet, a touch spicy and a little tart — it's one of my favorite chicken recipes!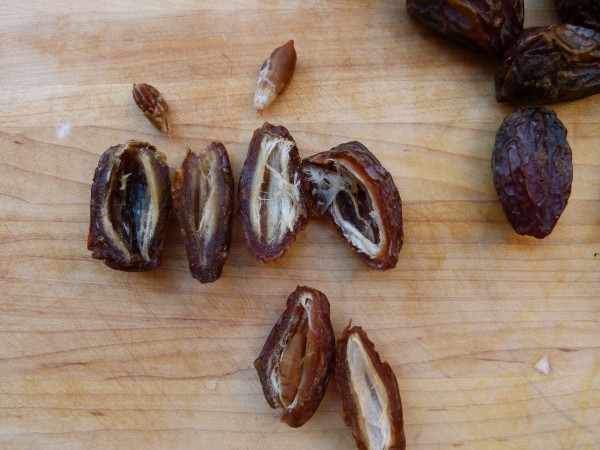 In these images, and for dinner last night, I served this with an apricot couscous (I'll post the recipe next week.)  This will have a very tasty, but brothy sauce which just begs for something to sop it up.  Couscous, which is pretty dry, is the perfect side dish.  But you don't need to make it with any seasonings or herbs.  Even plain would be just the right side for this dish.  Otherwise, if you're gluten-free, steamed rice, quinoa or millet would be amazing here.  I also served it for dinner with simply sautéed Swiss chard, but check out this recipe for raw grated carrot and beet salad.  That would be fabulous, too.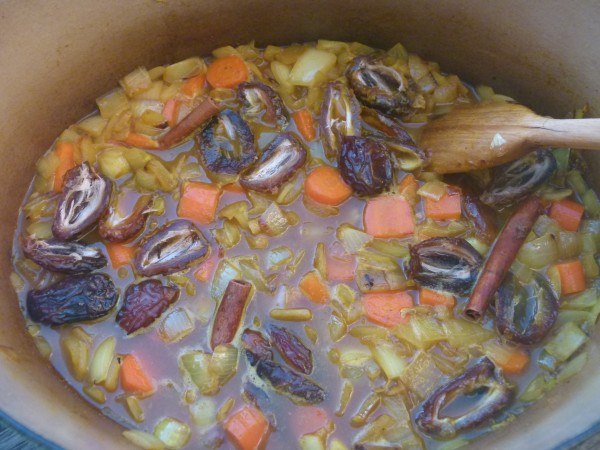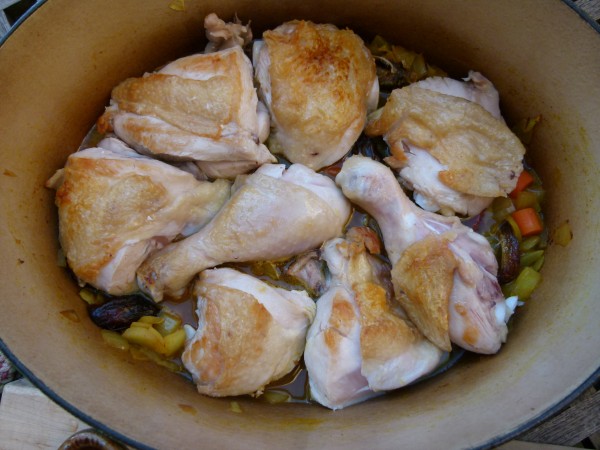 I have made this recipe in the slow cooker, as well.  Please read the directions for how to adjust this recipe for the slow cooker.  Both versions are amazing and will help warm up your core.  At least until the next snowfall or tomorrow, or both, as the case might be!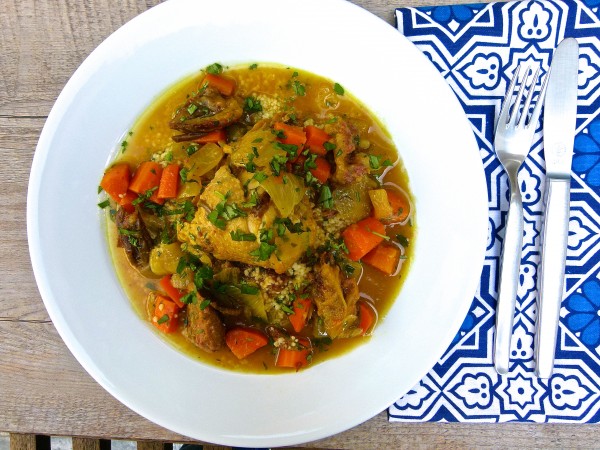 Moroccan Chicken with Dates
Author:
Pamela, adapted from epicurious.com
Ingredients
3 ½ pounds bone-in, skin-on chicken parts such as breasts (I like them split), thighs or drumsticks, seasoned with 1 ½ teaspoons kosher salt when you get home from the market or brined for an hour (1/4 cup kosher salt + 2 cups water) EXCEPT if you use kosher chicken. See this post for how and why to brine chicken.
1 Tablespoon unrefined coconut oil or olive oil
2 onions, chopped
3 medium carrots, peeled and cubed
3 cinnamon sticks
1 teaspoon sea salt
1 ½ teaspoons ground ginger
1 teaspoon ground cumin
½ teaspoon ground turmeric (feel free to add more if you like it)
⅛ teaspoon cayenne pepper (optional)
1 ½ cups chicken stock
5 Tablespoons fresh lemon juice, divided
12 dates, pitted and halved
¼ cup chopped fresh cilantro, if you like it
Instructions
Heat the oil in a large heavy-bottomed pot or Dutch oven over medium heat. Pat the chicken dry with paper towels and add to the pot in one layer. Do not overcrowd. Cook until browned on the underside, then turn over and browned on the other side, about 15 minutes total. Transfer chicken to a baking sheet or platter and repeat with remaining chicken if there's some still left to do.
Add onions and carrots to the pot and sauté until tender and translucent, about 6 minutes.
Add cinnamon sticks, salt and remaining spices. Sauté about 1 minute, or until fragrant.
Add stock, 3 Tablespoons lemon juice and dates. Deglaze the pan by scraping the brown bits from the bottom with a wooden spoon. Bring to a boil, add chicken pieces back to pot skin-side up and cover. Lower heat and simmer until chicken is completely cooked through, about 40-45 minutes. An instant-red thermometer should read 165 degrees when inserted into the thickest part of the breast.
Add lemon juice to pot and stir to combine. If sauce needs thickening, transfer chicken to a platter and simmer sauce until it is reduced. Sprinkle everything with cilantro and serve.
Notes
SLOW COOKER VERSION:

Use bone-in, skinLESS pieces of chicken
Use a skillet to brown chicken, and sauté vegetables and spices.  Add only ¾ cup of stock to the pan and the same amount of lemon juice as in the original recipe to deglaze the pan.  Do not add the dates until 20 minutes before serving.
Transfer the browned chicken, and the vegetable, spice, stock and lemon juice mixture to the slow cooker and cook covered on LOW for 7-8 hours or HIGH 4-5 hours.
20 minutes before serving, stir dates into the slow cooker.  Add remaining lemon juice and garnish with cilantro, if desired.