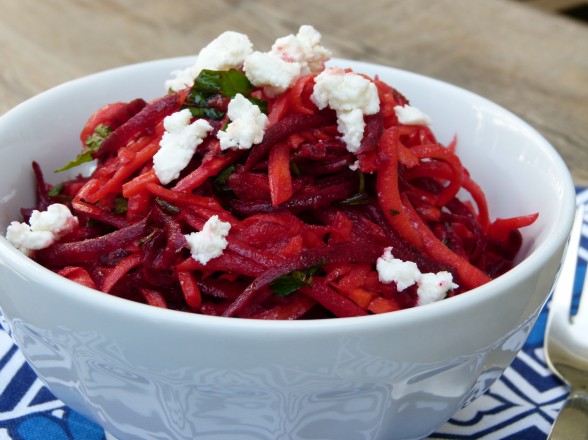 London has been amazing!  Freezing, but amazing!  At least we were prepared with our winter outerwear for the unseasonably cold temperatures.  We have seen so much and the kids have really enjoyed it all.  After our month in Europe this summer, we learned a bit about how to keep the kids engaged and not wanting to kill each other.  We also learned that Mr. Picky, who is 9, has a 1 1/2 hour time limit in any museum (2 hours if he just ate breakfast.)  Whatever we didn't get to see will just have to wait until our next visit.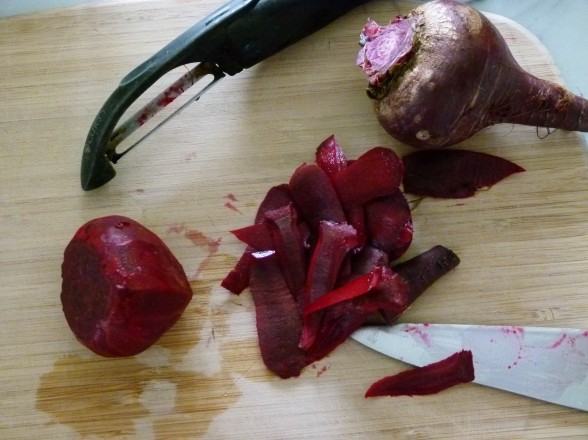 This week we have also booked a private guide each day, which has taken the pressure off my husband from whatever palace or neighborhood we are checking out.  Besides going to many of the major sites, we also had a tour of London's East End and its many outdoor markets, a rock tour (think The Beatles and The Rolling Stones, not One Direction), and a Shakespeare tour.  All worth it and much more interesting for the kids!  We are leaving London today for Chewton Glen in Hampshire.  My husband visited when he was a child and loved it. I'm hoping it's still as wonderful 30 years later and I'm hoping we make it in one piece since my husband will be driving us there.  On the other side of the road.  You know I'll give you all the details either way!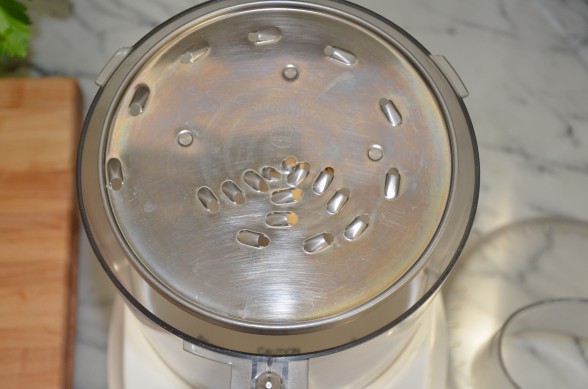 Now I hope you didn't think I was going to scamper about England this week and forget about you cooks.  Rubbish!  Although I've been tweeting what I've been up to and posting a few things on Facebook, I didn't want the week to go by without something for you to try in the kitchen.  Believe me, after a week of scones and mash (not at the same time, of course), I'll be ready for a few salads like this when I return home.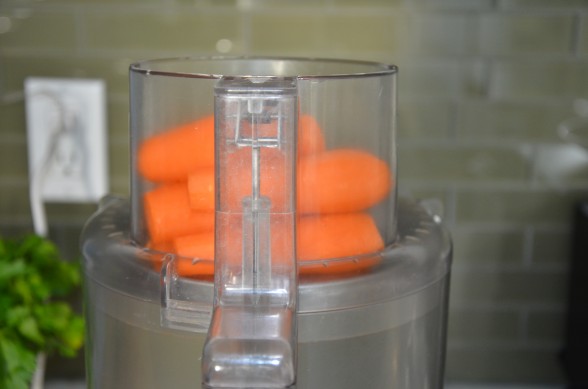 First of all, if you think you hate beets, you may not hate them raw so stay with me here.  This salad converted everyone who thought s/he didn't like beets.  I am fairly obsessed with chopped and grated salads.  One of my favorites is my grated carrot salad with avocados and sunflower seeds.  I love vegetables cut into small bits so that you get a lot of different flavors in one bite.  And grated vegetables can actually be a totally different experience from their whole counterparts.  This is completely true with respect to carrots.  If you haven't tried the carrot salad I just mentioned, you absolutely must!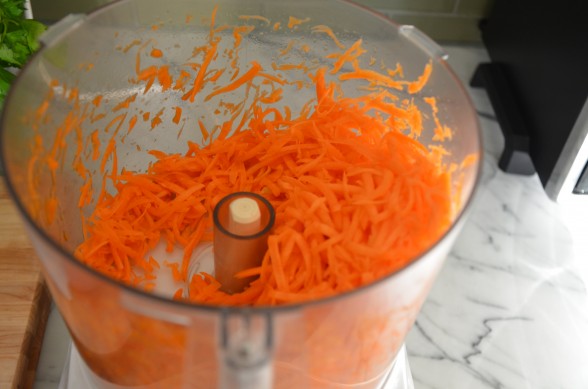 The one thing you do need to do for this salad is go into your garage behind the piece of exercise equipment, pull out the Cuisinart box and find the medium grating disc which I'm hoping you didn't throw out thinking you would never use it!  If you did, go to the manufacturer's website or thegourmetdepotco.com where you can buy missing or broken parts to almost any appliance.  The grating disc is amazing, one of my favorite kitchen tools especially since I broke up with my mandoline.  No love lost there.  I use my grating disc to make very quick work of shredding cheese, onions, potatoes, zucchini, apples, cabbage, and of course carrots and beets.  One tip I can give you is that many food processors give you the option of feeding your food through the wide part or the much narrower feed tube.  In the case of carrots, I like to process them horizontally the wide way for longer shreds for a salad and through the feed tube for short shreds which are better for carrot cake or carrot muffins.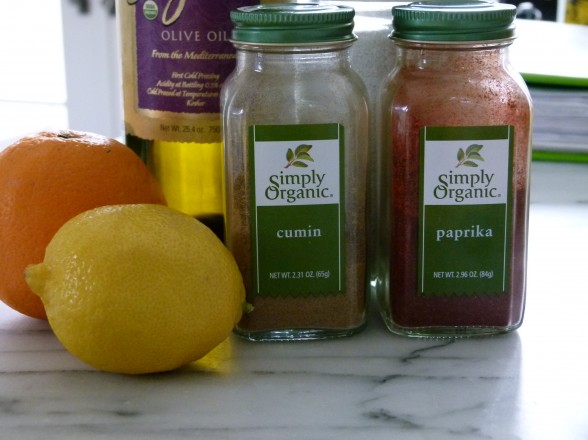 I was doing a Moroccan-inspired menu last month and I desperately wanted to include a carrot salad.  Many Moroccan salads are too sweet for me and include dried fruit plus lots of honey in the dressing.  In my opinion, carrots and beets are already rather sweet, so this salad is dressed with a cumin-orange-lemon dressing, a little tart and just a little sweet.  You can leave this as grated veggies and dressing for a fab 5-minute salad or make a little extra effort and add the delightful fresh herbs which turn this into something really awesome.  I eat this without feta since I've gone dairy-free (moment of silence), but if you can handle a little goat or sheep cheese, add it and you won't be sorry!  Either way, this is a juicy, crunchy, thirst-quenching, gorgeous salad which happens to be super nutritious and alkalizing.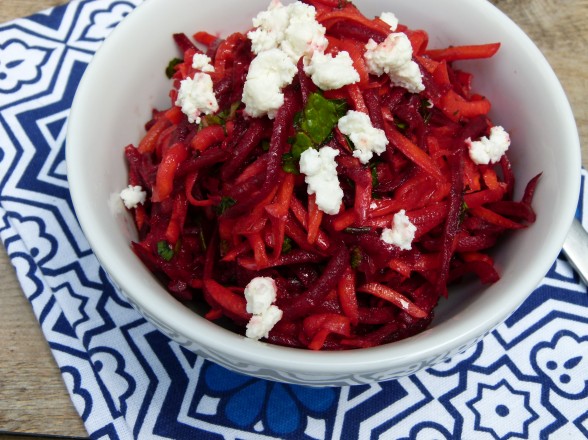 I have served this salad with all sorts of fish dishes, simple roast chicken, frittatas and vegetable stew.  I'm sure it would be great with lamb or grilled beef kabobs.  My point is that you don't have to be eating a Moroccan meal to enjoy this.  A little heads-up about eating red beets, though. If you've never tried them, just be aware that when you eliminate, there will be a tinge of hot pink/red.  I can't tell you how many stories I heard of people calling their doctors or googling "hot pink poop."  On the other hand, eating beets can be a good indication of how efficient your digestive system is.  If you see beets later that day or the next, things are moving nice and quickly.  But if it takes 4 days for those beets to appear again,  you probably need a little more fiber and water in your diet.  Just a thought.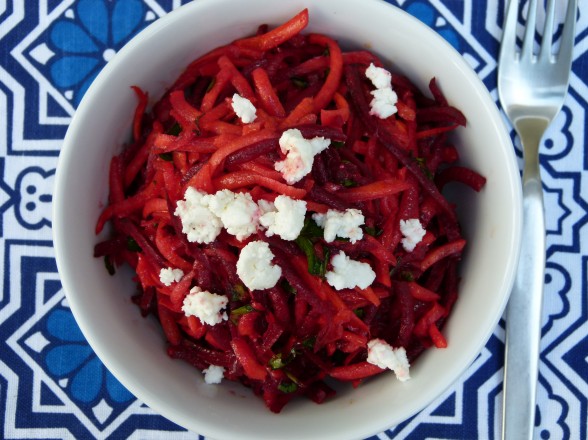 Ok, that's all I have for today, friends.  I'm leaving the hustle and bustle of London for the English countryside and hoping to make it in time for Afternoon Tea which has become my favorite way to wind down after a busy day.  I know some people like a glass of wine at 5, but I'm not sure they've tried sitting down to tea with a warm homemade scone.  Brilliant!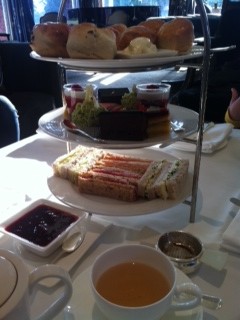 Moroccan Carrot and Beet Salad
Ingredients
1 pound carrots, peeled
¾ pound fresh beets (about 2 medium beets), trimmed and peeled (with a vegetable peeler), greens saved for another use
3 Tablespoons chopped fresh flat-leaf parsley (measured after it has been chopped)
3 Tablespoons chopped fresh mint
¼ cup fresh lemon juice
¼ cup fresh orange juice
1 teaspoon sea salt
¾ teaspoon ground cumin
¾ teaspoon paprika
6 Tablespoons unrefined cold-pressed extra-virgin olive oil
4 ounces feta cheese, crumbled (I like goat feta)(optional)
Instructions
Using the shredding disc of your food processor, shred the carrots and beets. Transfer the vegetables to a serving bowl.
Add herbs to serving bowl.
In a medium bowl or in a screw-top jar, combine lemon juice, orange juice, sea salt, cumin, paprika and olive oil.
Pour enough dressing on top of carrot mixture to coat lightly and toss to combine. Add more if desired.
Add feta on top of salad and taste for seasoning. If you dress the salad early, the dressing will pull water from the vegetables and make a pool at the bottom of your serving bowl. You can just serve from the top or pour off some of the liquid no problem.
Notes
Salad can be dressed the day before and herbs and feta added just before serving.

For a delicious, spicy note, add about ¾ teaspoon harissa to the dressing.