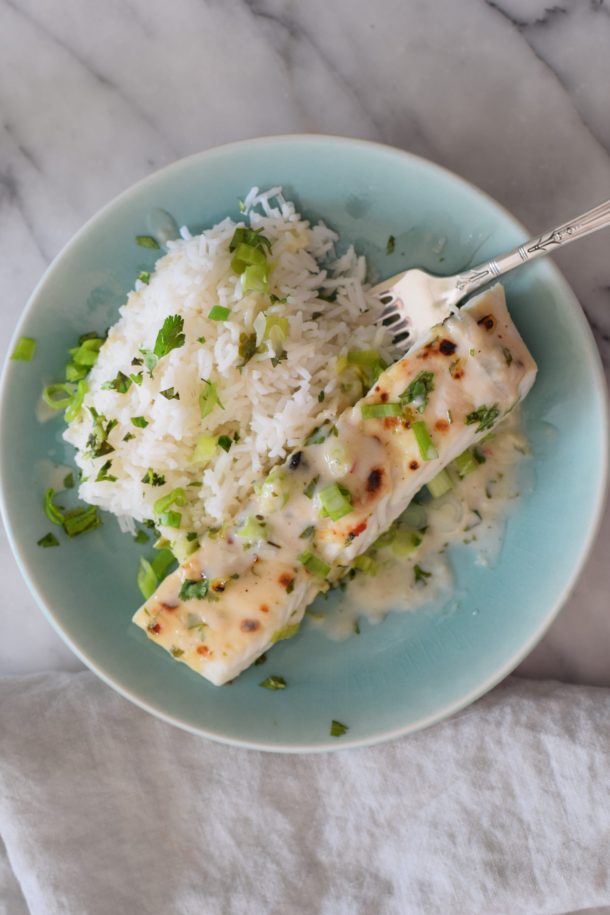 When am I going to finally go to Thailand and eat their delicious food?  It is one of my favorite cuisines.  Suffice it to say I am definitely not going any time soon since I am in full book mode right now!  I don't think I've mentioned in the last 5 minutes that my book is coming out on June 13th.  Or maybe I have.  Super excited!  But because I am scattered in a hundred, no a million, different directions right now, you can expect all future blogposts to be a little shorter than usual.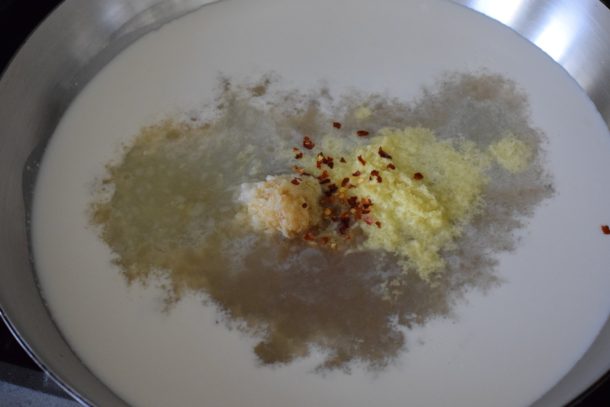 This recipe is not in the book even though it is a favorite.  I love Thai flavors — salty, sweet, pungent, sometimes a little spicy, but always light and fresh.  And because I've never been to Thailand, I really have no idea if you can expect to eat fish with this unbelievably tasty coconut-ginger sauce.  The sauce is the best part.  It is so good, I am always mad that I didn't double it to cover rice and veggies.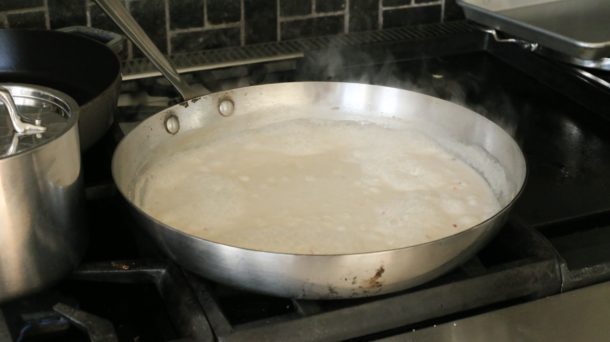 My protein of choice is legumes or seafood.  I don't know what I would do if my family didn't enjoy fish.  They especially like white fish like halibut, but this sauce will go with anything.  It seems like a lot of ingredients, but there's very little prep involved.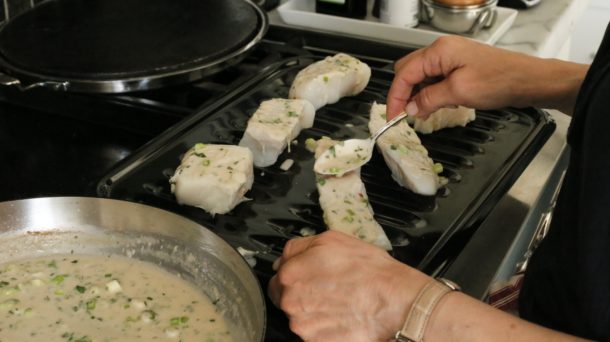 If you want to make some of this ahead, I would make the sauce, but don't reduce it too much because it will thicken as it sits.  Then all you have to do is broil the fish and you're done.  Great for a weeknight or for entertaining.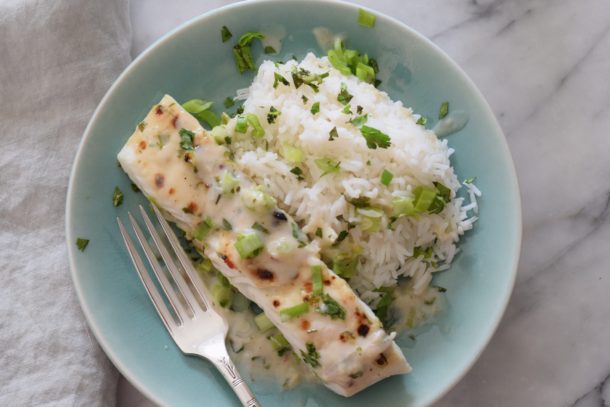 There are times when I don't have the exact ingredients.  It's ok to substitute!  Rice vinegar can sometimes work for fresh lime juice, soy sauce or tamari for fish sauce (definitely not the same, but it's fine in a pinch), omit the cilantro if you dislike it and sub mint or basil.  I love this dish over jasmine rice or cauliflower-rice with a simple green vegetable on the site, like snap peas or asparagus.  I hope you love this recipe — it was a huge hit when I taught it in class.  Well, that's a wrap for today.  I'll be back on Saturday night with a new dinner planner and then Tuesday is the BIG day!!  xoxo

Wild Halibut with Thai Coconut Sauce Recipe
Ingredients
1 ½ cups full-fat coconut milk (usually a full can's worth)
¾ cup fish stock, chicken stock or bottled clam juice
3 Tablespoons fresh lime juice
2 Tablespoons minced peeled fresh ginger
3 cloves of garlic, minced
1 ½ teaspoons fish sauce
a little heat: a pinch of crushed red pepper, 1 Tablespoon of minced fresh chili pepper or a little Siracha sauce
6 Tablespoons chopped fresh cilantro leaves and tender stems, divided
6 Tablespoons finely chopped green onions, divided
Sea salt and freshly ground black pepper to taste
6 wild halibut fillets, about 4-6 ounces each (or mahi-mahi or true cod fillets)
Instructions
Prepare a broiler pan or place a metal rack inside a baking sheet. (You can also grill the fish.)
In a large skillet, combine coconut milk, stock, lime juice, ginger, garlic, fish sauce and chili peppers. Bring to a boil over high heat and cook until sauce has thickened slightly and equals about 1 cup to 1 ¼ cup, about 10 minutes. If you use a smaller skillet, it will take longer; a larger skillet, less time. Stir in half the cilantro and half the green onions. Season with sea salt and pepper.
Position an oven rack on the second level from the top. Preheat broiler to medium or medium-high. Brush each piece of fish all over with 1 Tablespoon of sauce and season with salt and pepper to taste. Cover sauce to keep warm.
Broil fish until it starts to flake and is opaque in center, about 3-5 minutes on each side, depending on thickness of the fish. Divide fish and sauce among 6 plates. Sprinkle with remaining cilantro and green onions. Serve.
Notes
I buy fish stock in the freezer section of Whole Foods. Some markets make it in-house and you might find it frozen in the seafood department or with other frozen stocks in the freezer section.