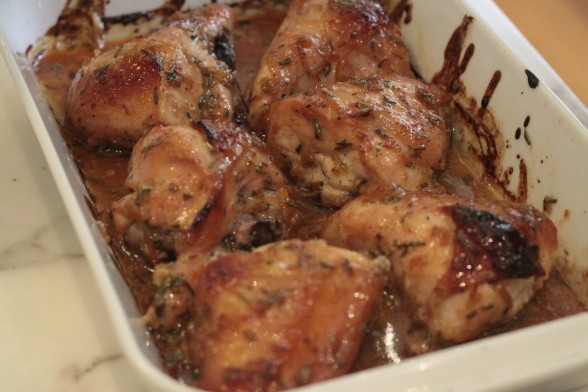 It's not my husband's fault he can't find his way around the kitchen.  He grew up with a mother who is a very willing and capable cook.  She made hot breakfasts every morning and power lunches for school.  Each night she lovingly prepared a fresh, well-balanced dinner.  Then I came along.  I met my husband in college when I was 18 and I already loved cooking for people.  I remember sophomore year my husband and his roommates fasted for Yom Kippur, as in they didn't eat for 24 hours.  Who doesn't love cooking for people who are ravenous??  We dated and I cooked.  We married and I cooked.  We had kids and I cooked a lot, and I was happy to do it.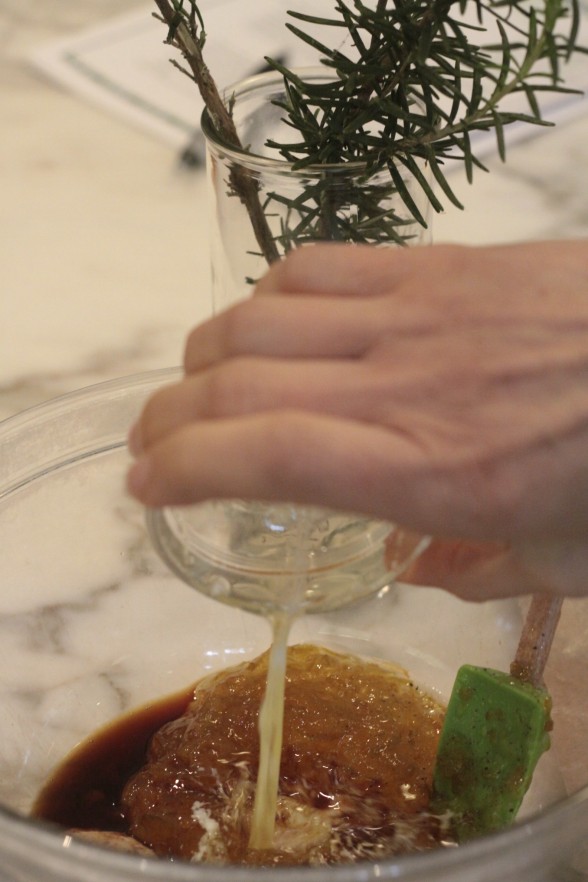 I had two unusual days in a row last week where I had to work past dinner time.  I verbally clued my husband in to all the dinner possibilities using staples from the pantry and the fridge.  There was pesto, poached chicken meat, enough leftover soup for two, cooked brown rice, washed salad greens and vinaigrette in a jar.   With pasta and a can of beans in the pantry, I was sure he could come up with something.  Or so I thought.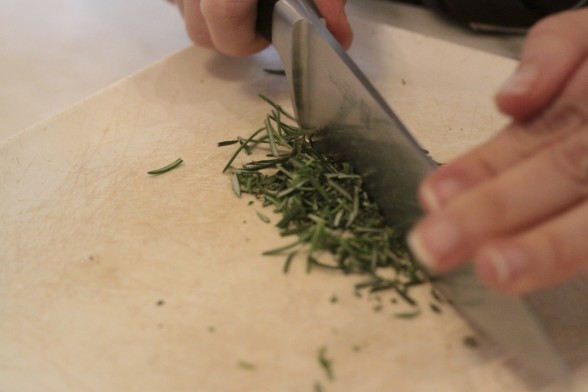 I came home from a long day last Monday night and there it was on the kitchen counter — the take-out pizza box.  Sigh.  I don't know what I was thinking that I could expect the poor guy to throw something together after a hard day of work that he and the three kiddos would want to eat.  I'm sure no one suffered eating pizza that night, but what would he do the next day??  I knew I needed to plan for an easy dinner that everyone would like and that my husband could handle — orange and rosemary-glazed chicken.  This is one of the simplest things you can make and so delicious.  This chicken has saved my life on busy weeknights and has delighted dinner guests alike.  Just marinate the chicken in a few ingredients ahead of time and pour everything into a casserole dish and bake.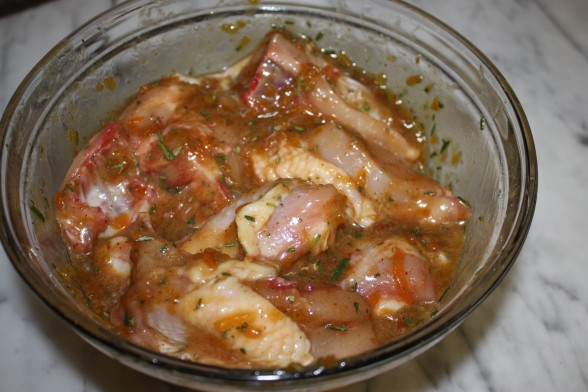 I use all-fruit orange or kumquat preserves in the marinade, but I have used apricot, too.  Just make sure it's all fruit without the addition of any sugar.  The preserves will be sweet enough.  I love rosemary with orange and with chicken, and I happen to have an out-of-control rosemary bush on my front lawn so I never have enough uses for it.  If you don't have rosemary, thyme works well here, too.  The best part of this dish is the yummy, glaze-y sauce which we spoon over the chicken on the plate, but doesn't get wasted if you serve this with something like rice or millet to sop it up.  With some steamed or roasted asparagus or sauteed spinach, someone looks like he knows a little something about something.  My hero.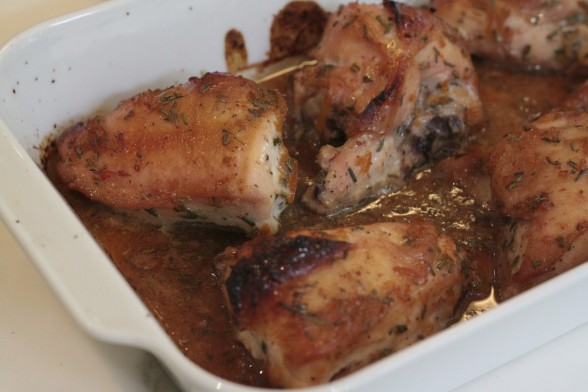 View this post on Instagram

 

 
Orange and Rosemary Glazed Chicken
Ingredients
2 ½ - 3 pounds bone-in, skin-on chicken pieces* (breasts cut in half), seasoned with 1 ½ teaspoons sea salt or kosher salt as soon as you get home from the market
8 ounces all-fruit orange, kumquat, apricot or peach marmalade, about ¾ cup (such as St. Dalfour or Sorrell Ridge)
1 ½ Tablespoons whole grain or stone-ground mustard
2 Tablespoons shoyu or wheat-free tamari (or coconut aminos)
2 Tablespoons unsalted butter, melted (or plant butter)
2 Tablespoons finely chopped fresh rosemary (or fresh thyme leaves)
½ teaspoon freshly ground black pepper
Instructions
Combine orange marmalade, mustard, shoyu, melted butter, rosemary, and pepper in a glass or nonreactive container that is just big enough to hold the chicken. Add the chicken to the marinade and coat each piece well. Cover and refrigerate for 6-8 hours, or longer if that's more convenient.
Remove chicken from the refrigerator and preheat the oven to 400 degrees. If you're not in a rush, allow the chicken to sit out at room temperature for 30 minutes. Transfer the chicken pieces and any marinade to a baking dish, such as a 13 x 9 - inch. Bake for 45 minutes or until cooked through and browned on top. Remove from the oven and allow to sit for 10 minutes before serving, if possible.
Notes
*such as 2 breasts cut in half and 2 drumsticks