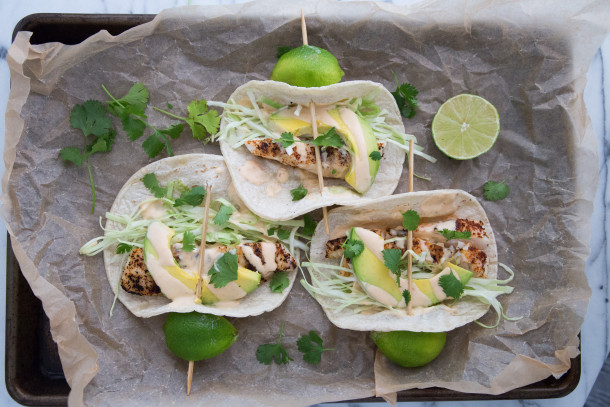 I think you should have a Cinco de Mayo party!  Wouldn't that be fun?  Even if you're not up for hosting a bunch of people next Saturday night, you at least need to prepare some delicious Mexican-inspired food for your family.  Who needs to go to the local overcrowded Mexican restaurant and eat greasy, over-sauced, heavy food in the presence of too many inebriated partyers?  Not me, friends!  Although I don't need it to be Cinco de Mayo to make Mexican food.  My family requests Mexican about as much as anything else and I am happy to oblige with fresh, healthful and easy-to-prepare recipes.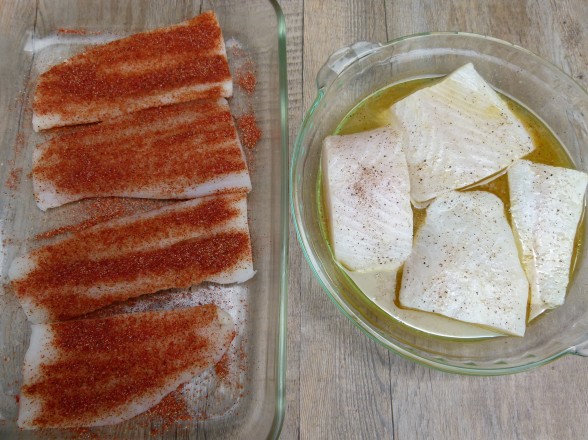 The Mexican dishes I like to make and eat are perfect for busy weeknights, but even better for entertaining because they're always crowd pleasers and often it's all about the toppings and allowing everyone to make their own.  I love this for many reasons — it gives kids more control in what they're eating and really encourages them to try new things, it's less work for me, and it's fun!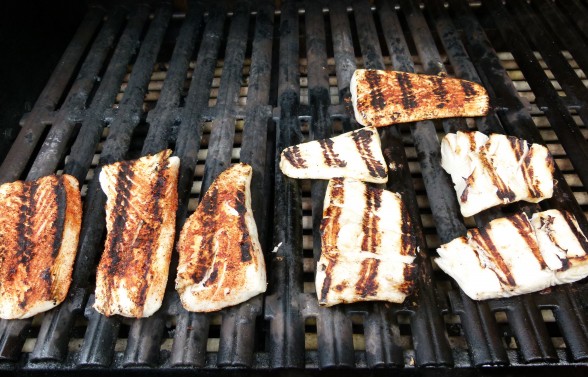 One of my favorite Mexican dishes is fish tacos.  Not only do I make them all the time at home, but I find myself ordering them whenever I can especially on vacation (what vacation?).  I've been known to eat fish tacos every single day for a week and not tire of them.  I love changing the toppings each time to keep it different.  Sometimes I'll even use a Savoy cabbage leaf instead of a corn tortilla.  In my house we're split down the middle as to the preferred fish preparation, so in my classes this month and on my blog post, I decided to demonstrate two delicious methods.  I prefer a lime juice-based marinade and my husband likes the dry rub better, but you can't go wrong with either.  Where you can go wrong is not putting together a great assortment of condiments, because this is the KEY to building a perfect fish taco.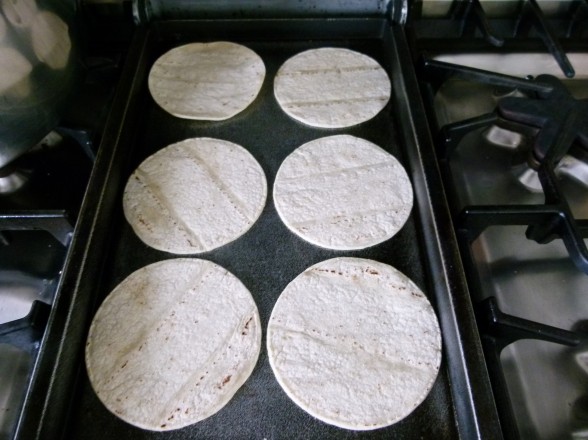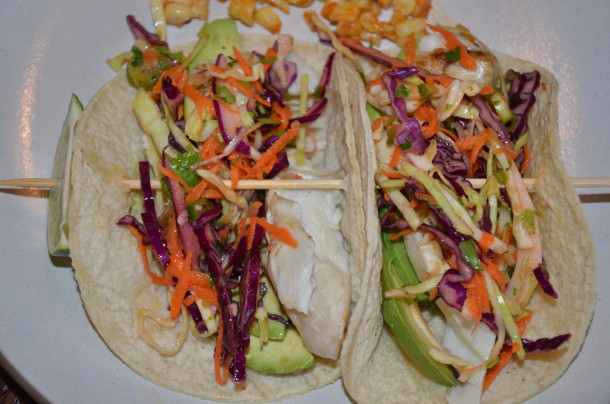 I went on a reconnaissance mission to Wahoo's Fish Tacos in Manhattan Beach to see what a restaurant with the words "fish tacos" in its name does with fish tacos.  Wow.  Major disappointment.  A piece of grilled fish in a soft corn tortilla with a pinch of thinly sliced cabbage.   Ok so far.  Plus shredded cheddar cheese.  Huh?  Fish and cheese?  No.  And then a tiny scoop of pico de gallo (fresh tomato salsa) on the side.  People, we can do so much better!  A delicious and satisfying fish taco has a balance of different tastes and textures (and no cheese!)  Here's what you need:
creamy:  I personally can't even eat a fish taco without the white sauce I've shown here and/or some sliced avocado or guacamole.
crunchy:  thinly sliced cabbage or a firm lettuce, even a good slaw like this Cilantro-Lime Slaw.
spicy:  even just a little kick makes it better.  Try adding a little heat to your sauce, slaw, dry rub or salsa.
tangy:  a tart, acidic flavor helps keep everything fresh and balanced.  You can squeeze fresh lime over everything or incorporate it in a marinade, slaw or salsa.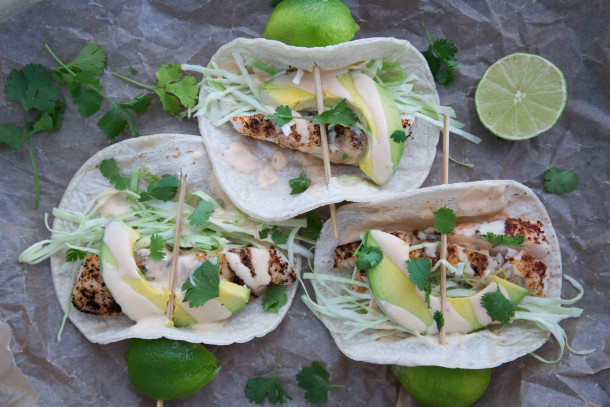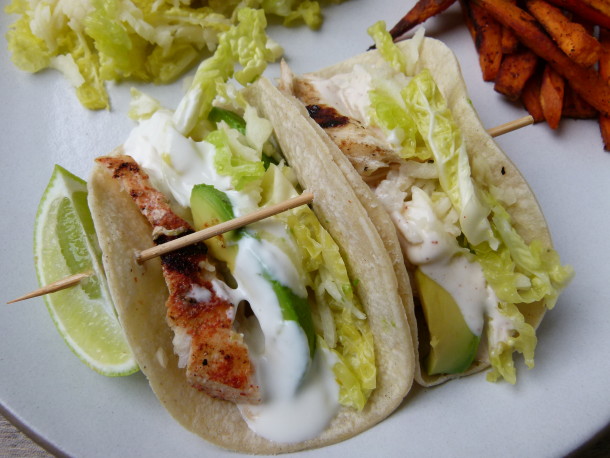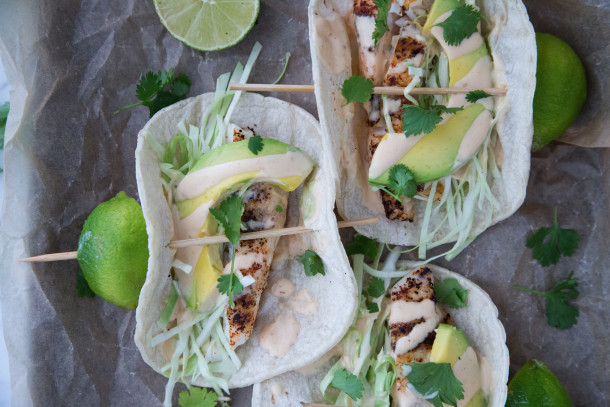 I am excited to share a few more great Mexican-inspired recipes next week in hopes to inspire you to enjoy your own fiesta at home!

Grilled Fish Tacos
Ingredients
White sauce:
6 Tablespoons mayonnaise (I like soy-free Vegenaise)
6 Tablespoons whole unsweetened yogurt
1 Tablespoon freshly squeezed lime juice
1 teaspoon hot sauce or ¼ teaspoon ground chipotle powder (optional) (taco on the left has sauce with chipotle powder, taco on the right has sauce without)
pinch of sea salt
Marinade:
¼ cup freshly squeezed lime juice
2 Tablespoons unrefined olive oil
½ teaspoon ground cumin
sea salt and freshly ground black pepper
OR
Dry Rub
2 teaspoons paprika
1 teaspoon garlic powder
1 teaspoon chili powder
½ teaspoon sea salt
1 pound firm white fish, such as halibut or mahi mahi
Oil (for brushing grill)
8 6-inch corn tortillas, warmed either on grill or heated griddle pan until pliable
Suggested Accompaniments:
Sliced avocado, guacamole, pickled red onion or radishes, shredded napa, savoy or green cabbage or slaw,
fresh pico de gallo (salsa), fresh lime cut into wedges
Instructions
Whisk together ingredients for white sauce and refrigerate until ready to use.
Combine lime juice, oil and cumin in a shallow nonreactive dish small enough to just hold the fish. Add fish and turn to coat in the marinade. Season with salt and pepper and marinate fish at room temperature for 30 minutes. OR mix dry rub spices together and sprinkle on both sides of fish.
Preheat grill to medium-hot. Brush grill grate with oil. Grill fish until just cooked through, about 3-5 minutes per side. Break fish into large pieces.
Fill tortilla with fish and desired accompaniments. Drizzle with white sauce and squeeze fresh lime wedges over tacos.