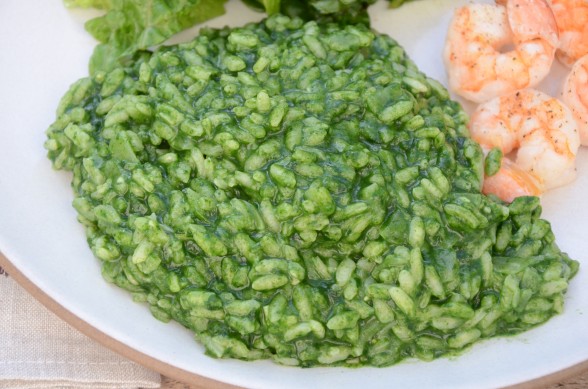 I had a bad day recently and what I really wanted to do was inhale a pan of brownies, but I had just published a post about how I beat a sugar addiction and I didn't want to be a healthy hypocrite.  Instead I set out to make a pot of spinach risotto, my culinary equivalent to a big hug.   If you're not a spinach fan, I'm not going to be much fun for you this week and next.  We are on the verge of spring, Nature's new year.  I really feel the resurgence of energy and life that comes back in spring and I get so motivated to start fresh, clean a closet, reorganize a drawer, set some healthful resolutions.  Nutritionally speaking, Nature wants us to start fresh, too, so she gives us lots of dark leafy greens like spinach.  If winter added a few pounds or you have a build-up of mucus or stagnant energy, leafy greens can help.  You already know that greens are super nutrient-dense, but it's all that chlorophyll that helps the liver to detoxify.  Now if you're in a habit of eating seasonally, you don't even need to know this since you would make it happen naturally.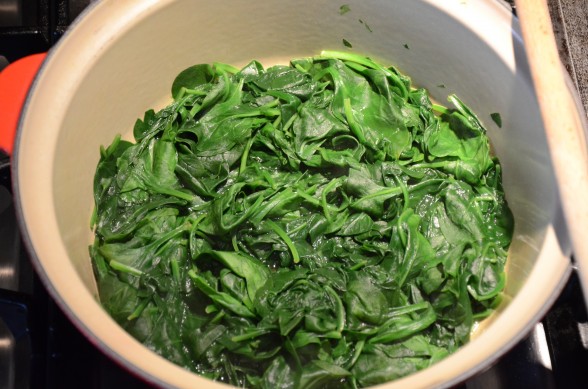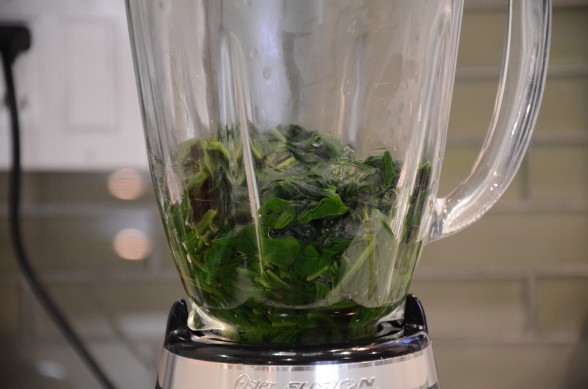 As I mentioned in my Spinach and Avocado Smoothie recipe, you have a fantastic window of opportunity with St. Patrick's Day coming up to make green food.  So I thought today would be a great time to post this spinach risotto recipe.  Please don't get put off by the word "risotto."  It doesn't imply something hard to make, easy to screw up or super labor intensive.  In fact, risotto is something I make when I don't have a lot of time or I need to make do with bits of this or that in the fridge.  This time around I was overzealous  with my purchase of spinach and wanted to find a good place for it.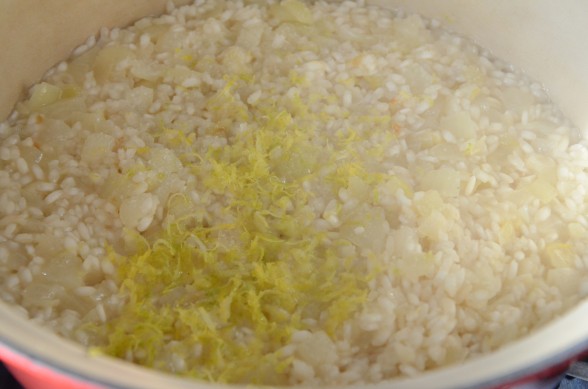 Most people think making risotto requires a permanent spot in front of the stove and non-stop stirring.  Not so.  You do have to add a bit of broth to the pot every five minutes and give a quick stir, but you can be accomplishing other things at the same time, such as testing someone on his spelling words, prepping some vegetables, or breaking up an argument between two teenage girls over borrowing clothes.  If you don't have the patience to be in the presence of teenage girls in the kitchen for too long to stir traditional risotto every five minutes, check out my very easy Artichoke and Spinach Barley Risotto — saute, dump and bake.  Otherwise, timing is the only tricky part since you want to serve risotto as soon as it's done.  My first round of photos didn't turn out all that great, so I reshot the plate about 15 minutes later and the risotto had already lost its lovely soupiness and thickened up.  Not the end of the world, of course, but I prefer risotto a little more "pourable."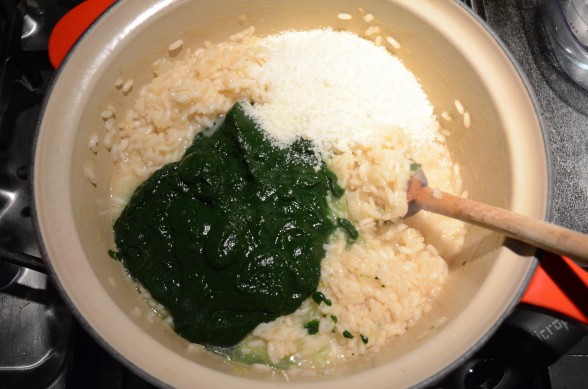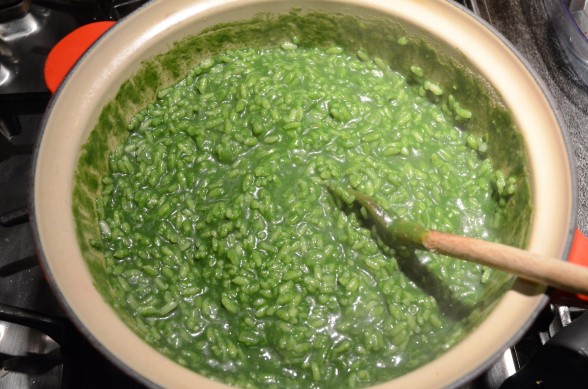 Risotto is often served as a first course for dinner, but we're not in a habit of eating dinner in courses at our house, are you?  So I serve it as a side with other dishes that are a little lighter.  The night I photographed this, I served it with roasted shrimp and a green salad.  I very often serve fish with risotto, such as spice-rubbed or poached salmon with a fresh tomato salsa.  Steamed asparagus, roasted carrots or a grated carrot salad would also complement nicely.  If you do think you will serve this as part of a St. Patrick's Day dinner, why not give everybody a jump start on spring cleaning and serve everything green?  Enjoy!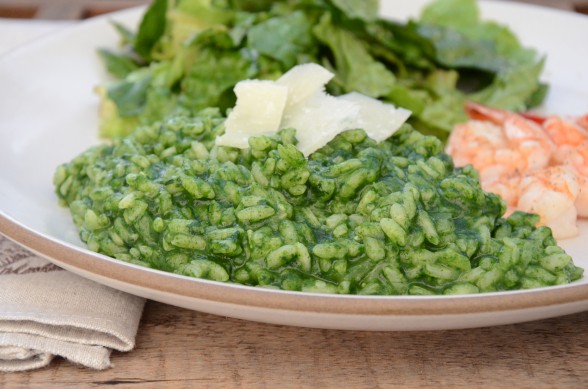 Spinach Risotto
Ingredients
12 ounces spinach leaves, washed
3 ½ - 4 cups chicken or vegetable stock, preferably homemade
2 Tablespoons unrefined, cold pressed, extra virgin olive oil or unsalted butter
1 medium onion, diced
3 cloves garlic, finely chopped
1 ½ cups Arborio rice, do NOT rinse
½ cup dry white wine
1 teaspoon fine grain sea salt
zest of 1 lemon
⅓ cup grated Parmesan or Pecorino-Romano cheese
Instructions
In a wide saucepan you will use for the risotto, bring ½ an inch of water to a boil. Add the spinach leaves and cover. Steam for one minute. Stir the spinach and continue to steam until just wilted.
Transfer the spinach to a blender (I pull the spinach out with tongs) and discard the cooking liquid. Puree the spinach and set aside.
In a medium saucepan, bring all the stock to a boil and turn off the heat. In the same saucepan that the spinach was cooked in, warm the olive oil over medium heat. Add the onion and sauté gently until tender and translucent, about 3-4 minutes. Add the garlic and sauté for another minute or two.
Add the rice to the onions and stir to coat with the oil. Set your timer for 20 minutes. Sauté rice for 2 minutes. Pour the wine into the saucepan and stir occasionally until it has been absorbed.
Add the salt, zest, and 1 cup of the warmed stock and bring to a lively simmer. The pot should be simmering with active, not furious bubbles. Once the stock has almost been fully absorbed, add another ladleful or about ½ cup and stir occasionally.
After 20 minutes, taste the rice for doneness. Ideally, it is still al dente.
Stir in the cheese and spinach puree. Give the risotto a nice, brisk stir. Turn off the heat and allow to sit for 5 minutes. It should be loose and almost soupy. Serve immediately.