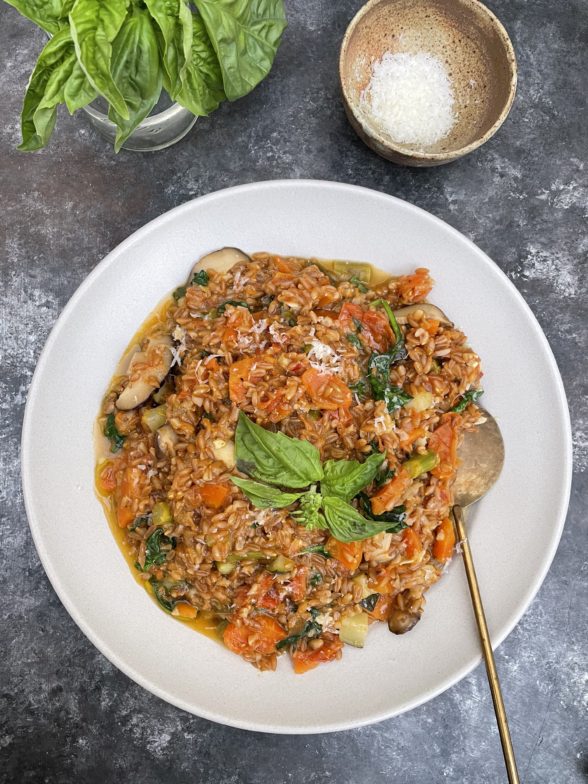 Primavera means spring in Italian and I see it right around the corner!  This farro primavera is a tweak of a One Pot Farro with Cauliflower and One Pot Barley with Melted Cabbage in Kitchen Matters.  Those recipes were inspired by Martha Stewart's One Pot Pasta recipe, which I honestly do not care for (too starchy.)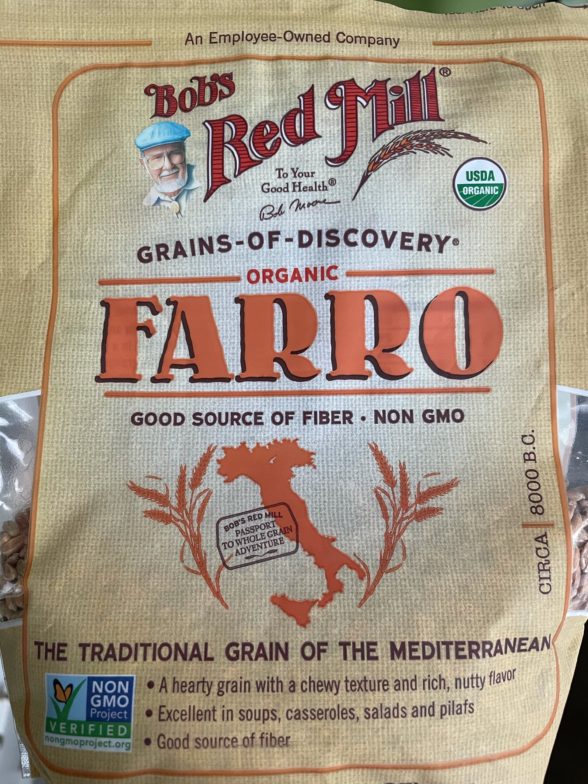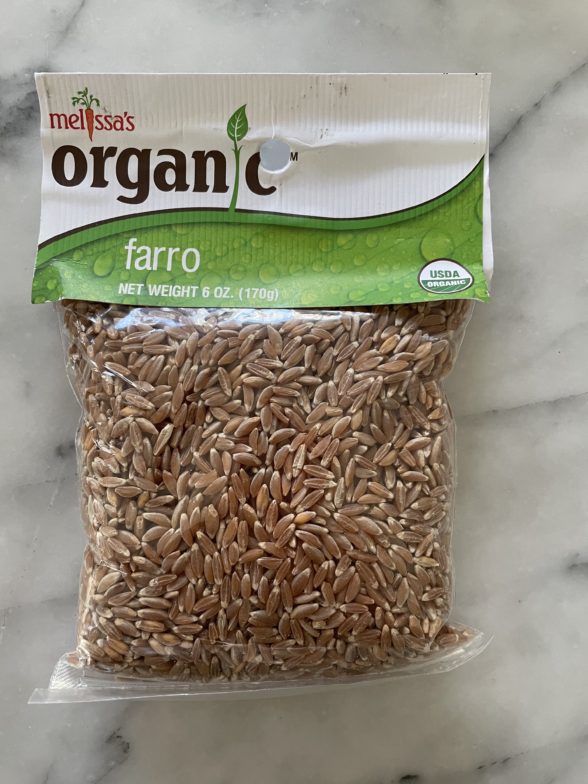 Sadly, I see many people giving up whole grains and they don't know why.  Sure, if you have celiac disease, you must forgo any food with gluten (e.g. wheat, barley, rye, spelt, einkorn, kamut.) And there may be some people with autoimmune issues who do better without grains. But to give up whole grains because they contain carbohydrates is confusing to me.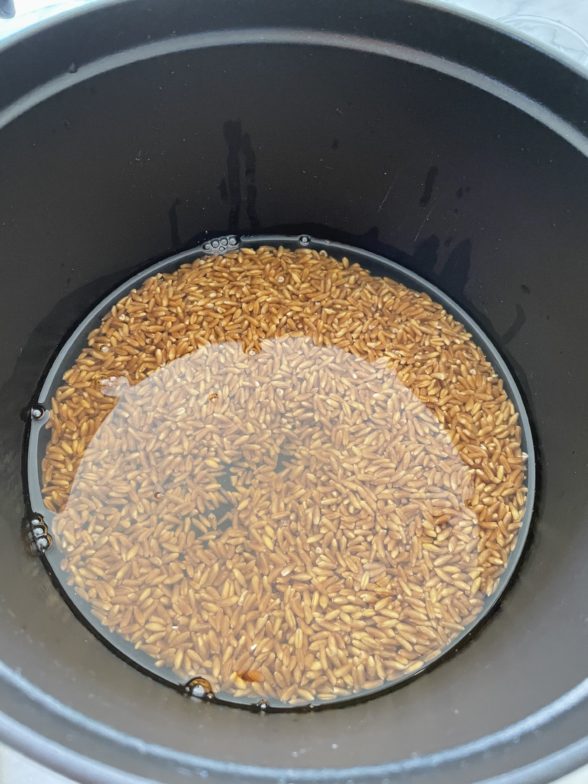 Whole grains contain fiber and other nutrients and they're delicious!  The key is to get diversity in our diets and not eat the same grain (e.g. wheat) all day every day.  The second thing I would say is that food and nutrition is not a game of extremes.  It is about finding balance.  Whole grains in reasonable portions (for me that is 1/2 – 1 cup cooked grains in a meal) can be enjoyed.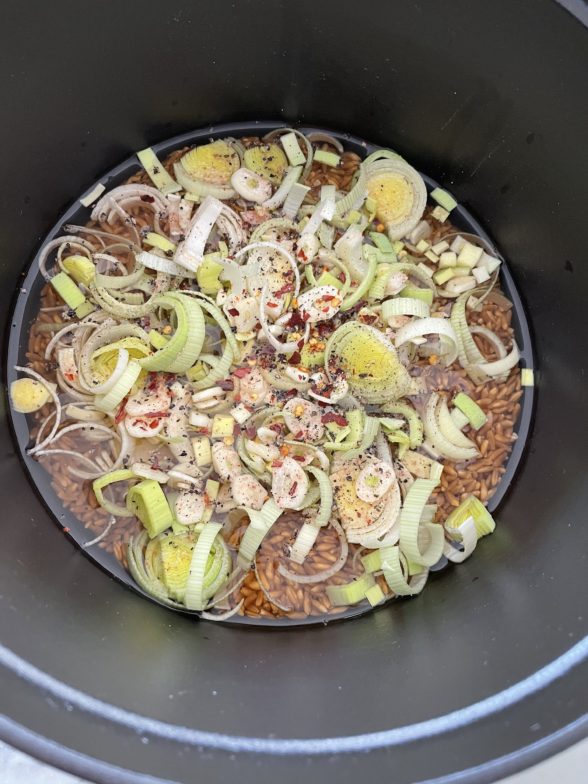 This recipe is just as easy as the first two I mentioned.  One pot!  And it also makes me feel as though I am eating a restaurant pasta dish.  For those of you that are comfortable winging it, you can adjust the vegetables here based on your preferences and what you have.  Vegetables added at the beginning should be ones that need a longer time to cook and/or can handle being overcooked without a problem.  That's why in the other two recipes I mentioned, I chose cauliflower for one and cabbage for the other.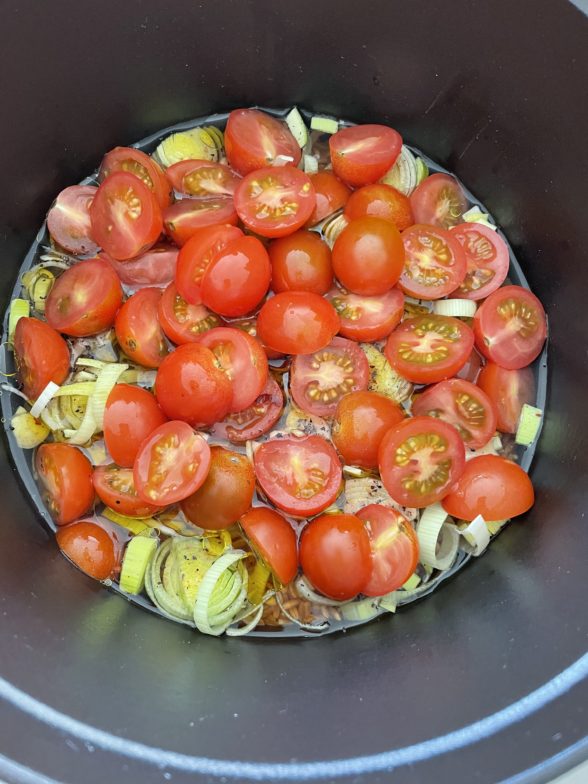 If you want to add quicker cooking vegetables like leafy greens, green beans, zucchini or summer squash, asparagus, frozen peas, you can add those in the last 5-10 minutes of cooking.  Also, different farro brands have different textures and cook times.  I prefer the Bob's Red Mill which is a little softer and chewy.  The one from Melissa's Produce didn't soften up quite to my liking.  If you avoid gluten, you can make this with brown rice!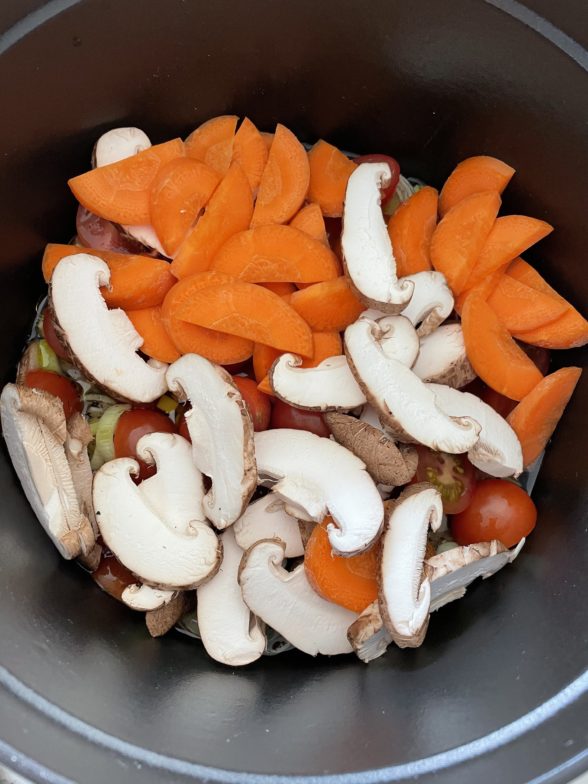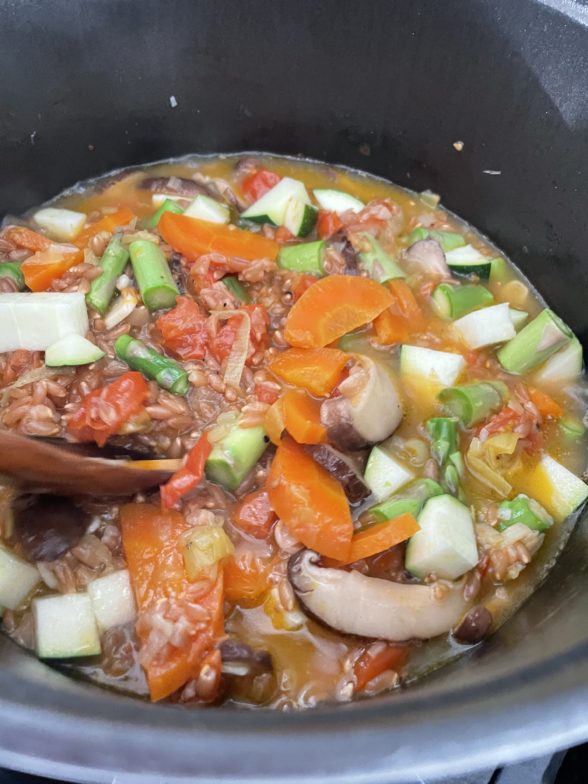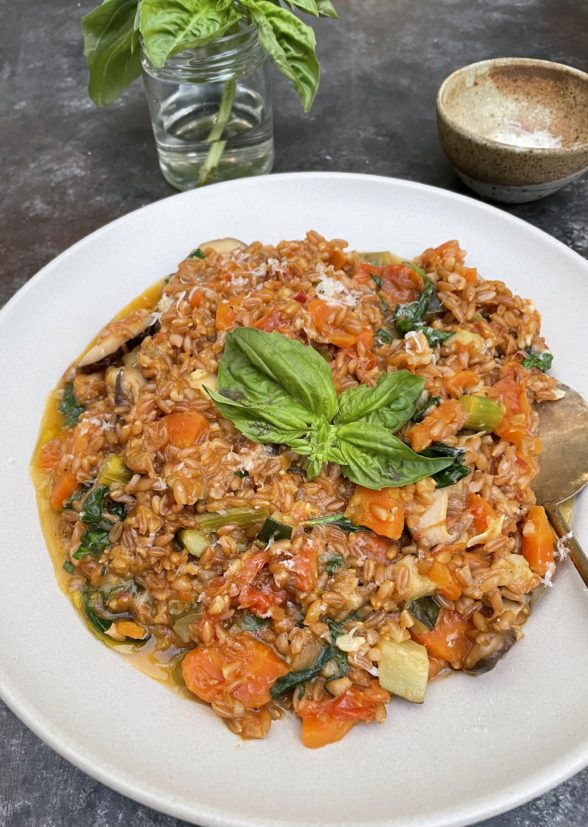 I love serving this with a side salad for a very plant-based dinner or a piece of fish if I'm feeling it.  I shower the farro with a healthy dose of Parmesan just because that's what I would do with pasta primavera!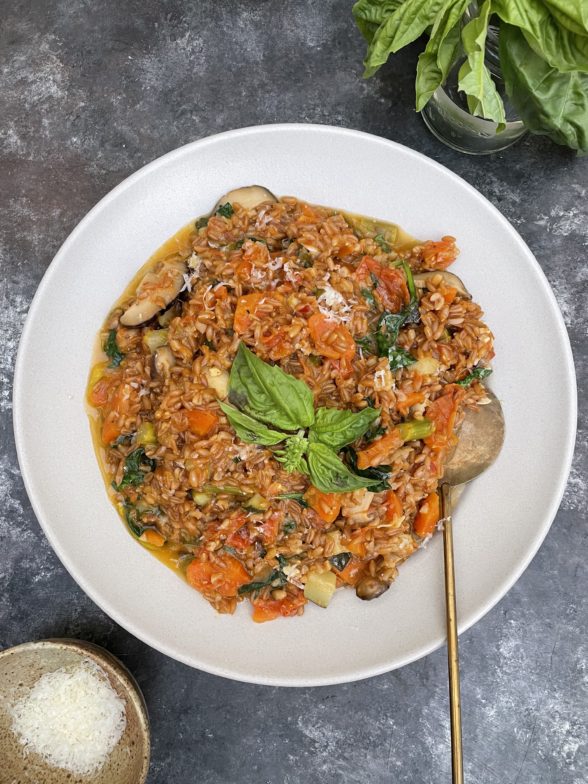 I would love to know if you make this and do let me know if you change the recipe at all.  Tag me on Instagram @pamelasalzman #pamelasalzman so I can see all your lovely creations!  The next two weeks I'll post some recipes that would be lovely for your Easter or Passover table!
 

 

 

View this post on Instagram

 

 
You can shop the tools I used for this recipe by clicking on the images below:

One Pot Farro Primavera
Serves:
4 as a main, 6 as a side dish
Ingredients
1 cup farro (use brown rice for gluten-free)
2 cups water, mild vegetable or chicken stock
1 small onion or leek, quartered and thinly sliced
3 large garlic cloves, thinly sliced
Pinch of crushed red pepper
1 ½ teaspoons sea salt
Freshly ground black pepper to taste
2 Tablespoons unrefined, cold-pressed extra-virgin olive oil
2 cups chopped tomatoes or halved cherry tomatoes
2 cups of any of the following:
These would go in during Step 1: Sliced carrots, sliced mushrooms.
Or these quicker-cooking vegetables would go in 10 minutes before the farro finishes cooking: chopped asparagus, diced zucchini, frozen peas, fresh spinach
For garnish:
A small handful of fresh basil leaves
Freshly grated Parmesan or Pecorino cheese, if desired
Instructions
Place all the ingredients into a medium saucepan or soup pot in the order listed, with the farro first and so on, except do not add quicker cooking vegetables, such as asparagus, peas or spinach, if using. Do not add the basil or cheese yet either. Bring to a boil over high heat, lower to a simmer and keep partially covered.
You will cook the farro for a total of 30 minutes. If using any quicker-cooking vegetables, add those in after the farro has cooked 20 minutes. Stir them in, and allow the farro to cook an additional 10 minutes, partially covered.
Taste the farro for doneness. There will be a little liquid in the pot which I like. If you don't, cook towards the end without the lid. Serve with fresh basil leaves and grated cheese, if desired.
Notes
You can also supplement this with cauliflower rice or cut the farro and water in half and add a 12-ounce bag of frozen cauliflower rice.
I prefer using pearled farro for this recipe, such as Bob's Red Mill. Whole farro, such as the Melissa's brand will take longer to cook, 45 minutes to an hour.