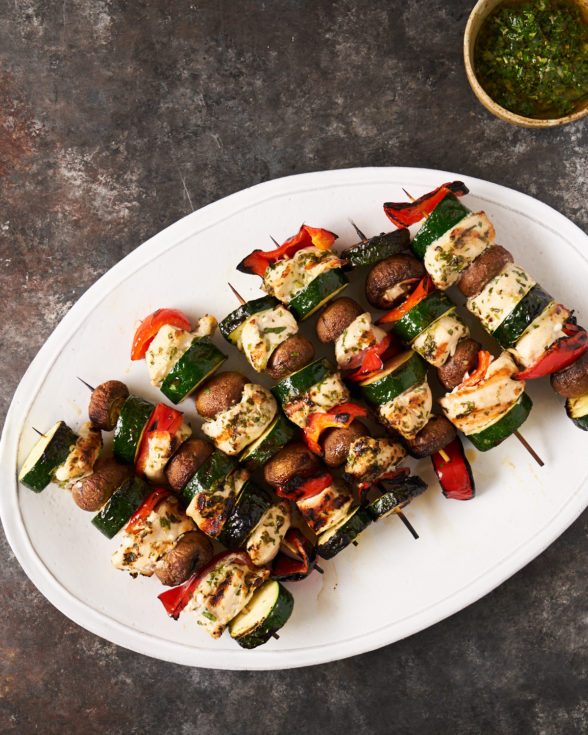 Wow.  I first posted this in August of 2011!  I love this recipe and continue to make it regularly, but the images (not the recipe) needed an upgrade. 
Previously posted in August 2011. This summer has been a blur.  My husband and I have (thankfully) been working a lot and Daughter #2 was just bat mitzvahed this past weekend.  There hasn't been too much free time to experiment in the kitchen as I like to do in the summer.  In fact, one thing that my husband complains about is that there aren't enough "repeat" recipes in our house since I'm always testing out new things.  Except the last few months.  Every Sunday night when I have sat down to write my menu for the week, I have included chimichurri in some variation.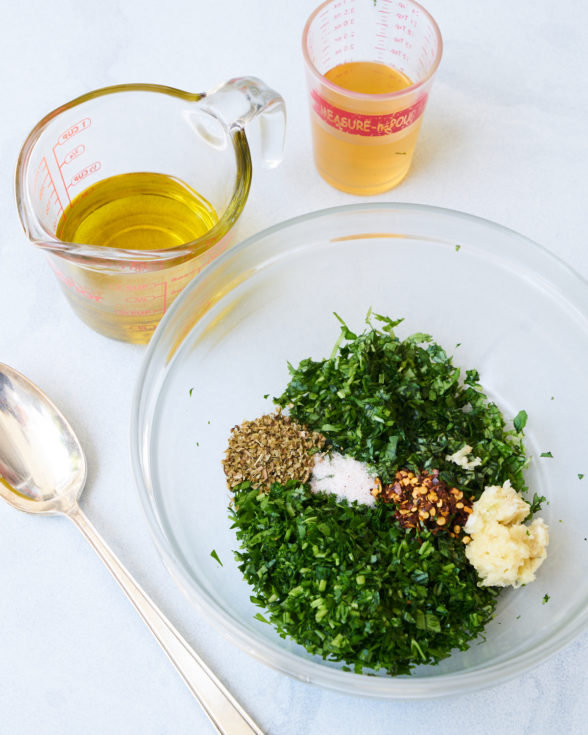 Chimichurri is a flavorful herb condiment popular in Argentina where it is most commonly used on grilled meats.  It's like the ketchup of South America, but fresh, green and good for you.  The base of chimichurri is finely chopped parsley combined with garlic, olive oil, vinegar and a little hot pepper.    Chimichurri is dead simple to make, especially if you prep your herbs in advance, and is incredibly versatile.  That, and it helps me make a dent in the parsley in my garden.  I first made chimichurri to accompany grilled skirt steak and it was terrific, but I soon found so many other uses for it, including drizzled on raw sliced tomatoes, boiled or grilled potatoes, crispy tofu, scrambled eggs, grilled vegetables and chicken.  Another bonus about chimichurri is that picky children can leave it off if it's too green (hooray!  more for me!).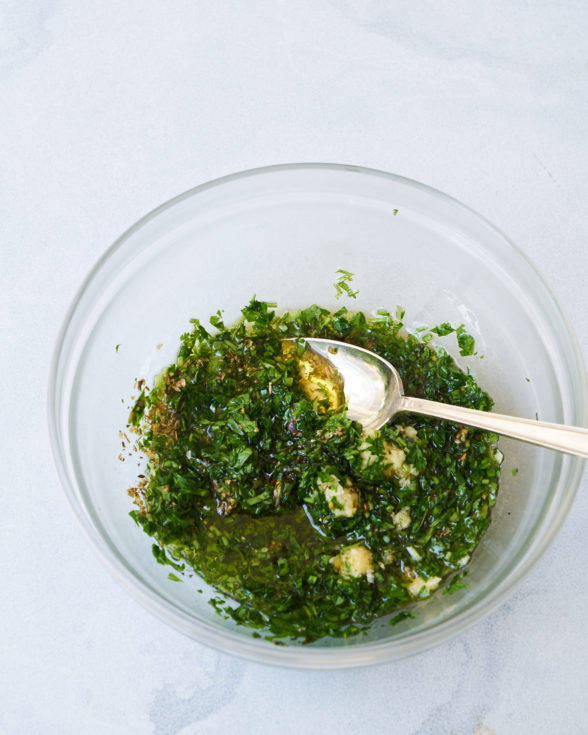 We don't eat a lot of beef in this house, so I've been serving it most often with these chicken and vegetable kabobs.  I use a little of the chimichurri as a marinade for the chicken so it doesn't get all carcinogenic on me when I grill it, and I use the rest to spoon on top of the kabobs after they have been cooked.  The sauce has a nice freshness from the parsley and a tang from the vinegar that cuts the richness of meat really well.  You can certainly use it on simply grilled chicken or steak, but I can't help myself by adding vegetables wherever I can, so kabobs have been a weekly dinner item lately.  Lucky for you I've learned a thing or two about making kabobs and I am happy to share right here.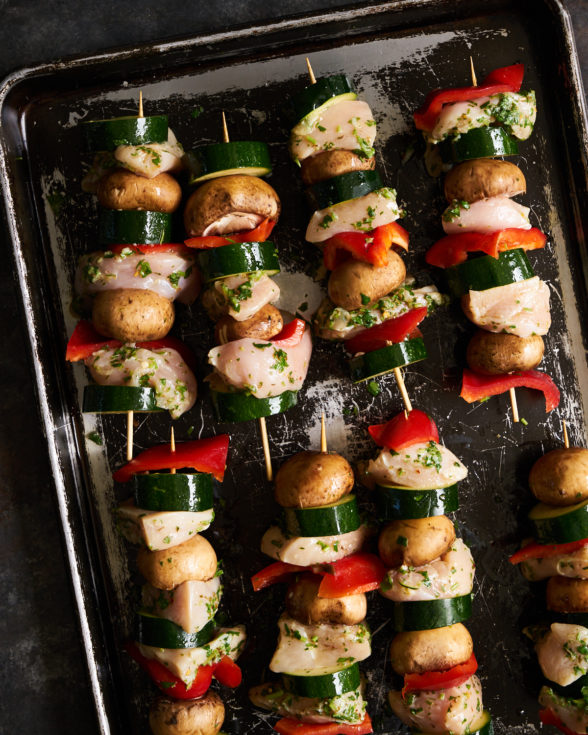 Here, I used one skewer, but I also like to use two wooden skewers per kabob which helps prevent the meat and vegetables from spinning around when I try to flip the kabob.  Thread a round of zucchini, by taking one skewer and inserting it slightly off-center.  Then insert the second skewer.
Lightly coat your vegetables with a little oil so they stay moist when you grill them.
Trim your vegetables so they are not thicker than the cubes of chicken/meat.
When threading your chicken/meat, do not pack it tightly on the skewer because it won't cook evenly.
I don't bother soaking my wooden skewers anymore since I find they tend to burn anyway.  I just fill up the skewers so there isn't much wood exposed.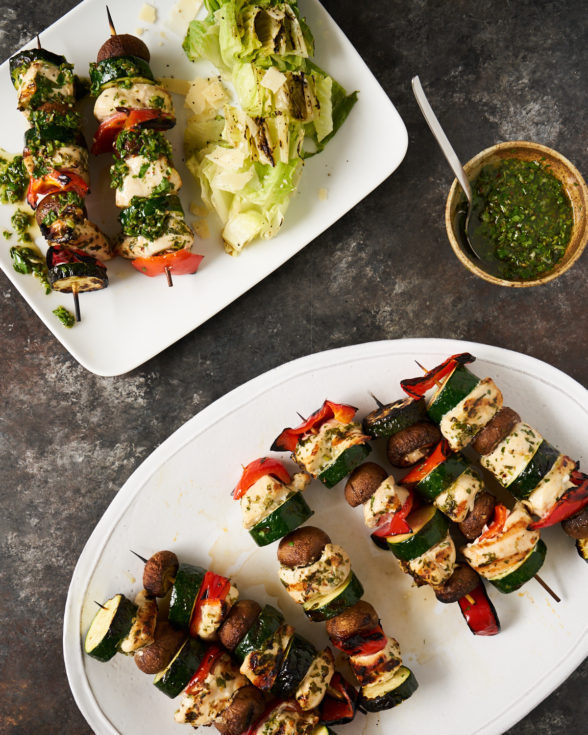 Honestly, you can buy a rotisserie chicken and make the chimichurri to serve on the side.  Or broil or grill some wild salmon! If you make any of my recipes, please tag me on Instagram so I can see (and repost!) your creations!  Stay well.  XOXO
You can shop the tools I used for this recipe by clicking on the images below:

Chicken and Vegetable Kabobs with Chimichurri Sauce
Serves:
approximately 8 skewers
Ingredients
For the sauce:
¾ cup fresh flat-leaf parsley leaves and tender stems, packed
½ cup fresh cilantro leaves and tender stems, packed (or mint or use all parsley)
2 Tablespoons fresh oregano or basil leaves (or use 2 teaspoons dried oregano or omit)
3 garlic cloves
3 Tablespoons unpasteurized apple cider vinegar or red wine vinegar
6 Tablespoons unrefined cold-pressed extra virgin olive oil
½ teaspoon fine grain sea salt
¼ teaspoon red pepper flakes or more to taste
For the Skewers:
3 boneless, skinless chicken breasts, cut into 1-inch cubes
2 small zucchini, cut into ¾-inch rounds
1 sweet red bell pepper, cut into 1-inch pieces
8 cremini mushrooms, trimmed
Instructions
In the bowl of a food processor fitted with the metal blade, place all the herbs and the garlic. Process until well chopped. Transfer to a medium bowl. Add remaining sauce ingredients to the herbs and combine well.
Place the cubed chicken in a non-reactive container and add a few spoonfuls of chimichurri sauce and toss to coat. Cover and refrigerate chicken up to overnight or allow chicken marinate at room temperature for 1 hour. Cover and refrigerate reserved sauce.
Heat a grill over medium heat until hot. Drizzle the vegetables lightly with olive oil. Thread the chicken onto skewers alternating with vegetables. If using wooden skewers, use two skewers per kabob, that way the chicken won't turn around the skewer as you flip. Season kabobs lightly with sea salt. Grill on both sides until chicken is cooked through, about 5-6 minutes per side. Serve with reserved chimichurri sauce on the side.