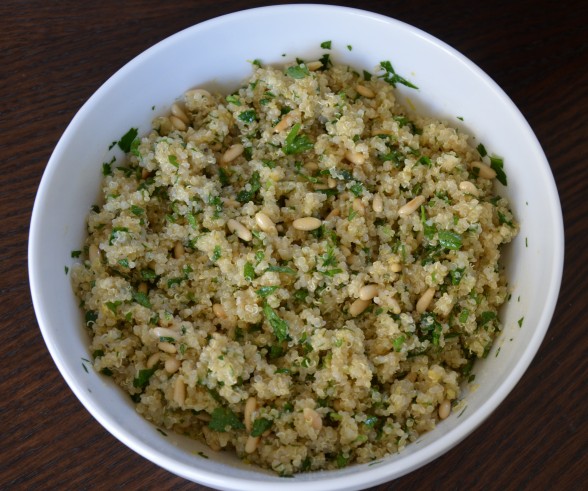 I will admit, the first time I ever made quinoa, I didn't like it at all.  I cooked it like rice with nothing added and it really wasn't very tasty.  Who cares if something is super nutritious if it tastes like sawdust?  I am all about deliciousness first.  But then I gave quinoa a second chance by adding some favorite flavors and now we are very good friends.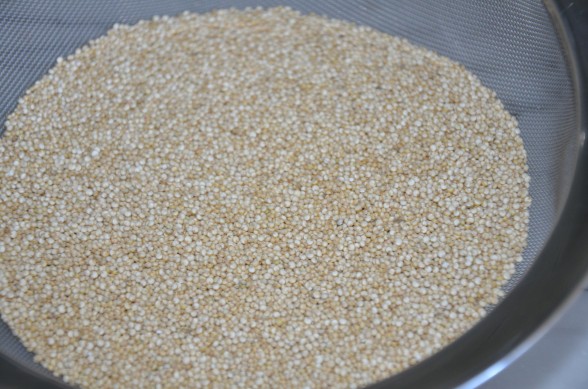 Haven't tried quinoa yet?  Pronounced keen-wa, it's a tiny grain (well, technically a seed) with a light, bouncy texture and a subtle nutty flavor.  Quinoa's claim to fame, however, is that it is one of very few plant foods with all 8 essential amino acids making it a complete protein.  It is rich in minerals and fiber and is gluten-free.  It is also surprisingly light and much easier to digest than many grains.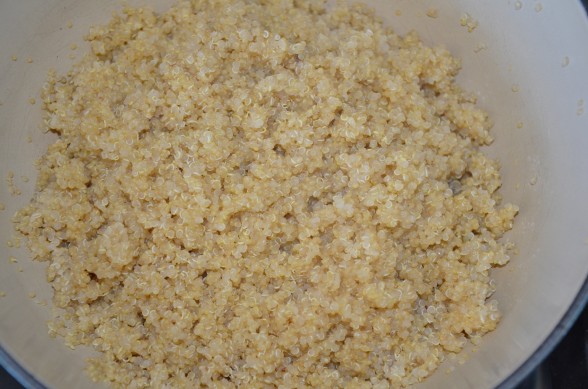 One of the best things about quinoa, though, is that even though it is a whole grain, it cooks very quickly — 15 minutes!  If I am home for lunch and I need something fast and easy, I will usually make a pot of quinoa.  While it is cooking, I can assemble a few add-ins like herbs, nuts, cooked beans or leftover vegetables from the night before and tie it all together with whatever vinaigrette is in the fridge or simply squeeze some lemon and drizzle with olive oil.  Better yet, make a big pot earlier in the week and keep it in the refrigerator for salads or to add to soups.  (I even eat it for breakfast, but we'll save that for another post.)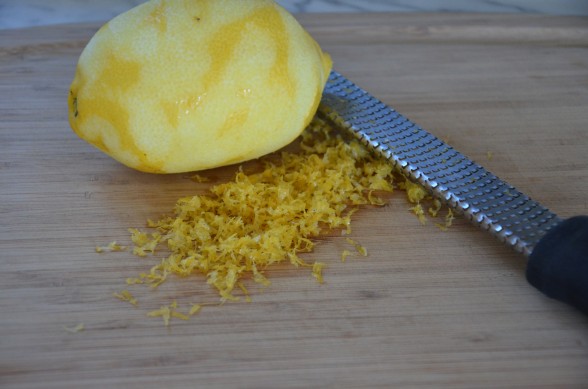 If you and quinoa never really hit it off the first time, this recipe might bring the two of you back together.  It is a great, easy basic with lots of flavor.  The lemon gives it a nice kick and the cumin adds a mellow earthiness.  I especially like quinoa with something crunchy, like nuts or a crisp vegetable.  I think this recipe is perfect just the way it is, but my daughters always add feta to it (as pictured below, with their favorite kale salad.)  If I haven't convinced you yet, use quinoa in place of cous cous or orzo in one of your family's favorite recipes, and I have a feeling you'll be back for more.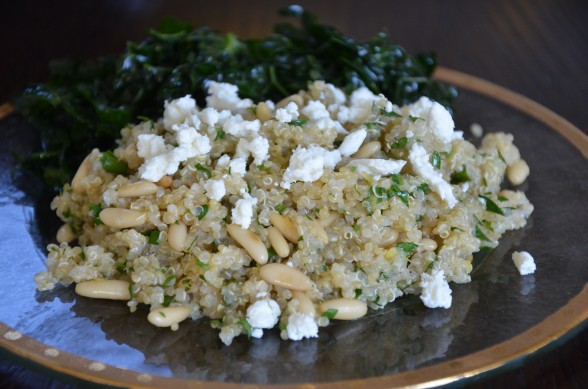 Lemon and Cumin-Scented Quinoa
Author:
Pamela, tweaked from martha stewart living
Ingredients
1 cup uncooked quinoa
½ teaspoon sea salt
⅓ cup raw pine nuts, toasted
2 teaspoons freshly grated lemon zest
½ cup chopped fresh flat leaf parsley or mint or a combination
1 teaspoon ground cumin
3 Tablespoons fresh lemon juice
3 Tablespoons unrefined, cold-pressed extra-virgin olive oil
Freshly ground black pepper
Crumbled feta (optional)
Instructions
Rinse quinoa in a bowl with water or place quinoa in a fine mesh sieve and rinse under cold water until water runs clear. This removes the natural bitter coating on the grain. Transfer to a saucepan and add ½ teaspoon of sea salt and 1 ¾ cups of water. Bring to a boil, cover, and simmer until water is absorbed, about 15 minutes. Remove from the heat and let sit, covered, for 10 minutes.
Transfer quinoa to a serving bowl and add pine nuts, lemon zest and parsley. In a measuring cup, whisk together cumin, olive oil and lemon juice. Add to quinoa and toss to combine. Taste for salt and pepper and season accordingly. Top with crumbled feta, if desired.
Serve warm or at room temperature. Really tasty even the next day out of the fridge!