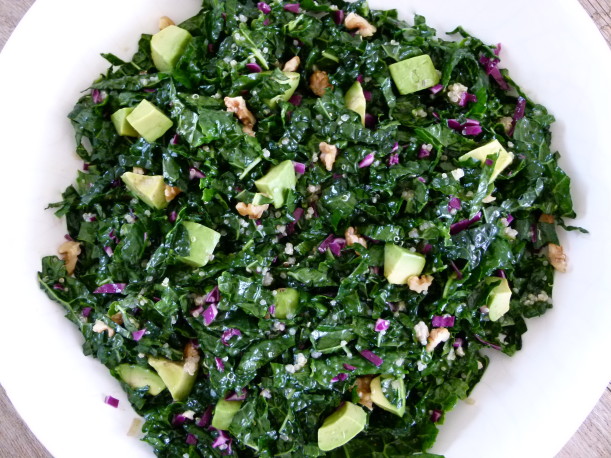 The first time I ever made kale in a class, one student said ,"I'm afraid of kale.  I don't know what to do with it."  In each subsequent class that month, there would be someone else who said the same thing.  Say it isn't so!  Are you the same people that use kale as a garnish for fruit salad platters?  You're killing me!
Kale is your friend, your BFF even!  I must brag about this rock star leafy green.  Kale contains tremendous amounts of Vitamins K, A and C, as well as calcium and magnesium (very calming minerals, mind you.)  Allow me to keep going.  I would be remiss if I didn't mention that kale is full of some powerful cancer-preventive compounds called glucosinolates and antioxidants (flavonoids), plus an amazing amount of ALA, the basic building block for Omega-3 fatty acids.   What I'm trying to say is that kale will love you inside and out.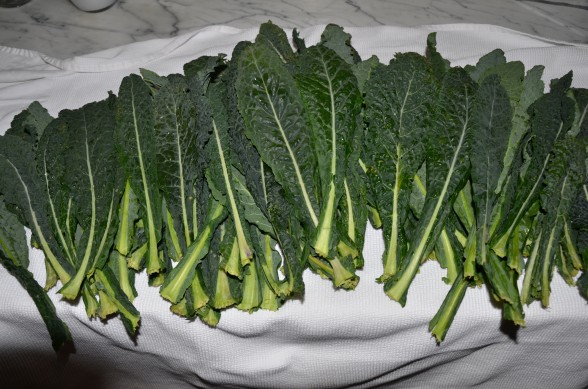 How can you incorporate kale into your diet?  I love to saute it with garlic and olive oil, toss it into soups, slice it thinly and add it to tomato sauce, or roast it into a crispy chip.  But this salad is one of my favorites and has converted many non-kale-eaters, or kale-fearers, as the case may be.   Usually I teach a recipe so many times in a month that I never want to eat it again.  Except this one.  I make it at a least once per week and just change how I eat it according to what's in season.  It is even my go-to meal for traveling because it is light, but filling and can handle being dressed ahead of time.  My standby is to add quinoa and chopped avocado, sometimes with a few sunflower seeds.  The girls take it to school for lunch usually topped with feta, quinoa, and some grated carrots.  However you decide to make this your own, the key to success here is thinly slicing the kale and massaging the dressing into the shredded leaves.  I actually give the kale a bit of squeeze with the dressing.  This will soften the leaves and reduce any bitterness you might expect.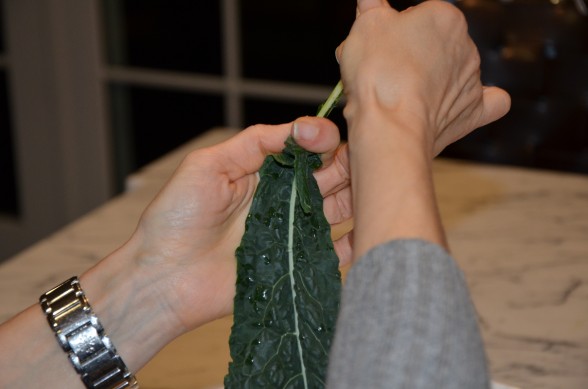 I felt utter joy when my son, Mr. Picky (shown here massaging dressing into the kale), finally tried this salad and gave it the thumbs-up.  I do not exaggerate when I say he had been "exposed" to this salad at least 25 times before he tried it!  Don't give up, people.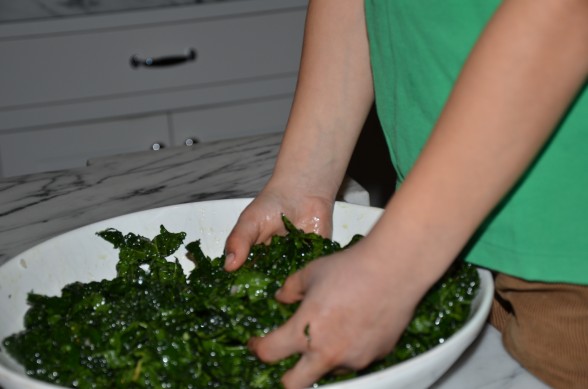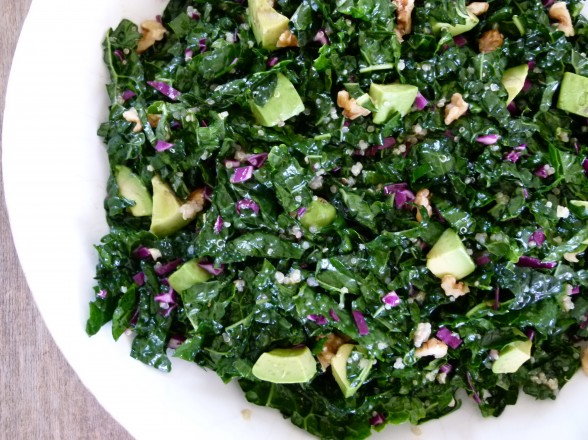 View this post on Instagram

 

 
raw kale salad with citrus dressing recipe
Ingredients
2 bunches of black kale (aka Tuscan, lacinato or dinosaur kale), about 12-14 ounces, wash and dried
Dressing:
2 Tablespoons fresh lemon juice
2 Tablespoons fresh orange juice
½ teaspoon fine sea salt
A few twists of black pepper
2 teaspoons minced shallot
2 teaspoons 100% pure maple syrup or raw honey
6-7 Tablespoons unrefined, cold-pressed extra-virgin olive oil (you can also substitute 2 Tbs. of flax seed oil for 2 Tbs. of olive oil)
Instructions
Remove the stems from the kale (see photo for an easy method -- by stripping the stem from the leaves) and stack a bunch on a cutting board. Thinly slice the kale with a sharp knife and transfer to a serving bowl. Repeat with remaining kale.
Prepare the dressing: whisk all the ingredients in a small bowl and add enough dressing to coat the kale lightly. Massage the kale with the dressing. Add in your favorite salad fixings (shown here with red cabbage, quinoa, avocado and walnuts) and additional dressing, if needed.