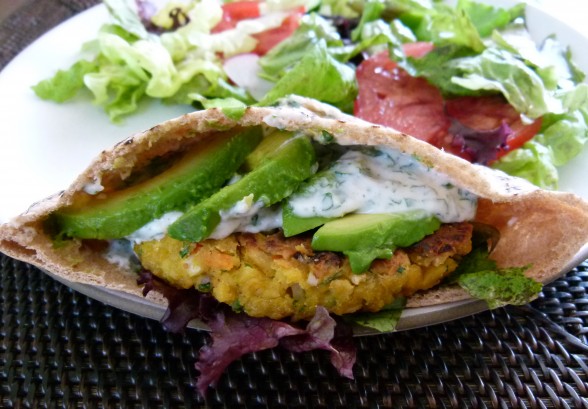 If I had to pick one cuisine to stick with for the rest of my life, it would be a tough a call.  But I could easily live off of Mediterranean food every day.  I love the emphasis on fresh vegetables, olive oil, legumes and whole grains, cheeses and fish.  Whether it's Italian, Greek, or Israeli, this way of eating is definitely my comfort zone.  And living in Southern California makes cooking Mediterranean-style quite easy with an availability of similar varieties of fresh produce, nuts, dates and olives.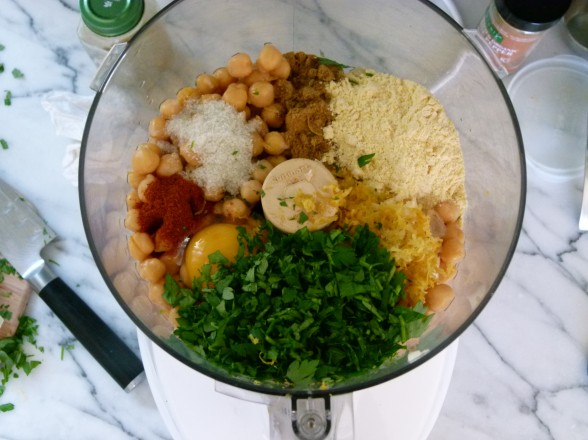 As I've mentioned before, one of my favorite things to do is to take a not-so-healthful food that I love and turn it into something I can enjoy regularly.  Many years ago I decided to try making falafel (the deep-fried Middle Eastern chickpea nuggets) a little less "deep-fried."  (Ok, not everything Mediterranean is healthful.)  Many iterations later I found myself with a delightful, substantial chickpea burger which in turn began my obsession with veggie burgers.  I don't love meat and poultry so much, although I think they are excellent sources of protein if you can find organic, pastured varieties.  But I do love hearty, flavorful vegetarian food that makes me feel satisfied, especially anything bean-based which is loaded with low-fat protein and tons of insoluble fiber.  I also like having recipes like this for entertaining when I always like to offer a vegetarian option (you'd be surprised how many people choose not to eat meat these days.)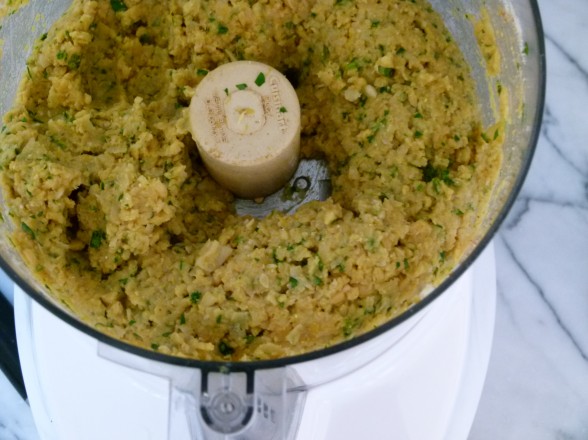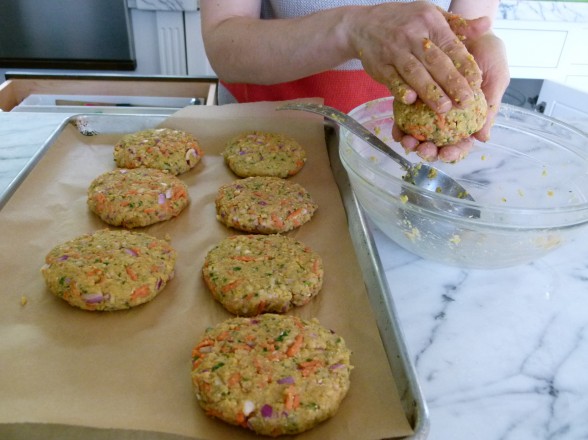 These chickpea burgers are a favorite of mine and my whole family, even Mr. Picky who I am pleased to announce tried one for the first time last week with ketchup.  Do what you've gotta do, friends.  They are definitely a far cry from falafel, though.  In fact, the only ingredients that falafel and these chickpea burgers have in common are chickpeas and cumin.  But if I do it right, they're crispy on the outside, moist on the inside and with flavors that remind of falafel.  I usually eat veggie burgers sans bun since I find that they are plenty starchy without adding bread.  But when serving them to family and friends, I offer warmed, whole wheat pita halves and an array of yummy toppings including sprouts, avocado, tomato slices, lettuce, cooked onion and most importantly, a creamy and refreshing sauce.  In my opinion, it's all about the condiments!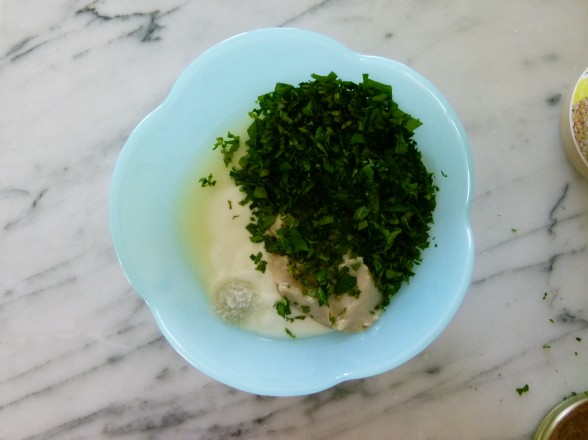 Chickpea burgers (and veggie burgers, in general) are fabulous for entertaining and for busy weeknights since they are best formed in advance and refrigerated so they firm up a bit.  Out of the fridge, they cook up in minutes on a hot griddle or skillet.  Once you realize how tasty these are, you'll make a double batch and freeze half.  If you freeze them, just don't forget to place a piece of wax or parchment in between each patty so that they don't stick together (ask me how I know this.)  These burgers may not take you back to your last visit to the Mediterranean, but I hope they'll keep you from visiting the freezer section of your supermarket!  Enjoy~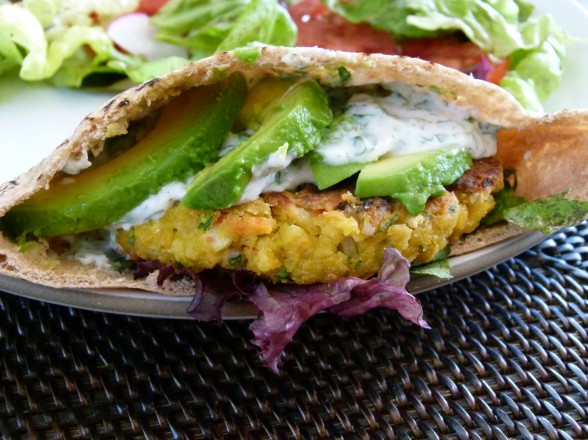 Chickpea Burgers
Ingredients
4 cups cooked chickpeas, drained and rinsed if canned
2 large eggs, preferably free-range
2 cloves garlic, minced
2 teaspoons sea salt
2 teaspoon ground cumin
½ teaspoon cayenne pepper (optional)
zest of 2 small or 1 super big lemon
¼ cup flour (whole grain flour, cornmeal or almond meal all work)
6 Tablespoons (or a heaping ⅓ cup) chopped parsley
2 carrots, grated
½ red onion, small dice
Oil or ghee for sautéing
Yogurt-Tahini Sauce
¾ cup plain yogurt (full fat or low fat)
3 Tablespoons tahini
1½ Tablespoons lemon juice
½ cup chopped parsley, mint or a combo (my favorite)
¼ - ½ teaspoon sea salt
Oil or ghee for sautéing
4 6½ -inch whole wheat pitas, halved and warmed, if desired
Suggested accompaniments: sprouts, avocado, tomato, lettuce, grilled onions
Instructions
Place the chickpeas, egg, garlic, salt, cumin, cayenne, lemon zest, flour and parsley in food processor. Pulse until a coarse mixture forms that holds together. It should be moist and sticky.
Place chickpea mixture in a bowl and mix in grated carrot and red onion. Take a ½ cup of the mixture and firmly press it into a patty about 3 ½ inches in diameter and ¼ inch thick. You can also form these into mini-patties for appetizers. Place on a plate or a baking sheet and refrigerate for at least 30 minutes and up to overnight. Cover if refrigerating for more than a few hours.
Heat a couple tablespoons of oil or ghee in a large skillet over medium heat until hot, but not smoking. Add patties to the skillet (do this in batches, if necessary) and cook until crisp and golden brown on the underside, about 6 minutes. Carefully turn over and cook until golden brown on the other side, about 3-5 minutes more.
Serve with or without a warmed pita half or a hamburger bun and suggested toppings.