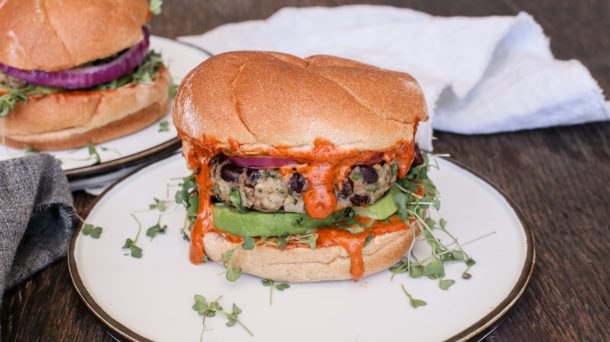 Not so fast.  You see "Black Bean Burgers" and you're already making a run for it?  Well, I can't blame you if your only experience with veggie burgers are those dry, thin hockey pucks in the frozen section of the supermarket.  Or if you've looked for recipes to make your own at home and the list of ingredients was a page long.  What do I have to say to make you give these a try?  Would it help if I told you my meat-and-potatoes husband loooooves these?  Would you been inclined to make them if you knew that Mr. Picky, yes the one and only, gave these very burgers the thumbs-up?  Listen, I'm not guaranteeing anything here, but these black bean burgers are delicious and you'll want to smear the smoky red pepper sauce on everything from turkey sandwiches to roasted potato wedges to grilled vegetables.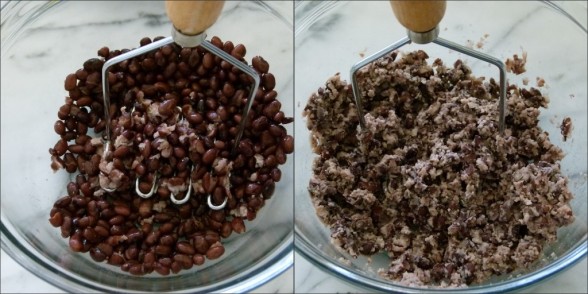 Here's the other thing — can we take a break from meat for 5 minutes?  My timing on this isn't ideal, but Meatless Mondays has some merit.  As Mark Bittman said, "Even if you eat a typical American diet replete with processed, junk and fast food the other six days of the week, going meatless on Mondays will still cut your carbon footprint, improve your health and reduce demand for factory-farm meat."  The only thing I would qualify is that going "meatless" doesn't necessarily imply a more healthful diet.  You're a smart group, and I probably don't need to tell you that you could eat potato chips and candy bars for dinner and that's not going to do you any good.  But eating a dinner of legumes, whole grains and vegetables can only do you good.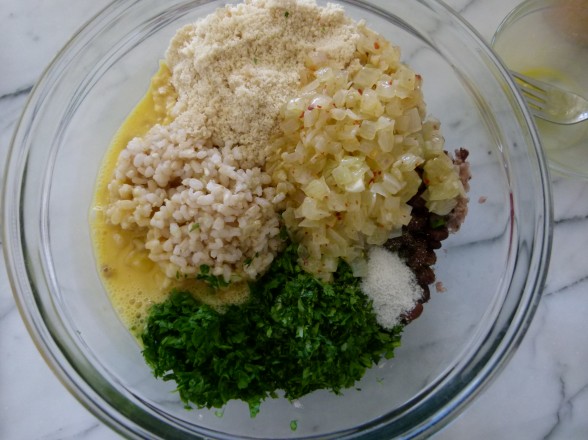 All beans are an inexpensive source of high-fiber protein, but the black color in black beans contains a tremendous amount of antioxidants.  In fact, black beans are among the top antioxidant foods out there.  Recall that antioxidants neutralize the damage done by free radicals and they are your friend against aging.  I prefer to cook my own beans (see very end of post), as opposed to buying them canned, for several reasons:
it's way cheaper;
no exposure to BPA in can liners (although Eden Organic doesn't use BPA);
no waste (I cringe when I throw several cans in the trash);
less indigestion (there are complex sugars called oligosaccharides on the outside of beans, which can cause some individuals discomfort.  Soaking beans removes these sugars, but most canned beans have not been pre-soaked.  If you have to use canned, give them a rinse before consuming and that will help somewhat.)
it's as simple as boiling water, if you plan ahead.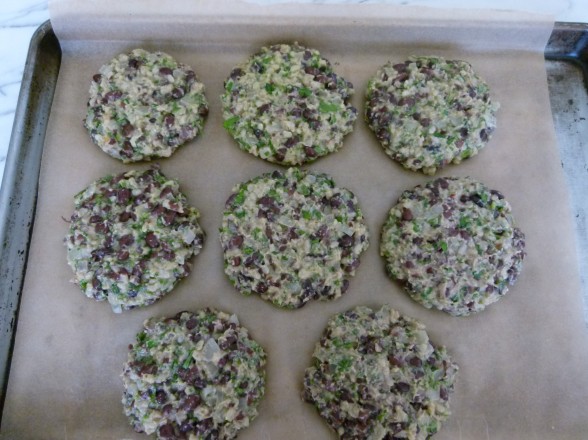 If you are insecure that your family will go for these, just treat them like regular burgers and give them lots of delicious toppings to choose from.  In my house, we all put our own spin on them.  I eat the burger over a green salad with the pepper spread, grilled onions and sliced avocado.  Everyone else takes a toasted bun and adds cheese, ketchup (Mr. Picky), lettuce, tomato, pickles, you get the picture.  Here's what's great for you — you can shape the patties in the morning or even a day or two ahead, pull them out of the fridge right and cook them in less than 10 minutes.  Such a great feeling.  You can even freeze them and cook them right out of the freezer and just cook them a little longer.  I like to fry them on a griddle pan or in a skillet, but you can bake them, too.  And — you can make little sliders for a party!  That's all it takes to make me happy, people.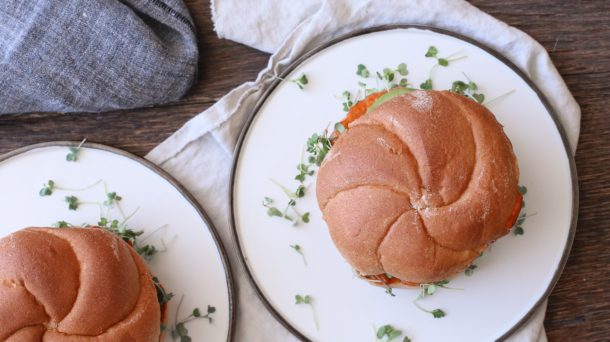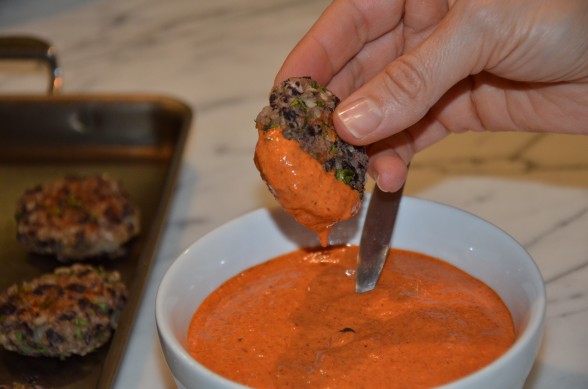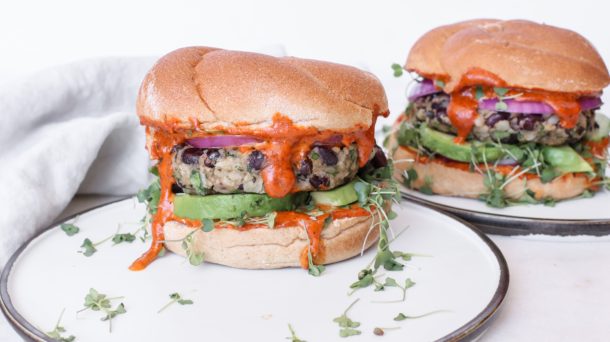 Black Bean Burgers with Smoky Red Pepper Sauce
Author:
Pamela, originally inspired by Food and Wine
Ingredients
3 Tablespoons unrefined, cold pressed extra virgin olive oil + more for cooking patties
1 cup finely diced onion
¼ teaspoon crushed red pepper (or more if you like them spicy)
1 clove garlic, minced
3 cups cooked black beans, or 2 15-ounce cans, rinsed and drained
1 cup cooked brown rice
2 eggs, lightly beaten
1 cup panko bread crumbs or almond meal (to make them GF)
¼ cup chopped flat-leaf parsley
¼ cup chopped cilantro
1 teaspoon sea salt (or more if using unsalted beans)
¼ teaspoon freshly ground pepper
Smoky Red Pepper Sauce (recipe follows)
Hamburger bun of choice or whole wheat pita (optional)
Accompaniments: grilled onions, avocado, tomato, sprouts
SMOKY RED PEPPER SAUCE (double this if your family likes a lot of sauce):
1 red bell pepper, roasted, peeled, seeded and chopped -- you can buy these already roasted or you can roast them yourself (see below)
¼ cup raw, creamy almond butter (or 1 cup feta cheese and omit the salt)
½ teaspoon sea salt
½ teaspoon smoked paprika (or more to taste)
Instructions
In a small skillet, heat the olive oil over medium heat. Add the onion and cook until tender. Add the crushed red pepper and garlic and cook until fragrant, 2 minutes.
Place 1 ½ cups of beans in a bowl and mash them to a chunky puree with a potato masher or in a food processor (a fork also works just fine.) Add the rest of the beans to the bowl along with the rice, onion mixture, eggs, bread crumbs or almond meal, parsley, cilantro, salt and pepper and blend together. Take a scant ½ cup of the mixture and form into a patty. I like to put them on a parchment-lined baking sheet. Repeat with the remaining mixture. Cover and refrigerate for at least 30 minutes (or up to overnight.)
In a large skillet or on a griddle pan, heat an ⅛ of an inch of oil. Add the patties and cook over medium heat, turning once, until browned and heated through, about 6 minutes. Serve with desired accompaniments. Or preheat an oven to 350 degrees and brush a baking sheet with oil or line it with unbleached parchment paper. Place the patties on the sheet and brush the tops with oil. Bake until heated through and lightly golden brown on top, about 20 minutes.
To make smoky red pepper sauce, puree everything in a mini food processor until well blended.
Notes
HOW TO COOK BEANS FROM SCRATCH

1 pound of dried beans will yield approximately 6 cups of cooked beans.

Let's do the math. 1 pound dried costs about $1.00. 6 cups is about 4 cans. 1 can of Eden Organic costs about $2.29. Times 4 equals more than $10.00. Way cheaper to make your own.



Place the dried beans in a large bowl or pot and add enough cold water to cover by at least three inches. Allow to sit for 6-8 hours, or overnight. The countertop is fine, but if your kitchen is very warm, stick the beans in the fridge.

Drain and rinse the beans in a colander. Transfer beans to a large pot and add enough cold water to cover by three inches. Bring to a boil over high heat and lower to a simmer. Skim any foam off the top while they are cooking.

Start testing them after 50 minutes. Cook until tender. This can take anywhere from 50 minutes to 2 hours (the older the beans, the longer they take.) When they are tender, turn the heat off and add a tablespoon of kosher salt to the water and allow the beans to cool slightly in the cooking liquid. Drain and use immediately or refrigerate and use within 3-4 days. Cooked beans also freeze beautifully.