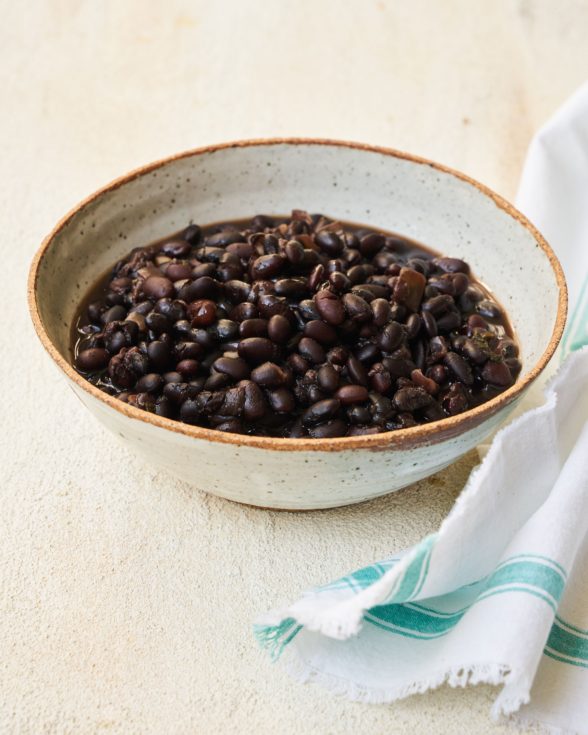 Since our diet is predominantly plant-based, we focus most of our meals around vegetables and legumes.  By legumes, I mean beans, lentils and peas. This group is my go-to protein and I aim to vary the sources as much as I can.  There are so many kinds of beans out there, from the common black, pinto, garbanzo (aka chickpeas) to heirloom varieties that are less widely seen.  There are also so many different types of lentils – different colors, some split, different sizes, etc.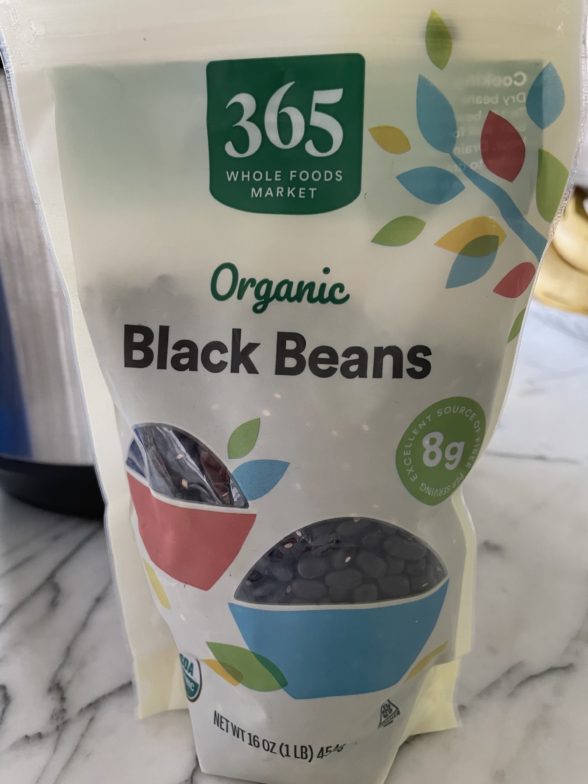 I stock my pantry and fridge with precooked legumes for convenience since they do take a long time to cook from a dried state.  They don't require much effort or hands-on time, but to cook dried beans over the stove warrants a pre-soak of many hours and then at least an hour cook time.  In the slow cooker, I usually budget 6-7 hours.  Although I can't admit to using my Instant Pot every day, or even often, I do love it for batch cooking beans. Even without soaking, I can make them in under 40 minutes (+ the time it takes for the machine to achieve pressure.)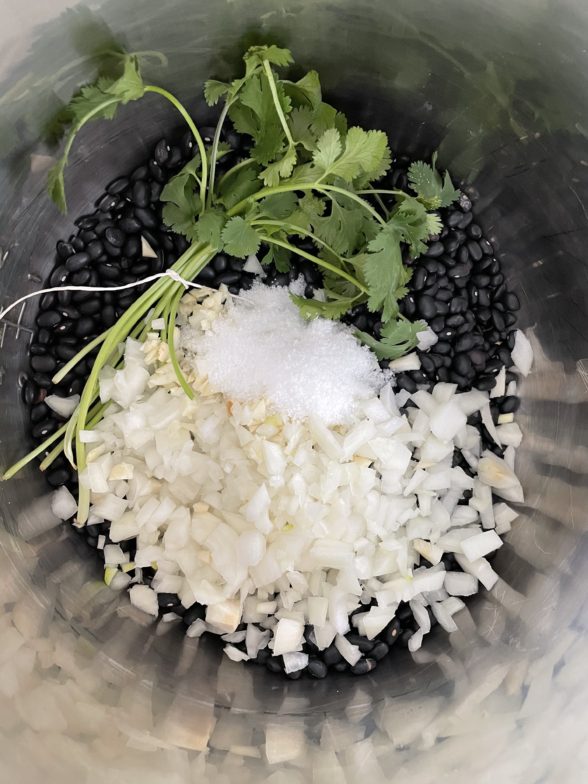 I like to make basic beans that I can then freeze or use in soups or on salads.  But our hands-down favorite beans would be with cilantro, onion, and garlic.  I use pinto or black beans and they are the perfect beans for refried beans, burritos, tacos, enchiladas, Tex-Mex bowls and more.  We'll eat them straight out of the pot or mashed with some of the cooking liquid.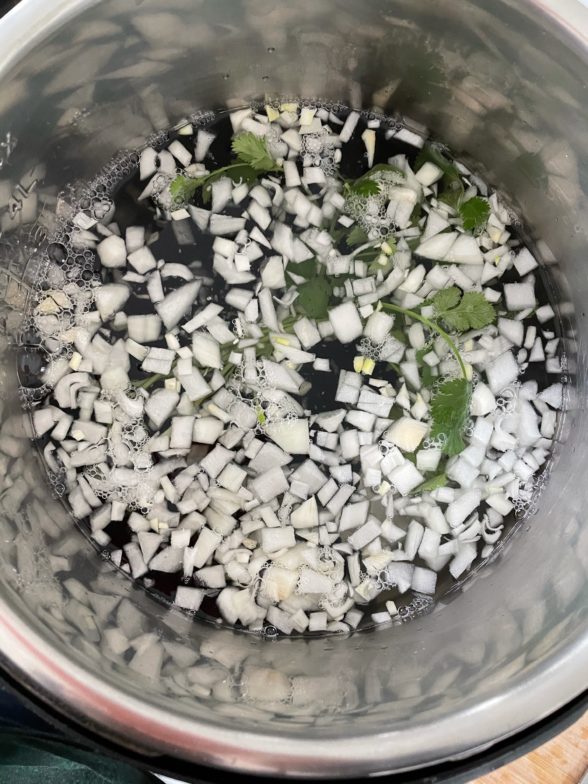 Beans prepared this way are so tasty and really nutritious too.  They are loaded with protein, fiber and antioxidants.  There is no oil added (not that I'm opposed to oil), which makes them fairly low in calories per serving.  Let me also mention that making your own beans is very budget-friendly too!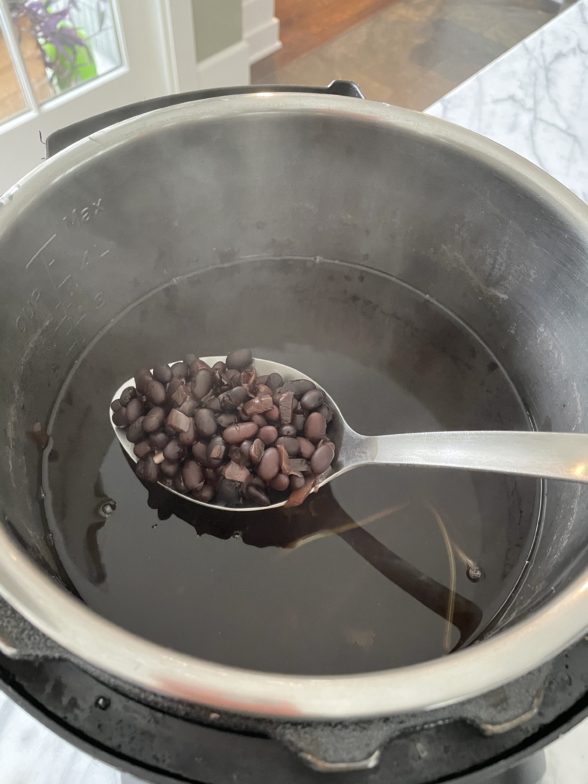 Many of you may have stocked up on dried beans at the beginning of the pandemic and are thinking you need to chip away at your pantry.  That's exactly how I'm feeling, so I am sharing this easy and nutritious recipe with you today!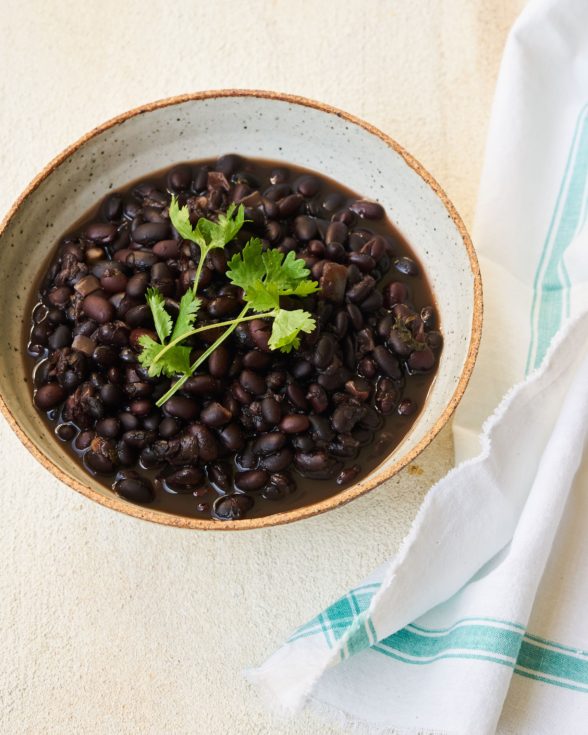 Let me know if you make this recipe by tagging me on Instagram @pamelasalzman #pamelasalzman .  I love seeing all your creations!

Instant Pot Black or Pinto Beans
Ingredients
1 pound dried black or pinto beans, sorted for stones (they don't need to be soaked)
½ large yellow onion, finely chopped
1 large garlic clove, finely chopped
10 sprigs cilantro, tied with kitchen twine
1 Tablespoon kosher salt
8 cups water (use hot water to bring the Instant Pot up to pressure more quickly)
Instructions
Place all ingredients in the Instant Pot insert. Secure the lid and turn the vent to "sealed."
Set the machine to manual high pressure for 35 minutes. The machine will need time to achieve pressure before it starts counting down from 35 minutes.
Once the cook time has completed, do a manual/quick release. Open the lid and test the beans for tenderness.
They should be tender. If so, you can eat them as is. If they're not tender enough, but they're close, switch to the saute setting and simmer the beans for a few more minutes. I like to strain the beans but save the liquid. Discard the cilantro bundle. Put the beans back in the Instant Pot and add enough reserved cooking liquid to achieve your desired consistency. You can even mash some of the beans if you like or puree them all. Save a little bean liquid in case you have leftovers and you want to reheat them.
Notes
If you have 14 ounces of beans, reduce water to 7 cups.
You can also add a small piece of jalapeno (like ½ of one) to the pot with the rest of the ingredients. Take the seeds out beforehand so the beans are not too spicy.