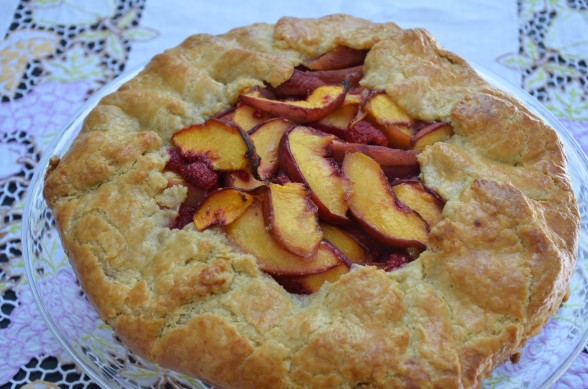 I have been lucky enough to have had a summer intern working by my side for the last two months and for most of last summer, too.  Hannah is entering her junior year at Cornell as a public policy major and has been an absolute joy to have in the kitchen.  Sadly, today is her last day working with me and I asked her to share her thoughts about what she has learned about cooking the last two summers and how she came to be an expert crostata-maker.
Hannah:  "I never learned to cook growing up. I was always running off to volleyball practice or studying for my next test. I was the girl who had a hard time making rice on the stovetop without burning the pot. While I was home from college for the holidays during my freshman year, my mom brought me to one of Pamela's cooking classes. As I was sitting in her kitchen, my interest was sparked!   I was inspired to learn how to cook and soon developed a passion for healthful food.   I totally drank her Koolaid! After being thrown into Pamela's kitchen for 8 weeks, last summer and this summer, I have seen my skills develop immensely from hands-on cooking. There were many things I thought I would never be able to do because they were totally outside my skill level, but after spending some time in the kitchen, I felt my confidence and competence grow and I was having fun. Since returning from college I have realized how learning how to cook is such an invaluable skill. I don't want to have to rely on fast food for the rest of my life nor do I want to lose my girlish figure by indulging in highly processed foods! The freshman 15 was hard enough to keep off!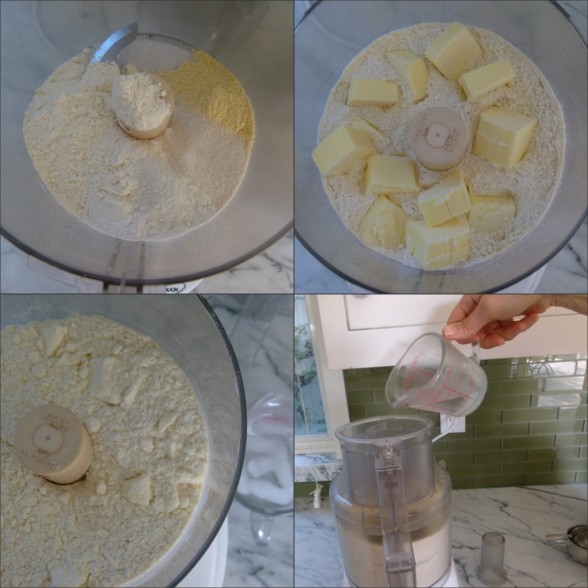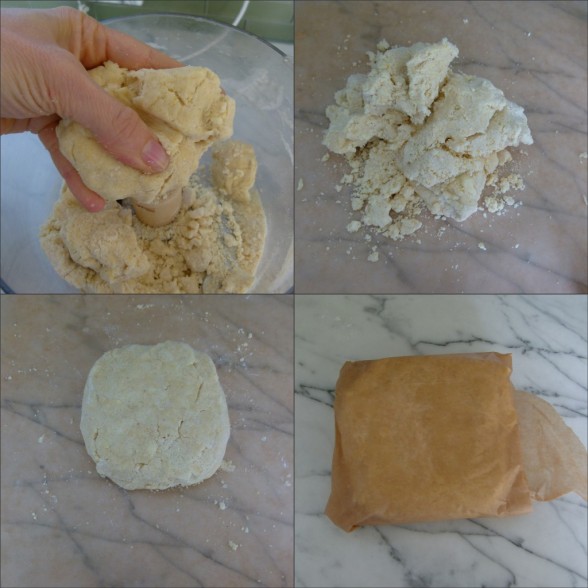 My ah-ha moment in the kitchen came the other day when Pamela was preparing a pastry crust for one of her classes. As she was rolling out the dough she looked at me and asked if I wanted to give it a try. I quickly replied, "Ohh nooo. I could never roll out pastry dough, are you kidding!" But after seeing Pamela roll out dough already ten times this month, I figured I should try. Pamela handed over the rolling pin and slowly but surely the ball of dough relaxed into a 14 x 14 inch circle. Perfect with no cracks and only a minimal amount of flour on the floor. She knew if I tried it, I could do it!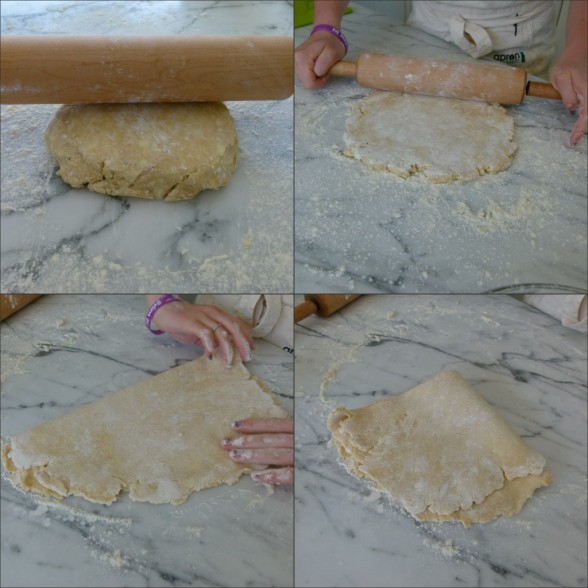 I know that making pastry crust from scratch seems intimidating , but it's amazing how easy it can come if you just try it! I have decided to pass along a few tips I learned to making a successful pastry crust.  Making the dough should only take a minute, so make sure that you have all your ingredients ready (ice cold water, butter cut into 1 inch pieces in the refrigerator.) It is helpful to make pastry when the kitchen is cool, like in the morning because a warm kitchen causes the butter in the dough to soften too fast, making the dough gooey too work with.  As you're rolling out the dough if you feel the crust softening, put it back in the refrigerator before you put it in the oven. This will keep your crust from melting while baking. I also found that laying almond meal on the dough under the fruit keeps the crust from getting soggy. There was one class at someone else's house where Pamela and I forgot to bring almond meal and all we could find in the pantry were some vanilla wafers. We quickly ground them up in the food processor and it worked!  We had success once with cooked millet, too, but not so much with cooked quinoa or rolled oats.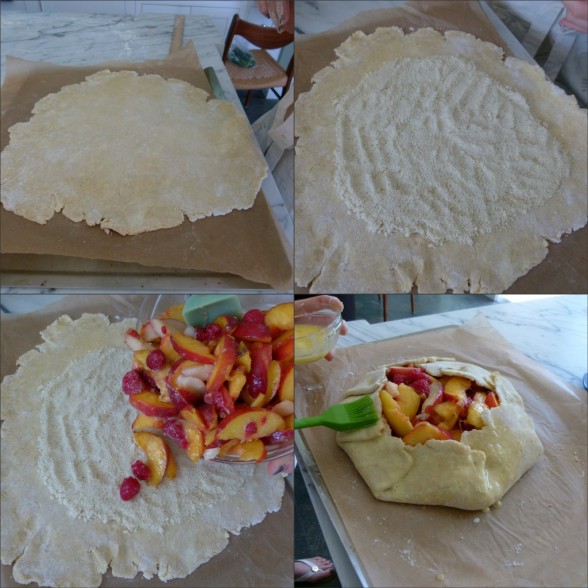 All in all, my message to you first-time pastry-makers is to just try it! I have heard some people claim that they can't even follow a recipe, but I don't believe it!   Learning by doing has been so enlightening for me.  Everything is not as hard as it looks, even rolling out pastry dough!"
Stone Fruit Crostata with Spelt Crust
Ingredients
Crust:
1⅔ cups spelt flour* or all-purpose flour + extra for rolling the crust
¼ cup cornmeal or polenta
1 Tablespoon natural cane sugar or maple sugar
½ teaspoon fine grain sea salt
14 Tablespoons chilled unsalted butter, cut into ½-inch pieces
⅓ cup ice water (if using all-purpose flour, start with 4 Tbs. water and add as needed)
Filling:
3-4 Tablespoons natural cane sugar or maple sugar
1 Tablespoon flour
4 medium peaches or nectarines, pitted and each cut into 16 slices or apricots cut into quarters
½ pint basket of raspberries or blackberries
½ teaspoon pure vanilla extract
⅛ teaspoon pure almond extract
½ cup ground almonds, bread crumbs, cookie crumbs, or cooked millet
1 egg, beaten (for brushing on crust)
Instructions
In the bowl of a food processor fitted with the metal blade, combine first 4 ingredients and pulse to combine. Add cold butter and process just until pea-size pieces form. Start to pour the ice water through the feed tube and turn on the food processor. Blend until dough just comes together. Test this by squeezing a small handful of dough – it should clump together. If doesn't, add a few more drops of water. Gather dough into a ball. Flatten into a disk. Wrap in parchment paper and chill at least 1 hour.
Preheat oven to 400 degrees. Place a sheet of foil on the lower rack of the oven to catch any drippings.
Gently combine all the filling ingredients (except crumbs and egg) in a medium bowl and set aside.
Dust the countertop and a rolling pin lightly with a little spelt flour and some cornmeal. Unwrap the disk of dough and place the parchment paper on a rimless baking sheet or you can use the underside of a rimmed baking sheet. This will make it easier to remove the crostata later. Roll out the dough to a 14-inch circle on the floured countertop, flipping the dough occasionally to prevent sticking to the countertop and using additional flour as needed. You should always be able to move your dough around the countertop without it sticking. Transfer to the parchment-lined baking sheet. (I like to fold the pastry in half and then half again and then unfold it on the parchment.)
Sprinkle the dough with the almond meal or cookie crumbs, leaving a 2-inch border uncovered. Pour the fruit and juices onto the the almond meal. Brush the border of the dough with egg. Lift about 2 inches of dough over the tart and pinch closed. Keep lifting and folding dough until a 6-inch circle of fruit remains uncovered. Brush folded border with egg. Sprinkle with raw sugar if desired.
Bake in the preheated oven for 45-55 minutes or until the fruit is bubbling and the crust is a beautiful golden brown. Slide the crostata and the parchment to a cooling rack and allow to cool to just warm or room temperature.
Notes
Spelt flour has a lower gluten content than wheat flour, making it more digestible and resulting in a more tender pastry. I buy spelt flour in the bulk section at Whole Foods. In pastry crusts, white flours are much easier to work with and taste better than whole grain flours. If you must, you can sub ⅔ cup whole grain pastry flour for ⅔ of the white spelt flour.

Gluten-free adaptation: substitute 1 cup King Arthur all-purpose gluten-free baking mix + ⅔ cup gluten-free oat flour + 1 teaspoon xanthan gum for the spelt flour. Keep everything else the same.