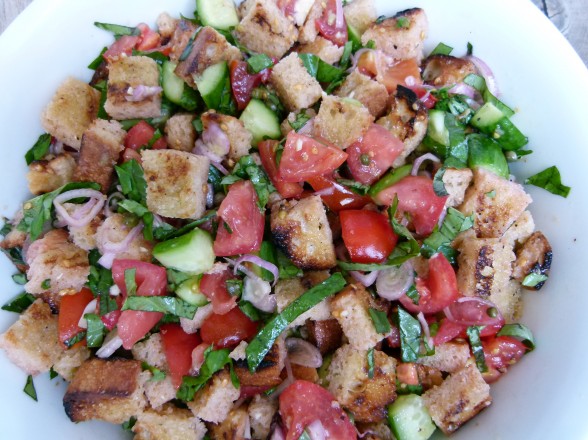 We are alive and well on our European holiday, although I may need a vacation after we return home!  We met our friends in Berlin a few days ago and have been having the best time.   What a cool, interesting, beautiful and progressive city!  Daughter #1 announced she will be moving to Berlin after college.  First things first, Missy.   All the kids have been fantastic – really going with the flow.  At times, I felt like we were on an episode of Amazing Race, figuring out metro schedules and running to catch trains, deciphering maps, and trying to translate foreign languages.  The good thing is that we have generally been laughing our way through it all.  Our overnight train trip from Berlin to Munich last night was particularly memorable as it was a first for all to sleep in beds on a train.  Before you picture us on the Orient Express, think again!  It wasn't nearly that glamourous, but certainly provided us with a few giggles and good stories to tell when we are back home again.  As I write this, we are on another train from Munich to Salzburg, Austria.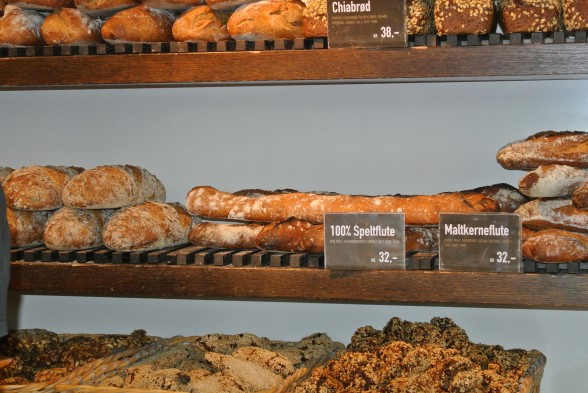 As far as eating a whole, unrefined diet, I threw in the towel back in Copenhagen.  It is terribly difficult to avoid European bread when it is so darn good.  Once I gave into bread, pasta/spatzle, pizza and pastries came after.  Something tells me Austria will offer more of the same.  Mr. Picky is enamored with game sausages and mustard and I had my first beer since college just for kicks.   One was enough and I would just as soon eat fried potatoes than drink another beer.  We have really eaten a broad mix of cuisines which I think you'll find in most major cities.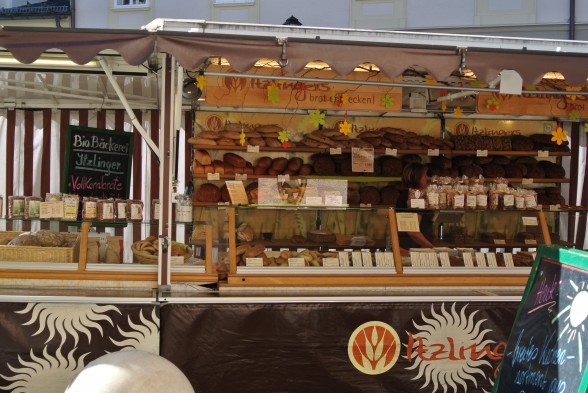 I will not start a war here by declaring the bread best in any particular city or country, but I can say that Europeans love bread.  We've eaten baguettes, spelt rolls, pretzel bread, whole rye, sourdough and more.  I also know that Europeans like to be efficient with their food and make good use of day old bread which might be otherwise thrown away.  I thought today would be a good time to share my recipe for Grilled Panzanella.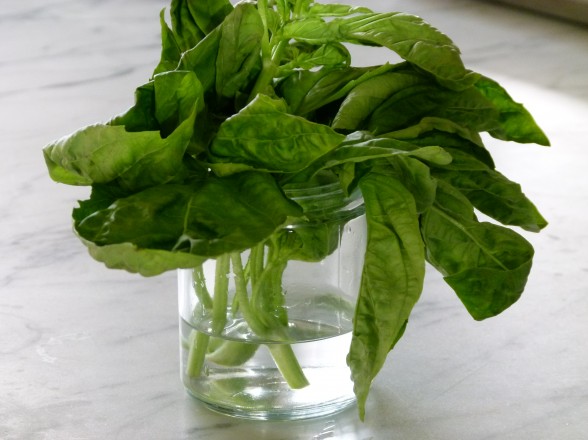 Panzanella is essentially an Italian bread salad, although I believe Spain has its own version of it, too.  Earlier in the summer, I also did a post on Fattoush, which is a Lebanese take on the same.  Sometimes it can be as simple as soaking stale bread in a mixture of vinegar and water and mixing it with fresh tomatoes and a pinch of salt.  When I was growing up, we would tear the stale bread and mix it with tomatoes from the garden, basil, red onions, olive oil, red wine vinegar, salt and pepper.  The stale bread would soak up the oil, vinegar and tomato juices and soften up a bit, too – really tasty.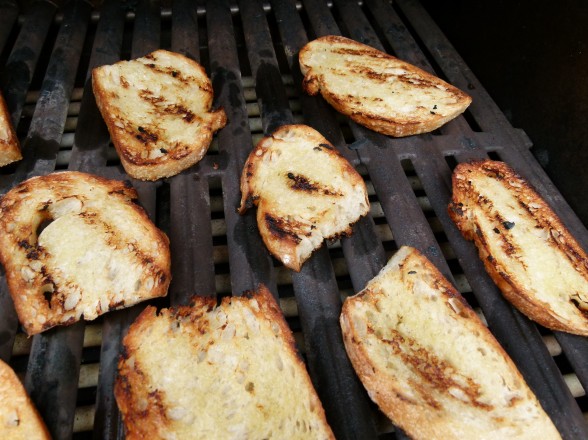 I don't eat bread very often, but if you grill it, I'll never turn it down, especially if it's rubbed with garlic and the edges are slightly black and smoky.  Simple and heavenly.  Try rubbing grilled bread with a cut, ripe tomato and you'll go crazy.  In as much as I love a simple panzanella in the summer, I knew it would be better with grilled bread and it is!  Ina Garten has a Grilled Panzanella which I hear is delicious.  Not only does she grill the bread, but onions and peppers as well.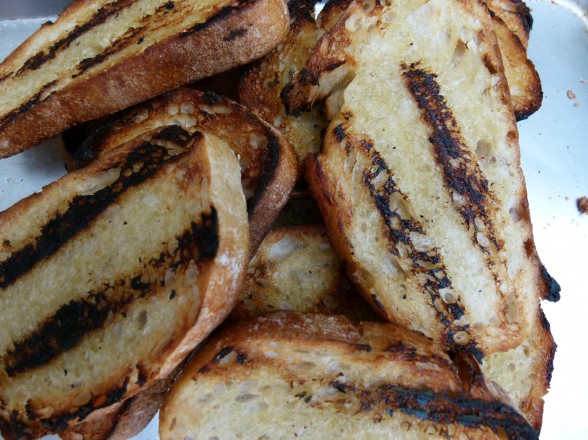 This salad is a snap to make and prep in advance if you need to, just keep the bread, chopped vegetables and dressing separate until you're ready to serve.  Although most Italians would disagree with me, I think you should feel free to create your own yummy version of Panzanella.  I added capers to this one because I love a salty bite, but olives would be great, too.  There are versions with ripe, sliced peaches.  I also think baby mozzarella balls or chickpeas would also be nice in here, but try and keep it simple.
Our train has just entered Austria and we are already enamored of this beautiful countryside and all the adventures that await us.  Stay tuned….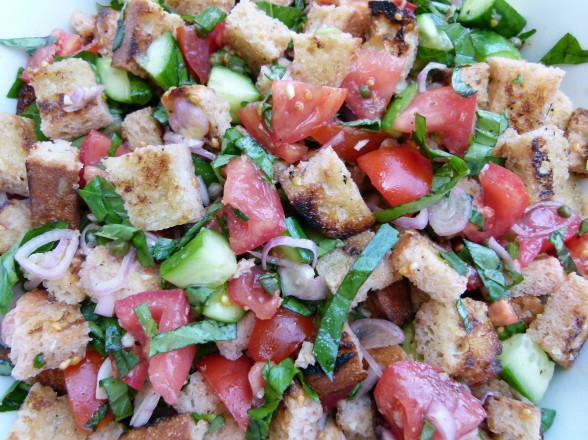 Grilled Panzanella
Ingredients
½ cup unrefined extra-virgin olive oil, plus extra for brushing bread
1 large clove of garlic, minced + 1 large clove
4 Tablespoons of raw apple cider vinegar or red wine vinegar (raw apple cider vinegar is a more healthful choice)
fine sea salt and freshly ground pepper
4 Persian cucumbers, unpeeled and chopped into ½-inch thick chunks
2 large ripe tomatoes, cut into 1-inch cubes (about ½ pound each)
1 cup fresh basil leaves, chopped
6 Tablespoons capers, drained
2 shallots, sliced
½ pound loaf or crusty peasant bread or baguette, cut on the diagonal into 1-inch slices
Instructions
Preheat the grill to medium heat.
In a small bowl, whisk together the olive oil, minced garlic, vinegar, ½ teaspoon salt and ¼ teaspoon pepper. Set aside.
Place the cucumbers, tomato, basil, capers, and shallots in a large bowl. Sprinkle with large pinch of salt and pepper.
Brush bread slices on both sides with olive oil and sprinkle lightly with salt. Toast them on the grill until golden, about 4 minutes on each side. A little black char on the edges is good! Cut a thin slice off the garlic clove and rub one side of each piece of bread with the cut side of the garlic.
Cut the bread into cubes and add to the cucumber mixture. Pour in the vinaigrette and toss to combine.