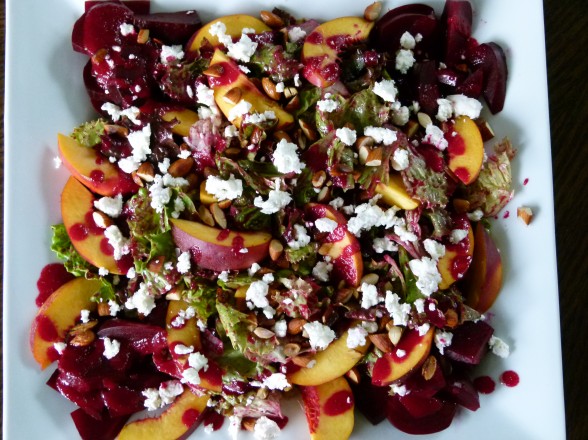 If you don't follow my Facebook posts or my tweets, you may have started to wonder if I got lost in a medieval castle somewhere between Germany and Russia.  Thankfully I didn't, but our schedule has been so busy that I haven't kept track of what day of the week it is!  Since my last post, we have visited Stockholm, Helsinki, St. Petersburgh and Tallinn (Estonia.)  Right now, we're on our way to Copenhagen and then back to Amsterdam for a day before we travel to meet friends in Berlin.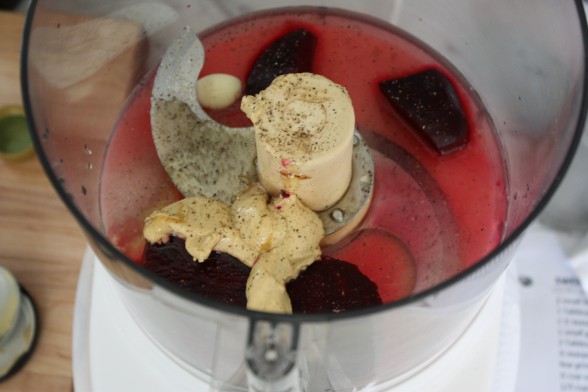 We have been in Europe now for 2 weeks with about 10 days to go and I think seeing our friends soon will be just the change in dynamic we need.  That is, Mr. Picky and his bathroom hygiene (or lack thereof) are starting to get on his sisters' nerves.   This trip has been amazing so far, and we are really packing a lot in every day.  Even though we are trying to keep it geared toward the youngest common denominator, after a while most 8-year-old boys don't appreciate contrasting the differences among castles and art from one century to the next, although he was surprisingly fascinated by the Russian ballet.  All in all, Mr. Picky has been a trooper and bribing him with a soccer jersey in each country we visit has helped.  I hope to do a post at the end of our trip pulling together all of the do's and don'ts that worked for us.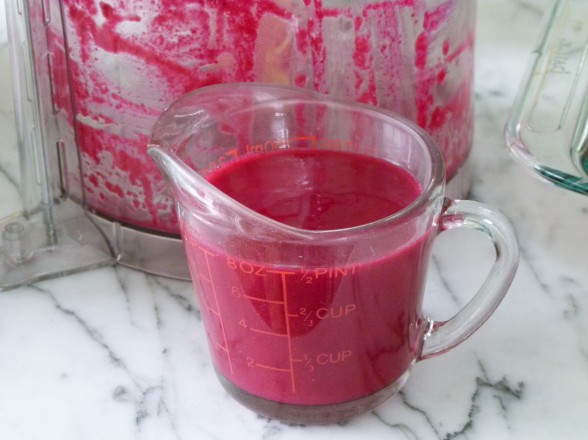 Our experiences have been so different in each city and all so memorable.  I will admit that making the most of our time in Russia was perfectly exhausting that by the time we hit Estonia about all we could muster was one medieval castle and shopping the local markets for well-priced linens and handmade crafts.  I don't want to bore you with every landmark we visited, but if you are traveling to any of the same cities, please feel to leave a comment or a question and I will be more than happy to provide a speedy reply.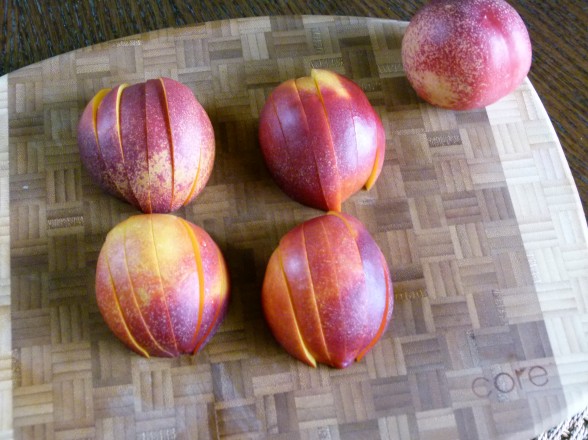 Normally, I love getting to know the local flavors of wherever we visit, but because most of our meals have been on the fly, we have really just been settling for whatever looks decent when hunger strikes.   I haven't gone so far as to give in to McDonalds and Pizza Hut, which have been in EVERY city (although my husband tried the Big Mac below on dark sour rye in Helsinki – yuck!) , but let's just say there have been a lot of chocolate croissants, pasta and reindeer sausage (see photo below) eaten this week (not by me, naturally.)  Sadly, there has been a lack of fresh vegetables in our meals and I am dying for a salad, like this one.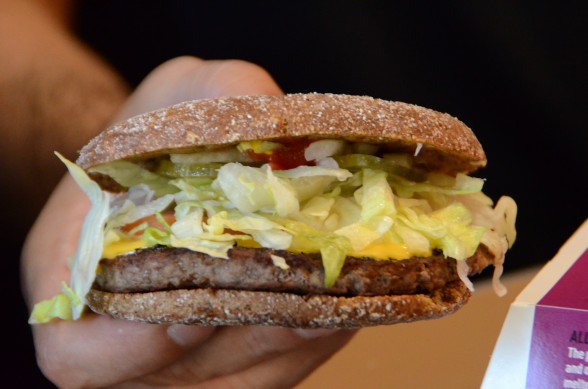 Coincidentally, I served this salad to the very same friends we are to meet in Berlin in a few days.  They came over for dinner and a strategy session just before we left.  The nectarines were spectacular in California, as I am sure they are by you, making this salad so simple, delicious and gorgeous at the same time.  It has been one of my summer staples since I saw a version of it by Yotam Ottolenghi (genius!) in The Guardian many years ago.  The combination of fruit, cheese and nuts in a salad is not an original one, but this hot pink beet vinaigrette is.  I think it is stunning and all it is is a small cooked beet blended with a basic vinaigrette.  I know I already mentioned how easy this salad is, so I beg you to make it.  The beauty of this is the contrast in colors, flavors and textures.  If it makes you happy to substitute peaches or apricots for the nectarines, please do.  If you prefer blue cheese or manchego, use that instead of the feta or goat.  By the same token, walnuts and pistachios would work equally well here.  Arugula is fabulous in this salad, but two of my kids don't like it yet, so I used red leaf lettuce.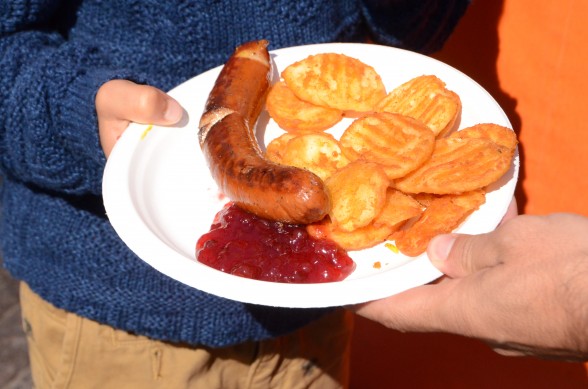 I am trying to be cool with my family about what they eat while we're away merely shooting dirty looks with every buttered roll and not a verbal scolding.  My hope is that they will not expect pastries for breakfast when we return home or ice cream every afternoon, but instead crave salads like this one.  If anyone knows of a good juice bar in Copenhagen, I'm all ears!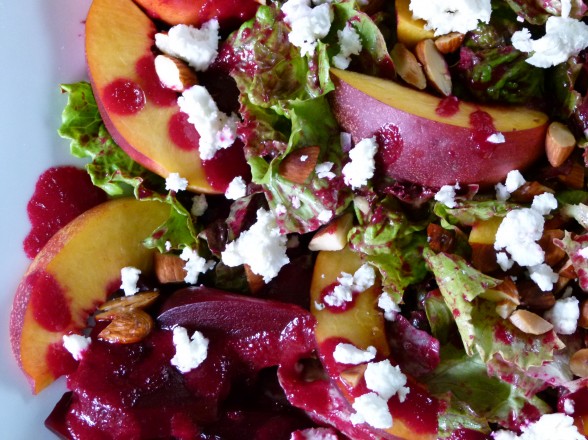 Nectarine and Goat Cheese Salad with Beet Dressing
Author:
Pamela, adapted from Yotam Ottolenghi
Ingredients
1 small beet for the dressing and 2-3 more for the salad, if desired
1 Tablespoon raw honey or pure maple syrup
1 ½ teaspoons Dijon mustard
1 small garlic clove
2 Tablespoons raw apple cider vinegar, preferably unpasteurized
½ teaspoon sea salt
few grinds of black pepper
½ cup unrefined, cold-pressed extra-virgin olive oil + 1 teaspoon for almonds
⅓ cup raw whole almonds, roughly chopped
2 medium nectarines, ripe but firm
8 ounces mixed greens
3 ounces feta or goat cheese, crumbled (optional)
Instructions
Preheat the oven to 400 degrees. Wash the beets, place in an oven-proof baking dish with ½ inch of water and cover the dish tightly with foil. Roast for 45-50 minutes, or until very soft. A paring knife should pierce the beets easily. Peel when cool enough to handle.
To make the dressing, put one small beet, honey, mustard, garlic, vinegar, salt and pepper in a food processor fitted with a steel blade. Process for a few seconds, then with the motor running, pour ½ cup oil through the feed tube. The dressing should be smooth and emulsified. This recipe makes more dressing than you'll need for this salad.
Saute the almonds in 1 teaspoon of olive oil and a pinch of salt for 3-4 minutes, then set aside to cool.
Halve the nectarines, remove the pit and slice each half into six slices. Slice the remaining beets into similar sized wedges.
Assemble the greens on a serving platter and lightly drizzle with some dressing. Toss to coat. Arrange the nectarines and beets on top and sprinkle with the almonds and (optional) cheese. Drizzle a touch more dressing, if desired.