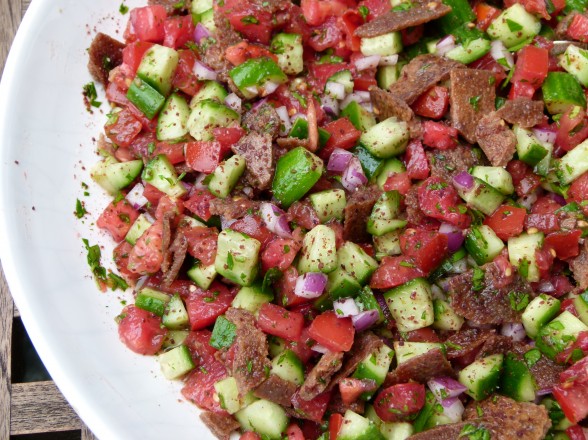 Is it sweltering where you are?  I would trade places with you.  As I write this it is raining and cold where I live in Southern California.  At the beach.  I want my money back.  Daughter #1, however, is in Connecticut with no air conditioning, and soon to be in Washington, DC where the temperature is expected to hit 97 on Tuesday and Wednesday and so on.  I'm jealous.  I love hot weather.  More than that, I love eating hot weather food in hot weather.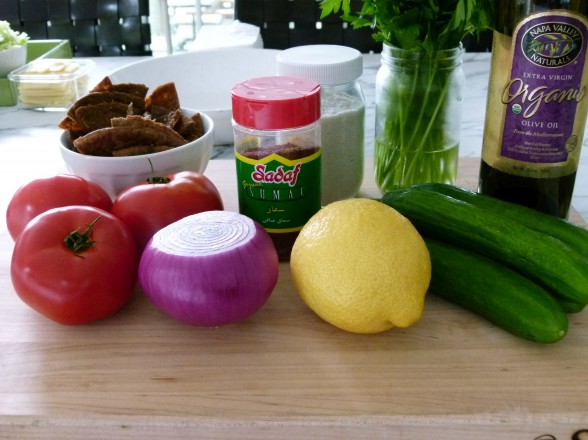 Did you know that all food has a thermal nature?  It has the power to warm you up or cool you down.  And that's why nature gives us tomatoes and cucumbers in the summer and not the winter, because they are cooling and hydrating and the perfect antidote to beat the heat.  You know how obsessed I am with summer tomatoes and since they arrived on the scene a few weeks ago, I haven't let up.  (I promise, however, that not every recipe this summer will involve a tomato.)  Even though the temperature is a perfectly mellow 70 degrees where I am, it hasn't stopped me from making salads like Fattoush, one of my favorites.  I wish I could tell you with certainty if Fattoush is Lebanese or Syrian or Israeli, but I have no interest in starting a cold war on my blog so shall we just say it's Middle Eastern?  My only goal is to convince you to make this salad because it's delicious, addictive and good for you right about now.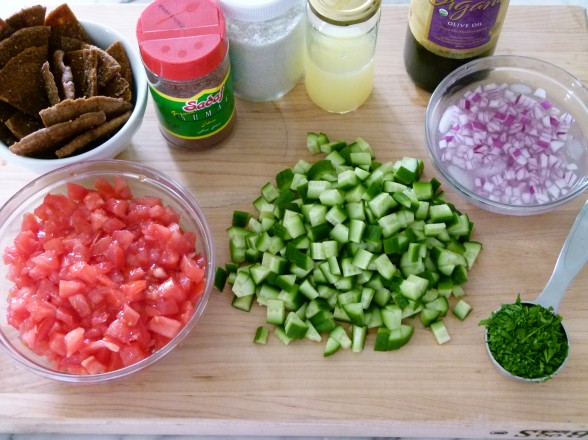 Fattoush reminds me of Panzanella, the Italian bread and tomato salad which I happen to be teaching this month in my classes, although for sure it has its differences.  Basic Fattoush is diced up tomatoes, cucumbers, onions, parsley, and fried or toasted pita bread with a lemon juice-olive oil dressing.  There is also a special ingredient which I fell in love with only a few years ago called sumac.  Stay in your seats, it's not the poison kind, but this sour, citrusy berry that is dried, ground up and adds a puckery, tartness to the salad as well as a vibrant dusting of red.  (Are you thinking anthocyanins and antioxidants like I am?  Yes!)  It's very easy to find online or in Middle Eastern markets, spices shops or at some local natural foods stores.  You will want to get some!  Now that's just the basic.  You can add romaine lettuce, radishes, purslane (a juicy green that is hard to come by), and/or mint.  It's hard to go wrong.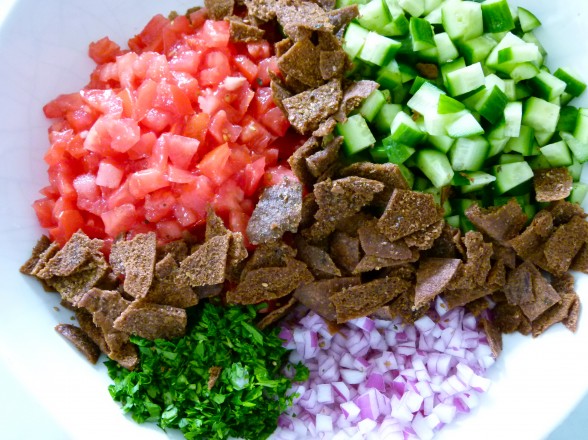 I have eaten this salad at Middle Eastern restaurants and been served a little scoop of it on the plate as if it's an after thought.  Hmph!   Why is that?  I could make a whole meal of Fattoush with a handful of chickpeas thrown in, especially if I don't feel like turning on the oven or standing in front of a hot grill.  I have an Israeli friend who consumes this for breakfast and why not?  However you decide to eat this, you will surely be embracing summer and be in harmony with nature.  Enjoy!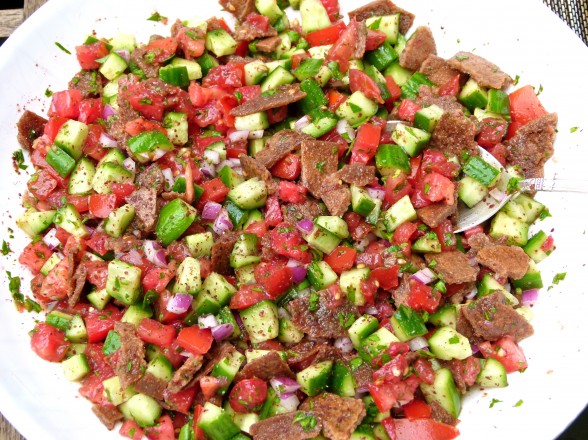 Fattoush
Ingredients
3 medium tomatoes, cut into ½-inch cubes, about 1 pound
2 ½ cups diced cucumber, about 1 pound
½ cup diced medium red onion (soak in ice water for 15 minutes to reduce harsh onion flavor, if desired)
¼ cup finely chopped fresh flat-leaf parsley
2-3 Tablespoons freshly squeezed lemon juice, about ½ lemon
2-3 Tablespoons unrefined cold-pressed olive oil
1 Tablespoon ground sumac
¼ teaspoon fine grain sea salt or to taste
A couple generous handfuls of pita chips
Instructions
Place the tomatoes, cucumber, onion and parsley in a serving bowl.
In a small bowl or glass jar, combine the lemon juice, olive oil, sumac and salt. Pour over the vegetables and toss to combine.
Crumble pita chips on top and toss together. Serve immediately.
Notes
Other additions: cooked chickpeas, crumbled feta, diced green pepper, chopped pitted olives, cubed avocado, julienned radish, shredded lettuce. I noticed Sarah at My New Roots used raw flax crackers in her Fattoush instead of toasted pita -- great idea!