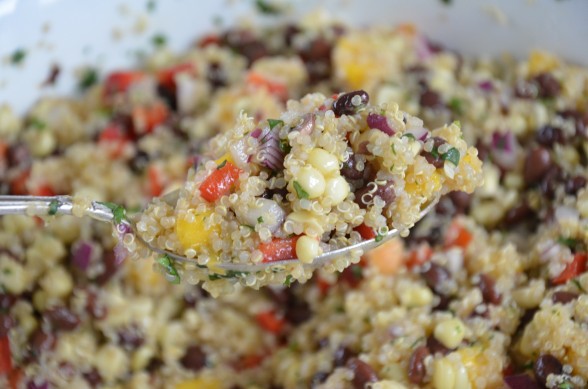 Have you ever read a cookbook or food blog where an unbelievable, creative recipe was put together with "odds and ends" from the pantry or produce bin?  I am always in awe of people who can do that.  Those same people go grocery shopping without a list and simply buy what looks good and then create a meal around it.   I too can use bits of this or that and turn it into something fairly tasty, but it usually ends up as a frittata, Pantry Pasta, or some sort of fried rice dish.  Definitely enough to get an acceptable dinner on the table, but nothing that will win me any accolades.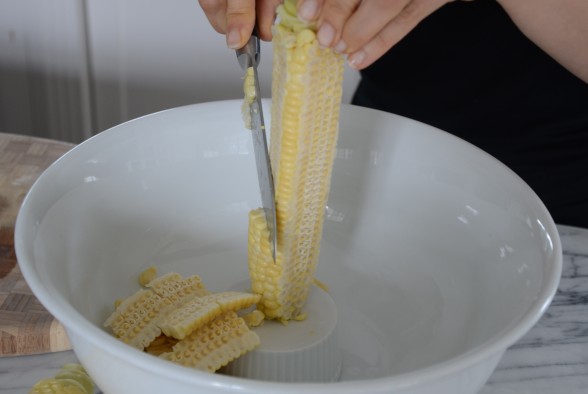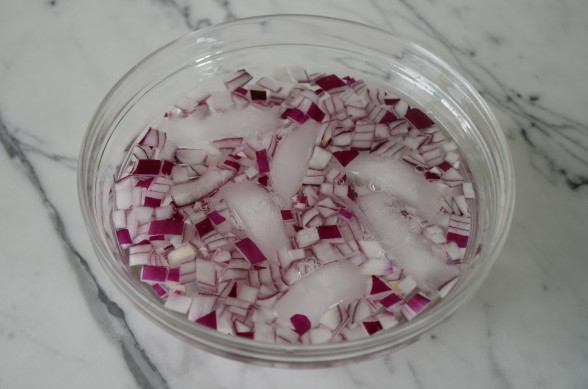 One day a few years ago, I decided to try my hand at "throwing something together."  I figured I had done this many a time at salad bars, I should be able to do this within the limitations of my own pantry and refrigerator.  Whereas I pride myself on keeping things simple,  on this particular day I got a little carried away.  It all started with some quinoa, corn and cilantro which sounded Southwestern to me.  Pretty soon I was dicing up red pepper, red onion and opening a can of black beans.  Just when I thought I was done, I spied a mango and that went into the mix, too. After squeezing in some lime juice, olive oil and cumin, I had myself one fresh and tasty salad that I could happily bring to a backyard barbeque or serve to guests, even that same day to my mother-in-law who is slightly skeptical of quinoa.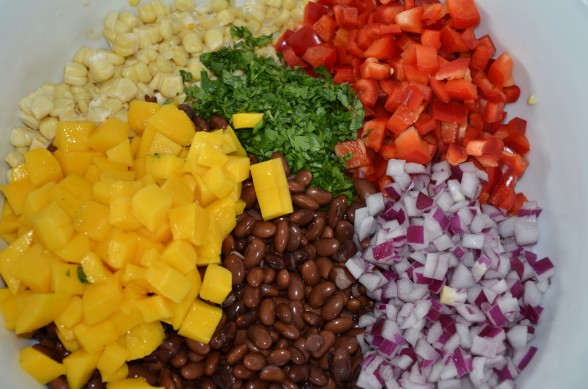 I've made this salad countless times since then and changed it up every time.  Red onion has been replaced with scallions or shallots.  Ripe avocado and toasted pumpkin seeds have found their way in on many an occasion.  When corn is crazy fresh and sweet, I just cut it off the cob raw and use it that way.  With Father's Day coming up, I am thinking about including this on the menu, but I might just leave out the quinoa entirely since I made quinoa tabbouleh last year on Father's Day.  Although my husband likes quinoa just fine, he doesn't consider it very "manly."  Please.  I keep trying to tell him how much protein it has — it's like eating meat, but without the saturated fat and cholesterol.  But it's his day and I aim to please!  So I think next weekend I'll make this with extra corn and beans and thrown in some "manly" diced up grilled chicken.  Regardless, "creating" this salad was a good exercise for me in learning how to be flexible, but also gave me some confidence to use what I've got — in more ways than one.

Southwestern Quinoa Salad
Ingredients
1 cup quinoa
1 ½ cups cooked black beans, drained and rinsed if canned (1 can)
1 ½ cups fresh or cooked corn (cut from 2 large ears)
¾ cup diced red pepper (1 small pepper or ½ large)
½ large red onion, diced (soaked in ice water if you want to cut the harsh onion flavor)
1 jalapeno, seeded and minced (optional)
¼ cup finely chopped cilantro
1 teaspoon sea salt
¾ teaspoon ground cumin
⅓ cup fresh lime juice (about 1 ½ limes)
⅓ cup unrefined, extra-virgin olive oil
Instructions
Rinse quinoa in a bowl with water or place quinoa in a fine mesh sieve and rinse under cold water until water runs clear. Transfer to a saucepan and add a healthy pinch of sea salt and 1 ¾ cups of water. Bring to a boil and simmer until water is absorbed, about 15 minutes. Turn off the heat and place a kitchen towel over the pot. Place the lid over the towel and let sit covered for 5 -10 minutes.
Transfer quinoa to a serving bowl, fluff with a fork and cool slightly. Add beans, corn, red pepper, onion, (optional) jalapeno and cilantro. Sprinkle with cumin and sea salt.
In a small bowl combine lime juice and olive oil. Pour over salad and mix well. Taste for seasoning.
Notes
Options for substitutions/additions: Also delicious in this salad are sautéed zucchini, diced celery, diced fresh mango, sliced scallions, diced tomato or diced avocado.