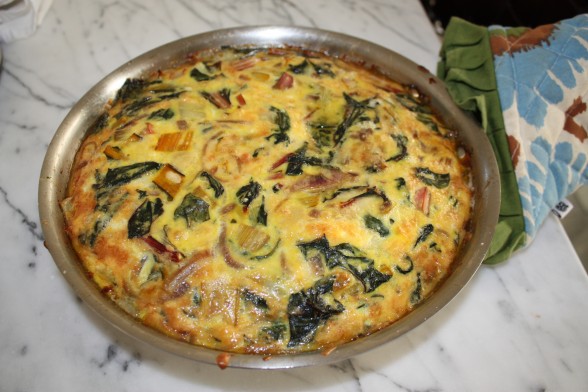 The conversation went like this:  Daughter #1, "I don't like eggs."
Me, "Did you change your name to Sam-I-Am?  You do like eggs."
Daughter #1, "You're not funny.  No, I don't."  Me, "You like frittatas, so you like eggs."
Daughter #1, "That's different."
Really?  Frittatas are basically baked omelets, usually with some vegetables and/or cheese mixed with the eggs.  Unlike many recipes where you can substitute an ingredient and still have the same basic dish, you can't substitute anything for the eggs in a frittata because it wouldn't be a frittata.  However, I really wasn't going to argue with a 14 year-old about why frittatas are different from just eggs, because all I care about is that fact that she really does like them.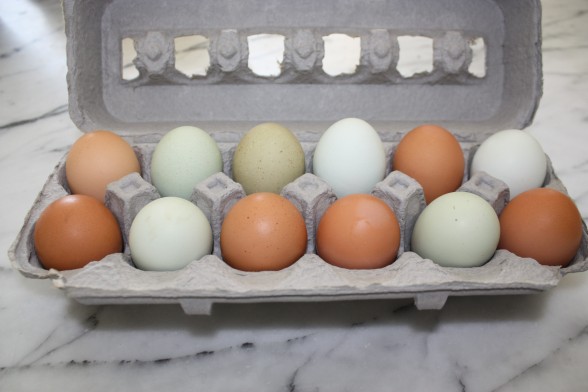 Eggs have been so misunderstood.  For a while there, people stopped eating eggs because it was thought the cholesterol in the yolks would cause high blood cholesterol.  Well guess what?  There's now a strong consensus among the medical community that food containing dietary cholesterol does not have a significant impact on the blood cholesterol level of most healthy individuals.  The evidence points to saturated fat as the leading culprit, not dietary cholesterol, and eggs happen to be two-thirds unsaturated fat.  Furthermore, the yolks are rich in several important nutrients including choline (a B vitamin and key component of healthy brain cells, nerves and cell membranes), lutein (a phytonutrient which supports eye health) and iodine (important for healthy thyroid function).  Eggs are also a good source of inexpensive protein.  If you have been advised by your physician to cut back on egg yolks, get a new physician you can substitute two egg whites for every whole egg and do this for a few of the eggs.  Try to buy organic, free-range eggs whenever possible.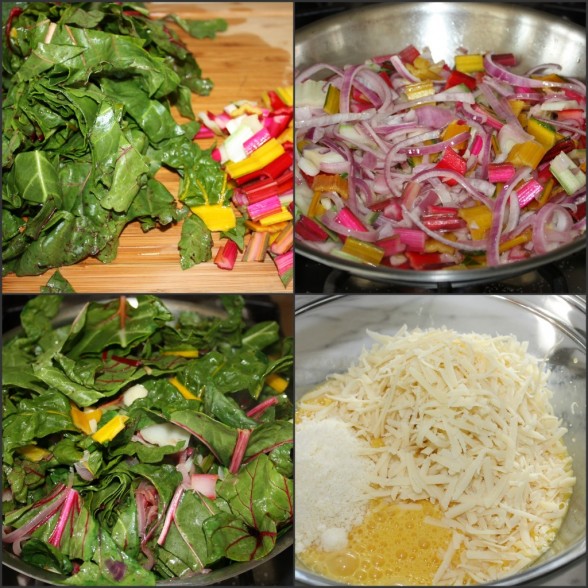 Frittatas are my friend.  They are versatile as a breakfast, lunch or dinner, especially during Lent.  I have even made mini-frittatas in greased muffin tins or as an hors d'oeuvre cut into bite-size pieces.  They can be served hot, room temperature, or cold.  I like them with a side salad or with a ladleful of warm tomato sauce.  The girls have taken them to school tucked inside a pita.  This frittata is one of my favorites.  It is packed with lovely Swiss chard, which is everywhere right now.  It is very typical of how I like to eat something rich like eggs, by balancing it with loads of vegetables.  I love the flavor from the raw Gruyere, but feel free to skip it if you're dairy-free.  However, it's only about an ounce of cheese per serving.  If I ever have any leftover turkey bacon from breakfast, I will dice that up and add it in.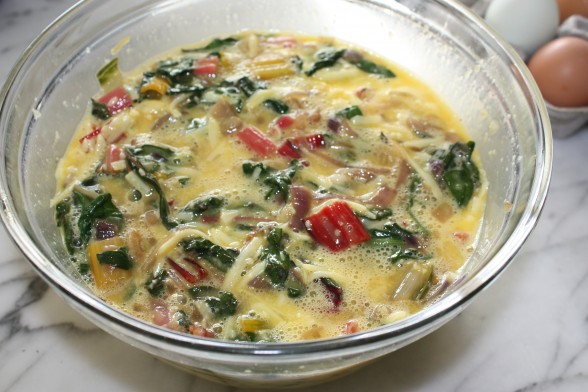 Mr. Picky claims he likes neither eggs nor frittatas and I believe him, although I was THIS close to getting him to try the frittata in a warm corn tortilla, one of his favorite foods.  I'll offer ketchup next time.  As for me, I can eat them in a house.  I can eat them with a mouse.  I can eat them here or there.  I can eat them anywhere.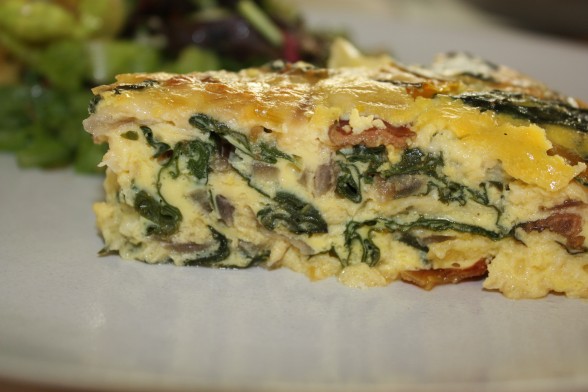 Swiss Chard Frittata
Ingredients
1 bunch Swiss chard
2 Tablespoons cold-pressed extra-virgin olive oil or clarified butter
1 medium onion, sliced thinly
4 garlic cloves, chopped
8 large free-range eggs
⅓ pound grated gruyere, optional
Handful of grated Parmesan cheese
¼ cup milk or water
Sea salt
Freshly ground pepper
Instructions
Preheat the oven to 350 degrees.
Wash the Swiss chard but do not dry all the way and chop the stems off the leaves. Coarsely chop the stems and keep separate from the leaves. Coarsely chop the leaves.
Heat olive oil or clarified butter in a 10-inch oven-proof pan. Cook the onions and chard stems over medium heat for about 5 minutes. Add garlic and cook for 1 minute. Add the chard leaves and season lightly with a pinch of sea salt and pepper and sauté until wilted.
Whisk eggs together and add cheeses and milk. Stir in the chard mixture and blend well.
Add extra oil or butter to the pan if it seems dry. Put the egg-chard mixture back in the pan and place in the oven for about 50 minutes until puffed and golden. (If you're making minis, spoon the mixture into greased muffin tins and bake for about 25-30 minutes or until puffed and golden.)
Notes
Variations: substitute lightly steamed broccoli or sautéed spinach for the chard;

Use sautéed onions and peppers with parboiled diced potatoes for a Spanish classic;

Can add 3 ounces of diced cooked turkey bacon and/or 1 c. ricotta cheese;

Can be served with a ladleful of warm tomato sauce.