My father called me the other day.  My father never calls.  He always jumps on the phone when I'm speaking with my mother, but he is not in a habit of actually dialing my number unless there is something that is nagging him.  "I have looked at your website, and I want to ask you a question."  Here it comes.  "I think you do not have enough Italian food represented.  You are Italian!"   That's not a question, but a partially true statement nonetheless.  I am definitely Italian (and proud of it), but I wouldn't say the majority of the recipes on my website are Italian.  I have, however, eaten and cooked more than my share of Italian food in my life.  Growing up, we probably ate pasta four times per week with crusty bread on the side.  It's a wonder we aren't all gluten-intolerant!  Or are we?  Hmmm…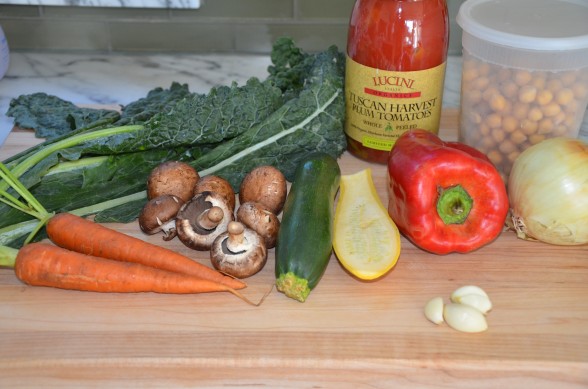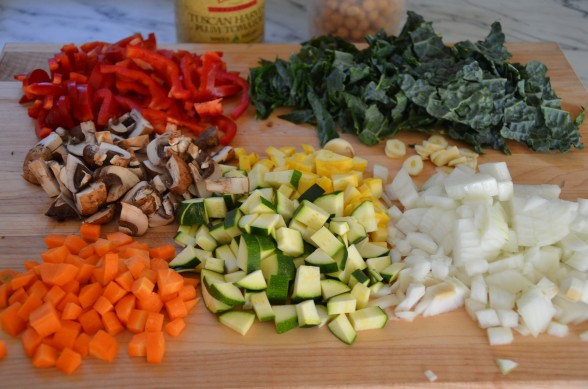 The food I teach in my classes is very representative of the food I make for my family and those recipes are making their way to my website.  I love Italian food and I love pasta, and a satisfying pasta dish is one I can whip up even if I have nothing more than salt, olive oil and garlic.  However I don't consider pasta a "health food" that I want to be eating regularly.  So I have come to rely on it as a weekly lunch box staple with pesto for the girls and something to make when I need to clean out the fridge.  Very often at the end of the week and before a farmer's market shop, I have a few stray vegetables lingering in the crisper.  Last night I found a few mushrooms, 1 1/2 zucchini, a couple of carrots, a red bell pepper and a handful of kale or chard.  When I pair these with a few pantry staples such as canned chick peas, jarred tomatoes, onion and garlic, I've got the makings of "Pantry Pasta!"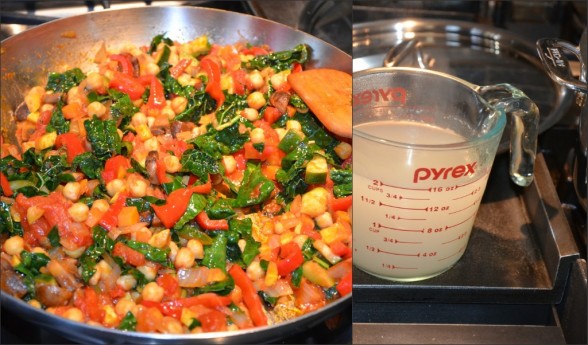 As you can imagine, I've never made Pantry Pasta the same way twice because it's really just a way of using up what I've got.  But it always manages to be tasty and a more healthful way to eat pasta since the dish ends up being half veggies & beans and half pasta.  Even better is that everyone loves it, even Mr. Picky who will just pick out any color that is out of favor at the moment.  I love Pantry Pasta because I feel good that I am using my food efficiently and I can pull together an easy dinner in very little time.  Chop your vegetables first, put the pot of water on for pasta and then start sauteing the vegetables.  The key to this recipe is saving a good cup or two of the pasta cooking water just before you drain the pasta.  This is a valuable ingredient in many pasta dishes since the starchy liquid can add a nice richness for the foundation of a good sauce without having to add extra oil or cream.  When I had more time to exercise, I used to add a pat of butter to the pasta just before serving and before I had Mr. Picky, I would stir grated cheese into the pasta at the same time as the pasta water.  He claims he doesn't like parmesan cheese.  Would it do any good if his grandfather reminded him that Mr. Picky himself is half Italian?  Of course, you can make these delicious vegetables and serve them atop cooked millet or quinoa instead of pasta.  Just don't tell my dad.
Buon appetito!

Pantry Pasta
Author:
Ingredients
1 pound whole wheat or other pasta of your choice
Kosher salt
2 Tablespoons unrefined, cold-pressed extra-virgin olive oil
1 onion, chopped
3-4 garlic cloves, thinly sliced
Vegetables in the fridge, such as last night's lot:
2 carrots, julienned or roughly chopped
a handful of mushrooms, roughly chopped
1 1/2 zucchini, roughly chopped
1 sweet bell pepper, sliced
6 leaves of black kale, stems removed and discarded, leaves coarsely chopped
Sea salt and freshly ground black pepper to taste
1 jar or half a jar chopped tomatoes or whole tomatoes, chopped
1 ½ cups cooked beans, such as chickpeas or Great Northern
A couple tablespoons chopped fresh herbs, such as basil, parsley, thyme, mint or a combination
Grated Pecorino-Romano or Parmigiano-Reggiano cheese
Instructions
Bring a large pot of water to a boil.
In the meantime, heat oil in a large skillet over medium heat. Add onion and garlic and sauté until tender and translucent. Stir in remaining prepared vegetables, except the leafy greens. Season with two pinches of sea salt and a few grinds of black pepper and sauté until just tender, about 5 minutes.
To the pot of boiling water, add kosher salt and pasta. Cook pasta according to package instructions.
Into the skillet pour in the chopped tomatoes and beans and simmer ten minutes. Sprinkle with another pinch of sea salt. Stir in chopped greens and fresh herbs and cook until wilted.
When pasta is cooked until al dente, remove two cups of pasta cooking water and reserve. Drain the pasta and add it to the skillet with the vegetables and toss. Add enough pasta water to coat the vegetables and the pasta. Taste for seasoning and serve with grated cheese if desired.
Notes
Other additions: chopped celery, cauliflower florets, peas, chopped Swiss chard, beet greens or baby spinach leaves instead of kale[br][br]Notes: You can also add a splash of white wine to the vegetables as you are sauteing.[br][br]Do ahead: chop your vegetables in the morning and store in an airtight container in the refrigerator.