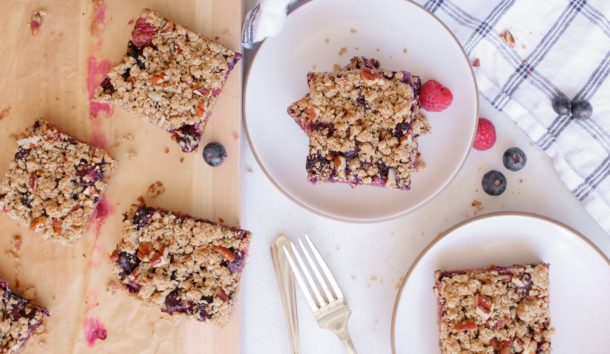 It's the weekend!  And it's long one!  Let's celebrate with some homemade treats!  Full disclosure — I actually posted these bars many years ago.  But the images were so atrocious and I also updated the preparation method, so I thought it would be appropriate to re-post.  I have no doubt many of you will be hosting or attending backyard shindigs this weekend.  These are THE perfect dessert to bring to a fancy or casual affair.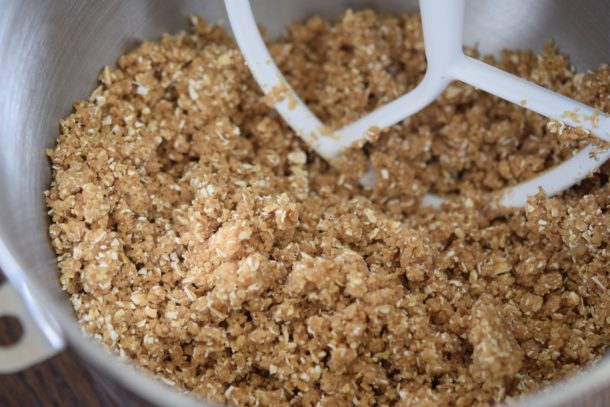 Berries are just coming into season and offer the possibility of a patriotic-looking dessert if you go with blueberries and raspberries or strawberries.  And we know how much Pinterest and Instagram love themed food!  Memorial Day weekend always inspires the red, white, and blue aesthetic.  I think they would also make an ideal July 4th treat.  So what that there's no white.  That's a color I frown on in the kitchen anyway, unless your name is Cauliflower.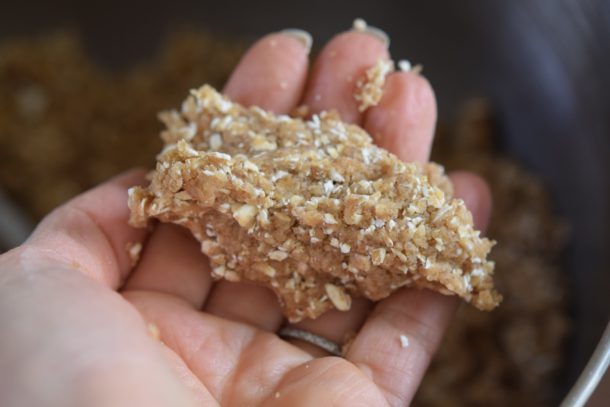 The first time I made these mixed berry bars was for an airplane snack.  My kids went bonkers for them, as did Mr. Picky's cub scout pack when I made them for a meeting a month later, but with all blueberries.  I remember so clearly he said to me afterward, "I'm actually surprised you made something so unhealthy, Mom."   You can see that they're not "so unhealthy," but they sure don't taste like health food either.  It's a slightly sweet bar with a light crumby topping that makes a perfect afternoon snack, too.  I love making fruit desserts where the fruit itself can shine.  If you haven't noticed, I approach desserts by using less sweetener than you might expect.  Whereas these bars are perfectly sweet, they are not overly sweet.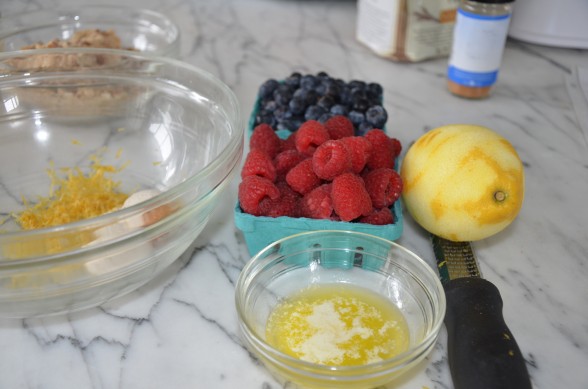 Berries, especially blueberries, have so many health benefits and are my first choice for fruit.  They are incredibly high in antioxidants (wild are higher than cultivated) and very low in fructose (naturally occurring sugar in fruit), not to mention high in fiber and minerals.  The downside is that berries don't last very long after you buy them.  Make sure you don't wash your berries before storing them in the refrigerator because that will make them get moldy more quickly.  I always do a once over before I put them away since one bad berry can really ruin things quickly for the rest of them.  If you don't think you'll use your berries up before they spoil, try freezing them for another time.  Give them a quick rinse and lay them on a paper towel to dry.  Place them in one layer on a baking sheet and put the baking sheet in the freezer.  As soon as they are frozen solid, scoop them up and store them in a container in the freezer.  Frozen berries work perfectly well in this recipe in case you have a small amount of this and a small amount of that to get rid of.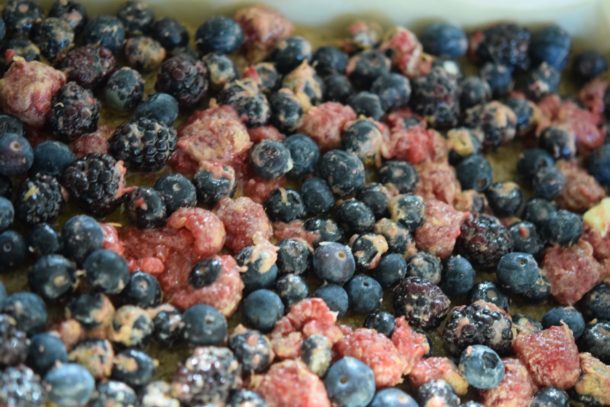 I have made these bars successfully with King Arthur Multipurpose Gluten-free Flour and GF oats.  I haven't tried making them dairy-free, but I imagine using coconut oil or organic Earth Balance would work out just fine.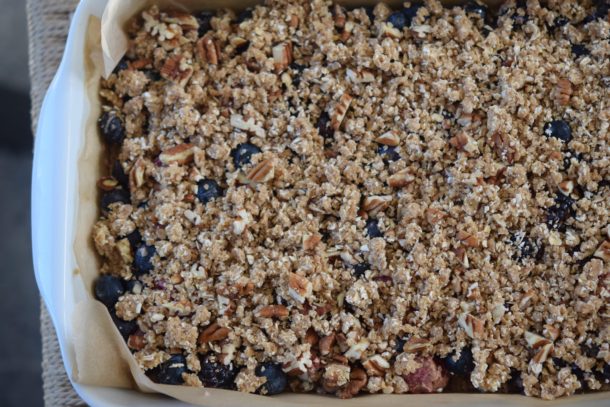 I have a few bars in the freezer that I am going to pull out when my younger daughter comes home from college next week.  Yay! And I'll be making a fresh batch on Saturday to bring to a friend's house. I hope you have the chance to relax and enjoy yourself this weekend.  And to have an extra large mixed berry oat bar!  🙂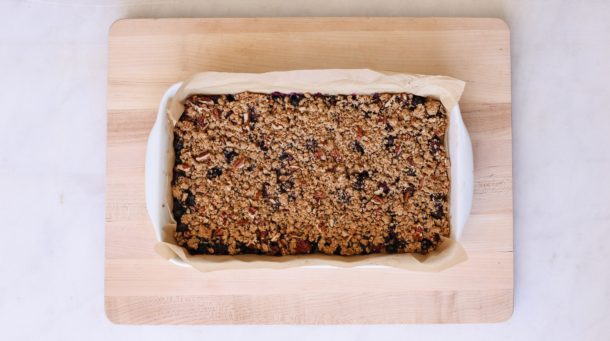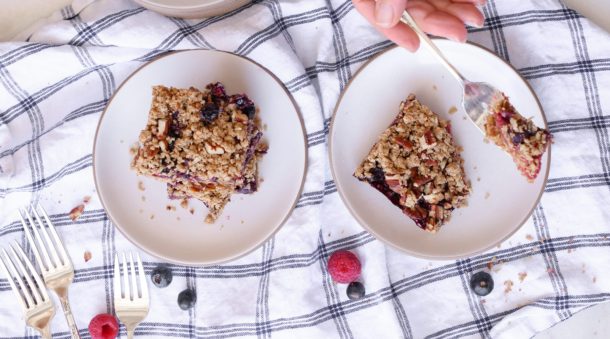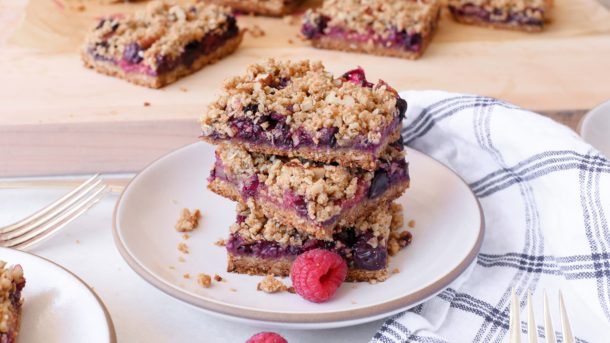 Mixed Berry Oat Bars
Author:
Pamela, Adapted from Smitten Kitchen who adapted it from Baked: New Frontiers in Baking
Serves:
13 x 9 pan to be cut as you like
Ingredients
1 ½ cups whole wheat pastry flour or white whole wheat flour
⅔ cup muscovado or packed light brown sugar
1 ¼ cups old-fashioned rolled oats
¾ teaspoon fine grain sea salt
¾ teaspoon aluminum-free baking powder
½ teaspoon baking soda
½ teaspoon ground cinnamon
¾ cup (1 ½ sticks) cold unsalted butter, cut into 1-inch pieces
½ cup chopped pecans for topping only (optional)
Berry Filling:
1 Tablespoon grated lemon zest
½ teaspoon ground cinnamon
2 Tablespoons flour (whichever you used in the crust/topping)
1 pound fresh or frozen blueberries, raspberries and/or blackberries, about 3 cups
2 Tablespoons freshly squeezed lemon juice
2 Tablespoons unsalted butter, melted and cooled
Instructions
Preheat the oven to 350 degrees. Butter the bottom and sides of a 9 x 13-inch baking dish. Line the bottom with unbleached parchment paper (to help remove the bars.)
Put the flour, sugar, oats, salt, baking powder, baking soda and cinnamon in a food processor. Pulse until combined. Add butter and pulse until crumbs form and the mixture is no longer powdery and dry. Alternatively, place everything in the bowl of a stand mixer and mix on low speed until everything is moistened. Grab a handful of the mixture and squeeze it. It should hold together. Take 1 ½ cups of the mixture, place in a medium bowl and add chopped pecans.
Pour the rest of the mixture into the prepared pan and use your hands or the back of a metal spatula to press the crust into an even layer on the bottom of the pan. Bake until golden brown, 12-15 minutes. Transfer to a wire rack and cool.
In a medium bowl, whisk lemon zest, cinnamon and flour together. Add the berries, lemon juice and butter and use your hands to toss gently until the berries are evenly coated.
Spread filling evenly on top of the cooled crust. Sprinkle the reserved crumble mixture on top of the filling. Bake for 35-45 minutes, until the top is golden brown and the filling starts to bubble around the edges a little. You may need to rotate the pan halfway so that it cooks evenly.
Transfer to a wire rack to cool completely before cutting into bars. Keep refrigerated for up to two days in an airtight container.
Notes
*To make these gluten-free, substitute gluten-free oat flour or your favorite gluten-free baking mix, as well as gluten-free rolled oats.
Berries are usually not very sweet and these bars are also not overly sweet. If you think your berries are more tart, you can add a couple tablespoons of maple syrup or brown sugar to the fruit mixture.