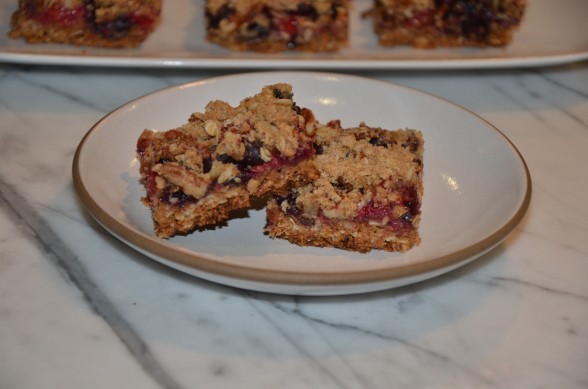 Mr. Picky and I are chillin' on Long Island this week with my family and enjoying the sound of seagulls during the day and crickets at night (if only Daughter #2 would stop texting me to pick her up from her 12-day summer program in Connecticut!)  We're having gorgeous weather here and I am just loving these balmy summer evenings that we rarely experience where I live in Manhattan Beach.  Every time I visit, my sisters move in with their brood and it's like summer camp here, or daycare depending on your attitude.  Summer is my favorite time to come here because I have access to my father's AMAZING gardens.  Once again, the basil is in abundance and we can't go through it quickly enough, so I've made pesto twice already.  The new addition to the backyard this year are three raspberry bushes.  I wish I could stay the whole summer!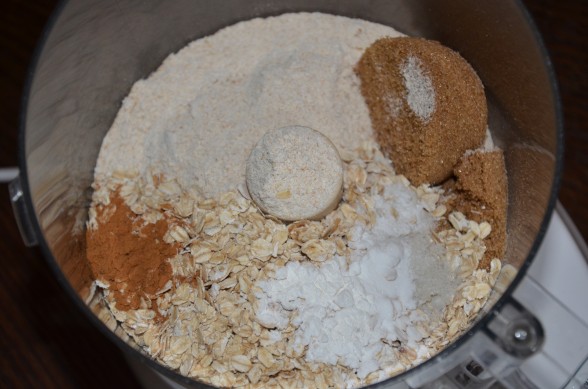 Coincidentally, I made these blueberry-raspberry bars before I left home as an airplane snack.  My kids went bonkers for them, as did Mr. Picky's cub scout pack when I made them for a meeting last month, but with all blueberries.  Mr. Picky said to me afterwards, "I'm actually surprised you made something so unhealthy, Mom."   You can see that they're not "so unhealthy," but they sure don't taste like healthfood.  It's a slightly sweet bar with a light crumby topping that makes a perfect afternoon snack.  I think they would also make an ideal July 4th treat.  So what that there's no white.  That's a color I frown on in the kitchen anyway, unless your name is Cauliflower.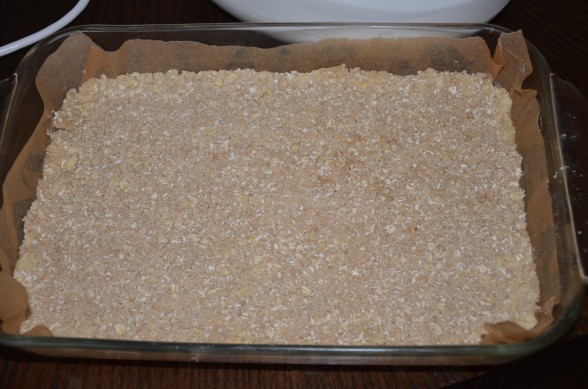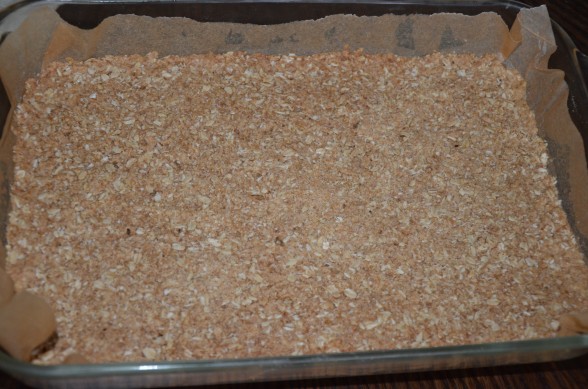 Berries are likely bursting on the local scene everywhere and the prices should have come down.  Berries, especially blueberries, have so many health benefits and are my first choice for fruit.  They are incredibly high in antioxidants (wild are higher than cultivated) and very low in fructose (naturally occurring sugar in fruit), not to mention high in fiber and minerals.  The downside is that berries don't last very long after you buy them.  Make sure you don't wash your berries before storing them in the refrigerator because that will make them get moldy more quickly.  I always do a once over before I put them away since one bad berry can really ruin things quickly for the rest of them.  If you don't think you'll use your berries up before they spoil, try freezing them for another time.  Give them a quick rinse and lay them on a paper towel to dry.  Place them in one layer on a baking sheet and put the baking sheet in the freezer.  As soon as they are frozen solid, scoop them up and store them in a container in the freezer.  Frozen berries work perfectly well in this recipe in case you have a small amount of this and a small amount of that to get rid of.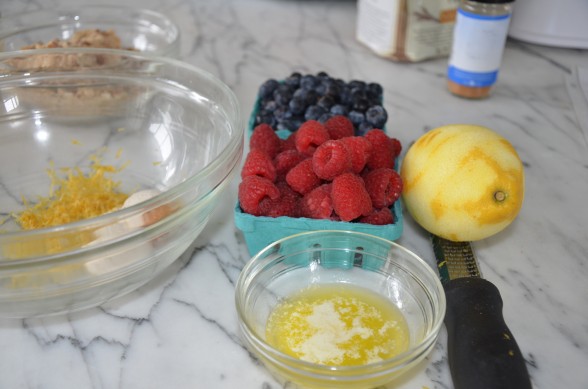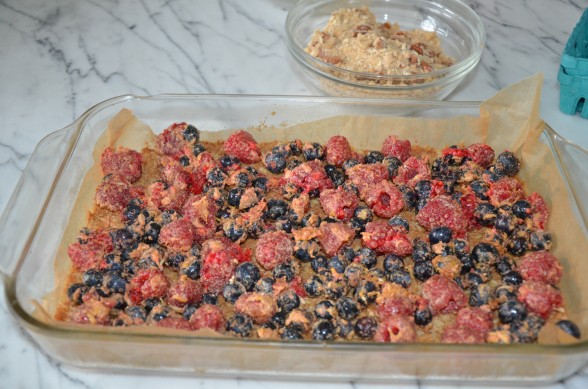 I think I'll make another batch today and send them off to the girls.  Hopefully the perfect antidote for homesickness!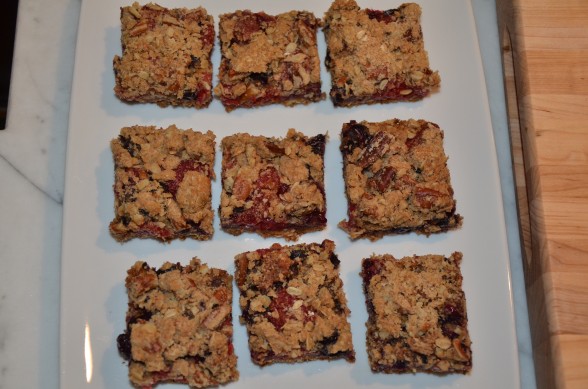 Mixed Berry Oat Bars
Author:
Pamela, Adapted from Smitten Kitchen who adapted it from Baked: New Frontiers in Baking
Ingredients
1 ½ cups whole wheat pastry flour or white whole wheat flour*
⅔ cup packed brown sugar
1 ¼ cups old-fashioned rolled oats
¾ teaspoon fine grain sea salt
¾ teaspoon aluminum-free baking powder
½ teaspoon aluminum-free baking soda
½ teaspoon ground cinnamon
¾ cup (1 ½ sticks) cold unsalted butter, cut into 1-inch pieces
½ cup chopped pecans for topping only
Blueberry Filling:
1 Tablespoon grated lemon zest
½ teaspoon ground cinnamon
2 Tablespoons flour (whatever you used in the crust)
1 pound fresh or frozen blueberries or mixed berries of your choice, about 1 pint or 2 cups (could be a touch more depending)
2 Tablespoons freshly squeezed lemon juice
2 Tablespoons unsalted butter, melted and cooled
Instructions
Preheat the oven to 350 degrees. Butter the bottom and sides of a 9 x 13-inch baking dish. Line the bottom with parchment paper (to help remove the bars.)
Put the flour, brown sugar, oats, salt, baking powder, baking soda and cinnamon in a food processor. Pulse until combined. Add butter and pulse until loose crumbs form. Reserve 1 ½ cups of the mixture, place in a medium bowl and add chopped pecans. Keep this at room temperature.
Pour the rest of the mixture into the prepared pan and use your hands or the back of a metal spatula to press the crust into an even layer on the bottom of the pan. This is a very dry mixture. Bake until golden brown, 12-15 minutes. Transfer to a wire rack and cool completely. This will ensure a firm crust.
In a medium bowl, whisk lemon zest, cinnamon and flour together. Add the blueberries, lemon juice and butter and use your hands to toss gently until the blueberries are evenly coated.
Spread filling evenly on top of the cooled crust. Sprinkle the reserved crumble mixture on top of the filling. Bake for 35-45 minutes, until the top is golden brown and the filling starts to bubble around the edges a little.
Transfer to a wire rack to cool completely before cutting into bars. Resist the urge to cut these before they have cooled since the crust won't be firm enough. Keep refrigerated for up to two days in an airtight container.
Notes
*To make these gluten-free, substitute gluten-free oat flour or your favorite gluten-free baking mix, as well as gluten-free rolled oats.