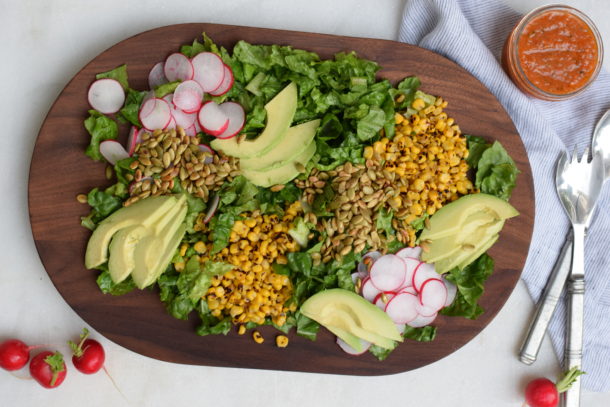 Whenever I plan the amount of food I make in my classes, I always make sure I have tons of whatever salad I am teaching.  96% of my students are women and women loooooove salad.  And so do I.  I could eat salad for breakfast, lunch and dinner.  First course, side dish or main course.  I love lots of color, texture and juiciness.  And I love playing around with what's in season.
One of my pet peeves is a salad of lettuce, tomato and cucumber all year round.  People, this is so boring and completely out of synch with the seasons, unless it is summer.  Get some red cabbage in there or some microgreens, herbs or radishes.  Or something creamy like avocado, feta or peaches.  Crunchy like nuts, seeds or jicama.  There are infinite possibilities for salads and every meal is more complete and more delicious with a salad in it.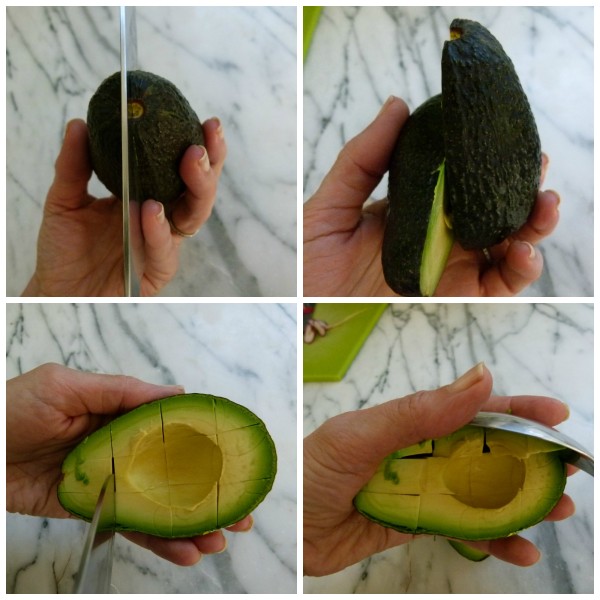 If you are planning a Mexican or Tex-Mex meal for Cinco de Mayo or otherwise, this salad is perfecto.  It is super simple as it is written, but I will offer you a dozen ways you can make it more interesting and I'm sure you can come up with a dozen more.  The best part of this salad is the dressing, which uses salsa or pico de gallo as the base.   Chances are, if you are having a Mexican-inspired meal, you very likely have salsa on hand.  And this is a great recipe to make the day after your Mexican meal when you likely have leftover salsa on hand.  Speaking of dressing, I love this salsa vinaigrette not only only a salad, but on top of grilled fish, chicken or steak, too.  Or on a big platter of grilled veggies.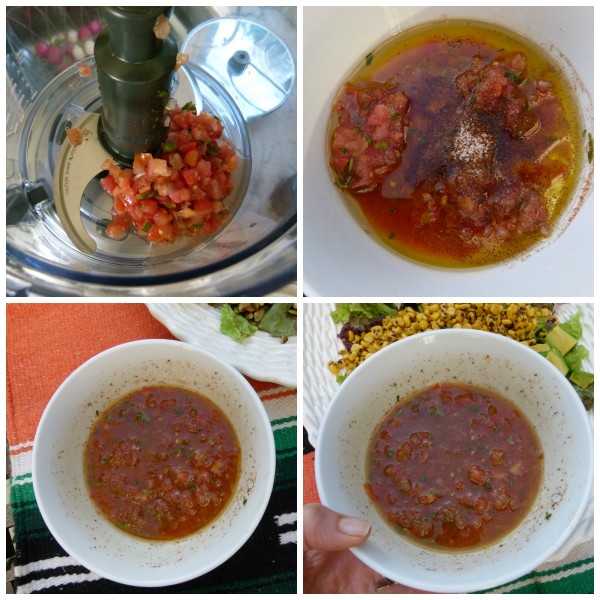 In these photos, I used fire-roasted corn, but if you can't find it or corn isn't in season yet, use pinto beans.  Shredded chicken or steak is amazing in here, as are cucumbers, grilled red onions or zucchini, cubes of Monterey Jack cheese or tortilla strips.  If you want to add all these, go ahead and make lots more dressing.  The dressing stays fresh in the refrigerator as long as the salsa is fresh.  The pico de gallo in the pictures is made fresh at my Whole Foods, but it only stays good for about 4 or 5 days.
One of the best things about a salad as part of your meal is that you can usually prep the whole thing in advance and just assemble at the last minute.  This salad is no exception.  Greens can be washed and dried two days ahead.  Vinaigrette can be made 2 days ahead. Radishes can be sliced the day before.  This really is the perfect salad for your fiesta!
Fiesta Salad with Salsa Vinaigrette
Serves:
6 as a side dish (double to serve as a main dish)
Ingredients
Vinaigrette:
½ cup fresh pico de gallo (pulse it in the food processor if it's too chunky)
3 Tablespoons unrefined, cold-pressed extra-virgin olive oil
½ - ¾ teaspoon sea salt or to taste
freshly ground black pepper to taste
2-3 teaspoons raw honey
a couple pinches of chili powder
2 ears of corn, shucked or 1 ½ cups thawed frozen fire-roasted corn or cooked pinto beans
8 cups chopped lettuce like Romaine or Butter lettuce
1 cup thinly sliced radishes
1-2 ripe avocados, sliced or cubed
⅓ cup pepitas, toasted and drizzled with ¼ teaspoon olive oil and sprinkled with sea salt OR sub a handful of tortilla strips instead of the pepitas
Instructions
To make the vinaigrette, whisk all the dressing ingredients in a bowl until combined. Set aside.
Preheat a grill to medium. Grill corn directly on the grill, turning occasionally until lightly charred on all sides. Remove from the grill and place on a cutting board. Cut the kernels off the cob.
Place the lettuce, corn kernels, radishes, avocados and pepitas in a salad bowl. Dip a piece of lettuce into the dressing and taste for seasoning. Drizzle salad with enough dressing to coat lightly and combine gently.
Notes
You can substitute finely shredded cabbage for some of the lettuce, add shredded Jack cheese or crumbled Cotija cheese, shredded chicken, steak or chunks of grilled salmon or shrimp.  Also, different salsas have different acidity levels, so taste the dressing before adding to the salad and season accordingly.