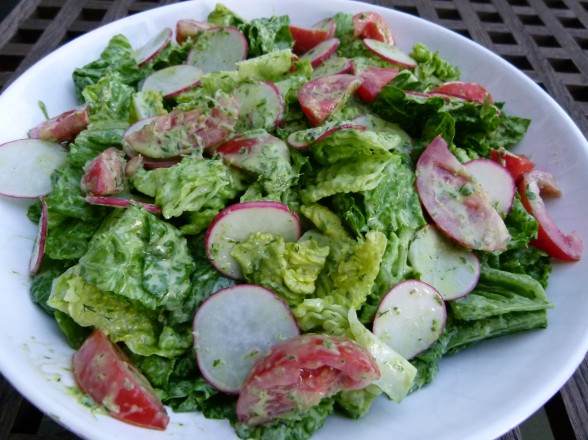 I just spent a lovely four days in Park City, Utah enjoying the clean air and the peace and quiet (outdoors, of course; indoors I have my three kids and two of their friends, so no peace and quiet in the house from noon 'til midnight.)  There are no televisions and I insist that the kids leave the phones in their bedrooms so we can hike and dine without the ping of 6 iPhones.  Heaven.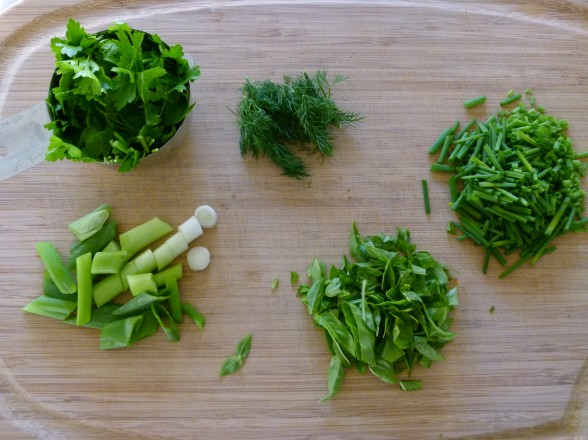 Of course, with travel comes a deviation from eating the way I like to eat.  I consumed a little too much guacamole and chips a little too late at night, and then someone tried to torture me by buying a container of Justin's Chocolate Hazelnut Butter.  I had mentioned it was like a more healthful Nutella, not that it was actually healthful.  By the end, I missed my juicer and my garden and all I wanted to eat were salads and vegetables.  In fact, I was craving this Green Goddess Salad while I was on the plane home.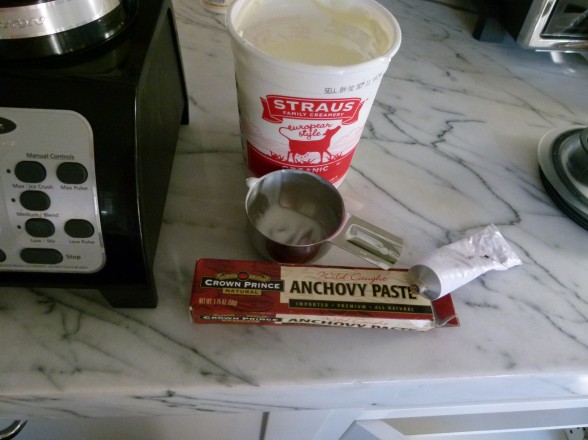 No, I didn't name this dressing after you.  The original Green Goddess dressing was created at San Francisco's Palace Hotel in the 1920's, for the English actor George Arliss.  Arliss was staying at the hotel and dined there every evening before he performed in a play called "The Green Goddess."  There are so many variations on this dressing, the base of which is usually mayonnaise, sour cream and tarragon — the only herb I don't like.  Can we still be friends?  So considering I am using none of the above, I don't know if I can actually call it a Green Goddess dressing.  One day last summer, I tried to clean out some little bits of herbs that were lingering and blended them into my own version of the dressing and we all loved it.  So feel free to adjust the recipe according to whatever herbs you have on hand, even if it's tarragon.  The kids think it tastes a little like ranch dressing.  So I made more the next day and used it as a dip for raw vegetables.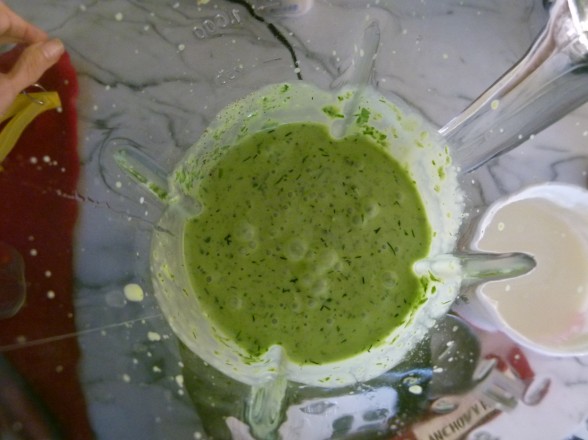 Green Goddess is a creamy dressing that's a nice break from traditional vinaigrettes, and one that works well with crisp and sturdy lettuces.  There are dozens of ways to enjoy this salad, even as a main course, since so many things work well with the dressing.  Here I used tomatoes and radishes, which are both perfectly obvious, but you can add hard boiled eggs, shrimp, poached chicken, cucumber, avocado, and/or corn.  One day I took a few beefy tomatoes from the garden, sliced them up and drizzled this over.  Whatever you do, don't leave out the anchovy paste — it really adds a little salty something and doesn't taste at all fishy.  Your kids and your picky spouse don't need to know it's in there.  In fact, they don't need to know anything other than you made up your own Ranch dressing.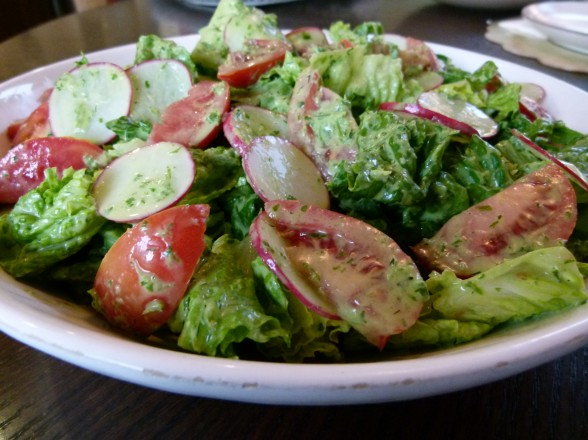 Green Goddess Salad
Author:
Ingredients
1 head romaine lettuce, leave washed, dried and torn into bite-size pieces
Any of the following:
Thinly sliced radishes
Chopped or sliced cucumber
Chopped tomatoes
Cubed avocado
Raw or cooked corn kernels
Quartered hard-boiled eggs
Dressing:
½ cup whole plain yogurt (regular or Greek)
1 cup flat-leaf parsley leaves
3 Tablespoons chopped chives
2 Tablespoons basil leaves
1 Tablespoon chopped dill (if you have it)
1 scallion, chopped
1-2 Tablespoons fresh lemon juice
1 teaspoon anchovy paste or two anchovy fillets
½ - ¾ cup unrefined, cold-pressed, extra-virgin olive oil (depending on how thick or thin you like it)
¾ teaspoon fine grain sea salt
Freshly ground black pepper to taste
Instructions
Place all dressing ingredients except oil, salt and pepper in a blender or food processor. With the motor running, slowly pour in olive oil. Season with salt and pepper to taste.
Toss lettuce in a serving bowl with enough dressing to coat lightly. Either toss remaining salad components separately with dressing or arrange on top of lettuce and drizzle with dressing.
Notes
The original Green Goddess dressing contains lots of tarragon. Feel free to experiment with other different fresh green herbs such as tarragon, cilantro, chervil or mint.[br][br]For a dairy-free version, use ½ cup silken tofu in place of the yogurt and increase lemon juice to 3 Tablespoons. I'm sure you could also substitute ½ of ripe avocado, but I haven't tried that.