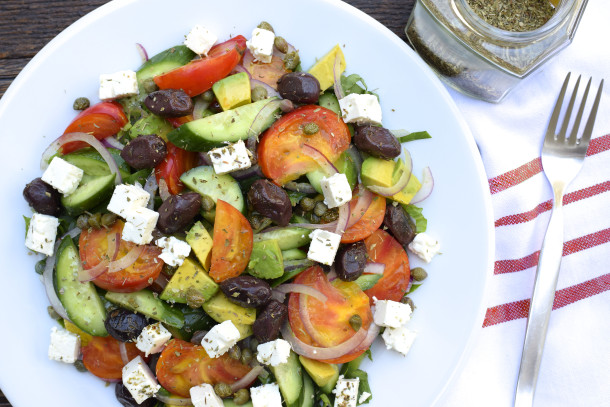 One of my most favorite places in the world is Greece.  I have only been there once, but since that time I have dreamt of when I would return.  Six years ago, the hubby and I took the girls to Athens, Hydra and then Spetses for the wedding of our dear friends Maria and John.  The views, the people, THE FOOD — Greece is my kind of country.  We were lucky enough to have a Greek friend take us to the "locals" restaurants, the ones where you have to take a little boat to access them; the kind where they bring you to a fish tank and tell you to pick out the fish or lobster you would like for dinner.  Why is it that I can eat dinner in Greece at 11 pm and I feel fabulous the next day, but if I eat after 7pm in the US, I can't sleep?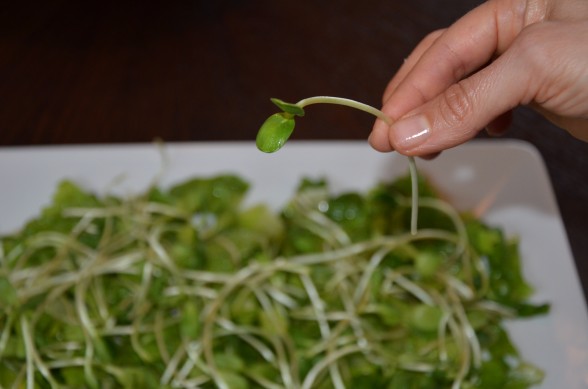 Have you read that the people of Crete are among the longest living people in the world?  And I bet they die happy.  The traditional Cretan diet is based on locally grown fruits and vegetables, fish, whole grains and legumes and of course, olive oil.  Everything is whole, unprocessed and as fresh as can be.  Cretans especially love their salad and I'm right there with them, especially if it involves feta cheese.  I think the only reason I could never be a vegan is because of feta.  I could wave goodbye to meat and eggs forever, but feta is with me for life.  I became so addicted to the classic Greek salad that I started making it regularly at home.  The girls got my feta-loving genes and are crazy for Greek salads, too, so every now and then I make one for the lunchbox.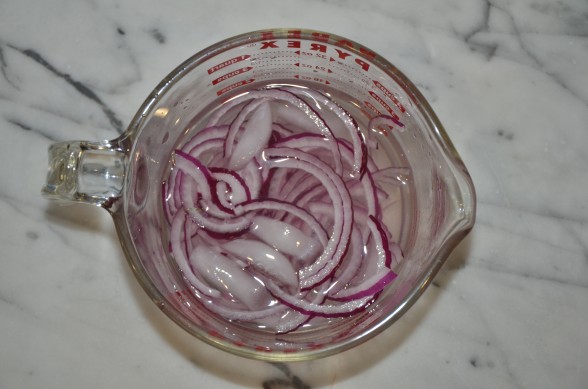 Over the last six years my Greek salads have evolved to make the most of what grows beautifully right here in Southern California.  I like to think that if Greece and California had a salad together, it would be this one right here with romaine, sunflower sprouts and more importantly, avocado.   I can't eat Greek salad anymore without creamy chunks of avocado.  The Reed variety is my absolute favorite and they are in season right now.  Happiness!  I am fortunate that I have access to high quality goat feta from my farmer's market, as well as a good Bulgarian sheep feta from Whole Foods.  I don't care for domestic cow feta which tastes salty and dry to me.  Plus, goat and sheep dairy is much easier for us to digest.  Traditionally, the classic Greek salad does not contain lettuce as shown in the last photo here, but I try to put leafy greens in as many things as possible.  I've also made this with chickpeas, bell peppers and even diced cooked chicken.  Salad rules are made to be broken.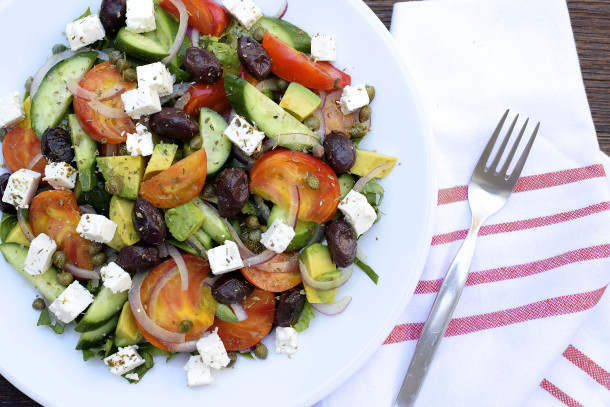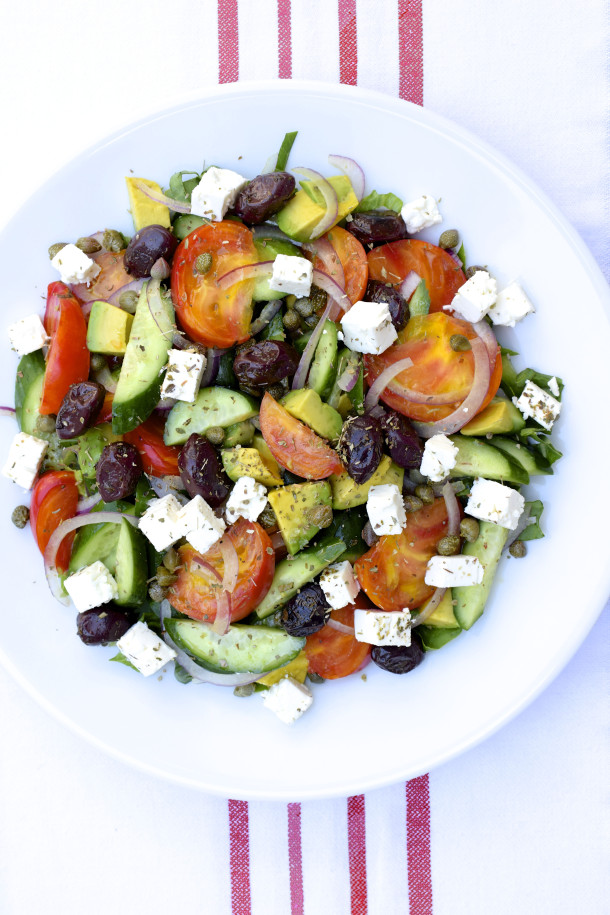 California Greek Salad
Ingredients
4 cups chopped romaine lettuce (optional)
Juice of ½ a lemon (about 2 Tbs.) or 2 Tablespoons red wine vinegar
Unrefined extra virgin olive oil
Sea salt and black pepper to taste
1 large handful sunflower sprouts
4 Persian cucumbers, unpeeled, cut in half and then sliced on the diagonal
4 small tomatoes, cut into wedges
1 avocado, cubed
half of a small red onion, sliced very thinly (soaked in ice water to neutralize some of the harsh onion flavor, if desired)
6 ounces feta, cubed
2 Tablespoons capers, drained
½ cup pitted Kalamata olives
Dried oregano, preferably Greek
Instructions
Arrange the lettuce on a large platter. Drizzle with a teaspoon or two of lemon juice or red wine vinegar, a tablespoon of olive oil, and salt and pepper to taste. Arrange the sprouts on top.
Place the cucumbers, tomatoes, avocado, onions and feta in a bowl and drizzle with remaining lemon juice plus enough olive oil to coat lightly. Arrange on top of the lettuce and sprouts, and sprinkle with a little sea salt and black pepper.
Distribute the capers and olives on top. Sprinkle with dried oregano to taste.
Notes
Tip: wash your lettuce as soon as you come home from the market. Leave it out on a clean kitchen towel to dry and then roll it up in the same towel and keep it in the fridge for a lickety-split salad.