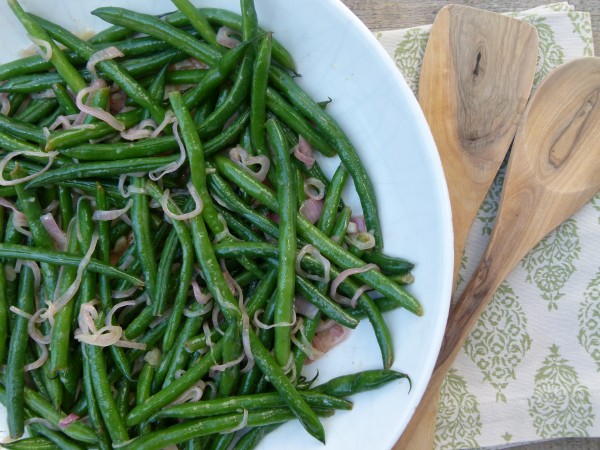 If you follow me on either Facebook, Twitter or Instagram, you've probably figured out that I am back on Long Island at my parents' house.  We picked up Daughter #1 on Saturday from her summer program in upstate NY.  I was so beyond excited to see her after 6 weeks, I was afraid I was going to suffocate her when I saw her.  It was great for the five of us to be together again and I couldn't resist another visit to Stony Brook.  Love that place in the summer.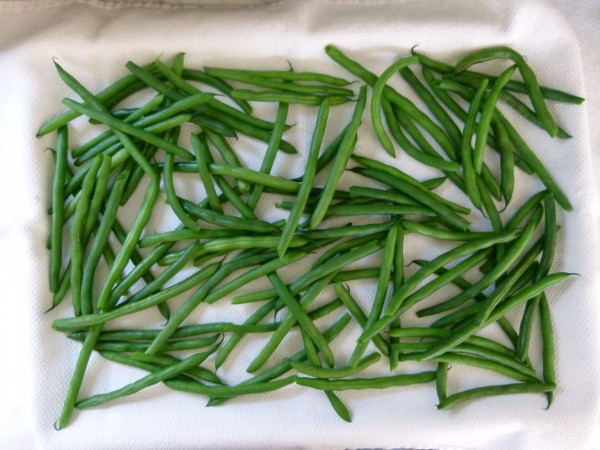 We've had an amazing few days here — peaceful, not in a rush to do anything, no stress, beautiful.  My father's garden is bursting.  I lost count of how many basil plants he has this year, perhaps around 40.  I have made pesto every day so far!  But the big fun has come from the new outdoor pizza oven my father had built.  It was a major project when I was here in June, with each of my parents saying to me without the other hearing, "I don't know what we were thinking."  But once the dust settled, literally, we have enjoyed the most fantastic pizzas — you know the thin kind with a little char on the crust?  So darn good.  Not fitting in my skinny jeans today, but so. darn. good.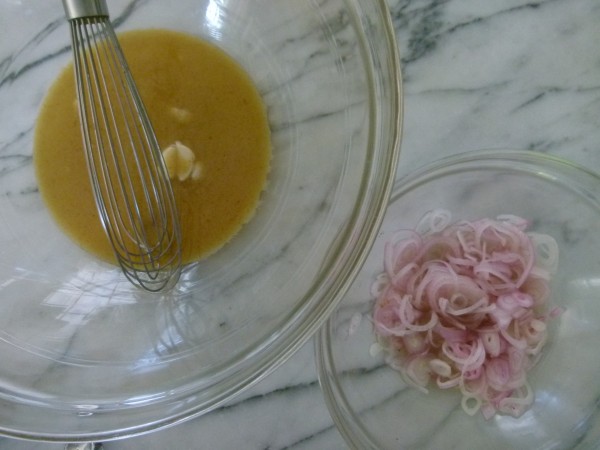 Sorry this isn't a post about making your own pizza in a wood-burning oven, but I personally don't have one nor will I in my current house since my "yard" is a patio!  Figuring most of my readers don't own one either.  Instead I wanted to share my favorite new green bean recipe.  No yawning!  These are great!  But I know where you're coming from.  Green beans come into season in the summer and I try really hard to get excited about them, but they have to compete with tomatoes and corn.  Kind of hard to do.  I honestly don't have too many exciting green bean recipes that I think to myself, "I am soooo craving those such-and-such green beans."  Until now.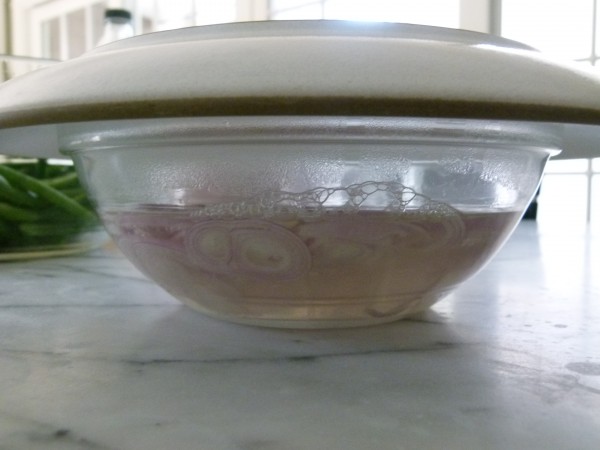 I taught these honey-lemon green beans last month and I couldn't wait to eat them after each class and any leftovers for dinner the same night!  The dressing has a bit of mustard too, and a little kick from the cayenne which is always something I love paired with sweet (honey.)  They are seriously addictive.  One of the only cooked vegetables Mr. Picky likes is green beans, but he doesn't care for vinaigrettes yet.  Except he did love these!  He's starting to develop a taste for spicy food.  Very exciting!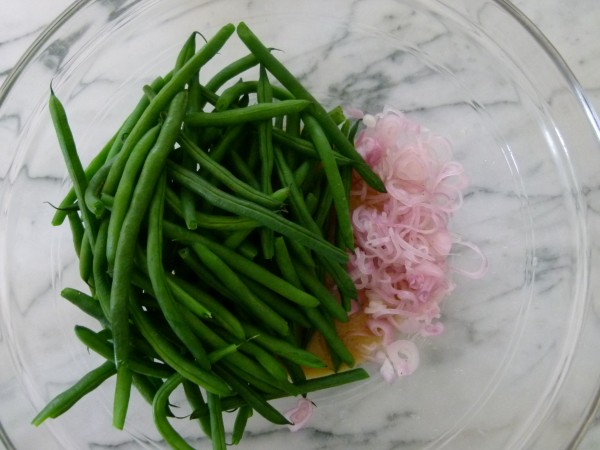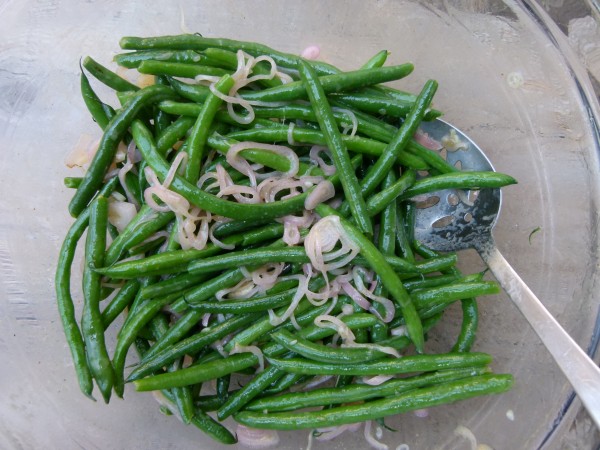 The recipe for the green beans and the dressing is completely straightforward and quick to make.  If you are in a time crunch, just make that and forget about the shallots.  Blanching and quick-pickling the shallots is definitely another step that won't make or break the recipe, although they are scrumptious.  You can certainly take care of that while the beans are cooking and while you're setting the table or grilling some fish.  But sometimes when I try and multitask too much, that's when I forget things -like shallots pickling in apple cider vinegar that I remember when I start washing dishes.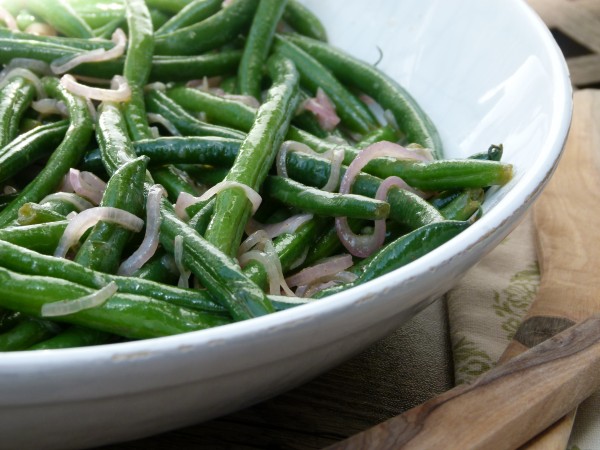 Spicy Honey-Lemon Green Beans
Author:
Pamela, adapted from "The Modern Vegetarian Kitchen" by Peter Berley
Ingredients
For the Green Beans and Shallots:
3 Tablespoons kosher salt
2 large shallots, thinly sliced
1 ½ pounds string beans, trimmed
1 Tablespoon apple cider vinegar, preferably raw
½ teaspoon sea salt
pinch freshly ground black pepper
For The Vinaigrette:
2 Tablespoons freshly squeezed lemon juice
1 Tablespoon Dijon mustard
1 small glove garlic, crushed
1 teaspoon mild honey, preferably raw
½ teaspoon sea salt
⅛ teaspoon cayenne pepper
3 Tablespoons unrefined, cold pressed, extra virgin olive oil
Instructions
Spread a clean kitchen towel on a baking sheet and set aside.
In a large pot, bring 3 quarts water to a boil. Add kosher salt.
Place the sliced shallots in a bowl and cover with 2 cups of the boiling water. Cover the bowl with a plate and set aside for 10-15 minutes.
Drop the beans in to the remaining boiling water and cook, uncovered, for 4 to 6 minutes, until crisp tender. Drain the beans and spread them on the cloth-lined pan.
Drain the shallots and toss them with the vinegar, the remaining ½ teaspoon salt, and pepper. Set aside.
To make the vinaigrette, combine the lemon juice, mustard, garlic, honey, salt and cayenne in a large mixing bowl. Whisk until smooth. Slowly whisk in the oil until creamy.
Drain the shallots once again and squeeze dry. Add the shallots and the string beans to the vinaigrette and toss well. Sprinkle with another pinch of sea salt or to taste.
If you have time, let it marinate for 15 minutes at room temperature before serving just to allow the flavors to permeate the beans. If you don't have time, they'll still be great.
Notes
These really aren't that spicy, perhaps a 3 on a scale of 1-10, with 10 being the hottest.  But you can certainly adjust the level of heat to your liking by increasing or decreasing the cayenne.