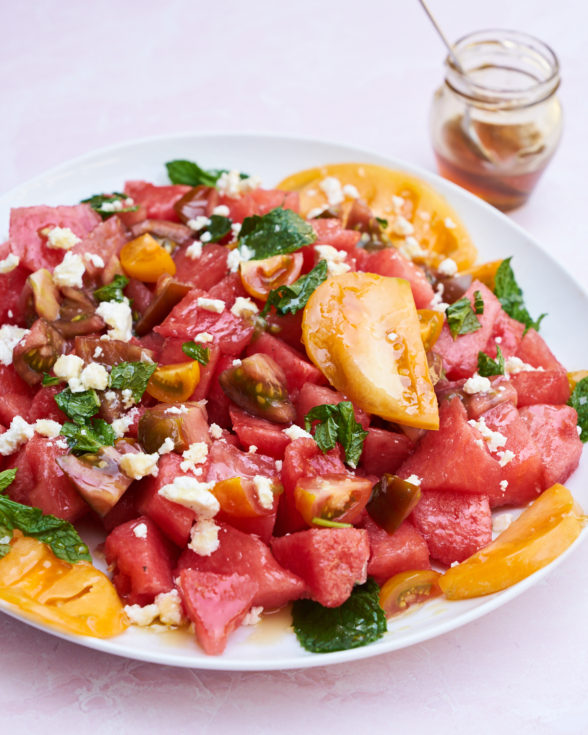 Photography by Victoria Wall Harris
Here's another recipe that was deep in my archives that I still absolutely love, but needed a photo makeover!  This is the time of year when I am furiously trying to maximize my consumption of all things summer.  The seasonal window for some of my favorite foods is just too short, especially tomatoes.  In my classes July through September, I always feature at least two recipes with the beloved tomato and I beg everyone to enjoy them while they last because fresh tomatoes won't be appearing in my kitchen until the following summer.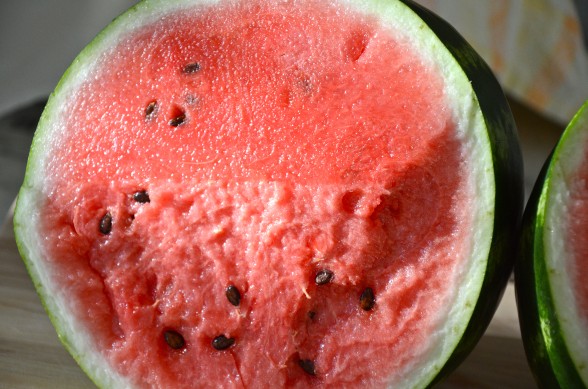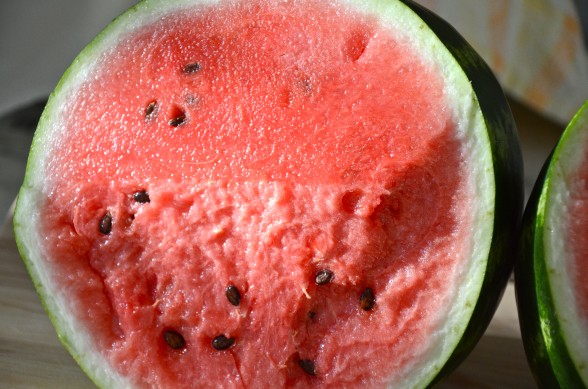 I originally ate a version of this watermelon and tomato salad at a local Greek eatery and immediately copied it at home.  It has become hands-down one of my favorite summer salads, especially when I have people over.  It is a cinch to prepare and it looks so impressive.  How gorgeous are all those colors, especially on a bright white platter??  More importantly, the combination of flavors is like a juicy burst of summer in your mouth.  This salad is literally beats the heat since tomatoes, watermelon and mint are all incredibly cooling foods, the former two being especially hydrating, as well.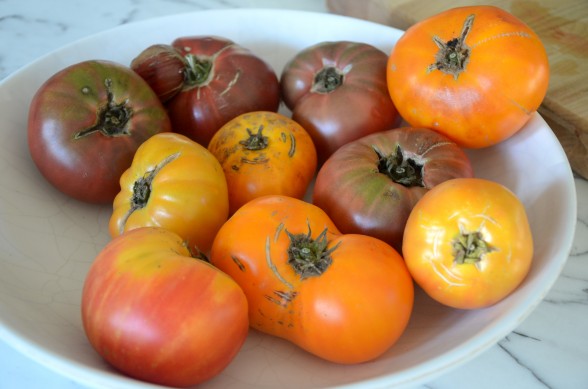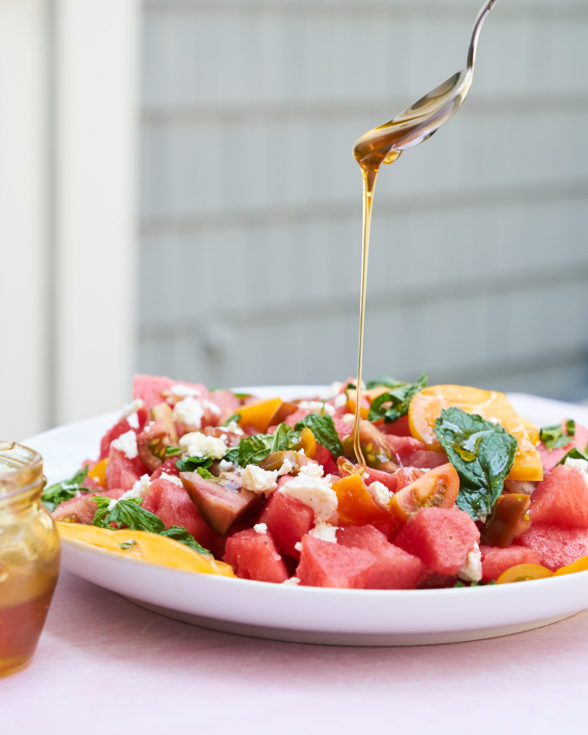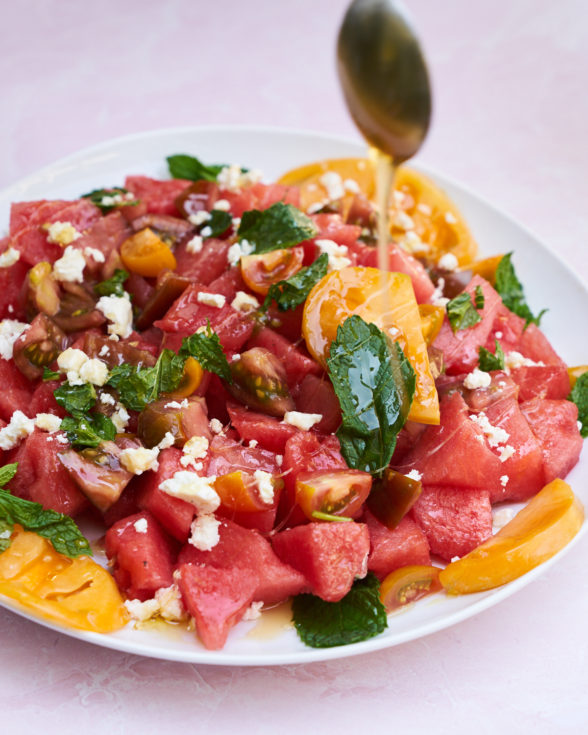 Are you thinking that adding salty feta cheese and sweet honey to tomatoes and watermelon is a strange combination?  I know, I did too, but it's really amazing.  In fact, I am so crazy about this combo that I have done many variations on this salad, substituting peaches for watermelon or beets for tomatoes, and sometimes adding a few baby spinach leaves.  I love using non-red tomatoes to contrast the red watermelon, but feel free to use what you have available.  I recently made this salad for brunch at my house, but I have brought this to several potlucks, as well as a picnic at the beach.  The other night I served this alongside grilled chicken paillard with arugula and everyone was happy, especially me because the entire dinner took less than 30 minutes to put together.  This salad is especially friendly since you don't have to make a dressing.  All you do is squeeze, drizzle and sprinkle, which even in the dead heat of summer ain't so tough.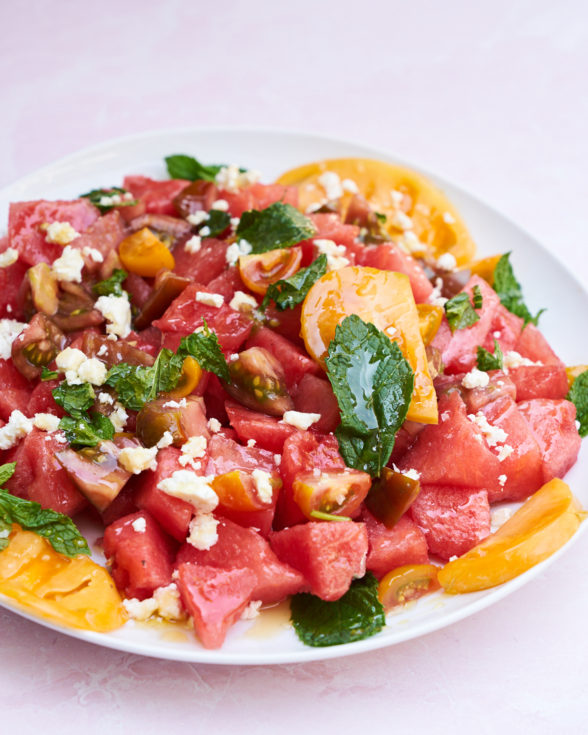 If you end up making this recipe or any of my recipes, please tag me @pamelasalzman so I can see your beautiful creations!  Please stay safe and healthy!

Watermelon and Tomato Salad with Feta and Mint
Ingredients
¼ of a large watermelon, cut into large chunks
3 medium tomatoes (such as heirlooms), cut into wedges
4-6 ounces of sheep or goat's milk feta cheese, diced or crumbled (or less cheese if you prefer)
handful of mint leaves, sliced
juice of 1 lime
unrefined, cold-pressed extra-virgin olive oil for drizzling
raw honey for drizzling (optional but delicious!)
sea salt to taste (flaky sea salt is great to finish the salad if you have it)
Instructions
Place the watermelon and tomatoes on a platter. Scatter the cheese and mint on top.
Drizzle with lime juice and a little olive oil. Place a fork in a jar of honey and drizzle the honey all over the melon, tomatoes and feta.
Season with salt just before serving.
Notes
Cooked beets are a nice addition or substitution for the tomatoes. Fresh or grilled peaches can be subbed for the watermelon.
My favorite vegan feta is Violife.