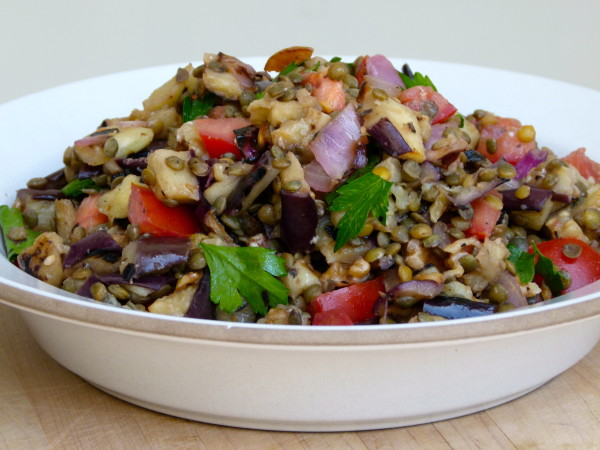 Do you remember the Dunkin Donuts commercial from the '80s, where the guy wakes up super early in the morning every day and says, "time to make the donuts" ?  That's how I felt yesterday morning when I stumbled out of bed as the sun came up because it was "time to make the lunches."  Oy.  How is it that I love to cook, but I dread making school lunches?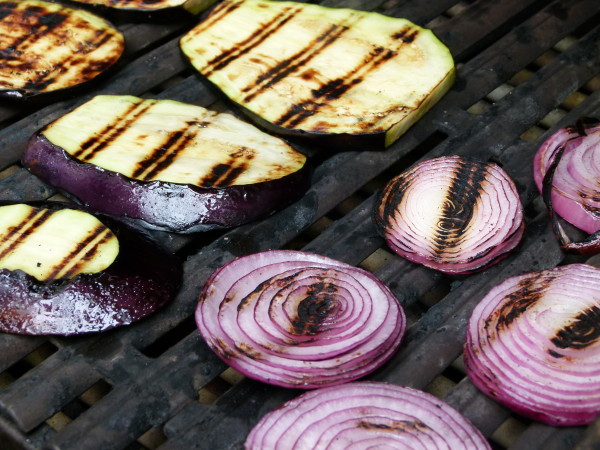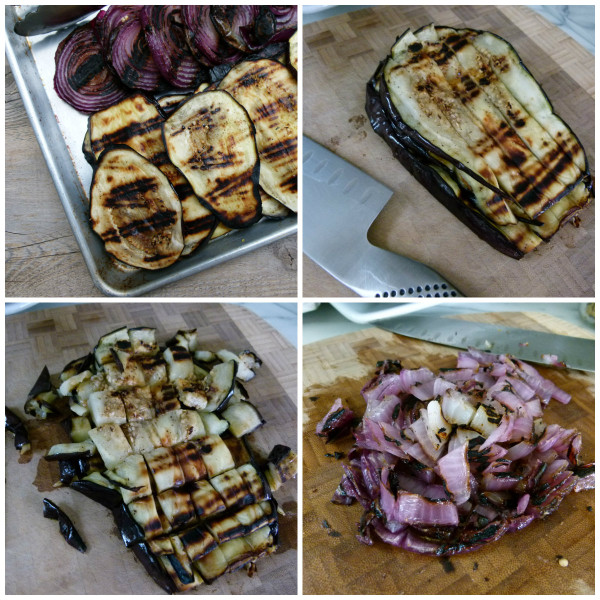 This isn't a post about school lunches though.   I'll still post my kids' lunches once a week on Instagram and Facebook so we can all share ideas.  I just can't believe it's the beginning of school and I have not eaten what I think is enough tomatoes!  Or eggplant.  Or peaches.  So now I'm on a mission to eat as much summer produce as I can before it is gone.  And the first day of school is my warning bell.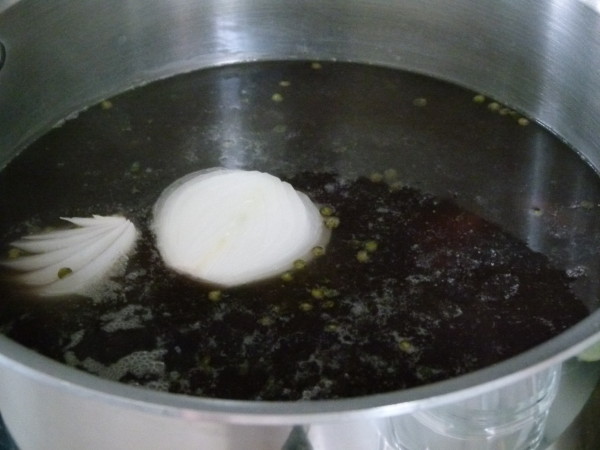 I saw a post on Instagram the other day asking who was excited for pumpkin season?  Uh, not me.  What's the rush?  I would be delighted to eat watermelon and plums for a bit longer thank you.  I want to make more of this Lentil and Grilled Eggplant Salad.  I taught this salad in a class last year and I became obsessed with it, making it for friends and family all summer long.  It has many of my favorite foods like grilled eggplant, which is much better than eggplant cooked any other way, in my opinion; hearty, protein-rich lentils, which are my favorite vegetarian protein source (Mr. Picky's, too); and of course, the best of summer, ripe, juicy tomatoes.
I love the earthy, assertive flavors in this salad and especially the delicious, mustard-y vinaigrette.  Dijon and lentils are great pals.  This would be a perfect salad to bring to a Labor Day BBQ, especially if you don't eat meat and make to ensure a vegetarian option.  Or make this for dinner with something green on the side and you're done.  I've also added some goat cheese or feta for an extra salty bite.  Many of my students like the precooked lentils from Trader Joe's which would make this even easier to put together.  Because I'm all about easy if it will make me cook something at home instead of getting take out.  Gotta run — it's already that time of day.  Time to make dinner!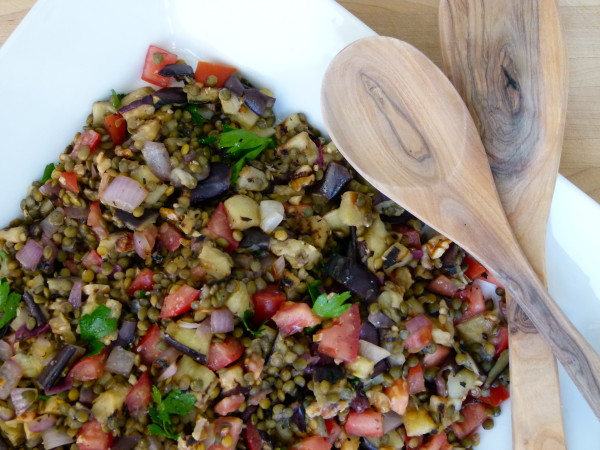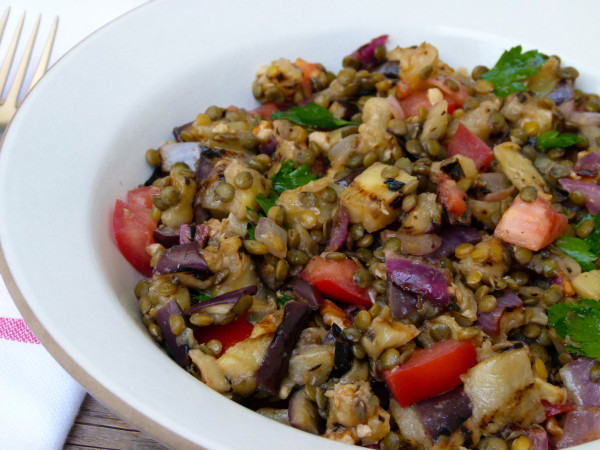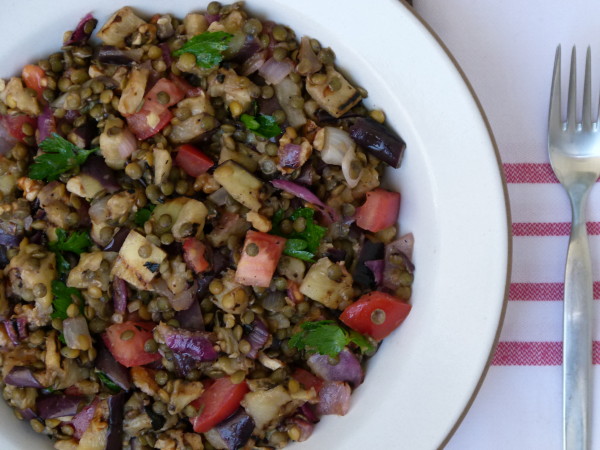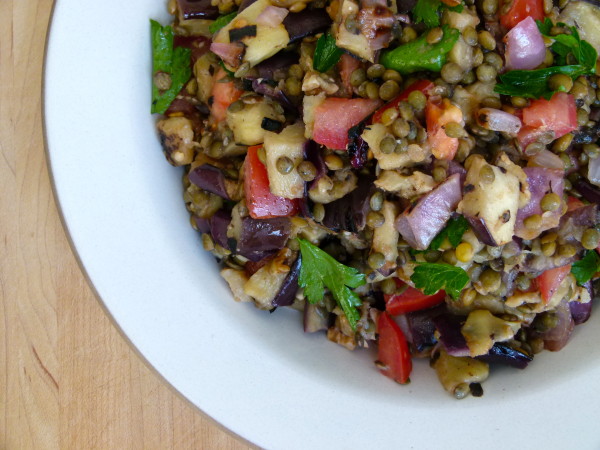 Lentil and Grilled Eggplant Salad
Ingredients
¾ cup French lentils, picked over and rinsed
¼ cup dry white wine
½ yellow onion
2 garlic cloves, smashed
3 cups vegetable stock or water
2 Tablespoons unrefined, cold-pressed extra-virgin olive oil, plus more for brushing vegetables (or use melted unrefined coconut oil to grill vegetables)
3 Tablespoons apple cider vinegar, preferably raw
1 ½ teaspoons Dijon mustard
1 teaspoon sea salt, plus more to taste
Freshly ground black pepper to taste
2 medium eggplants (approx. 1- 1 ¼ pound each), sliced lengthwise ½-inch thick
1 small red onion, sliced into whole rings
1 large tomato, diced
⅓ cup fresh whole flat-leaf parsley leaves
½ cup walnuts, roughly chopped
Instructions
Place the lentils and the wine in a medium saucepan over medium heat and simmer until the wine has been absorbed.
Add the stock or water, onion and garlic to the saucepan with the lentils and bring to a boil over high heat, lower to a simmer and cook for 25-30 minutes, or until lentils are tender.
Whisk the olive oil, vinegar, mustard, salt and pepper together in a small bowl and reserve.
When the lentils are done, drain and pick out onion and garlic pieces and discard. Place lentils in the serving bowl and pour a tablespoon of the dressing onto the warm lentils and stir gently to combine.  Reserve remaining dressing.
Turn your grill on to medium-high heat. Brush the eggplant and red onion with olive oil and sprinkle with salt. Grill the eggplant and onion until tender and slightly charred (not burned).
Chop the grilled vegetables into bite-size pieces and add to the lentils. Add the chopped tomato, parsley leaves and walnuts.
Toss the salad with the remainder of the dressing and taste for salt. Serve warm or room temperature.