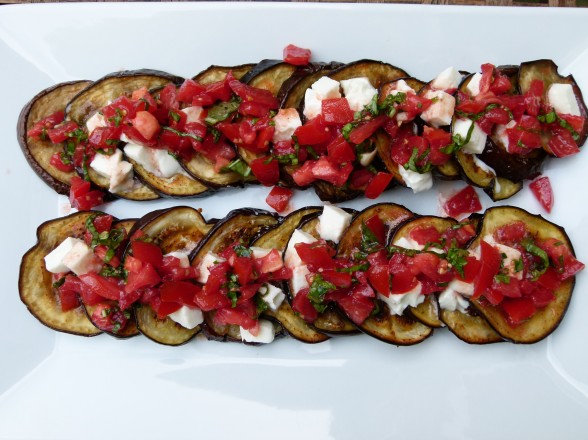 Ok, my kitchen is more or less back together except for a few cabinets, and I couldn't be happier.  Never mind that every other room in the house has its contents spilled out into random hallways or in the living room which we never use.  It doesn't even bother me that we are all still sharing one bathroom … I can cook again!  Takeout everyday was putting me in a cranky mood — and when Mama Bear ain't happy, no one's happy!  I think the novelty of eating out even wore off with Mr. Picky, although my husband keeps trying to remind me that I was "only" inconvenienced for five days.  Talk to the hand, dude.  Listen, I had to make a fruit crisp on the front porch Wednesday.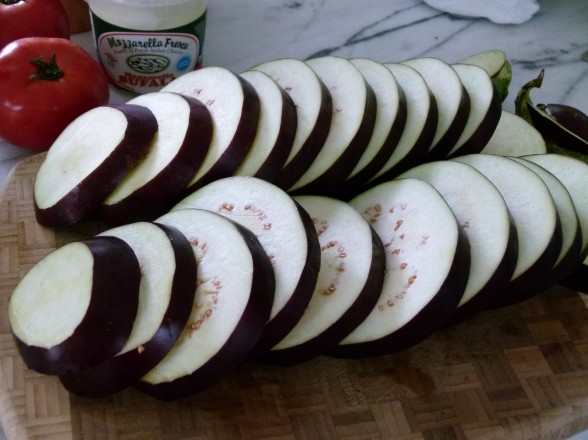 I did a great big shop at the grocery store and the farmer's market on Tuesday and I was giddy with all the possibilities.  I think one of the reasons I get so excited when summer produce hits the stands is that I wait for it all year long.  Local peaches, corn and tomatoes are special!  I especially have a thing for summer tomatoes, and I'm hoping you do too, since there are lots of tomato recipes in the pipeline.  You know that once you've had a truly vine-ripened, sun-kissed tomato, you can never go back to those hard, tasteless orbs from the supermarket that have nothing to do with a real summer tomato.  I remember as child going into my father's garden in the summer with a salt shaker to eat tomatoes with salt right off the vine.  Heaven.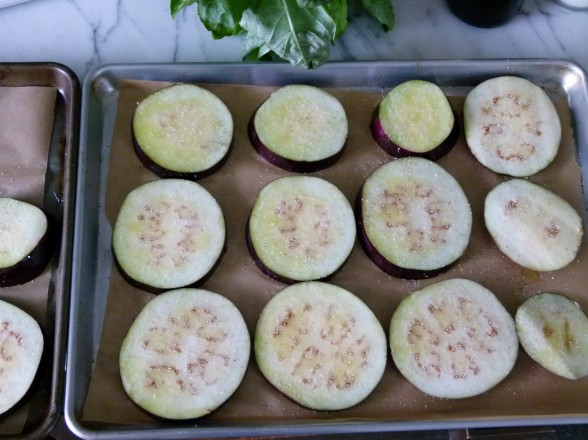 Tomatoes make this girl's heart grow fonder when they are paired with basil.  This classic combination is a favorite of mine and one I use in so many different dishes.  Just this past week, I posted recipes for pasta with cherry tomato sauce, as well as a frittata with garden vegetables, including tomato and basil.  In last summer's classes, I taught pasta alla checca, which is a raw tomato and basil sauce.  Of course, the traditional salad on every Italian menu is a Caprese, which is nothing more than alternating slices of good quality tomato and mozzarella cheese with basil, olive oil and salt.  Several years ago I was in Italy with my family visiting a friend of my father's on the Amalfi Coast.  We had all eaten a large lunch that day and weren't really hungry for a full dinner, so our hosts pulled tomatoes and basil from the garden,  freshly made local mozzarella from the fridge, local olive oil and olives, and some bread from a bakery down the road.  I know it may not sound like much, but every ingredient was the best I had ever had, and to this day I consider that meal one of my favorites ever.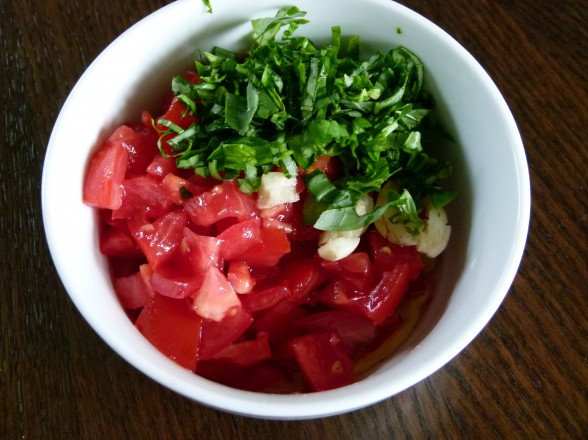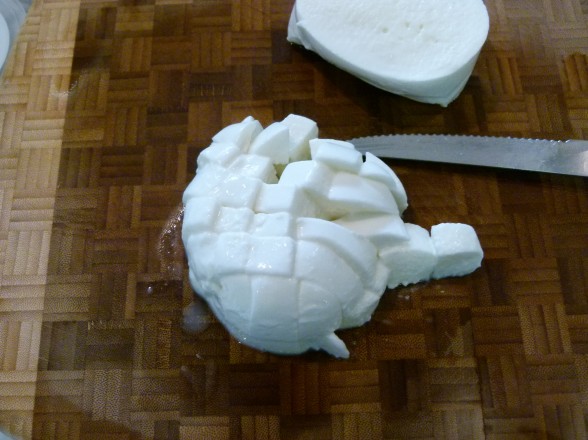 One of my go-to side dishes in the summer is simply grilled or roasted eggplant slices.  Occasionally I'll add some mint and feta, but a few years ago I taught this recipe, which is essentially eggplant-meets-Caprese.  Eggplant is such a sponge and loves all that juicy-tomato-and-olive-oil-goodness.  I don't eat very much dairy, so instead of big slices of cheese, I have added a few cubes mixed in with the tomato and basil mixture.  In this photograph I used fresh buffalo mozzarella, which is a little milkier and lighter tasting, but you can use whatever cheese you've got, including burrata, feta or goat cheese — or none at all!  I usually try to teach my girls to eat like civilized ladies, but I have found myself many a time eating this with my hands as an eggplant taco.  Like the other night when we couldn't find the flatware.  It's probably still in the living room…
Eggplant Caprese
Ingredients
2 medium eggplant, unpeeled, sliced crosswise into ¾-inch slices
2 Tablespoons unrefined, cold-pressed extra-virgin olive oil + more for brushing eggplant
Sea salt and black pepper
2 cups chopped, seeded tomatoes
2 large garlic cloves, crushed
1 small handful fresh basil leaves, julienned
4 ounces (or more if you like) fresh mozzarella, cubed
Instructions
Preheat the oven to 375 degrees and line 2 baking pans or cookie sheets with parchment paper. Place the eggplant slices on the paper and brush them generously on both sides with olive oil. Sprinkle with sea salt and black pepper, then roast for 40 minutes, or until golden brown. Allow to cool.
Mix together the tomato, garlic, 2 tablespoons of olive oil and the basil. Season to taste with sea salt and black pepper. Set aside.
To serve, arrange the cooked eggplant slices, slightly overlapping, on a serving platter. Scatter the mozzarella chunks on top and spoon over the salsa. Remove the garlic cloves.