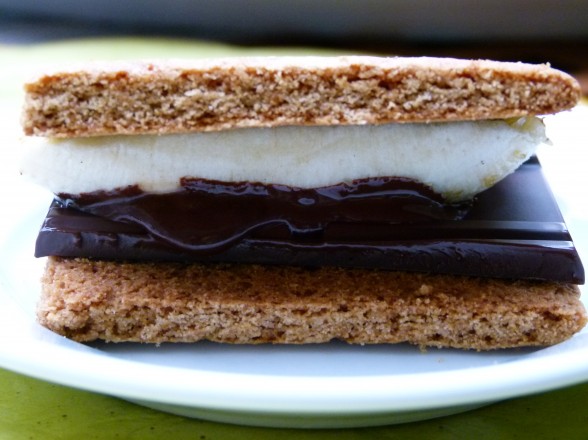 I had my first s'more on a girl scout camping trip when I was 12 and I thought it was genius.  I loved that crispy graham cracker paired with a smooshy, slightly burnt marshmallow and the way the chocolate just started to melt a little.  Do-it-yourself desserts are just so fun to put together too, especially when you're with friends.  I remember sitting around the campfire with the other girls trying to get the perfect golden toastiness on our marshmallows without actually setting them on fire and then giggling as we snuck an extra square of chocolate, because why the heck wouldn't we?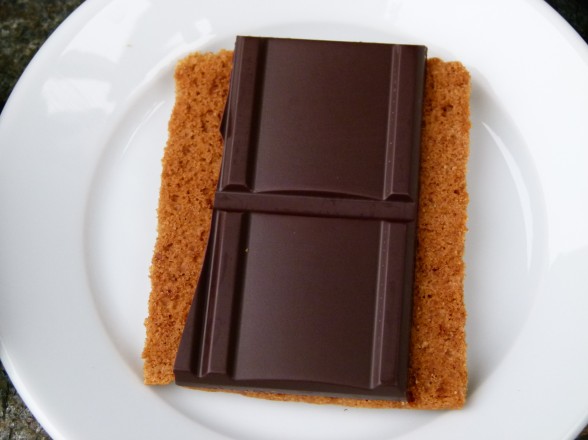 I think s'mores have a way of bringing out the kid in all of us, so they are always a welcome dessert in the summer when we have other families over for dinner.  Set your s'mores bar with homemade graham crackers and your family and friends will be like, "no you didn't!"  I certainly don't have to tell you how to put together a s'more, but I thought I would share a fun twist on a classic.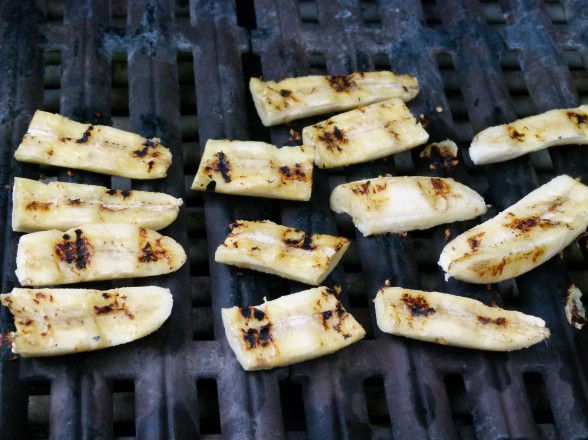 Since I think marshmallows border on toxicity (I can be fun, really!), that was my target in creating a more healthful s'more.  Basically, I grill firm, but ripe and speckled bananas and use those in place of the marshmallows.  You still get something sweet, something soft and something that tastes amazing with chocolate and graham crackers.  The point of grilling them is just to get them warm enough so they melt the chocolate a little bit, so watch out for chocolate dripping down your chin.  With all the fun, new chocolates out there, I think it would be amazing to put out some interesting ones for people to use.  Picture a grilled banana s'more paired with caramel and sea salt chocolate or one laced with hot pepper or bits of lavender.  Did I have you at "grilled?"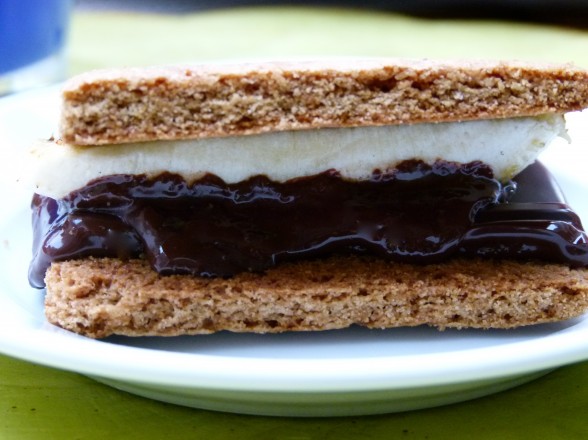 Grilled Banana S'mores
Ingredients
24 graham crackers (I used 3 x 3 ½ inch homemade)
3 3.5-ounce thin bars of chocolate (thin is better so that it can melt a little)
oil for brushing the grill, such as coconut or olive oil
2 large or 3 medium firm, but ripe bananas
Instructions
Preheat the grill to medium.
Arrange 12 graham crackers on a platter and top with a 1-ounce piece of chocolate or a piece large enough to fit.
Peel the bananas and slice in half crosswise. If the bananas are large, you can cut them in thirds. Then slice each piece lengthwise. Brush the grill with oil and grill bananas 2-3 minutes on each side until warm. The goal is just to get them warm so that they melt the chocolate slightly. You can also arrange the bananas on a baking sheet and broil them for a couple minutes until warm and toasty.
Top each piece of chocolate with a banana slice and then with a graham cracker. Serve immediately.
Notes
Another option is to make s'mores sandwiches with raw bananas, wrap each individually with parchment and foil and place on the grill over medium heat until chocolate is slightly melted.
Or you can forgo the square of chocolate and spread with chocolate nut butter. Delish!