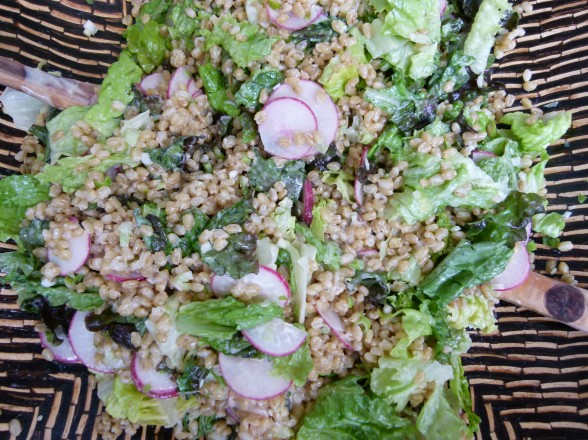 In a perfect world we would all be eating mostly whole foods, that is foods that came into this world a certain way and stayed that way.  Whole, unprocessed, unrefined foods are more recognizable by our bodies and better for our health.  Period.  I also talk a lot about limiting gluten, that pesky inflammatory protein found in wheat and to a lesser extent spelt, barley, rye and farro.  One of the problems with our overconsumption of wheat is that 99.9% of the time (I made up that statistic), it is in a processed form such as bread, pasta, baked goods, flour tortillas, pizza, etc.  And in the US, much of the processed wheat is refined too, which means anything good that was in there has been taken out.  Ugh.  I know all those foods are delicious and I am not telling you to never eat them again (although you would be better off), but it's important to at least acknowledge how much processed wheat you're eating and try a limit these foods to every once in a while.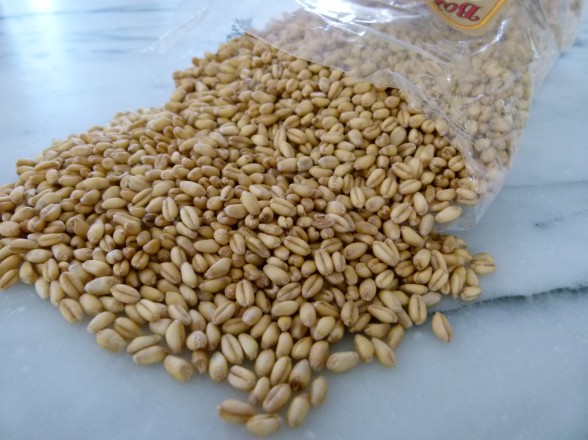 So if you buy bread or pasta labeled "whole wheat,"  they are technically made from whole wheat and not actually whole wheat.  If you wanted to actually eat whole wheat, you would eat these little babies right here.  They are called wheat berries which is where wheat flour comes from.  They are a true whole grain because they're still intact, as are their B vitamins, fiber, protein, even calcium.  Wheat berries remind me a lot of spelt, farro and even short-grain brown rice, but more chewy which makes them perfect in a salad.  My kids love them!  Truthfully you can use wheat berries in any recipe calling for spelt or farro, none of which, however is gluten free.  GF folks can sub brown rice or quinoa very successfully in this recipe.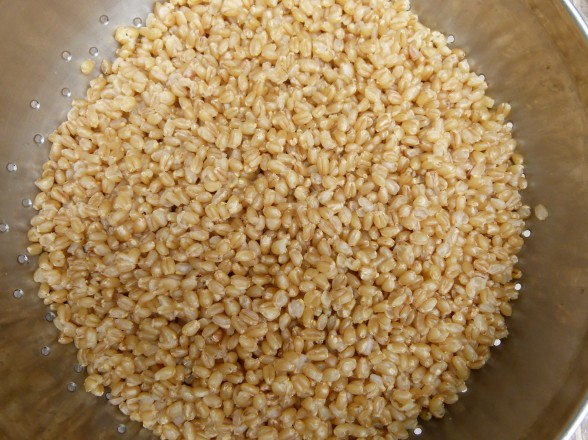 In as much as I love wheat berries, though, this salad wouldn't be as delicious without the creamy lemon-tahini dressing which I have been putting on everything lately.  If you have a jar a tahini in the fridge, it is likely because you used it to make hummus, the delicious and popular Middle Eastern chickpea dip.  Tahini is just ground up sesame seeds, plain and simple with lots of good fats, protein and calcium.  If you like hummus, you'll love this dressing since it contains almost all the same ingredients.  It's zingy, creamy and a little different from your standard vinaigrette.  I tend to make it a tad on the spicy side, because I love a little kick, but definitely feel free to leave it out if your family prefers things mild.  I took these photos after my class yesterday, when I made the recipe with some thinly sliced radishes, green onions and torn red leaf lettuce, but really the sky's the limit here.  I have made this salad with blanched asparagus, radishes and spinach — delish!  I have also used cherry tomatoes, cucumbers, feta and parsley.  There's a picture at the bottom of the post of one version I did with roasted eggplant, red peppers, red onion and parsley, although it vaguely reminded me of that fabulous Ina Garten roasted vegetable orzo dish that I made waaaaay too many times about 10 years ago.  Still great, but in my opinion the richness of the dressing works best with light, fresh vegetables and greens.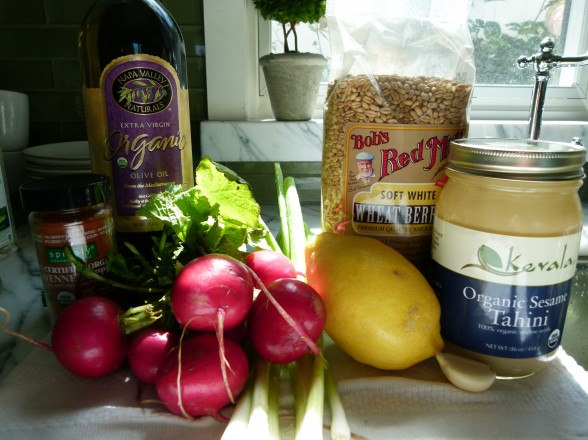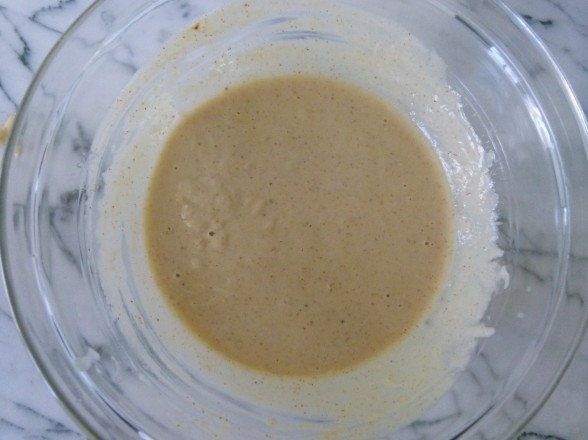 If I didn't just make this salad A LOT this month, I would definitely be including it in the summer entertaining menu rotation.  For you organized, plan-ahead cooks, the day before or morning of I would cook the wheat berries and allow them to cool, prep the vegetables and make the dressing.  I would not, however, dress the salad until the day of otherwise the wheat berries will just soak up all the dressing.  I used wheat berries from Bob's Red Mill, but I have also seen them in the bulk section of some natural food markets.  Whatever you make this weekend, have fun and keep it real!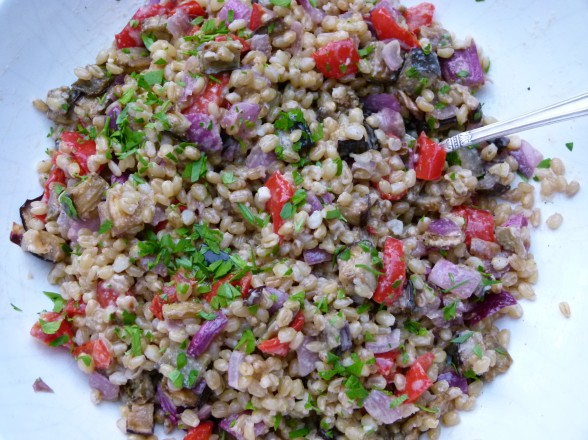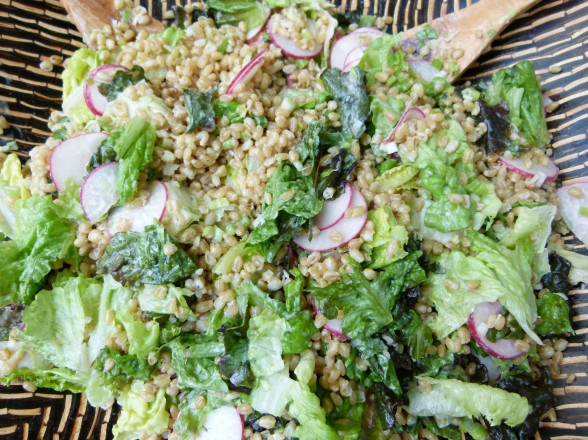 Wheat Berry Salad with Lemon-Tahini Dressing
Ingredients
1 ½ cups wheat berries -- I used soft white wheat berries (or 1 cup quinoa cooked with 1 ¾ cups water)
Dressing:
3 Tablespoons fresh lemon juice
1 garlic clove, minced or mashed to a paste
2 Tablespoons tahini
4 Tablespoons unrefined cold-pressed, extra-virgin olive oil
¾ teaspoon sea salt
dash or two of cayenne pepper ( I use ¼ teaspoon to make it a little spicy)
freshly ground black pepper to taste
Salad: (these are suggestions ~ you can also go with cucumbers, tomatoes, green beans, chickpeas, asparagus, peas)
2-3 green onions, thinly sliced
2-3 radishes, sliced thinly or julienned
2 big handfuls of tender greens (such as spinach, watercress, argula, or red leaf lettuce)
Instructions
Put the wheat berries in a medium saucepan and fill the pan with cold water (as if you were making pasta.) Add a big pinch of salt (kosher is fine.) Bring the water to a boil and reduce to a simmer. Cook wheat berries until they are tender, about 50-60 minutes. Drain and transfer to a serving bowl to cool slightly.
For the dressing: whisk all ingredients together in a medium bowl and season with salt, cayenne and black pepper to taste. Dip a piece of lettuce in the dressing to taste for seasoning.
Combine green onions, radishes and greens with the wheat berries in the serving bowl. Toss with enough dressing to coat lightly.