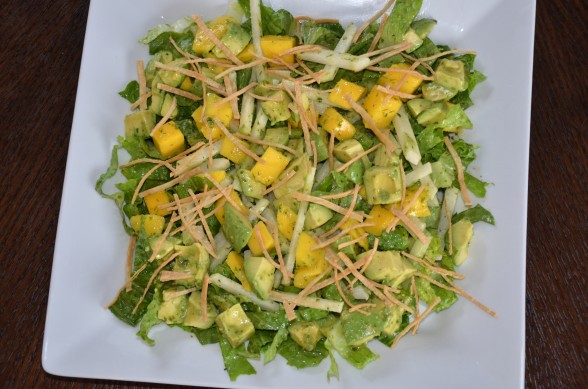 Mexico is close to Southern California, right?  They share a border for goodness sake.  Dare I say Mexico is almost local?  Well, this is convincing I do with myself during April and May.  Why? Because it's mango season in Mexico and I am MAD for mangos.  Yes, we grow mangos in Southern California, but the season is waaaaaay too short for me and the kids. So I'm basically a hypocrite for a few months to satisfy my addiction to a luscious, fleshy, sweet fruit while the other 10 months of the year I turn my nose at melons in the winter or produce from South America.  I'm downright indignant when I see Chilean plums in February.  Can't you people wait a few measly months until they're in season here??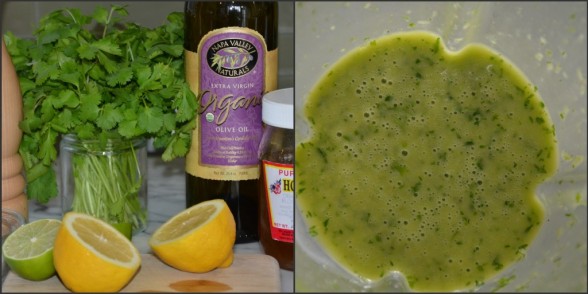 Listen, I'm no Barbara Kingsolver and in as much as I admire her quest to go truly local for a year, except for coffee, I buy plenty of goods that are outside of the 100 mile-radius from where I live.  Those foods include flours, grains and fish from Alaska.  But there are many reasons I believe in buying local produce.  In general:
local is fresher, which very often means better taste and higher nutritional value.
I like supporting local farms and local businesses.
local usually equates to eating seasonally which is a more healthful and more balanced way to stay in harmony with nature.  We are given exactly what we need to eat at just the right time of the year.  For example, melons and cucumbers are cooling foods and are very appropriate to eat during the summer months.  In contrast, pumpkin and butternut squash have a warming thermal nature and help us out in the winter.
buying local can have a lighter environmental impact versus importing produce.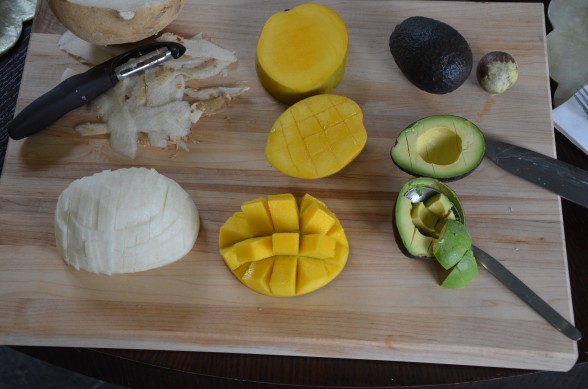 But at the moment, I am buying 10 mangos every week for snacks, mixing them with yogurt, blending them in smoothies and using them in this scrumptious salad.  You know how I feel about a good dressing and this one is a favorite.  I actually like it just as much as a dip for crudite.  There is a bit of cilantro in the dressing, but I have had many cilantro-haters come over to the other side after trying this dressing.  Choose a crisp lettuce such as a romaine or butter lettuce and feel free to come up with your own creation.  Other possibilities include tomatoes, cucumbers, cooked pinto beans, grilled shrimp or chicken, toasted pepitas (hulled pumpkin seeds).
While I'm coming clean about the mangos, did I mention the jicama is from Mexico, too?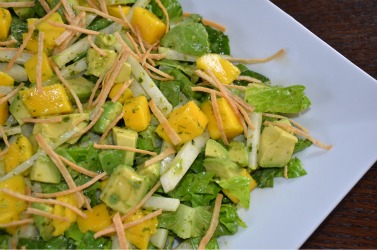 Avocado, Jicama and Mango Salad
Ingredients
Dressing:
1 ½ Tablespoons freshly squeezed lime juice
1 ½ Tablespoons freshly squeezed lemon juice
1 Tablespoon raw honey
1 teaspoon fine grain sea salt plus more to taste
Freshly ground black pepper to taste
¾ teaspoon ground cumin
¾ cup cilantro leaves and tender stems (lightly packed)
½ cup unrefined, cold pressed extra-virgin olive oil
1 head romaine lettuce, thinly sliced, about 8 cups
2 ripe avocados, peeled, pitted, cut into ½-inch cubes
½ medium jicama, julienned or cut into ½-inch cubes
1 mango, peeled, pitted and cut into ½-inch cubes
Crispy tortilla strips (optional) see below
Instructions
In a blender combine lime and lemon juices, honey, salt, pepper and cumin. Add the cilantro and blend. With the motor running, pour in the olive oil in a slow, steady stream and blend until emulsified.
Arrange the lettuce on a large platter and drizzle enough dressing to coat lightly. Place avocado in a bowl and gently toss with enough dressing to coat lightly. Arrange avocado on top of lettuce. Repeat with the jicama and mango. Sprinkle with crispy tortilla strips.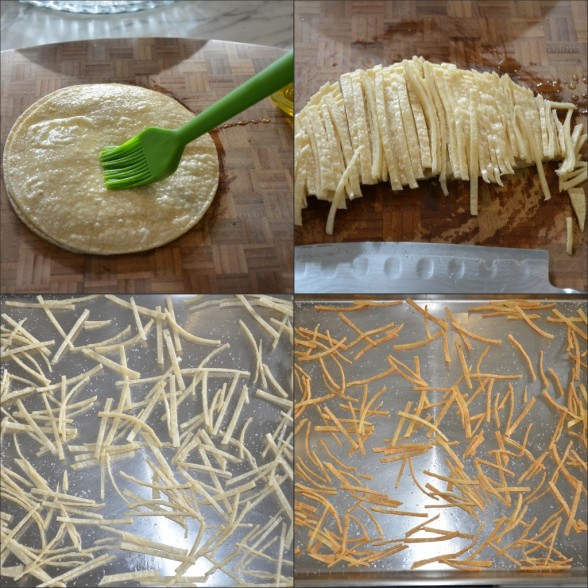 CRISPY TORTILLA STRIPS
1 Tablespoon unrefined olive oil
3 6-inch corn tortillas
Fine grain sea salt or additive-free kosher salt
Preheat oven to 350 degrees.  Brush the oil over both sides of the tortillas.  Stack the tortillas on top of each other and cut the stack in half.  Then cut the halves crosswise into 1/8-inch thick strips.
Spread the tortillas on a heavy, rimmed baking sheet (lined with parchment if desired) and arrange them evenly.  Sprinkle with salt and bake, tossing occasionally for 20 minutes or until golden brown and crisp.
Transfer to a paper towel-lined plate and cool.