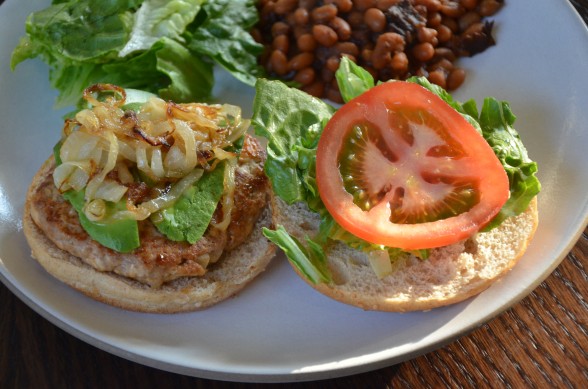 Let's play a little word association game!  When I say "turkey burger," you say …?  I think I heard "bland," "dry," "flavorless," "pointless."  You know what I say?  "No thank you!"  Until now.
I have never been a big meat-eater, even though I think there's a place for high-quality grass-fed beef in one's diet if you like it.  At barbeques, I'm usually the one looking for the non-beef burger option, but I had never met a turkey burger that I liked.  Father's Day is around the corner, and there are lots of dads who are trying to cut back on beef, so I think now's a good time to post a great turkey burger recipe.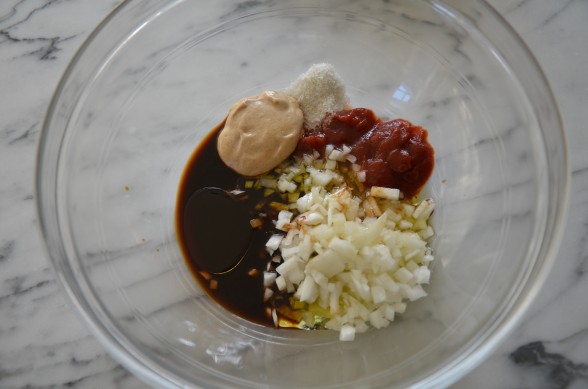 My goal is not to make a turkey burger that tastes like beef, because it won't.  But I want to make the turkey taste savory and moist and like something you would actually want to eat, as opposed to something you are settling for and all the time wishing you were actually eating a hamburger.  I also want a basic burger that everyone in my family will like, especially my hamburger-loving husband who once claimed that real men don't eat turkey burgers.  I accept the challenge!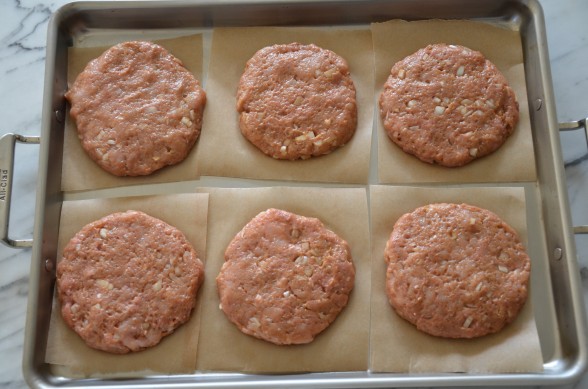 It's amazing what a few simple ingredients do to boring ground turkey.  I add a little olive oil for fat, minced onion for flavor and moisture and worcestershire for a meaty undertone.  A bit of dijon and ketchup get mixed in for an additional boost and my husband declared he would eat this turkey burger any day.  Of course, you can tailor this burger to your liking and make it a little fancy, if you want.  Add in some finely chopped sundried tomato and basil or go Tex-Mex with some red bell pepper, corn, cilantro and cayenne.  How ever you make it, I have a feeling you'll hear "Mmmmm……that's tasty!"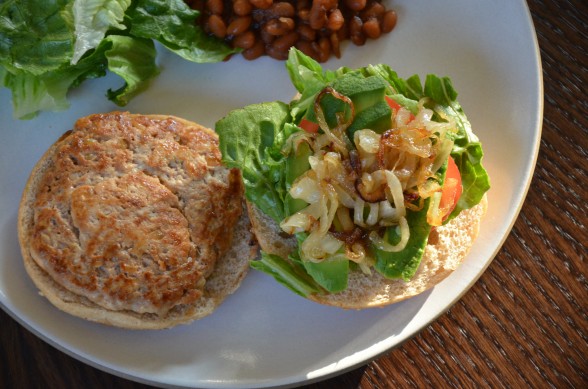 Tasty Turkey Burgers
Ingredients
1 ½ pounds ground turkey (white or dark meat)
6 Tablespoons minced raw onion (cook the rest of the onion for a delicious burger topping)
1 ½ Tablespoons Dijon mustard
1 ½ Tablespoons ketchup
1 ½ Tablespoons worcestershire sauce
1 ½ Tablespoons unrefined, cold-pressed olive oil + more for the griddle
¾ teaspoon fine grain sea salt
6 sprouted grain or whole wheat buns or lettuce leaves
Toppings: grilled onions, avocado, sprouts, tomato, lettuce, cheese, barbecue sauce
Instructions
Heat a griddle to 400 degrees or an outdoor grill to medium heat.
In medium bowl, mix the turkey with all the other ingredients. This is a very moist mixture.
Form into 6 patties, about 5-inches in diameter.*
Brush the griddle or grill with a small amount of olive oil.
Carefully transfer the patty to the griddle and cook for 4-5 minutes. Turn over and cook for another 4 minutes, or until cooked through.
Notes
*If making these in advance, place on a parchment or wax paper-lined platter to remove easily.