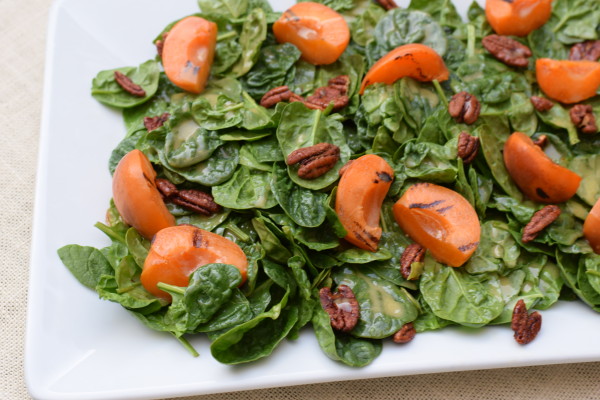 What are you up to this weekend? Lots of plans? No plans? Is it finally good weather where you are? In classic Southern California beach tradition, our unseasonably warm winter has transitioned into a slightly chilly spring. Translation: it was 70 degrees two months ago and it's 70 degrees today! Not quite bathing suit weather, but also not complaining at all, because I am not quite bathing suit-ready either if you know what I mean!  The unofficial start of summer is a double-edged sword, now isn't it? Exciting because I can start dreaming of laying on the beach with magazines and watermelon while listening to the waves crashing at my feet.  But summer also means shorts and bikinis and I need to start kicking it into high gear.  Salads to the rescue!

When I put this spinach salad on my meal plan for this week, it dawned on me I had never posted it on the blog.  I taught the recipe several years ago in my classes and I realized I never got around to photographing it.  But it was really popular with my students and with my family too, so I thought better late than never and I think it's perfect for Memorial Day weekend.  This is a very simple salad which you can make much more fancy or more substantial if you want. The basic bones of it is fresh baby spinach, stone fruit, nuts and a classic honey-mustard dressing.  You can add cooked chicken or goat cheese, radishes, shaved carrots, avocado, and/or sprouts if you want. The honey-mustard dressing is the first dressing Mr. Picky ever liked, so the recipe holds a place near and dear to my heart. Truth be told, he likes it more as a dip for raw veggies than as a salad dressing, but I'm cool with that.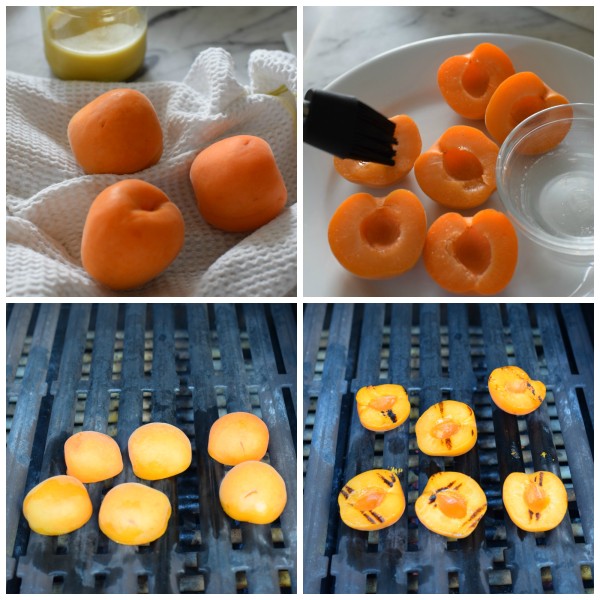 I think this salad would be great next to a burger, especially a turkey burger, or chicken with barbecue sauce. So if you're entertaining this weekend or you need to bring a dish to a potluck, I think this salad would be perfect.  I also love the idea of balancing out a burger with something much more healthful like spinach salad with a clean dressing.  Even though kale salads have been in the spotlight the last few years, I think spinach is just as nutritious. Check out this comparison of nutrients from Prevention Magazine. Spinach is incredibly rich in iron, magnesium, potassium and Vitamin K, as well as the obvious Vitamin C and fiber. Most people find raw spinach a bit more palatable than raw kale. Kale however, has the advantage at a potluck since it holds up much better already dressed than spinach.  I have two fantastic kale salad recipes on my site if you're interested:  one with a citrus dressing and one with a creamy lemon dressing.  Both favorites of mine.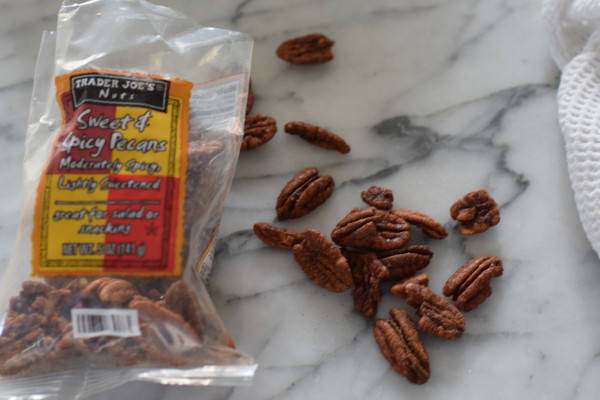 However you are spending your weekend, there is always room on your plate for something healthy!  Enjoy!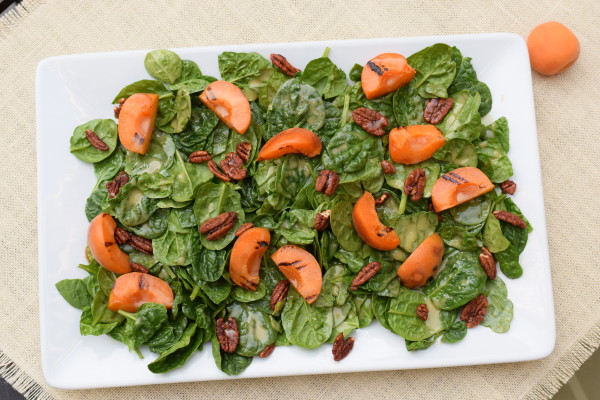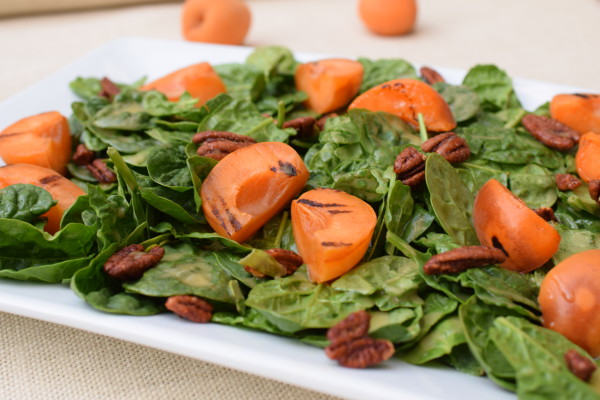 Spinach Salad with Grilled Apricots and Honey-Mustard Dressing
Ingredients
Dressing:
1 ½ Tablespoons raw mild-flavored honey
1 Tablespoon Dijon mustard
1 ½ Tablespoons raw, unpasteurized apple cider vinegar
¼ cup unrefined, cold-pressed extra virgin olive oil
pinch of salt and pepper to taste
8 oz baby spinach leaves
Suggested add-ins:
3 fresh peaches or apricots, ripe, but firm
Olive oil or melted coconut oil for brushing peaches/apricots
¼ cup nuts such as sliced almonds or toasted pecans of walnuts (I used Trader Joe's Sweet & Spicy pecans in these photos)
Instructions
To make dressing – place mustard, honey and vinegar in a mini-food processor or blender and process until combined. With the motor running, pour oil in a steady stream until emulsified. Add salt and pepper to taste. (You can also do this in a bowl with a whisk, just take care to fully incorporate the honey.)
Preheat a grill to medium. Cut peaches in half and remove pit. Cut into quarters if they're large. Brush with oil and grill until just charred, about 3-5 minutes. You can grill the other side if you like.  I like to grill apricot halves and cut in half again after they're off the grill.
Place spinach in a serving bowl or platter and toss with just enough dressing to coat lightly. Top with grilled fruit and nuts. Drizzle with any remaining dressing, if desired.