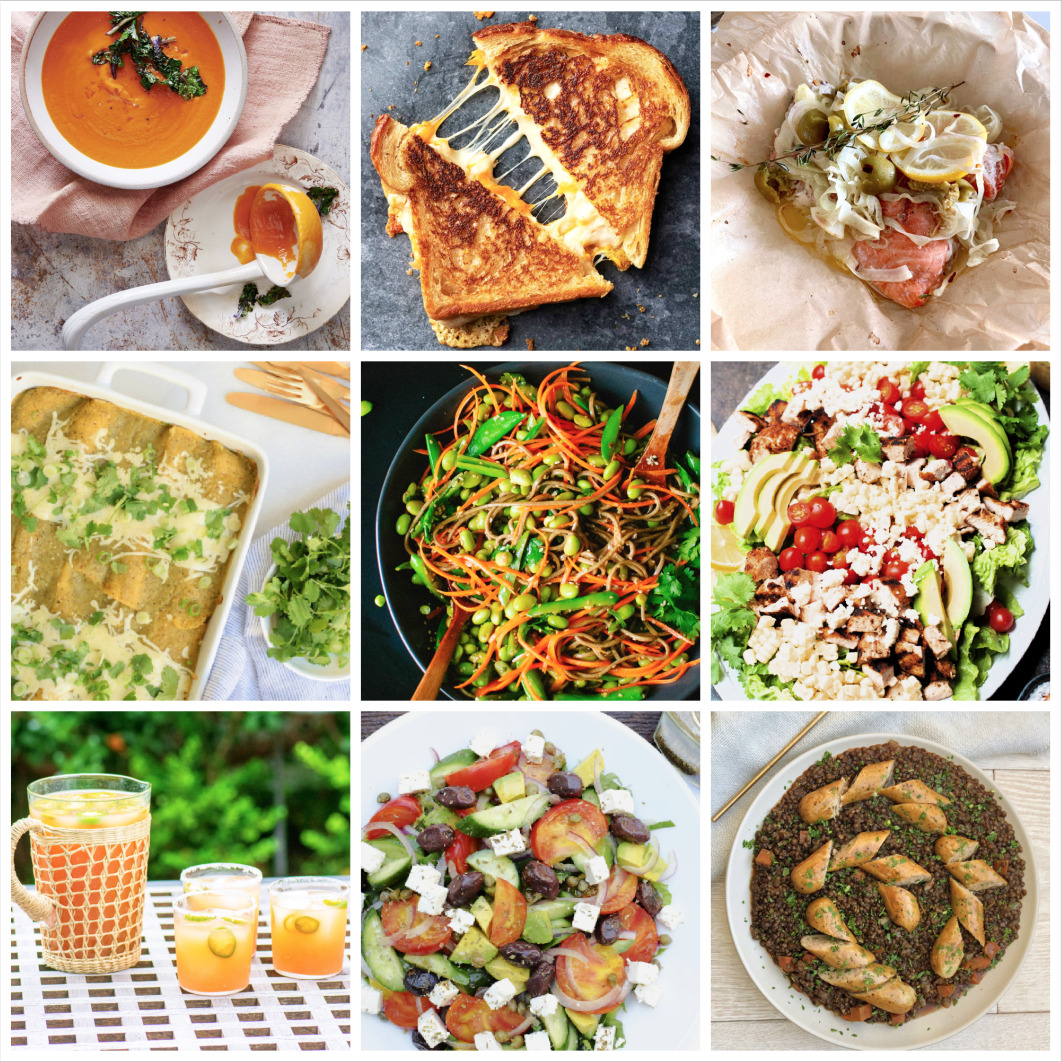 Happy weekend!!! Hubs and I are visiting Anna in Chicago for a few days. My third kid visit this month! A few LA events I'd like to put on your radar: May 4th 11:00 am I am teaching a cooking class at Elizabeth Lamont in Pacific Palisades with a coastal Italian menu! Click here for tickets.
I will be co-hosting a book event with my friend Catherine McCord for the launch of her new book, Meal Prep Magic at Zibby's Bookstore in Santa Monica on May 15th at 6:00 pm. Lastly, I will host a conversation with author Cole Kazdin on Thursday May 18 at 6:30 pm about her book What's Eating Us at Pages Bookstore in Manhattan Beach! Here's your dinner planner for the week:
Meatless Monday: Creamy tomato soup from QTQ, grilled cheese or avocado toast
Tuesday: Fish in parchment with fennel, citrus and olives, rice pilaf
Wednesday: Roasted Vegetable and Black Bean Enchiladas Verdes and a green salad
Thursday: sugar snap pea and carrot soba noodles from Cookie + Kate
Friday is Cinco de Mayo: Here are just a few fun and delicious ideas for a cinco do mayo dinner:
Tacos: Chipotle cauliflower tacos, Slow-cooker barbacoa-style beef tacos, slow-cooker chicken tacos, ground turkey tacos (use tempeh for vegetarian), grilled fish tacos, sweet potato and black bean tacos, Asada mushroom tacos
Salads: Mexican cobb salad, Jicama slaw, Creamy cabbage slaw, Mexican chopped salad, cilantro-lime slaw, fiesta salad with salsa vinaigrette, avocado, jicama, and mango salad, deconstructed guacamole salad, Market salad with chipotle vinaigrette
Enchiladas: Mexican lasagne, Chicken enchilada rojas (swap roasted veggies and beans for the chicken to make vegetarian), roasted vegetable enchiladas verdes (swap the veggies and beans for already cooked, shredded chicken if you want this with animal protein)
Beans: Mexican black beans, drunken pinto beans
Rice: Restaurant-style Mexican rice, cilantro-lime cauliflower-rice, green rice (arroz verde)
Veggie Sides: Chipotle brussels sprouts, Mexican sautéed greens, grilled Mexican corn, chipotle sweet potato fries, homemade guacamole
Soup: Tortilla soup, Caldo Tlalpeno Soup
Cocktail: Spicy Tequila Cocktail
Some ideas from Kitchen Matters: migas (for breakfast!), pineapple agua fresca, Mexican vegetable soup with rice and beans, burrito grain bowl, Mexican chopped salad with spicy cilantro dressing, chipotle shrimp tacos with pineapple slaw, Portobello and poblano tacos with charred corn, Mexican millet casserole
And from Quicker Than Quick: Mexican Chopped Salad with Creamy Chipotle Dressing, Pinto Bean Tostadas, Instant Pot Chicken Tinga, Chipotle Tofu Tacos, Taco Salad, Chickpea Tacos, Mexi-Veggie Rice Stuffed Peppers, Salsa Rice
Saturday brunch: if you have Cinco de Mayo leftovers, chop them up and cover them with chicken or veggie stock and make a Mexican soup! OR I love this- spread hummus on the bottom of a platter or shallow bowl. Top with California Greek salad. The dressing mixes with the hummus and gets creamy and crazy good. You will freak out.
Sunday: smoky braised lentils with (or without) turkey sausage, sauteed greens or cabbage
Here's what you can do in advance if it helps you:
Sunday:
Make green enchilada sauce
Wash greens
Cook beans if making from scratch
Monday:
Make salad dressing
Thinly slice fennel and shallot for fish packets
Tuesday:
Roast vegetables for enchiladas
Thursday:
Make hummus if making from scratch
I have LOVED seeing all your creations of my recipes on Instagram. If you make any of my recipes, please tag me @pamelasalzman #pamelasalzman so I can check them out! I have a free Monday newsletter with my thoughts, new recipes, and things I'm loving lately. Subscribe here!
Order my cookbook, Quicker Than Quick! If you have 1 minute, would you mind leaving a review on amazon? I would be so grateful, thank you! Take a peek at my first cookbook "Kitchen Matters"!