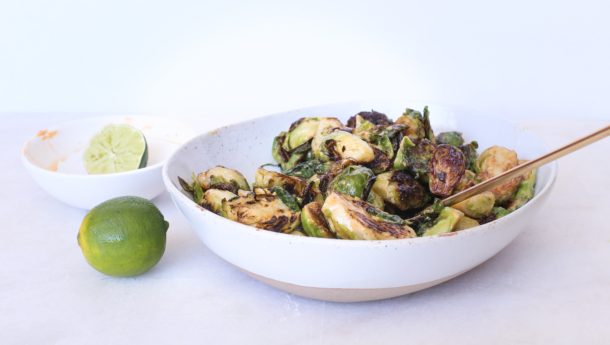 I know many of you have been anxiously anticipating this recipe after seeing it on Instagram.  Brussels sprouts have been the "it" vegetable in the last decade.  I am probably like most of you who grew up eating frozen Brussels sprouts that were then boiled and basically were the most awful thing my mother put in front of us.  I hated Brussels sprouts for years and years until I don't know who (probably Ina Garten) discovered that we could roast Brussels sprouts and then they would be insanely addictive.  No one even mentioned the fact that Brussels sprouts are also insanely good for you!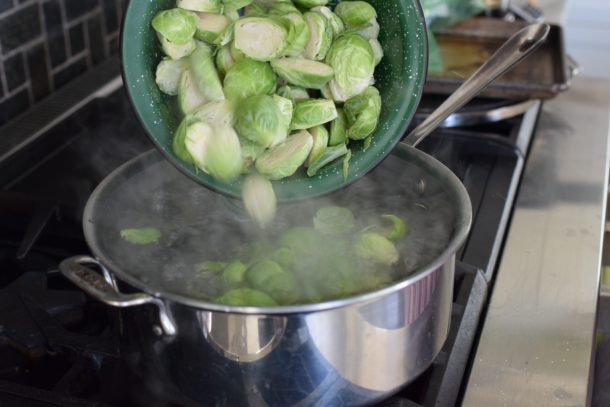 But what first started off as Brussels sprouts roasted in the oven turned to restaurants deep frying Brussels sprouts to achieve that perfect soft interior and crispy exterior. Oooh, delicious but not quite as healthy.  I figured out quite by accident a way to get Brussels sprouts tender in the core and crispy on the outside.  I arrived at a house to teach one morning and the power was out in the entire neighborhood.  No electricity meant no oven and no appliances and no roasted Brussels sprouts for a Brussels sprout slider recipe I was teaching.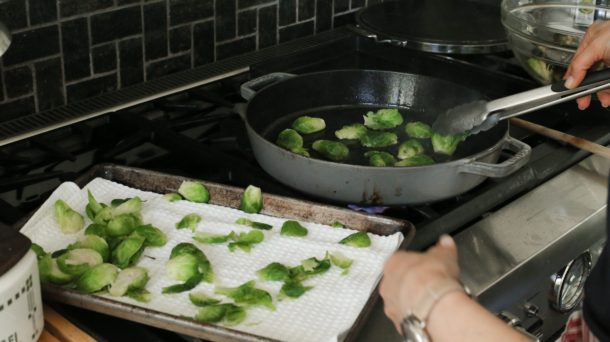 I decided to blanche the sprouts first and then sear them in a cast iron skillet (we had a gas stove to work with fortunately) so I could get some caramelized edges and guess what?  BEST BRUSSELS SPROUTS EVER!  My life changed on that day.  Well, maybe not my entire life, but for sure future Thanksgivings changed.  I had never been able to fit roasted Brussels sprouts on my Thanksgiving menu because I never had the oven space.  Now, I could achieve perfect Brussels sprouts with a couple of burners.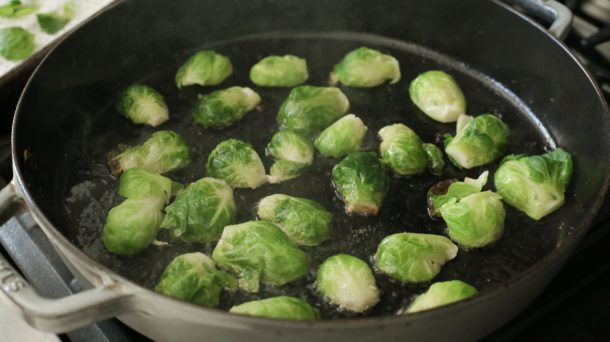 I taught this method for stovetop Brussels sprouts in my Thanksgiving classes the following November and included the recipe in my cookbook.  The recipe was so well-received that I wanted to do what I always encourage my students to do – take a recipe that you love and tweak the flavors.  So I added one of my favorite flavors to basic Brussels sprouts…chipotle!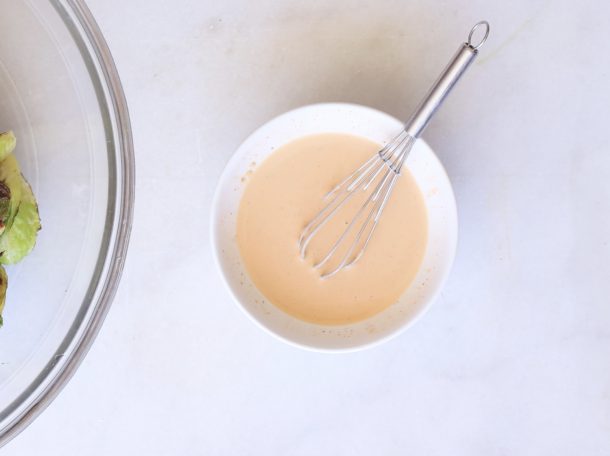 I may have downgraded the healthfulness of the original recipe with the addition of chipotle mayonnaise, but 3 Tablespoons divided by 6 is 1/2 Tablespoon of mayo per person.  I'm not stressing about it.  These are so, so delicious, a little spicy and little tangy.  You don't have to eat them with a Mexican-inspired meal.  They would be delicious with basic roasted chicken or spice-rubbed salmon or garlic-herb shrimp from the book or a grain bowl.  OMG, they would be heaven over quinoa with some pickled onions and avocado.  OMG.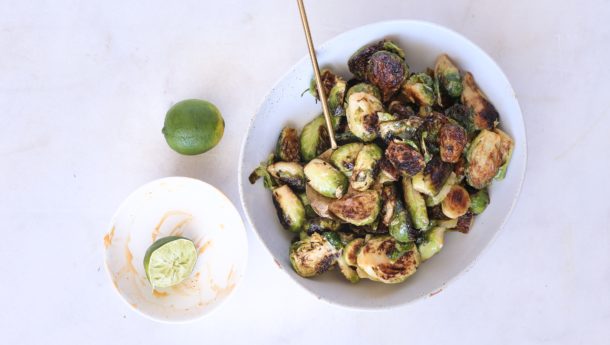 If you can't find a good chipotle mayonnaise at your market, just take some chipotle powder and add it to plain mayo and taste it to make sure you like the flavor. My favorite one is Sir Kensington's chipotle Fabanaise (this is not an ad) which uses aqufaba (chickpea liquid) for the egg, so it's vegan.  You can also try chipotle Vegenaise and Primal Kitchen chipotle mayo (needs a little extra chipotle in my opinion.)  The recipe says it yields 6 servings.  Not so sure about that if I'm really hungry.  The good news is that Brussels sprout season has just started, so there is plenty of time to make this recipe over and over and over again!

Chipotle Brussels Sprouts Recipe
Ingredients
1 ½ pounds medium Brussels sprouts, ends trimmed and halved
Kosher salt
2 Tablespoons avocado oil or unrefined, cold-pressed extra-virgin olive oil, plus more as needed
Sea salt and freshly ground black pepper to taste
3 Tablespoons Sir Kensington's chipotle Fabanaise (or other high-quality chipotle mayonnaise)
juice ½ lime
Instructions
Bring a large saucepan of water to a boil. Add a heaping Tablespoon of kosher salt and the halved Brussels sprouts. Set your timer for 6 minutes (4 minutes for small sprouts, 7 minutes for large).
In the meantime, prepare a kitchen towel on a large rimmed baking sheet. After the sprouts have been in the water for 6 minutes, either drain them in a colander or remove them from the water with a slotted spoon. Transfer them to the towel to drain very well.
Go put on an apron if you are not wearing one, so any splattering doesn't mess up your outfit. Heat a large, heavy-bottomed skillet over medium heat (cast iron is the way to go here.) If you do not have a large skillet, divide the oil evenly amongst 2 medium skillets, or sear the sprouts in 2 batches, adding oil between batches as needed.
When the oil is warm but not smoking, add sprouts in one layer. You want a thin layer of oil. Too much oil and they won't get crispy. Sprinkle generously with sea salt and freshly ground black pepper to taste.
Allow the sprouts to brown without burning and then turn to brown on the other side. Cook until crispy on both sides.
Transfer to serving bowl or platter and toss with Fabanaise, lime, and season with salt and pepper.