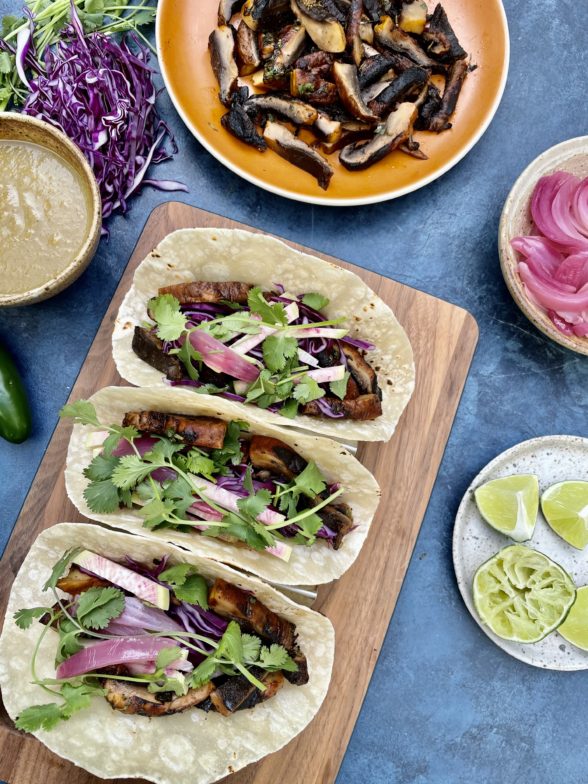 First things first – I have re-launched 2 of my BEST 4-week bootcamps and they start next week!!! Entertaining with Ease has changed the way people approach entertaining, made having friends over enjoyable and stress-free, and is truly a fun course to participate in!  I am offering my online community a discount of $100 with the code EWE100.  Sign up here and get ready for a great time! Plant-Based 2.0 might be my favorite bootcamp ever!  It is the sequel to my original plant-based bootcamp and perfect for anyone with more than just beginner knowledge of plant-based cooking and nutrition.  The feedback from this course was over-the-top amazing, so I guarantee you will love it!  Use the code YESPB2 for $100 off the course and you can sign up here.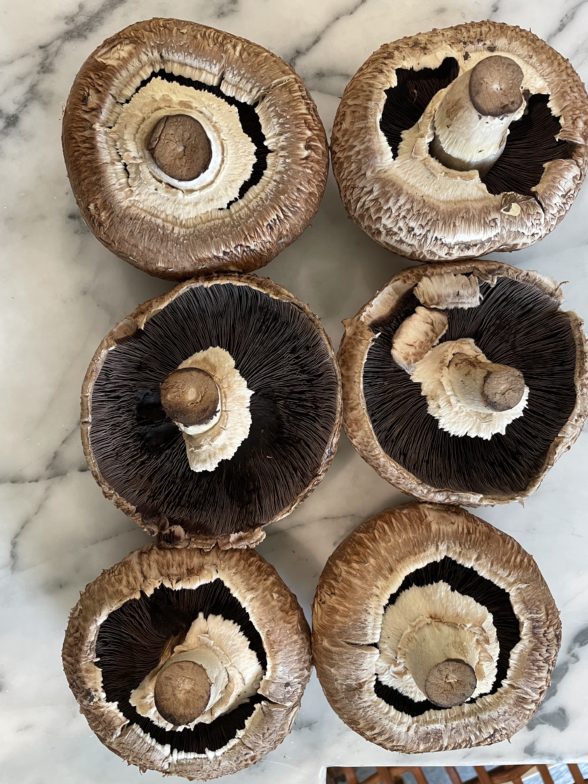 Since my husband went mostly plant-based a few years ago, we've all been eating fewer animal products and feel so positive about it.  My 17-year old son is the biggest surprise to us and has really embraced the plant-based diet more than we ever expected.  I think the key has been that we never forced our children to forgo meat, dairy, eggs or other animal products. And we also have not gone 100% vegan.  Some days are 80% plants, some days are really close to 100%.  But we're not putting pressure on ourselves or competing with anyone.  In fact, we really don't overthink it.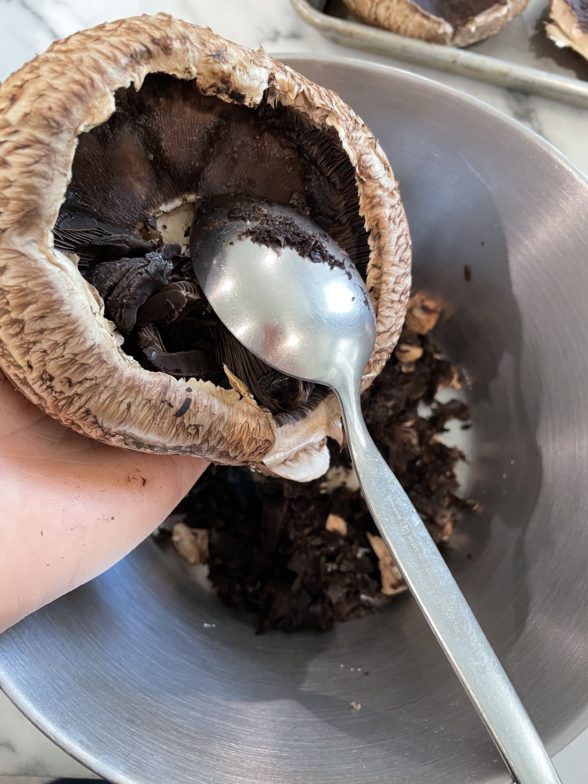 One of the easiest meals for me to make plant-based is tacos or any kind of Tex-Mex meal.  We absolutely love beans in any way, shape or form and I have had success adding taco seasoning to any number of vegetables.  Plus, I firmly believe you can put almost anything in a tortilla, top it with salsa and guacamole and call it a taco.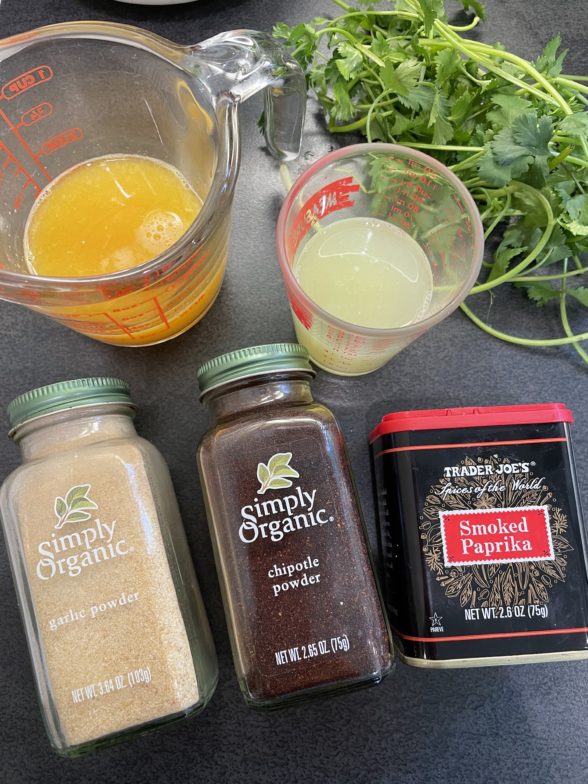 These carne asada-marinated portobello mushrooms are one of our favorite ways to enjoy a plant-based taco night.  Portobellos are meaty, juicy, and savory and lend themselves perfectly to marinades and grilling.  Treated like actual carne asada, these mushrooms will leave you satisfied and not missing the meat.  Aren't tacos all about the condiments anyway??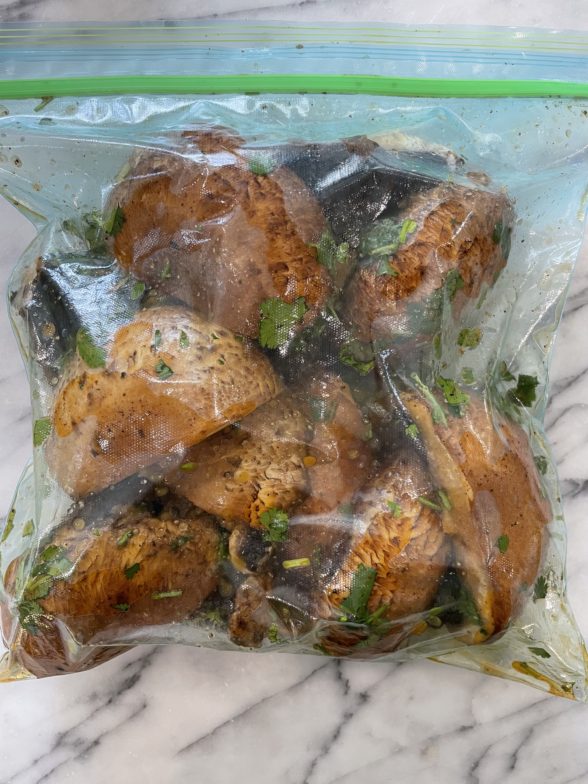 Cinco de Mayo is next week and I enthusiastically recommend that you give these a go.  If you're not ready to serve a meal without animal protein, perhaps serve these MIXED with regular carne asada so you're just eating less meat.  Just a thought.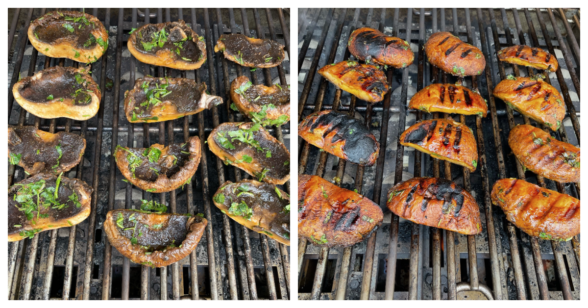 If you don't have an outdoor grill or a grill pan, try searing these on a hot griddle or cast iron skillet.  You just want a little color and you want them to soften up it bit.  It doesn't take much.  You could probably also broil them on a broiler pan (the kind with the slats so moisture drips into the bottom pan) for a few minutes on each side.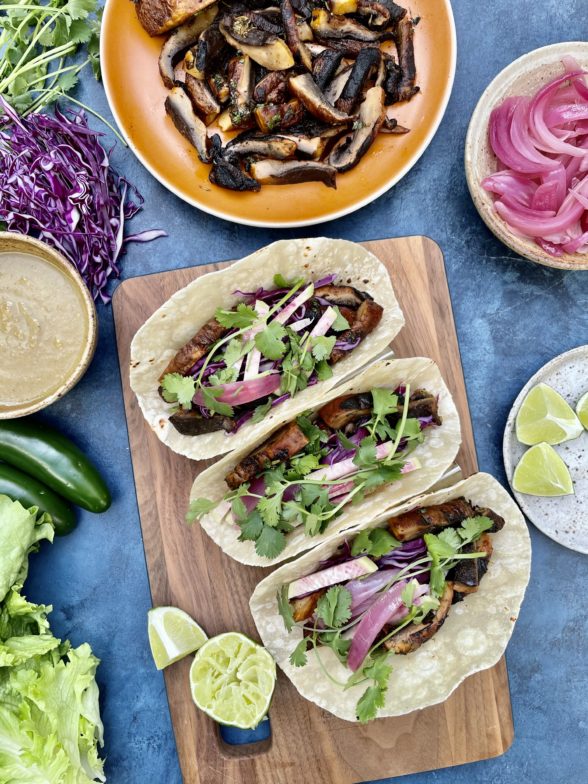 These asada mushrooms are also great for meal prep since they reheat super well and last for several days in the fridge.  I gave you some suggestions for toppings, but there are no rules.  Since they don't contain a ton of protein (mushrooms do contain a couple of grams), I would serve them with a side of beans!  Don't forget to take advantage of the discount codes for my latest bootcamps.  And I look forward to seeing you in class next week!!
You can shop the tools I used for this recipe by clicking on the images below:

Asada Mushroom Tacos
Author:
Pamela, inspired by Half Baked Harvest
Ingredients
6 portobello mushroom caps, wiped clean with a damp paper towel, gills removed and halved
¼ cup unrefined cold-pressed extra-virgin olive oil or avocado oil
⅓ cup fresh orange juice
¼ cup fresh lime juice
1 teaspoon garlic powder
1 teaspoon chipotle paste or ½ teaspoon chipotle powder
½ teaspoon smoked paprika
½ cup fresh cilantro, roughly chopped
big pinch of kosher salt
Serving suggestions: over a grain bowl, with warmed corn or flour tortillas or cabbage or lettuce leaves, with avocado or guacamole, salsa or diced tomatoes, pickled onions, diced onion or sliced green onions
Instructions
I don't normally use single-use resealable plastic bags, but they work best for marinating the mushrooms. Place the olive oil, orange juice, lime juice, garlic powder, chipotle paste, smoked paprika, cilantro, and a large pinch of salt in a resealable bag and mix around a bit. Add the mushrooms and toss around to coat. Seal the bag and marinate 10-30 minutes at room temp or in the refrigerator up to overnight.
Preheat your grill or grill pan to high. Remove the mushrooms from the marinade and sear for 5 minutes until you get nice char marks. Turn over and sear another 5 minutes or until lightly charred on the other side. Cut into strips and serve as you would carne asada!