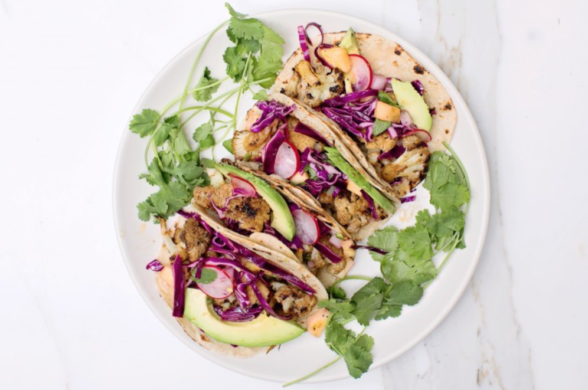 I am very likely doing a taco bar for Super Bowl Sunday because it's easy and everyone loves tacos.  Plus, I always put out lots of options for everyone who is gluten-free, dairy-free, Whole30, paleo, vegan, vegetarian, cleansing, or just suffering from PMS.  A taco bar is a way to not only cover all your bases but also to get everyone to make their own food so you can sit back with a cocktail and watch all the commercials.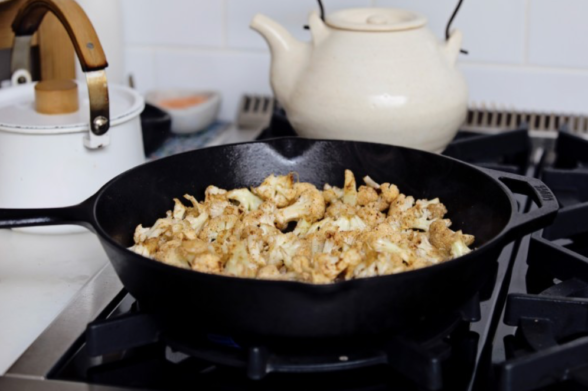 The beef barbacoa and chicken taco recipes are no-brainers.  Both are slow cooker recipes, so I'll make the beef on Saturday and reheat it and the chicken on Sunday morning.  All the toppings will be prepped on Saturday.  But, we cannot forget about Hubs, can we?  No we cannot.  Hubs is still vegan, going on almost 16 weeks I think. But he's not an easy-going vegan.  I call him the Diva Vegan.  Or should that be the Vegan Diva?  Not important.  He's not one of those, "Oh, don't worry about me.  I'll find something to eat."  Oh no.  It's more like, (said with a deep, and concerned tone) "Well, what am I going to eat?"  "I don't see anything for me here."  Here you go, love.  We will have Chipotle Cauliflower Tacos on Super Bowl Sunday.  Spicy, smoky, crispy and delicious.  And vegan.  Between you and me, I am obsessed with these cauliflower bites and I am dying to eat them on Sunday!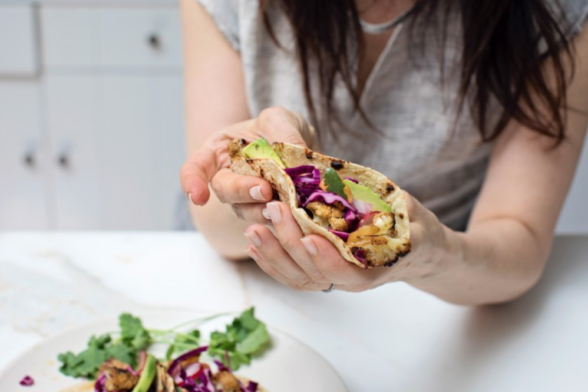 This recipe is adapted from the Chipotle Shrimp Taco recipe in my cookbook ($15 on amazon!) and I think it would make a great appetizer/snacky food as well as part of a taco bar.  There are two different cooking methods based on your preference.  The oven method is a little easier and hands-off, but takes a few a minutes longer.  But if your oven is occupied, you can use the stove-top method.  If you need other ideas for game day food, check out this week's dinner planner which lists lots of options!

Chipotle Cauliflower Tacos Recipe
Ingredients
1 large head of cauliflower, cut into bite-sized florets, about 2 ¼ -2 ½ pounds or 8 cups florets (large florets can be quartered)
Kosher salt
2 Tablespoons unrefined, cold-pressed extra-virgin olive oil or unrefined coconut oil, melted
¾ teaspoon sea salt + extra for sprinkling
½ teaspoon chipotle chili powder (or less to make it less spicy)*
½ teaspoon garlic powder
½ teaspoon maple sugar, natural cane sugar, or brown sugar
¼ teaspoon paprika
¼ teaspoon ground cumin
¼ teaspoon chili powder
freshly ground black pepper to taste
Accompaniments: 8 warm corn tortillas (or large lettuce leaves), shredded cabbage, shredded Monterey Jack cheese, guacamole or sliced avocado, pickled onions or jalapenos
Instructions
Preheat the oven to 450 degrees. Line a large baking sheet with unbleached parchment paper. In a large bowl, combine the spices, sugar, salt and pepper, and oil. Add cauliflower florets and toss to coat.
Spread onto the prepared baking sheet and bake for 25-35 minutes, until tender, golden and caramelized, flipping the florets halfway through if desired. Sprinkle with an extra pinch of salt.
Serve in tortillas or lettuce leaves with desired accompaniments.
Notes
*Or substitute smoked paprika to get the smokiness without the heat
Notes: Or blanche the florets in boiling salted water for 3-4 minutes, drain, pat dry, toss in oil and spices and sauté in a skillet until caramelized.