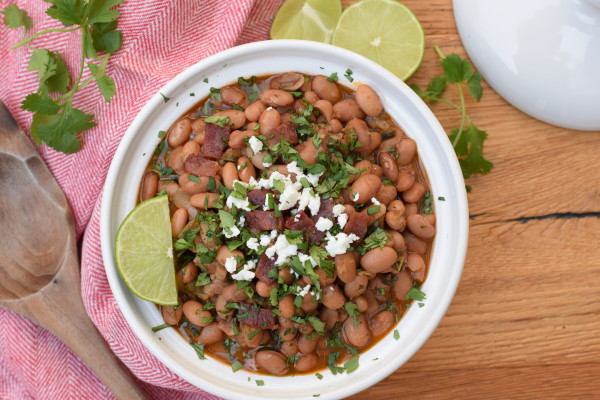 One of my favorite food blogger friends, Phoebe Lapine, of the fantastic blog Feed Me Phoebe, had a genius idea.  She recently moved and came to the conclusion that she is a pantry hoarder.  Um, guilty over here, too!  Phoebe then suggested to some other food blogger friends/pantry hoarders that we gather together for a virtual "Pantry Purge."  I love this idea.  Nothing says a fresh start like cleaning out your pantry.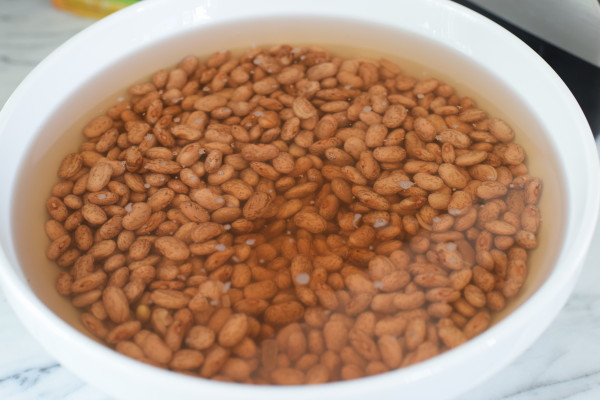 I especially love a good purge at the beginning of spring, nature's new year.  Out with the old, in with the new.  One day last year I was making a grocery list for the meals I wanted to cook for the coming week and I took a look at my bulging pantry and refrigerator and thought, no way.  We had plenty of food and there was no need to buy anything.  I vowed to use up what I had no matter how weird the combos or what were in the "mood" for that week.  It was a challenge, but there was only one dinner that was kind of a fail (I thought I was making potstickers to go with a stir-fry and they were pierogis), but since then I have been a little more conscientious about using what I've got.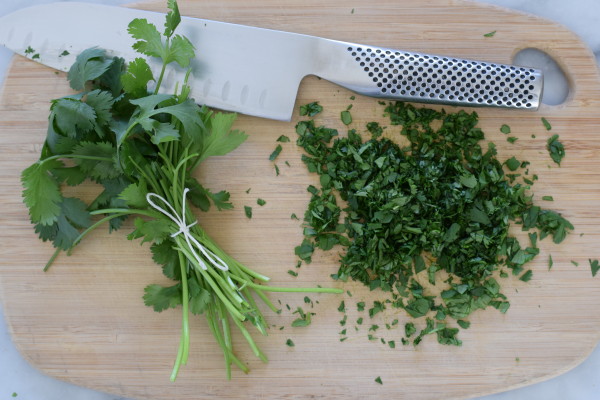 Our mission for Phoebe's virtual pantry purge was to post a recipe that includes one or more pantry staples, e.g. grains, legumes, random flours, spices, nuts, seeds, dried fruit, etc.  After spying a bag of dried pinto beans, too much tomato paste that I over-ordered for a class a few months ago and a bottle of tequila which I will never drink, coupled with the fact that Cinco de Mayo is about a month away, I knew a recipe for Drunken Beans, aka Frijoles Borrachos, would be happening on my blog.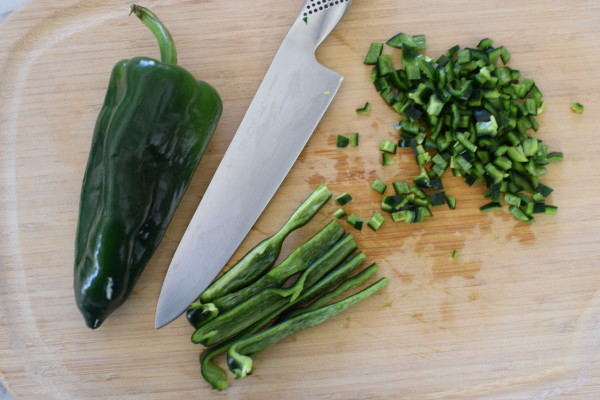 Mexican food was not part of my life until I moved to California.  I'm not sure where all the avocados were hiding in the 80's on the East Coast, but none ever crossed my plate.  In Los Angeles, there is no shortage of fantastic Mexican and Tex-Mex cuisine.  I naturally favor the lighter dishes like fajitas, rice and beans, fresh salsas and pico de gallo, and anything that has an avocado on it.  Someone in my class asked me the other day, "How much avocado should I limit myself to per day?"  Not a question that ever crossed my mind.  I'm still thinking if there's an answer.  I digress.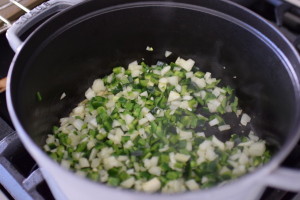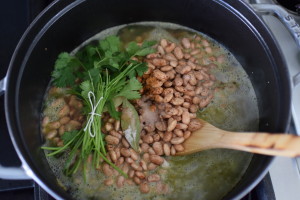 These are my favorite beans I have ever made.  They are drunken because of the tequila and the beer, and so much more flavorful than standard refried beans.  I personally don't find these to be very spicy, but if you want no heat at all, just omit the pinch of cayenne.  Do not worry about serving these to children.  All the alcohol gets cooked off.  No one will end up drunk eating drunken beans, sorry to say!  Drunken beans are typically a little brothy and served more in Northern Mexico and especially with meats, like carne asada for example.  I love a simple rice and beans meal myself, but I served these drunken beans recently with a South American roast chicken and the flavors together were fantastic.  That said, beans have plenty of protein that you don't need an animal protein at the same meal.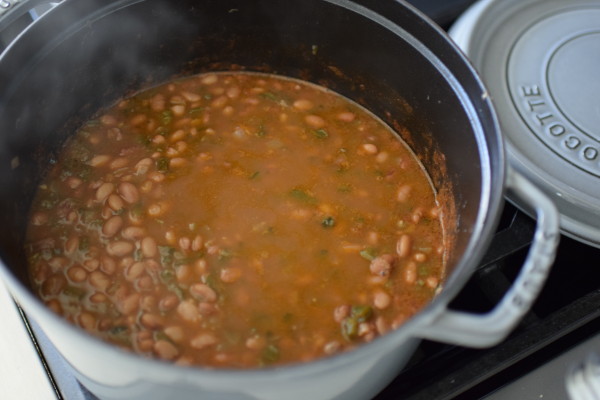 Pinto beans, as well as black, kidney, red and Adzuki beans are all incredibly high in antioxidants, and contain even more than cultivated blueberries which everyone thinks is top of the list.  Antioxidants stop free radicals from damaging other cells in your body.  So it is important to know which foods have the most antioxidants because in today's toxic world, our bodies need all the help they can get to fight damage-causing free radicals.  Beans are also low in fat, high in fiber and very inexpensive.  A pound of dried beans can be as little as $1.50.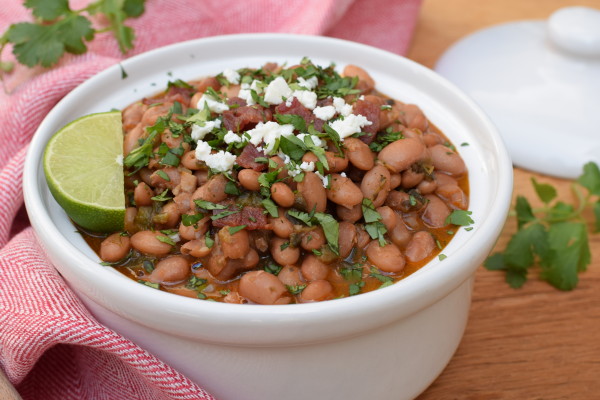 If you are inclined to purge your pantry (it's fun and liberating — do it!!), here are some great recipes from some very talented bloggers which can help you use up what you've got:
Feast + West | Honey Chipotle Roasted Chickpeas
Clean Food Dirty City | Lentil Rice Bowl with Shaved Cauliflower Salad
Crepes of Wrath | Garlic Noodles
Appeasing a Food Geek | Wine Wednesday + a Kale and Tomato Galette
Feed Me Phoebe | Maple Pecan Gluten-Free Banana Bread
Domesticate ME! | Chicken and Wheat Berry Salad with Shaved Brussels Sprouts and Arugula
Arthur Street Kitchen | Kale Kimchi
Pamela Salzman | Drunken Beans
The Mom 100 | Banana Bread with Chocolate and Crystallized Ginger
Snixy Kitchen | Kale Salad with Toasted Nuts, Seeds, & Buckwheat
The Speckled Palate | Curried Veggie Rice Bowls
Loves Food, Loves to Eat | Warm Lentil Salad with Butter-Crumbed Eggs
The Naptime Chef | Basil Polenta with Pine Nuts and Feta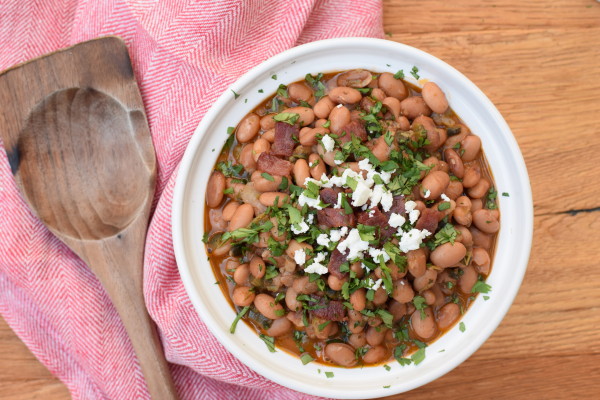 Drunken Beans
Serves:
6-10, depending on what else you are serving
Ingredients
1 pound (2 ½ cups) dried pinto beans, picked over and rinsed
1 bunch fresh cilantro, about 30 sprigs
4 slices nitrate-free bacon, cut into ¼" pieces (optional -- I used Wellshire Farms organic turkey bacon)
1 onion, finely chopped
2 poblano chilies, stemmed, seeded and finely chopped
3 garlic cloves, minced
½ cup tequila ( a decent gold or silver tequila is fine here; don't waste your money on an aged tequila)
2 bay leaves
pinch cayenne (omit or add two pinches, depending on the level of heat you like)
big pinch ground allspice
2 teaspoons sea salt, plus more to taste
1 Tablespoon pure maple syrup (Grade A or Grade B)
1 cup Mexican lager or beer of choice (beer is not gluten-free unless you find a GF beer; feel free to omit if necessary)
¼ cup tomato paste (I like Jovial organic paste in glass jars)
2 limes, quartered
2 ounces Cojita or feta cheese, crumbled, about ½ cup (optional)
Instructions
Soak beans with lots of cold water at room temperature for at least 8 hours or up to 24 hours. Drain and rinse well.
Adjust oven rack to lower-middle position and heat oven to 275 degrees. Pick leaves from 20 cilantro sprigs (reserve stems), finely chop and refrigerate until needed. Using kitchen twine, tie remaining 10 cilantro sprigs and reserved stems into bundle.
Cook bacon in Dutch oven over medium heat, stirring occasionally, until crisp, 5 to 8 minutes. Using slotted spoon, transfer bacon to paper-towel lined bowl and set aside. If pan looks dry, add some olive oil. Add onion, poblanos, and garlic to pot and cook, stirring frequently, until vegetables are softened, 6 to 7 minutes.
Carefully add tequila and cook until evaporated, 3 to 4 minutes.
Increase heat to high; stir in beans, 3 ½ cups water, bay leaves, cayenne, allspice, 2 teaspoons salt, maple syrup, and cilantro bundle and bring to a boil. Cover, transfer to oven, and cook until beans are just soft, 45 to 60 minutes.
Transfer pot to the stove and uncover. Discard bay leaves and cilantro bundle. Stir in beer and
tomato paste and bring to a simmer over medium-low heat. Simmer vigorously, stirring frequently, until liquid is thick and beans are fully tender, about 30 minutes. Season with salt to taste. Serve with reserved chopped cilantro, lime wedges, Cojita, and reserved bacon on the side.