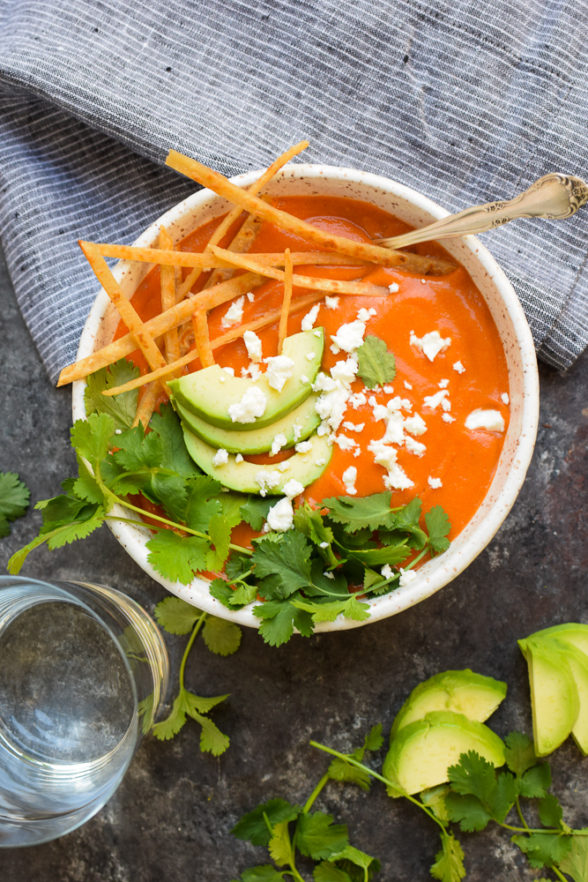 How do I know it's soup season in my neck of the woods?  Well, we had our annual freaky October heat wave last week and then the temperature plummeted about 20 degrees.  Now every morning we wake up to fog and a chill in the air that doesn't go away.  Are you under the misconception as I was that living by the beach is all sunshine all the time?  Ha!  I keep telling my husband I want my money back.  It's chilly here!  But no matter, I'm pulling out the sweaters and the stock pot and I am making SOUP!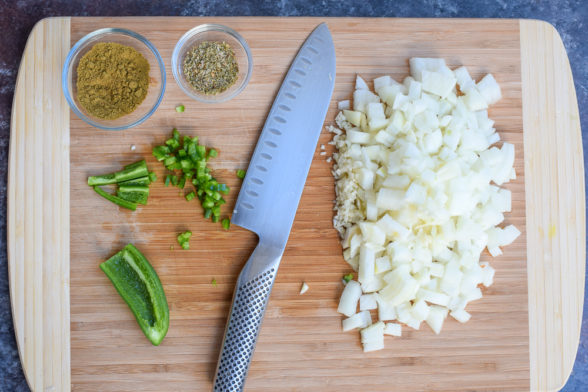 From now until late April, my kitchen turns into a stock-making factory every Saturday.  I make gallons of it every week for my classes and us.  I'll be honest though, the hubby is sooooo over it.  You should see his eyes roll every time I ask him to help me strain the stock.  Inevitably a chicken foot flops out and completely freaks him out.  But he puts up with it because his favorite food group is soup and he knows homemade chicken stock is magic stuff.  If you are getting more and more comfortable in the kitchen, it's time to step it up and start making stock from scratch.  You will not believe the difference in taste.  Plus it's a gajillion times better for you than boxed.  Check out my post here on home made chicken stock.  For all you veggies out there, here's the link to learn how to make vegetable stock from scratch.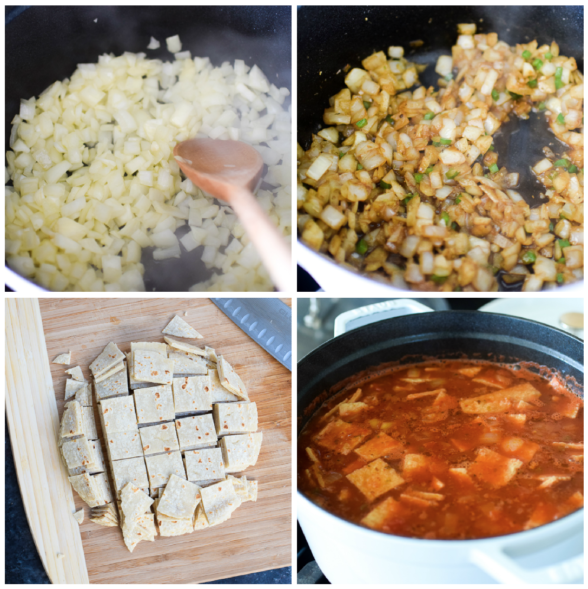 Enough about that.  Let's talk about the soup I actually made, Tortilla Soup.  Y-um!  This is a very different version of the tortilla soup you might be used it.  It's not thin and brothy, but thick and hearty and it takes about 15 minutes to make, provided you already have stock made.  If I had to make up another name for this, I would call it "Mexican Tomato Soup"  or "Pappa al Pomodoro goes to Mexico."  Cumin, which is one of my most favorite spices, adds the distinctive earthy flavor that you would recognize from chili or taco seasoning.  But what is so unusual about this soup is that the corn tortillas are pureed with the tomatoes and broth, as opposed to adding fried tortilla chips on top.  The softened corn tortillas add great flavor and thicken the soup at the same time.  (It's a great use of stale tortillas.)  I wish I had thought of this bit of genius, but I didn't.  I tweaked a recipe I found in The Real Food Daily Cookbook, based on the vegan LA restaurant by the same name.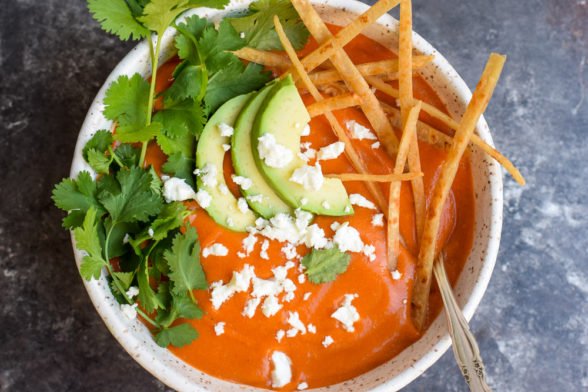 I love adding cubed avocado and chopped fresh cilantro on top, but I let everyone do their thing.  There's always enough leftover for the next day's thermoses to which I also like to add  a little cooked chicken.   (I'm big on protein at lunchtime so the kids don't fall asleep in class.)  Fresh tomatoes are on their way out, so if you can use them go for it.  The other night I used Bionaturae organic crushed tomatoes and tomato paste in a glass jar (not a fan of canned tomatoes.)  I made this soup last year on Halloween, which is around the corner.  I always make sure everyone has eaten a proper meal before going out to trick or treat.  Full bellies can't fit quite as much candy as empty ones.
Here are some of my other favorite soups to warm you up this season:
Cauliflower with Roasted Garlic
Tortilla Soup
Author:
Pamela, adapted from The Real Food Daily Cookbook
Ingredients
2 Tablespoons unrefined, cold pressed, extra virgin olive oil or coconut oil
2 onions, chopped
3 cloves garlic, finely chopped
1 fresh jalapeno chile, ribs and seeds removed and finely chopped*
2 teaspoons ground cumin
1 teaspoon dried oregano
2 teaspoons sea salt
½ teaspoon freshly ground black pepper
2 Tablespoons shoyu (naturally brewed soy sauce) or tamari
6 cups chicken stock, vegetable stock or water
2 pounds fresh tomatoes, coarsely chopped or 1 27-ounce box of crushed tomatoes or equivalent in a jar or can
⅓ cup tomato paste
8 6-inch corn tortillas, coarsely chopped
Chopped fresh cilantro and cubed avocado garnish, if desired
Instructions
Heat the oil in a heavy stockpot over medium heat. Add the onions and garlic and sauté for 5 minutes or until tender and translucent. Add the jalapeno, cumin, oregano, salt, pepper and shoyu, and sauté 1 minute longer.
Stir in the stock, tomatoes with juice, and tomato paste. Bring to a boil. Lower the heat and simmer, partially covered for 10 minutes, or until the tomatoes are tender.
Add the tortillas and simmer 10 minutes longer, or until the tortillas are super soft and falling apart.
Using a handheld immersion blender, blend the soup in the pot until smooth. Or carefully puree in batches in a blender.
Ladle the soup into bowls and garnish with cilantro and avocado.
Notes
*For a little more kick, add the ribs and seeds from the jalapeno to the soup.